Warwickshire's mid-season fixture in the Premier Division of the BDO Inter County Championships was a home tie against second in the division Lancashire, never an easy game but oh what a display from the local county. The fixture always produces top class darts but on this occasion it was taken to a different level with some world class performances which included no fewer than 53 maximums and 13 sub fifteen darts legs over the weekend.
The ladies 'B' got the weekend off to a great start with a convincing 5-1 victory with wins from Nina Bolt, Melanie Jones, Tammy Montgomery, Denise Keyte and Rosie O'Connor. Tammy Montgomery was lady of the match beating Marie Fitton 3-0 with a super 23.48 average.
In a close game the men's 'B' narrowly lost 7-5, their top player Mark Strong with a 28.33 average.
The ladies were in fine form again on Sunday with wins from Donna Pinch, Natalie Gilbert, Angela Jones and Sue Gulliver they won 4-2 with the lady of the match being Angela Jones for her 22.77 average.
The men's 'A' team were simply outstanding after going 1-0 down when Carl Sneyd beat Dave Atkins they stormed to an amazing 11-1 victory with wins from Steve Giddings (28.68), Charlie Symons (27.09), Ian Shaw (26.29), Jamie Hughes (32.11), Nigel Heydon (35.31), Tom Aldridge (27.00), Noel Grant (28.44), Simon Fairbrother (29.54), Dean Stewart (25.88), Robert Hawker (27.41) and Antony Allen (29.49).
Nigel Heydon's fantastic 35.31 average earned him the match award as he beat James Caton 4-1 in 15,16,14 and 11darts.
The win has seen Warwickshire move up into third place in the table just one point behind their opponents Lancashire who hold on to the number two spot.
———————————
It was not such a good weekend for West Midlands in division one of the BDO Inter County Championships as for the first time this season they lost. After kicking off the season with four consecutive wins an away game against next t bottom of the division Hertfordshire looked as though it would be a certain win but surprisingly the 20-16 result went in favour of the home side.
Both ladies teams finished with a 3-3 draw, Sarah Roberts collecting her third 'A' team lady of the match award with a super 24.87 average and for the 'B' team it was Sophie Singh, a 20.46 average making it two consecutive awards for Sophie.
For the first time in five game the men's 'B lost going down 8-4 with Mathew Moore their top player with a 24.14 average. The men's 'A' did a little better as they finished all square at six each, Owen Maiden with a superb 31.31 average receiving the match award.
The defeat was not as damaging as it could have been as West Midlands hold on to second place with 113 points just one short of leaders Cheshire who lost 21-15 away to London, the win seeing London move up two places to third, nine points short of West Midlands.
———————————
A close 5-4 win away to Pint Pot Flights was enough for Boldmere St Mikes to extend their lead to four points at the top of division one of the Four Oaks and District Winter League as second placed Boat lost their home tie with third in the table Golden Hind 5-4 to leave both teams on 14 points. All four games in division one ended with a close 5-4 result, Erdington Arrows and Old Oscott Arrows in turn beating Walmley CSC Arrows and Bishop Vesey.
Division two produced a top of the table clash with leaders Red Lion playing away against second placed Walmley CSC Flights. The result was a 5-4 win for Red Lion to open up a four point's gap between them and their opponents. After their defeat Walmley CSC Flights are now just two points better off than third placed Oscott Sports who won 7-2 at The Digby.
Oscott Social Club have taken over the leadership of division three, their impressive 8-1 win at Deer's Leap giving them the same 16 points as former leaders Rosey Mac's Leopard but with a superior average, however they have now played on game more than Leopard.
———————————
The Sheldon and District Winter League played off round one of their Sheldon Shield and winning through to the next round were Inn on the Green, Shirley Misfits, Crown Arrows, Raven Arrows, Crown-Forget-Me-Not, Sheldon Dukes, Kingshurst Labour Club and The Raven.
———————————
After playing 19 of a scheduled 20 games in the Small Heath League it all came down to the very last fixture of the season to decide who would lift the winners silverware as the top two teams East Birmingham Allotment Holders Association and Heartlands Club played each other with the winners taking the title. The outcome was a 6-3 win for the home side E.B.A.H.A. whose dominance of the league continues as their 38 points were four more than Heartlands who finished as runners-up.
———————————
The Camp Hill Marston's League staged their doubles knockout and lifting the title with a final win over Neil Parsonage and Dave Carter (Roost Rebels) were the Nomads duo Fred Naylor and Simon Edwards.
Losing semi-finalists were Joe Fox and Liam Fox plus Phil Hughes and John Fox both teams from Emerald Club.
———————————
Brickmakers Arms took their unbeaten run in the Stourbridge and District Monday Night League to 23 games when they beat their nearest rivals Britannia 7-2. The win has seen Brickmakers open up an eight points lead at the top of the table while Britannia's defeat has seen both Gate Hangs Well and Bird (Wordsley) join them on the same 34 points. Gate Hangs Well had an impressive 8-1 win at Hare and Hounds while Bird (Wordsley) had a much closer 5-4 success at Swan.
———————————
The Brierley Hill Friday Night League played the second leg of round one of their League Cup in which Brickmakers Arms 'B' had an overall 10-4 win over their 'A' team and Pensnett Welfare Club beat Netherton Cricket Club 11-1.
———————————
Week two in the Rowley Monday Night League and leaders George added a 7-2 win over Three Diamonds to their tally to keep them just one leg of average to the good on league newcomers and second placed Beech Tree who were also 7-2 winners in their home tie with Hare and Hounds.
Of the sixteen teams starting line-up only three others Bell, Fairfield and Windmills End have won both games, Bell were 8-1 winners at Wonder, Fairfield won 7-2 at home against Spring Meadow and Windmills End also had a 7-2 win in their home game with Ivy Bush with M.Wright and D.Whittle both hitting a maximum for the winners.
———————————
Merry-Go-Rounds table topping position lasted for just the opening week of the Hilltop Friendly Tuesday Night League as in week two they lost 4-3 at home to Island Inn and drop five places to sixth. Taking over in pole position is Rising Sun whose 5-2 win at Hayes Social has given them a slender on leg of average lead over second in the table Dewdrop 'A' who won by the same 5-2 margin against Miners Arms.
The only other teams with a 100% win record after the opening two games are Tipton Sports, Vine and Albion, Tipton Sports won 4-3 at Ivy Bush while there were 5-2 wins for Vine and Albion who in turn accounted for Dewdrop 'B' and Waggon and Horses.
———————————
Third placed Brickmakers Arms 'B' were the only losers in the top four teams of the Silver End Sunday Morning League as they went down 5-3 away to fourth in the table Dudley Ex Serviceman's Club who as a result have moved to within three points, just one win of their opponents with a game in hand and a much better average..
Top of the table Glasscutters 'B' had a 6-2 win at Kings Head 'A' to stay two points ahead of second in the league Woodside 'A' who had a convincing 7-1 home win over New Talbot.
———————————
The Sedgley and Gornal Tuesday Night League had cup finals on their fixture card the final of the John Walters Knockout Trophy was a hard fought match with the close 5-4 result going to Jolly Crispin with Red Cow runners-up.
The final of the John Walters Knockout Cup produced a 6-3 win for currently second in the league Lamp Tavern over league leaders Old Bulls Head.
———————————
The Brierley Hill Monday Night League have got their new season underway and the heartening news is that a further six teams have joined the league swelling their numbers to sixteen.
Dudley Ex Serviceman's Club 'A' have begun the new season where they left off the old at the top of the table, their 8-1 win over their 'B' side giving them a one point average lead over Limes Club who beat King William 7-2. Other opening day winners were Dudley Sports 'A', Delph Bell, High Oak, Mount Pleasant, Rose and Crown and Wombourne Pool Bar.
———————————
The Stourbridge and District Wednesday Night League have been involved with round one of their League Cup and winning through to the next round were Ten Arches 'B', Fox Inn (Lye), Swan 'A' Caves, Bird (Wordsley), Swan 'B', Wombourne Cricket Club and Ashwood 'B'.
———————————
As early as only the second week in the Cradley Tuesday Night League and only one of the eight teams have won both games, and they are reigning champions Brickmakers Arms whose crushing 9-0 win at Netherton Sports and Social 'A' gives them a three points lead over six of the other seven teams.
———————————
A 180 for Daz Jones and a 9-0 win for his team Belgrave Sports and Social Club over Dolphin consolidates their number one position in the Combined Division of the Pip Club League as their undefeated eleven games gives them a four points advantage over chasing pair Birchmoor Club and Dolphin Wanderers, Birchmoor winning 8-1 at Kettlebrook Club and the Wanderers having a much closer 5-4 success over Pip Club.
There were two further maximums this week and from two Paul's, Paul Vyse (Birchmoor Club) and Paul Corfield (Sports Bar '180').
———————————
Avenue C.Fox are edging closer and closer to the Kings Norton League title adding a 7-0 win to their account in their latest fixture against Kings Heath to keep them four points and with a game in hand on second in the league Bournebrook who won 5-2 at Kings Norton Ex Serviceman's Club.
Third placed Rubery RBL won their home tie with fifth in the league E57 4-3, E57 being the only team in the top five to lose as fourth placed Cock Inn beat their visitors Harborne C.Fox 5-2.
———————————
In the latest of the Gilberts Bar knockouts Shropshire county player Dan Astbury collected the top prize of £500 when he beat Wayne Jones 6-4 in the final, Jones picking up £200. Astbury had a 5-1 win over Graham Hall in the semis while Jones beat Martin Price 5-2, both losing semi-finalists received £50. Losing quarter-finalists Luke Woodhouse, Mark Hylton, Pat Pace and Sam Guest collected £25.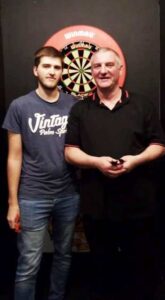 Dan Astbury (Winner) and Wayne Jones (Runner-Up)
Winner of the first round losers Plate Knockout was Will Roberts who picked up £50 for his final 4-3 win over Phil Clarke (£25).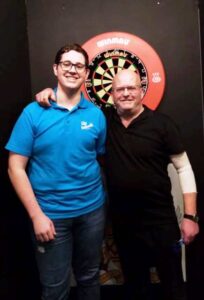 Will Roberts (Winner) and Phil Clarke (Runner-Up)
———————————