With a break in the domestic fixtures the Shirley and District Monday Night League staged their Season 10 Singles Knockout which attracted 54 entries and with a maximum plus an eleven darts leg it was Lee Harris (Saracens Jesters) who defeated Steve Sidwell (Dunky's Boys) in what was a very close final to secure the title.
The quarter finals saw wins for Harris and Sidwell in turn against Peter Healy and Jordan Ottley then in the last four games Harris beat one of the favourites to take the title Bob Nixon while Sidwell took out James Hinkley
———————————
The C's Club Double Top Wednesday Night League have played off both their doubles and 3 A-Side knockouts and winning the former were Bob Nixon and Melissa Beale who with a 2-1 result accounted for Tom White and Lee Walker in the final. Both of the semi-finals also finished with close 2-1 scorelines the champions beating Richard Mills and Dan Cooper while White and Walker won against Chris Cooke and Mitchell Mann.
Winners Trevor Edwards (Treasurer), Melissa Beale, Sue Kingdon (Organiser) and Bob Nixon.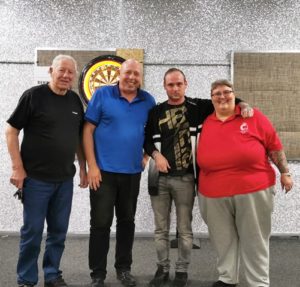 Runners-Up Trevor Edwards (Treasurer), Tom White, Lee Walker and Sue Kingdon (Organiser).
The final of the 3 A-Side saw husband and wife Dave Kingdon and Sue Kingdon line up against each other and it was Sue with her team mates Terry Webster and Dan Cooper who won 3-1 against Dave, Mick Noonan and Connor Marshall.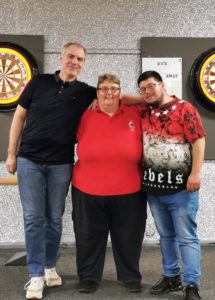 Winners Terry Webster, Sue Kingdon and Dan Cooper.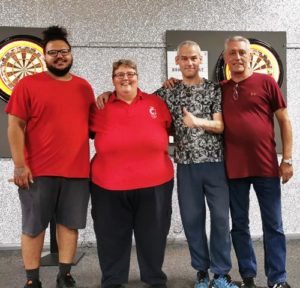 Runners-Up Connor Marshall, Sue Kingdon (Organiser), Dave Kingdon and Mick Noonan.
———————————
Avenue CF are the only team with a 100% win record in the Kings Norton League and after playing four games, the latest seeing them win 4-3 against Cock Inn, they top the table on average over Grant Arms and Weoley Hill who have both played one game more than the leaders.
Harborne CF got their season underway as they chalked up their first win in four, a 5-2 success at Coppice who are next to bottom of the table without a point so far.
———————————
On the fixture card for the Camp Hill League were the finals of their Captains and Secretaries Knockouts and sweeping aside all of the opposition to win the captains event was Sheldon Marlborough Flights man Matt Cooper who beat Mick O'Sullivan (Roost Rebels) in the final. Losing semi-finalists were Pete Freeman (Wagon and Horses) and Liam Fox (Emerald Club).
The final of the Secretaries Knockout saw another Roost Rebels player lose as Alan Cheshire lost out to Pete Yardley (New Inn). Joe Fox (Emerald Club) and Mark Coles (Station Wagon) made their exits in the last four.
———————————
A 5-3 win over The Trident sees C's Hot Shots retain their pole position in Group One of the South Birmingham Summer League and at the same time hold on to their two points lead over second placed Centurion whose 6-2 win at C's Arrows made it two wins in as many games and leaves them with a game in hand on the leaders. The top two teams are the only teams with a 100% win record.
In Group Two C's Top Guns lost their winning record as they were held to a 4-4 draw by second placed Coleshill Social who have played one game less than Top Guns and are just two points behind them.
———————————
The Heartlands Double Top Wednesday Night League is up to week three and reigning in pole position with six straight 3-0 wins is William Naylor. Naylor is just one point to the good on his nearest rival Steve McCormack but McCormack has played seven fixtures, one more than Naylor.
Naylor's latest 3-0 victories were against Martin Petri and Chris Hough while McCormack had 2-1 wins over Laura Vann and Tony Pedley.
———————————
With just one defeat in their opening six games in the Small Heath League Heartlands Club added a convincing 8-1 win over Emerald Club to their tally to keep them top of the table. Second placed and reigning champions East Birmingham Allotment Holders Association are the only undefeated team in the league they had a closer 6-3 win at Cob's Bar to put them on the same ten points as Heartlands but with a game in hand.
———————————
With only a handful of games remaining in the Shirley Legion Double Top League long-time leader Thomas Bent suffered a setback to his title aspirations as he was held to a 2-2 draw by Ben Quadri and then lost, only his fourth defeat in 32 games, 3-1 to Adam Stuart.
Lee Harris in second place moved to within two points of Bent with a 3-1 win over Derek Harper followed by a 2-2 draw with Anthony Daly however the man to watch is third placed Mark Gwalchmai who was absent this week due to holiday commitments, he is the only player currently that can overtake Bent, with 88 points he is five short of Bent but with two games in hand which could net him total of eight points.
———————————
Golden Hind rounded off their championship winning season in division one of the Sutton and District Summer League with a 6-3 win over Erdington Arrows to finish four points ahead of runners-up Boldmere St Mike's who had a 7-2 win against third placed Boat.
The division two title went to Walmley Darts Club whose 6-3 win over The Boot put them one point to the good on second placed Bishop Vesey who had a close 5-4 verdict at Oscott Arrows.
The division three title had been decided some time ago and was the closest in the league as only average separated winners Castle Vale Residents and runners-up Digby Chuckers as both teams had 18 points.
———————————
A top of the table encounter in the Stourbridge and District Monday Night League saw leaders Brickmakers Arms chalk up a massive 8-1 win over Britannia, this being Brit's first defeat in six games which saw them drop one place in the table to third behind Stourbridge RBL who went ahead of Britannia on average after their 5-4 win at Rose and Crown. Brickmakers now have a two points lead over RBL, Brit and Hop House.
———————————
There were big wins for the top three teams in the Henley and District Summer League as leaders Studley Conservative Club held on to their unbeaten record and two points lead with a 9-0 win over Beausale, second placed Studley Cricket Club won 8-1 at Wootton Bears and a further two points behind third in the league Wythall RBL beat their hosts Village Inn 7-2.
———————————
It was top versus bottom in the Cradley Tuesday Night League as leaders Brickmakers Arms hosted bottom of the table Gate Hangs Well. The outcome was a resounding 9-0 win for Brickmakers to keep them three points ahead, but from one game more than second in the table Netherton Sports and Social 'A' who were 5-4 winners at Dudley Labour Club. Bulls Head and Brickmakers Arms 'B' swapped positions following a 6-3 win by former, Bulls Head going from fourth to third and Brickmakers going in the opposite direction.
———————————
With the league fixtures all done and dusted the Stourbridge and District Wednesday Night League staged their MVP Knockout which saw Andy Vellender take the title with a final 4-1 win over Chris Williams. Vellender had a narrow 3-2 victory against C.Fox in the semi-finals while Williams had a clear cut 3-0 win over A.Smith.
———————————
The Netherton Thursday Night League played their 3 A-Side Knockout down to the last four teams at four venues and making up the semi-finals will be R.Lenton, M.Hadley, W.Cairns, J.Rose (Townsend Social Club), W.Humphries, S.Siviter, J.Green, D.Shilvock (Fairfield), R.Carr, P.Tonks, A.Tonks, R.Nicholson (Dudley Ex Serviceman's Club) and S.Purcell, B.Welch, A.Ghaley, A.Jones (Riddins Tavern).
———————————
In the Rowley Monday Night League The Bell had what could possibly be a title winning 6-3 result against their nearest rivals The George as with only seven games to go they now have a four points advantage over both George and third placed Cradley Sports and Social Club who won 7-2 away to fourth in the table Ex Serviceman's 'A' who are now eight points behind their victors.
At the other end of the table Ex Serviceman's 'B' recorded only their third win in 23 when they won 7-2 at Bulls Head who are two points ahead of them in a next to bottom position.
———————————
Delph Bell were the only losers in the top six teams in the Brierley Hill  Monday Night League when they lost 5-4 away to second in the table Roebuck. Despite the win Roebuck remain four points adrift of leaders Dudley Ex Serviceman's Club 'A' who had an emphatic 8-1 win against Dudley Sports 'B'. Third in the table Rose and Crown are on the same 38 points as Roebuck, trailing only on average after they won 7-2 at Brickmakers Arms.
———————————
The Silver End Sunday Morning League played off their Mick Kelly Knockout and fighting off all of the competition and taking the title with a final 5-2 win over B.Davies was P.Homer. Homer won his quarter final game against A.Tonks 3-2 before booking his final spot with a 4-2 result over G.Davies in the last four. Runner–up Davies took out A.Hill 3-0 in the quarter finals then R.Colley 4-3 in the semis.
———————————
The Vine top the Hilltop Friendly Tuesday Night League table and their 5-2 win over bottom team Wonder keeps them two points ahead of second in the table Tipton Sports who had a 6-1 win at Miners Arms. Although third placed Dewdrop 'A' won 4-3 at Merry-Go-Round they are some ten points off the top.
———————————
The Harborne and District League are up to week ten and the top two teams Copper Fox and Longbridge Social Club have both played nine and won nine. The latest fixtures saw Copper Fox win 8-1 at Smethwick Cricket Club and Longbridge not far behind with their 7-2 win over The Bear.
———————————
Week 18 in the Brierley Hill Friday Night League saw the bottom four teams Delph Bell, Brickmakers Arms 'B', Dudley Sports and Gornal British Legion all lose 6-1. At the top of the table leaders Brickmakers Arms 'A' handed out a 7-0 whitewash to their opponents third in the table High Oak to keep them four points to the good on second placed Ashwood who won 6-1 at Delph Bell and eight points ahead of High Oak.
———————————
Congratulations to ECC Sports and Social Club representative Michael Baker who at Gilberts Bar, Willenhall won the West Midlands play-off for the World Professional Qualifiers. Baker will now go forward into the final qualifiers at the Grays Civic Hall, Blackshots Lane, Grays, RM16 2JU on 28th October.
———————————
The Pip Club League have been involved with divisional Shadow League games and in division one Sports Bar '180' and Dolphin Wanderers in turn defeated Glascote Club and Old Liberal House. There were wins for Wigginton Arms and Dolphin in division two, they beat respective opponents Progressive Club and Kettlebrook Club.
———————————
The Royal, Albrighton staged the latest of their increasingly popular knockouts and clinching the title and top prize of £190 was Justin Evans from Darlaston who won the final 6-2 against Dudley's Chris Fox who collected £90. Evans beat Antony Dent (Burntwood) in the semis and Fox took out Nik Bloor (Telford), both losing semi-finalists received £30.
In the first round losers Plate Competition Robert Pierce claimed the £45 top prize with a win over John Simms who for his troubles picked up £20.
———————————
Hurst Hill leaders of the Tettenhall Wednesday Night League had a 5-2 win over Dog and Partridge in week 20 their two nearest rivals Cleveland Arms and Whitmore Reans WMC in turn winning 6-1 against ECC 'B' and Swan, Compton giving Hurst Hill 36 points, Cleveland 32 and Whitemore, who have a game in hand on the two above them 30 points.
ECC 'A' suffered a 4-3 defeat away to Pilot but nevertheless hold on to their fourth place in the table.
———————————
Railway who are second in the singles and doubles divisions of the Wolverhampton Tuesday Night League had a bye in week 21 and as a result leaders of the two divisions Riley's 'C' increased their lead with a 6-1 win over Mount Tavern in the singles and 2-1 over the same team in the doubles.
———————————