The South Birmingham League played off three of their knockouts the first of which was the Captains Cup, the last four games saw Simon Edwards, with a 156 game shot beat Trevor Barrs 2-1 and Paul Moran win 2-0 against Dan Cooper. Edwards continued his fine form into the final in which he won 2-0 against Moran.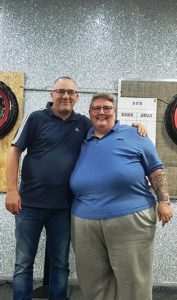 Captains Cup Winner Simon Edwards with Sue Kingdon (Organiser).
The two semi-finals of the Secretaries Cup both finished with close 2-1 scorelines with wins for Phil Jones and Gavin Jones over respective opponents Dave Clinton and Wayne Cooper. With an all Jones final the 2-0 result went in favour of Gavin with Phil runner-up.
The Trebles Knockout went to a deciding leg with the King Koi team of Dave Kingdon, Wayne Yates and Dave Clinton just getting the 2-1 edge on the Jays Vapes team of Wayne Cooper, Jamie Carter and Lee Walker.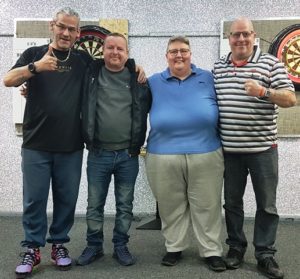 Trebles Winners Dave Kingdon, Wayne Yates and Dave Clinton with Sue Kingdon (Organiser).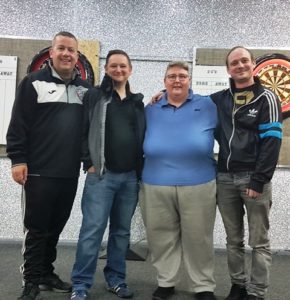 Trebles Runners Up Jamie Carter, Wayne Cooper and Lee Walker with Sue Kingdon (Organiser).
———————————
Two 3-1 defeats against Thomas Bent and Kyle Bevan has seen Mick Bown lose pole position in the Shirley Legion Double Top League and drop to eighth place in the table with 21 points, eight short of new leader Thomas Bent who won 3-1 against Jack Barrows before defeating Bown and then went on to draw 2-2 with Craig Clarke and finish the night with another 3-1 win over Antony Daly.
Adam Stuart moves up one place to second following his 2-2 draw with Dave Fisher and 3-1 win against Colin Geens putting him 24 points from eight games with one in hand on Bent.
Craig Clarke is third in the table on the same 24 points as Stuart but from nine games, his latest fixtures saw him draw 2-2 with Tony Daly in which he recorded an eight darts game before having the same result against Thomas Bent.
———————————
The Small Heath League had their End of Season 501 Knockout on the fixture card and adding yet another title to his never ending list was Neil Parsonage. With 3×100,2×140 and a 130 outshot Parsonage won his quarter final game against Marc Fisher 2-0, he then progressed to the final with a similar 2-0 result over Jamie Fisher in the semis where he scored 4×140 and 100.
From the other side of the draw Neil's East Birmingham Allotment Holders Association team mate Colin Wyatt made the final after beating Clive Austin 2-0 and Nigel Davis 2-1.
Wyatt hit scores of 140 and 3×100 in the final but it was not enough to avoid a straight 2-0 defeat to Neil Parsonage whose top shots were 125 and 3×100.
———————————
No change at the top of the C's Double Top Wednesday Night League in week six as leader Richard Mills took his points tally to 30 after beating Luke Beale and Melissa Beale 3-0 and second placed Mick Noonan won 3-0 against Frank Dixon and Melissa Beale and 2-1 against Tom White to leave him one point short of Mills with a game in hand.
Bob Nixon and Simon Edwards are third and fourth respectively, both players on 28 points, Nixon recording a 3-0 win over Dave Kingdon in which he had a 156 checkout, he then won by the same margin against Dan Cooper to remain the only player in the top half of the table to have won all of his ten games leaving him with a two points deficit on Mills but with two games in hand. Simon Edwards beat both Pete Kingdon and Dave Kingdon 3-0.
The only other player in the league to have won all of his games besides Nixon is late comer Luis Barberan who has only played three so far but won them all 3-0.
———————————
Sheldon Marlborough Flights lost ground in the Camp Hill League title race when in week 13 they lost their home tie with Roost Rebels 4-3. Previously second in the table Sheldon have dropped to third on 16 points the same number as their victors who are fourth.
Leaders White Swan Nomads took their points to 20 from twelve games with a 5-2 win away to Sedgemere Devil's Club giving them a two point's advantage over second in the table Tyseley WMC who had a close 4-3 win away to bottom of the table Station Wagon.
———————————
Following their presentation the Sedgley and Gornal Tuesday Night League staged the finals of their singles and doubles knockouts. The singles title went to Matt Price who beat Tony Davies in the final while Carl Sparrow and Tom Bissell with a final over Lee Walker and Danny Fear took the doubles title.
———————————
I was saddened to hear this week of the passing of a long standing and dear friend of mine John Walters. John played in many of the Black Country leagues and was a founder member of the Sedgley and Gornal Tuesday Night League actually donating a trophy to the league which has been played for under the name of Team Knockout however it is being proposed it be renamed and in future called the John Walters Trophy.
John was not only recognized for his darting prowess as he had previously been a local councilor and also mayor of Dudley.
Sincere condolences go out to John's family and friends.
———————————
Week fifteen of the Brierley Hill Monday Night League brought together the top two teams leaders High Oak and second in the table Dudley Ex Serviceman's Club 'A'. Playing at home the Ex Serviceman's Club handed out a 6-3 defeat to High Oak to draw level on 26 points with them and trail by just two legs of average. A 7-2 home win over Bull and Bladder has put third in the table Roebuck on the same points and average as Dudley Ex Serviceman's Club 'A' to share second place.
There was a setback for fifth placed Dudley Sports 'A' as they surprisingly lost 5-4 away to Mount Pleasant who moved up the table one place to tenth.
———————————
Division one leaders of the Sutton and District Summer League Golden Hind had a bye in week four and their nearest rivals The Boat took full advantage with a 6-3 win at Pint Pot Flights to draw level on points and average to share the top spot.
A 7-2 win at The Boot keeps Bishop Vesey top of division two with a two points lead over Old Oscott Arrows whose 6-3 win against Walmley Darts Club saw them replace their opponents in second place with a game in hand on the leaders.
Digby Chuckers made it four wins in as many games in division three with their 7-2 success against Rosey's Chaps, however second in the table Castle Vale Residents won by the same margin against Sutton Sports to also make it four straight wins and remain just one leg of average short of the Chuckers.
———————————
The semi-finals of the League Cup were on the agenda for the Stourbridge and District Monday Night League, undefeated league champions Brickmakers Arms taking another step towards a fantastic double with a 7-2 win over Glasscutters, in the other last four game British Oak had a close 5-4 verdict over Ten Arches 'B'.
There was just one outstanding league fixture played in which Gate Hangs Well beat Hop House 6-3 to finish sixth in the table.
———————————
There was a battle between the top two teams in the Silver End Sunday Morning League when second placed Dudley Ex Serviceman's Club played hosts to leaders Woodside 'A'. The match finished all square at four each to keep two points the difference between the two teams with the Ex Serviceman's Club having played one game less than High Oak.
With the two teams above them making a draw third in the table Dudley Sports had the opportunity to reduce the arrears but could only manage a draw themselves as they played away to Brickmakers Arms 'A' and so remain two points off the top from the same ten games as High Oak.
There was a first win in nine for Old Star as they won their home tie with bottom of the table Kings Head 'B' 7-2.
———————————
There were 6-3 wins for the top two teams in the Netherton Thursday Night League, leaders Dudley Ex Serviceman's Club winning their home tie with White Horse and second placed Riddins Tavern winning at Fairfield to remain six points behind the leaders.
There was a rare win for bottom of the table Saracens Head as they won 5-4 at home against Netherton Conservative Club, both teams are on six points with the Conservative Club having the better average and Saracens having a game in hand.
———————————
There were 8-1 results for three of the top four teams in the Rowley Monday Night League and one of them went to leaders The Bell. After their first defeat in fifteen when they lost 5-4 away to Ex Serviceman's Club 'A' last week The Bell were quick to respond as they chalked up a very convincing 8-1 win away to third in the table Cradley Sports and Social. Fourth place Ivy Bush were the other 8-1 winners playing away to Wonder.
Second placed George kept within two points of Bell with a 7-2 win over Three Diamonds with Marc Perkins notching a maximum for the winners. Other notable achievements were a 160 break by Chris Ledge Jones (Fairfield) and a 156 break for Terry Cadman (Windmills End).
———————————
Tipton Sports consolidated their number one spot in the Hilltop Friendly Tuesday Night League when they handed out a 7-0 whitewash to their hosts Horseley Tavern. Second placed Vine drew level on 26 points with the top team but have played one game more than them after their 6-1 home win over Island Inn. Third in the table Dewdrop 'A' also won 6-1 against New Talbot but trail Vine by some six points.
———————————
Due to them having a bye Swan have dropped from pole to third in the Stourbridge and District Wednesday Night League and taking over from them at the top of the table is Ashwood 'A' after they won 5-2 at Wilson Hall giving them 58 points two more than their local rivals and second in the table Ashwood 'B' and Swan. Ashwood 'B' had a 6-1 win at home to Fox Inn (Lye), they and Swan both have a game in hand on Ashwood 'A' and both have a better average than the leaders.
———————————
A 5-2 home win over Delph Bell was not enough for High Oak to hold on to outright leadership of the Brierley Hill Friday Night League as a 7-0 win by Brickmakers Arms 'A' against Brickmakers Arms 'B' has put them level on games played, points and average to share the top position and keep them and High Oak two points ahead of third in the table Ashwood who won 5-2 at home against Netherton Cricket Club 'B'.
———————————
A 7-2 win for Bombay Bob's Boys over rivals Belgrave Sports and Social Club in the Pip Club League has opened up a three points lead with a game in hand at the top of the Seeded One division for Bombay over their second placed opponents.
In the Main Division Belgrave have played 22 games and lead the table with 39 points, one more than second placed Bombay who have three games in hand.
———————————
Hurst Hill took their unbeaten run in the Tettenhall Wednesday Night League to eleven games with a 6-1 win at McGhees to keep intact their two points lead over their nearest rivals Whitmore Reans WMC who won their home tie with fourth in the table ECC 'A' 5-2. A 5-2 win over Swan, Compton keeps third placed Cleveland Arms on the same 20 points as Whitmore and just three legs of average behind them.
———————————
The battle continues at the top of the singles and doubles divisions of the Wolverhampton Tuesday Night League between Riley's 'C' and Railway. A 6-1 win at Dog and Partridge keeps Riley's 'C' top of the singles with Railway second after a 5-2 success at Village Inn, both teams on 22 points with Riley's having the better average.
In the doubles division a 2-1win over Village Inn for Railway and a 3-0 win for Riley's 'C' at Dog and Partridge puts both teams level on points, average and games played at the top of the table.
———————————