The Sheldon and District Winter League have been winding down their season with various cup finals, the latest of these were the Sheldon Shield and Punch Bowl Cup. In the Sheldon Shield Sheldon Dukes made the final with a last four 5-4 win over Willclare Sports and Social and meeting them in the final was Mackadown Social after their 6-3 success over Lyndon Old Boys. The title went to Mackadown who with a 5-2 result defeated Sheldon Dukes in the final.
The semi-finals of the Punch Bowl Cup saw East Birmingham Allotment Holders Association win 6-3 against Langley Hall Sports and Social and Dunky's Boys beat Sheldon Marlborough 7-2. Dunky's then went on to beat E.B.A.H.A. 6-3 in the final to make it two years running they have won the League title, League Cup, Punch Bowl Cup plus Ian Spencer took the Singles title and Doubles knockout was won by Simon Edwards and Jason Jennings, the first time any team has achieved a clean sweep for two consecutive years.
Dunky's Boys
———————————
The C's Club staged a Bank Holiday Knockout which attracted some top class players. The final between Corey Cadby and Ian McFarlane was worthy of any stage final with no fewer than five maximums and a 157 game shot. Cadby hit four of the 180's and took the title with a 5-1 result while McFarlane who also notched a maximum recorded a fantastic 157 outshot.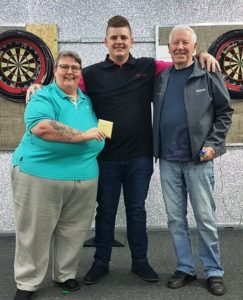 Organisers Sue Kingdon and Brian Johnson with Winner Corey Cadby (Centre).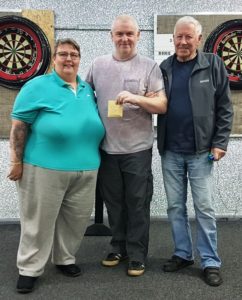 Organiser's Sue Kingdon and Brian Johnson with Runner-Up Ian McFarlane (Centre).
Both of the last four games finished with 4-2 scorelines, Cadby taking out Bob Nixon and McFarlane accounting for Wayne Maynard.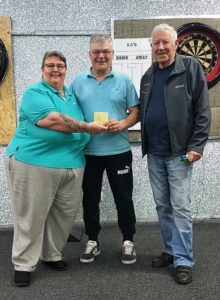 Organiser's Sue Kingdon and Brian Johnson with Losing Semi-Finalist Bob Nixon (Centre).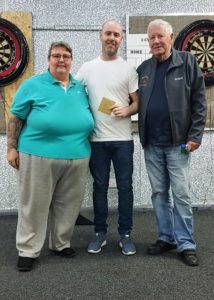 Organiser's Sue Kingdon and Brian Johnson with Losing Semi-Finalist Wayne Maynard (Centre).
The Chelmsley Wood club will be staging another Bank Holiday knockout on Monday 27th May and providing there are at least 48 entries the top prize will be £300. Cost of entry is £7 with entries being accepted up to 3-30pm on the day with a 4.00pm start.
———————————
With fixtures now running out in the Kings Norton League, leaders Avenue Social moved another step nearer the title with a 6-1 win at Grant Arms to keep them two points ahead of Rubery RBL with a game in hand after Rubery won 4-3 at home against fourth in the table Coppice. The title and runners-up places will now go to the top two teams as they cannot be caught by third in the table E57 who won their home game against Dingle 6-1.
———————————
The Small Heath League have completed their domestic fixtures and to no one's surprise East Birmingham Allotment Holders Association are league champions. In the final fixture E.B.A.H.A. had an 8-1 win over Sheldon Marlborough Arrows who with 26 points finished third in the table 16 points short of runners-up Heartlands Club who had already played their final game and finished four points short of the champions.
The Shadow League title went to Emerald Club whose eight points was two better than second placed Wagon and Horses.
———————————
3-1 defeats by Mick Bown and Craig Clarke has seen Jack Barrows lose pole position in the Shirley Legion Double Top League and drop to seventh place. Taking over at the top of the table is Adam Stuart, his 4-0 wins over Wayne Clarke and Gary Cleverley taking him to an unbeaten 15 points having dropped just one leg in his four games. Kyle Bevan is Stuart's closest rival, he also has won all four games, his latest two being 4-0 against Chris Thomas snr and 3-1 over Dave Barrows.
Mark Gwalchmai moves up into third place and within two points of leader Stuart following his 3-1 wins over John O'Sullivan and Jordan Ottley.
In his 4-0 win over Chris Thomas snr Mick Bown recorded two 160 breaks.
———————————
Week four of the C's Club Double Top Wednesday Night League sees Richard Mills heading the table with 20 points from his eight games his most recent seeing him win 2-1 against Alan Townsend and then 3-0 against Ryan Beale. Last season's runner-up Simon Edwards is second in the table just one point behind Mills with a game in hand. He had 3-0 wins over both Luke Beale and Ryan Beale.
Third and fourth placed Mick Noonan and reigning champion Bob Nixon have both only played six fixtures, two fewer than Mills, Noonan is on 18 points and Nixon 16. Noonan is the only player in the league not to have dropped a leg so far, he has won all six games 3-0.
———————————
Week twelve of the Camp Hill League matched the two top teams Sheldon Marlborough Flights and White Swan Nomads. Prior to the fixture Flights topped the table on average from Nomads but a 4-3 win for Nomads has seen them replace Flights in pole position with a two points lead however Flights have a game in hand which could see them return to the top of the table.
There was a rare win for North Star, their 5-4 home success over Sedgemere Devil's Club seeing them move up two places off the foot of the table and be replaced at the bottom by Station Wagon who lost their home tie with New Inn 4-3.
———————————
With all of the fixtures played in the Sedgley and Gornal Tuesday Night League Old Bulls Head with a final 6-3 win at Gornal British Legion have won the league with a total of 48 points, two more than runners-up Gornal Labour Club whose final game saw them beat Red Cow 5-4.
Coseley Tavern despite ending on a low as they lost 5-4 at home to Netherton Cricket Club held on to third place with 36 points two more than fourth in the league Gornal British Legion.
———————————
As the Cradley Tuesday Night League reaches the midway point of its season Brickmakers Arms 'A' added a 7-2 win over fifth in the table Bulls Head to their account to keep intact their three points lead at the top of the table over Netherton Sports and Social 'A' who were 5-4 winners at Malt Shovel, Kevin Bambrick hitting a maximum for the losers. Netherton Sports and Social 'B' had the same 5-4 win as their 'A' team in their game against Plough with Nick Priest hitting a 180 and recording a 12 darts game for Plough.
———————————
After their somewhat surprising 5-4 home defeat against Riddins Tavern last week, Dudley Ex Serviceman's Club returned to winning ways in the Netherton Thursday Night League with a 5-4 win away to third in the table Bulls Head. After their great win last week second in the table Riddins suffered a 5-4 home loss against fourth placed Townsend Social Club and fall six points behind the league leaders Dudley Ex Serviceman's Club.
———————————
A close 4-3 win away to Miners (Wollescote) keeps High Oak top of the Brierley Hill Friday Night League with a two points lead on second placed Brickmakers Arms 'A' who  lost their home tie with third in the table Ashwood by the same 4-3 margin, Ashwood now a further two points adrift with 12 points.
There were 6-1 wins for the bottom two teams Gornal British Legion's win at Dudley Sports sees them move off the foot of the table and be replaced by their opponents and next to bottom Netherton Cricket Club 'B' like the Labour Club also moved up two places.
———————————
Very little change at the top of the Hilltop Friendly Tuesday Night League as all of the top five teams won in game 14. Tipton Sports stay top with 24 points from 12 games after a 5-2 win over New Talbot, but they only lead on average from The Vine who had a similar 5-2 win against Sportsman, Vine having played 13 games.
Court House have moved to Cottage Spring and the move certainly paid off as they chalked up their first win in thirteen games, a 4-3 success away to Hayes Social.
———————————
The Sutton and District Summer League played round one of their Prestridge Shield and winning through to the next round were Boldmere St Mikes, Bishop Vesey, Boldmere Tap, Erdington Arrows, Golden Hind, Old Oscott Arrows, Pint Pot Flights, Walmley Darts Club, Red Lion and Oscott Sports who in turn defeated The Boat, The Boot, Rosey Mac's, Castle Vale Residents, Drakes Drum, Oscott Social, Sutton Sports, Rosey's Chaps, Digby Chuckers and St Thomas Arrows.
———————————
The Pip Club League played off their Doubles Knockout and taking the title with a final win over Bombay Bob's Boys team mates Mick Smith and Mark Martin were Sam Whittaker and Adam Wood.
Losing semi-finalists were Globe, Wilnecote pairing Mark Faulkner and Rik Martin plus Mark Young and Alan Sutton from Birchmoor Club.
———————————
Champions of the West Midlands Men's Super League Allen's Sports Bar 'A' won their final game of the season against Horse and Jockey 4-1, the win giving them a final points score of 209, a huge 30 more than runners-up Yeltz Bar who suffered a last game 4-1 defeat at home to Allen's Sports Bar 'D'. The defeat for Yeltz meant they took the number two spot with 179 points just two to the good on third placed Woodside Inn who completed their programme with a 3-2 win away to Gilberts Bar.
———————————
After the majority of teams have played nine games in the Wolverhampton Tuesday Night League Riley's 'C' top the Singles Division with 18 points following their latest 4-3 win at Village Inn. Railway are also on 18 points, their latest 6-1 win at Wednesfield Conservative Club leaving them trailing the leaders on average, both teams have won all nine games played so far.
In the Doubles Division three teams Bull, Railway and Riley's 'C' are all on 16 points however with Bull having played eleven games they have played two more than both Railway and Riley's 'C'.
———————————