This coming weekend Warwickshire County Darts Organisation will kick off their tenth consecutive season in the Premier Division of the BDO Inter County Championships and for the tenth time their curtain raiser will be against Yorkshire.
Playing at the Glasshoughton WMC, Castleford, WF10 4PD Warwickshire will be hoping to record their first victory in ten games against Yorkshire and lining up for them will be Men's 'A':- Steve Hine, Kevin Dowling, Nigel Heydon, Mark Westgarth, Noel Grant, Antony Allen, Jamie Hughes, Ian McFarlane, Dean Stewart, Carl Green, Mark Carter, Charlie Symons, Men's 'B':- Tommy Ryan, James Hykin, David Hill, Karl Reynolds, Ashley Hykin, Rob Comben, Gareth Braham, Anthony West, Richard Foster, Mark Strong, Tommy McGlone, Jack Wareing, Reserves:- Luke Kennedy, Tom Martin, Tom Aldridge, Ian Shaw, Women's 'A':- Natalie Gilbert, Sue Gulliver, Wendy Adams, Nina Bolt, Caroline Pike, Kat Spanswick, Women's 'B':- Donna Pinch, Helen Rigg, Angela Jones, Melanie Jones, Chloe McKivett, Marian Conway, Reserves:- Tracey Edgecombe, Denise Keyte, Lucy Keyte.
———————————
After retaining the Premier Division status last season West Midlands will begin their second campaign in the top flight with a home tie at Gilberts Bar, Willenhall, WV13 2NY against newly promoted Northamptonshire. With a season's experience under their belts West Midlands will be hoping to finish a little higher up the table this season and with a few new signings that could well be the case.
Selected to play for West Midlands are Men's 'A':- Gavin Baker, Scott Baker, Mark Craddock, Matthew Dicken, Adam Edgar, Nick Fullwell, Kevin Harris, Alfie Jacques, Ian Jones, Liam Kelly, Glen McGrandle, Dan Nicholls, Men's 'B':- Michael Baker, Jeff Batham, Reece Colley, Martin Greenwood, Ash Khayatt, Jonathan Platt, Neil Pointon, Shane Price, Mark Rollinson, Avtar Singh, Robert Smith, Paul Wells, Reserves:- Trevor Brennan, Kevin Bambrick, Matthew Coleman, Danny Coyle, Stephen Jones, Jamie Rollinson, Jordan Singh, Women's 'A':- Sarah Roberts, Lisa Badger, Debbie Loon, Kath Jenkins, Gemma Barrett, Cheryl Alcock, Women's 'B':- Lizzy Arnold, Shellbie Simmons, Heather Wright, Kat McLean, Jacqueline Maiden, Shannon Hall, Reserves:- Kim Fellows (Capt), Sophie Singh, Grace Angell, Samantha Maiden, Claire Hobbs.
———————————
The South Birmingham League played off no fewer than four cup finals the first of which was the Mixed Doubles which saw Sue Kingdon and Jake Webster beat Chris Meigh and Holly Brooks 2-0 in the final.
Webster made it a double win when he teamed up with Dave Clinton in the Captains and Secretaries Cup and went on to beat Paul Bryant and Gavin Jones 2-1 in the final.
The Captains Cup was won by Neil Parsonage who despite being taken to a deciding leg beat Paul Bryant in the final 2-1 to take the title.
The Secretaries Cup saw that man again Jake Webster making it a hat trick of wins when he won 2-1 in the final against Gavin Jones to make it three superb titles.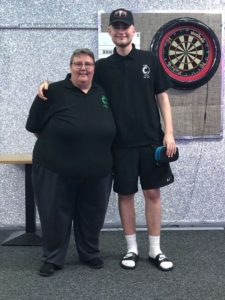 Sue Kingdon (Organiser) and Jake Webster (Winner of Three Titles).
———————————
The Wharf had a bye in week eight of the Shirley and District Monday Night League and as a result lost their pole position to Sharmans Sharks who beat Legionnaires 7-2 to make it seven straight wins. Cider House move up into second place on the same 14 points as Sharmans Sharks but after their 7-2 win over Blue Bell they have played eight games.
Apart from Sharmans Sharks The Wharf are the only other unbeaten team in the league, they are in third place, have a game in hand on Cider House and only trail the leaders on average.
 A 5-4 win over Plume of Feathers gave Shirley Spartac their second win of the season and lifted them off the foot of the table to be replaced by Blue Bell.
———————————
The Forest of Arden Summer League staged the finals of their Doubles Knockout and after a 2-0 win over Kevin White and Kenny Brush in the semis, Terry Constable and Sue Kingdon went on to win the final by the same 2-0 margin against Jason Jennings and Darren Wilson.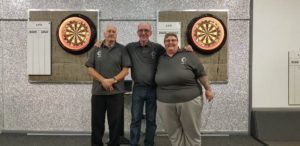 Trevor Edwards (Treasurer), Terry Constable and Sue Kingdon (Winners).
Jennings and Wilson won the semi-final game against Simon Edwards and John Sidwell 2-1.
———————————
A 4-3 win over Journeys End Lions was not enough for Sheldon Marlborough Flights to hang on to outright pole position in the Camp Hill League as the 7-0 win by White Swan Nomads against North Star put them level on points and average to share the number one spot with Journeys who are now third with 12 points, two adrift of the top two teams.
Fourth placed Tyseley WMC are also on 12 points, their 5-2 win over fifth in the table Emerald Club opening up a four points gap between the two teams.
———————————
The Small Heath League produced a somewhat surprising result when the top two teams in the league squared up to each other. Prior to the fixture an unbeaten Heartlands Club topped the table but a massive 8-1 defeat at East Birmingham Allotment Holders Association has seen them drop to second place with 6 points from four games and their victors take over the number one position with 6 points from three games.
Without a dart being thrown Wagon and Horses who had a bye moved up from fourth to third as Sheldon Marlborough Arrows who formerly held the third place lost 6-3 away to Cob's Bar.
———————————
The C's Club Double Top League played a few catch up games in week 16 neither of the top two players Neil Parsonage or Luis Barberan played but third in the table Tom White did and recorded a 3-0 success over Ben Liggins to put him within one point of Barberan on 73 points.
Louise Beale chalked up her fourth win in 29 as she won 2-1 against Luke Beale whose one point was enough to lift him off the foot of the table and be replaced by Martin Phillips.
———————————
Week fourteen results in the Shirley Premier League produced no change in the top four places but there was a new name in fifth position as Mark Gwalchmai added a 3-1 win over Trevor Carter, a 2-2 draw with Tony Daly and a straight 4-0 win against Colin Geens to his account to give him a total of 80 points and lift him three places in the table. Still with games in hand on all of the players above him Gwalchmai could climb even higher.
With 3-1 wins against Mick Bown and his nearest rival Phil Thomas league leader Steve Sidwell has opened up a five points lead over second placed Thomas.
Highest finish of the night was a sensational 161 from Lee Harris, the finish also clinching the best leg of the night which was a 12 darter, Lee's second of the season. There were 180's from Steve Heeks and Antony Daly.
———————————
Mount Pleasant, fourth in the Brierley Hill Monday Night League were the only losers in the top four teams as they lost their home tie with twelfth placed Dudley Ex Serviceman's Club 'B' 7-2. Leaders Bulls Head (Netherton) won 5-4 away to Brickmakers Arms while second placed Dudley Ex Serviceman's Club 'A' beat Dudley Sports 'B' 7-2 to keep within four points of the top team. Third in the table Dudley Sports 'A' won 6-3 against Limes Club and are another four points adrift.
———————————
The local derby in the Stourbridge and District Monday Night League between the Ten Arches 'A' and 'B' teams, who are respectively placed second and third in the table produced a 6-3 victory for the 'A' to give them a two points advantage over their rivals. Ten Arches 'A' remain two points off the top after leaders Brickmakers Arms handed their hosts Kingswinford Conservative Club 'A' a 9-0 whitewash.
———————————
It was a case of the top half beating the bottom half in the Silver End Sunday Morning League, the table remaining as you were with Brickmakers Arms 'A' still seven points ahead of second in the table Netherton Cricket Club. Biggest win of the week went to reigning champions Woodside who won 8-0 against The Bell.
———————————
Brickmakers Arms lead the Cradley Tuesday Night League but were held to a narrow 5-4 win by Hawne Lane Tavern who are in the bottom half of the table. Netherton Cricket Club 'A' kept within six points of Brickmakers with a 7-2 home win over Wheatsheaf who are fourth on 24 points two fewer than their opponents. Bulls Head beat Gate Hangs Well 7-2 to hold on to third place with the same 26 points as Netherton Cricket Club 'A'.
———————————
George, leaders of the Rowley Monday Night League had an important 6-3 win away to third placed Cradley Liberal Club to keep them top of the table with 46 points. Second placed Bell's 5-4 win at Ivy Bush keeps them level on points with George and trailing on average only.
———————————
Shock 6-3 results for the top two teams in the Netherton Thursday Night League as top side Riddins Tavern lost at White Horse who are just two places off the bottom of the table and second placed Dudley Ex Serviceman's Club went down by the same score at Bulls Head.
———————————
Top versus bottom in the Hilltop Friendly Tuesday Night League as leaders Tipton Sports won away to Dewdrop 'B'. There was better news for Dewdrop 'A' as they held on to second place with a 6-1 win at Ivy Bush keeping them two points ahead of third in the table Waggon and Horses who handed their hosts Merry-Go-Round 'B' a 7-0 whitewash.
———————————
There was little joy for bottom of the Brierley Hill Friday Night League table Dudley Sports 'B' as they lost 6-1 away to leaders Brickmakers Arms 'A' who remain two points to the good on second placed Netherton Cricket Club 'A' after their close 4-3 win at Ashwood who drop from third to fourth. Old Star move up one to third following their 4-3 win against Brickmakers Arms 'B'.
———————————
Warwickshire kicked off their new season of the BDO Inter County Youth Championships with a home tie against Merseyside at the Parkstone Club, Coventry. A great day was had by players and supporters alike as they enjoyed an opening day 10-5 victory for the bear cubs, the perfect start to their defence of the title.
———————————
With Avenue Social having a bye in the Kings Norton League Rubery RBL took full advantage to replace them at the top of the table with a 5-2 win at Weoley Hill giving them a perfect six points from their first three games. Cock Inn have also won their opening three games the latest of which was a similar 5-2 result as they accounted for Grant Arms.
Avenue Social have slipped to third place, they and fourth placed E57 have only played two games and won them, E57's win was a convincing 7-0 against bottom of the table Northfield.
Two players found the three treble twenties this week J.Taylor (Weoley Hill) and R.Higgins ((Rubery RBL).
——————————–
Just one rearranged fixture played in the West Midlands Men's Super League which saw Woodside beat Colebatch's 5-0 to keep their unbeaten run intact and move them up one place to third on 42 points, four short of leaders Allens Sports Bar 'A' and two behind second placed Yeltz Bar, the top three teams are the only teams with a 100% win record.
———————————
The Sutton and District Summer League played off their 5 A-Side Knockout and with a straight 3-0 scoreline in the final Golden Hind beat The Fox to clinch the title. Golden Hind won their last four game against Drakes Drum 5-0 while Fox had a much closer 3-2 success against Erdington Arrows.
———————————
Village Inn go bottom of the Henley and District Summer League after losing their home tie with current leaders Studley Cricket Club 8-1. Studley Conservative Club kept in the race for the tile with a 7-2 win over fourth placed Wythall RBL leaving them level on 20 points with the Cricket Club with a game in hand.
———————————
Riley's 'C' remain the only team in the two singles and two doubles  divisions of the Wolverhampton Tuesday Night League with a 100% win record, there latest success being a 5-2 home win over Railway to keep them ten points ahead of second placed Gilberts Bar who have a game in hand.
———————————