This coming weekend Warwickshire County Darts Organisation will be playing the sixth of their scheduled nine games in the Premier Division of the BDO Inter County Championships, an away fixture against Cambridgeshire and they will be eager to avenge last season's 20-16 defeat and add to the win in their last outing against high riding Lancashire.
———————————
West Midlands next game in the Premier Division of the BDO Inter County Championships this coming weekend is an away fixture against Cheshire and with their hosts just two places and four points above them they will be hoping to return to winning ways after suffering a heavy defeat at home against league leaders Yorkshire and move above their opponents in the table.
Lining up for the West Midlands will be Men's 'A':- Keith Allman, Gavin Baker, Michael Baker, Scott Baker, Mark Craddock, Nick Fullwell, Liam Kelly, Ash Khayatt, Glen McGrandle, Danny Nicholls, Jonathan Platt, Paul Wells, Men's 'B':- Shaun Carroll, Adam Edgar, Alfie Jacques, Richard Platt, Neil Pointon, Paul Price, Avtar Singh, Jordan Singh, Robert Smith, Matthew Tedstone, Gary Watts, Christopher Williams, Reserves:- Danny Coyle, John Mycock, Jamie Rollason, Mark Rollason, Women's 'A':- Sarah Roberts, Gemma Barrett, Lisa Badger, Shannon Hall, Debbie Loon, Heather Wright, Women's 'B':- Jacqueline Maiden, Sophie Singh, Kim Fellows, Shellbie Simmons, Kath Jenkins, Grace Angell, Reserves:- Lizzy Arnold, Kelly Dolman, Claire Hobbs.
———————————
The Erdington Red Lion Double Top League has reached the halfway mark of its season and league leader Will Naylor made it 25 wins from 26 games when he added a 3-0 win over Matthew Cain to his tall to give him 67 points, a lead of eight over second placed Dean Bayliss who rounded off the half with a similar 3-0 result against Stuart Larvin to keep him six points ahead of both John Frost and Lewis Bayliss.
———————————
In division one of the Four Oaks and District League The Boat handed their visitors The Boot a 9-0 whitewash to keep them within two points of leaders Royal Sutton Flights who after going 3-1 down against Drakes Drum recovered and went on to win 6-3. Golden Hind are placed third and also won 6-3 against St Thomas's Social Club but remain four points off the top of the table on 12 points
Second division leaders Red Lion struggled as they trailed 4-2 at Old Oscott WMC nevertheless with wins in the final three games they clinched a close 5-4 win to stay two points to the good on second in the table Pint Pot Flights who won 6-3 at home to Erdington Arrows.
In the third division The Oscott Social returned to winning ways with a decisive 8-1 result at Rosey Mac's  to hold on to a two points advantage over their nearest rivals Boldmere Tap who after a bye now have a game in hand.
J.Kavanagh (The Boot) was the only player to hit a 180 this week.
———————————
Cup finals were on the agenda for the Forest of Arden Winter League, first the Presidents Cup which brought together the league's top two teams and local rivals Journeys End Flights and Journeys End. The outcome was a 6-3 win for Journeys End Flights.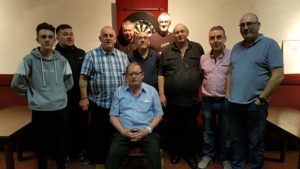 Presidents Cup Winners Journeys End Flights
The Consolation Cup final similar to the Presidents Cup final was again a local derby encounter with Highwood KB taking on Highwood Exiles with the 6-1 verdict going in favour of KB.
———————————
Week eight of the South Birmingham League's new season was a good week for The Gate who after five consecutive defeats chalked up their first win of the season a 6-3 home result over Mackadown Social. Second in the table Crown at Shard End drew level on seven games with leaders Erdington Members Club their 5-4 win at Coleshill Social taking them to within two points of the leaders. Not such good news for third in the table Banbury Arrows who lost their home game against The Raven 5-4, Raven moved up one place in the table and are now three off the bottom.
C's Flights and C's Arrows did battle in division two with Arrows getting the 6-3 result to put them level on 12 points with top of the table Iron Horse but they have now played one game more than the top team.
———————————
The Camp Hill League had their Doubles Knockout on the fixture card and taking the title with a final win over Ashley Pearson and Shay Darby were the Journeys End Lions pairing of Pete Yardley and Ray Cridge.
Losing out in the semi finals were Neil Parsonage and Matt Cooper (Cotterills Lane Club) plus Dan Lee and John Paul Roddy (Nomads).
———————————
Full Monty with a 45-3 win over Three Men And A Lady have taken over pole position in the Winmau Centre Monday Night League with 73 points. Former leaders The Untouchables drop to second place on 69 points after being held to a 24-24 draw by third placed Misfits who with 58 points are a further eleven points off the top of the table.
Here For The Beer and Kristian both got their season underway with respective 36-12 and 29-19 wins.
———————————
There is a new name at the top of the Shirley Premier League table, Andy Thomas after taking 9 out of 12 points is the new leader on 27 points from 10 games after he added 3-1, 2-2 and 4-0 results against respective opponents Sean Talbot, Jordan Ottley and Karl Wilson. Former leader Dave Heighway only played two games in which he finished all square at 2-2 with Brian Lawton but then lost 3-1 to Antony Daly to put him in third place on 25 points two short of Thomas and one behind second placed Sean Talbot but with a game in hand on both players. Talbot recovered from his defeat against Thomas and went on to win 3-1 against Ken Hopton and 4-0 against Karl Wilson.
———————————
The Shirley and District Monday Night League has now reached the half way point of its season and leading the way are Highwood who made it 14 wins in 15 games when they added their convincing 8-1 win at Shirley Golf Club to their tally putting them on 28 points two more than second in the table Dunky's Boys who were 7-2 winners at Sharmans Cross, the league's singles champion Bob Nixon hitting an amazing three maximums for Dunky's. Third placed Red Lion are on the same 26 points as Dunky's Boys after beating sixth in the table Cider House 6-3 in a very close game.
———————————
Week fourteen results in the Henley and District League had no influence on the league table whatsoever, it's as you were with Studley Cricket Club leading the field taking their points to an unbeaten 18 with a 7-2 win at Wootton Bears to maintain a four points advantage over second and third placed Studley Conservative Club and Wharf Swifts who in turn won 5-4 at Wythall Legion and 6-3 against Village Inn.
———————————
An impressive 8-1 win at Cob's Bar has seen East Birmingham Allotment Holders Association take their undefeated run in the Small Heath League to eleven games and has given them a six point's lead over second placed Heartlands Club who have only played ten games the latest of which saw them win by the same 8-1 scoreline as E.B.A.H.A. against Wagon and Horse.
———————————
Ten Arches 'A', second in the Stourbridge and District Monday Night League table must surely have thrown any chance of the title away after surprisingly losing 5-4 away to thirteenth placed Church Tavern. The defeat plus the 9-0 win by local rivals Ten Arches 'B' over bottom team Hare and Hounds 'A' has left the 'A' team two points off the top and with a massive average deficiency and only two more games to play, the title looks almost certain to go to Ten Arches 'B'.
———————————
Hayes Social chalked up their first win in three games in the Hilltop Friendly Tuesday Night League when they won their home tie with The Vine 4-3. Island Inn top the table their 6-1 win at the Rising Sun giving them three wins in as many games and an average lead over Tipton Sports and Waggon and Horses the only other two unbeaten teams. Tipton Sports won 6-1 against Ivy Bush while Waggon and Horses had a closer 4-3 success at home over Horseley Tavern.
———————————
Just the second week of the Netherton Thursday Night League's new season and Dudley Ex Serviceman's Club are the only team able to boast a 100% win record. The Ex Serviceman's latest success came at The Crown where they won 7-2 to give them their three points lead over five teams White Horse, Delph Bell, Riddins Tavern, Bulls Head, Fairfield and Townsend Club. Possibly the biggest upset of the week was the size of the win by Bulls Head as they beat Riddins Tavern 7-2.
———————————
The most recent round of fixtures in the Kings Norton League brought together the league's top two teams Avenue Social and West Heath. Despite home advantage Avenue finished on the wrong side of a 4-3 scoreline which sees West Heath draw level on 20 points with the leaders and now trail on average only.
Third in the table Bournbrook kept in touch with the leading two teams by beating Dingle 5-2 to leave them just two points off the top.
———————————
All of the bottom four teams in the Silver End Sunday Morning League lost 6-2 in week four but at the other end of the table reigning champions and current leaders Woodside won 6-2 away to New Talbot to keep their 100% win record intact and also their two points lead over Dudley Ex Serviceman's Club and Netherton Cricket Club who both lost ground in the title race as in turn they were held to 4-4 draws by Brickmakers Arms 'A' and Dudley Sports.
———————————
With the majority of teams having played twelve games in the Main Division of the Pip Club League The Office have the slight edge on Queens Head on average at the top of the table with both teams on 22 points, Dolphin Wanderers are third just two points behind the leading duo.
In Division One it's Queens Head who lead the way on 12 points with The Office second on ten points, the same number as third in the table Dolphin Wanderers.
Red Lion hold pole position in Division Two but only on average from Old Liberal House as both teams have six points.
———————————
As early as week two in the Brierley Hill Monday Night League and only five of the eighteen teams have won all four games. Bulls Head (Netherton) are the early pacesetters their 6-3 home win over The Swan giving them an average lead over Dudley Sports 'A', Mount Pleasant, Delph Bell and Dudley Ex Serviceman's Club 'A'.
At the other end of the table there are five teams yet to register a win Brickmakers Arms, Limes Club, King William, Dudley Ex Serviceman's 'B' and Lamp Tavern
———————————
Wins for the top four teams in the Brierley Hill Friday Night League, the 5-2 win over Pensnett Welfare Club 'B' keeping Brickmakers Arms 'A' top of the table with a four points advantage over Netherton Cricket Club 'A' who also won 5-2 in their tie with Dudley Sports. Pensnett Welfare 'A' and Miners (Wollescote) are third and fourth, both won 4-3 against their respective opponents Netherton Cricket Club 'B' and Delph Bell.
———————————
Old Bulls Head kicked off the second half of the Sedgley and Gornal Tuesday Night League with a 7-2 win against Gornal British Legion to preserve their number one spot from Parkes Hall whose 6-3 win at Five Ways keeps them level on 24 points with the leaders but with an inferior average.
Both Ashwood and Coseley Tavern trail the top two by two points, Ashwood winning 5-4 at Pensnett Liberal Club and Coseley equaling Old Bulls score of 7-2 at Hilly House.
———————————
After the opening two games in the Rowley Monday Night League, Cradley Liberal Club and The George share the number one spot, level on points and average. Both of the top two teams won their latest fixture 8-1, the Liberal Club winning at Lodgers and George with a 180 from C.Bowen beating Whiteheath Tavern.
Like the leading pair Ex Serviceman's 'B', Ex Serviceman's 'A', Hare and Hounds and Ivy Bush also have a score of four perfect points.
———————————
After the majority of players have completed two games in the three divisions of the Yeltz Bar Tuesday Night League Mark Adams, Matt Moore and Jordan Ward share the top place in division one, all three have 9 points and their average is 9 for and only 1 against.
In division two James Hykin is out on his own at the top of the table with nine points one more than second placed Neil Smith.
There is a tie again in division three with Trevor Collier and Loz Slater both having won their first two games 5-0 giving them a perfect score of 10 points and a lead of two over third in the table John Beattie.
———————————