Warwickshire v Yorkshire
Since Warwickshire gained promotion to the premier division of the BDO Inter County Championships in the season 2008-2009 their opening fixture has always been against current reigning champions Yorkshire and the present season was no different.
Playing at home at the Bishopsgate Club, Foleshill Road, Coventry, CV1 4JJ the ladies 'B' didn't get the sort of result they would have wished for to start their new season. In their opening game Marian Conway suffered a 3-0 defeat at the hands of Yorkshire's Rachel Bolt-Sheard and although Wendy Adams took the first two legs against Lyn Horne she lost 3-2. Angela Jones was another Warwickshire player to win two legs and also go down 3-2 in her tie with Linda Moorhouse and with a further 3-0 for Paula Burgess over Lisa Deslandes the visitors had won the tie as early as the fourth game.
Nina Bolt proved to be the one and only shining light for the home side as she beat Ann Waslin 3-1 and take the match award for her 16.97 average.
The result was taken to 5-1 to Yorkshire when in the final game Marie Groves beat Helen Rigg 3-2 after Rigg had come from 1-0 down to lead 2-1.
Richard Foster was on first for the men's 'B' side and was quick to open up a 2-0 lead against Craig Gwynne only to see Gwynne take the last four legs in 16, 20, 15 and 16 darts for a 4-2 victory
Graham Hall (Warwickshire) was pushed all the way by Graham Elvidge for his 4-3 win as he went 2-0 up, 3-1 up and 3-3 before winning the deciding leg. A 4-1 win from Carl Green over James Barton saw the hosts take the lead for the first time in the third game and Charlie Symons looked all set to increase that lead when he opened up a 3-0 lead over Graham Harrison but finishing doubles once again proved to be the deciding factor as Harrison won the next four legs for a 4-3 win.
With the score standing at two each Warwickshire recorded their best run of the game, a trio of wins started by Ian McFarlane who beat Justin Hobson 4-1. At number six was Luke Kennedy who was taken to a seventh leg by Michael Ridge after Kennedy had gone 1-0 and 2-1 up then trailed 3-2 but won the last two legs to give the home team what appeared to be a comfortable 4-2 lead at the halfway mark.
The second spell got underway and saw Matt Edgar add his 4-3 win against Jim Gordon in what was a replica of Luke Kennedy's game the only difference being the number of darts thrown as Edgar's winning legs of 17, 17, 13 and 15 darts earned him the match award for his superb 30.74 average.
The away team responded with a 4-1 win for Trevor Burkhill over Tom Ryan however their respite was short lived as James Hykin took Warwickshire's lead to 6-3 with a 4-2 success against Derek Lumley.
With a draw now guaranteed the hosts, with three still to play were well on course for victory, but alas it was not to be as Ady Newsholme won 4-0 against Mark Strong, Tony Darlow beat Peter Hughes by the same 4-0 scoreline and in the final game of the day Darren Layden clinched a 6-6 draw for Yorkshire when he came from 1-0, 2-1 and 3-2 down to win 4-3 against Ian Shaw who had throws at a double in the final leg.
Yorkshire drew first blood in Sunday's ladies 'A' game, their Giffy Khaosoi winning 3-0 against Caroline Pike. Melanie Jones levelled for the home side but was made to fight for her 3-2 result by Ann Chilton as Chilton levelled the game twice before Jones won the fifth and final leg.
The third encounter saw Sue Gulliver (Warwickshire) play a true captain's role as she beat Beau Greaves 3-1 with winning legs of 19, 16 and 23 darts to give her a terrific 26.90 average and the teams match award.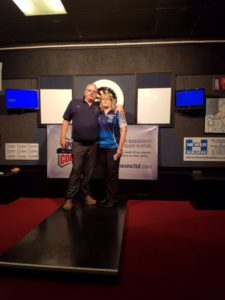 'A' Team Award Winner Sue Gulliver with Neil Pritchard
Now with Warwickshire leading 2-1 Donna Pinch took the score along to 3-1 with her 3-1 win over Louise Stockings before Natalie Gilbert sealed what was a famous victory for the 'A' side with a great 3-2 win against Rachel Brooks. Storming back from 1-0 and 2-1 down Gilbert went on to win the last two legs to clinch her 3-2 win and record a fine 21.48 average. In the nine seasons that Warwickshire and Yorkshire had played each other this was the first time the ladies 'A'' had won.
The final score was taken to 4-2 when Lorraine Winstanley (Yorkshire) beat Chloe McKevitt 3-0.
In the eight previous meetings the men's 'A' have finished all square at 6-6 on no less than five occasions and this was going to be number six.
The first half of the match saw results all go against the first throw advantage Warwickshire taking the lead through Prakash Jiwa when he beat Garry Thompson 4-2 and Glen Durrant cancelling out Jiwa's win with his 4-0 success against Mark Westgarth. The home team took the lead for a second time in the third when one of this season's newcomers Kevin Painter added his straight 4-0 win over Keith Flint to the tally.
Former Warwickshire player Mark Mcgeeney was Yorkshire's second man to restore the status quo as he chalked up a 4-1 win against Kevin Dowling only to see Nigel Heydon come back from 1-0 and 2-1 down to Tony Hull then go on and win 4-3 clinching his win with a superb 130 game shot with his opponent left nursing 54.
It was all square at 3-3 at the break after Martin Atkins won 4-2 against Simon Power
The second half saw the away team string together a run of three wins when John Walton beat Antony West 4-3, Peter Jacques won 4-2 against Steve Hine and David Copley who came from 3-1 down to Anthony Allen win 4-3 and take Yorkshire to within one game of victory.
Jamie Hughes kept Warwickshire in the hunt when he beat Chris Gill 4-2 and with a 4-0 success for Tom Aldridge over Brian Hallis the onus was put on the last two players of the weekend to decide the outcome of the game.
Stepping up to the oche for Warwickshire was another of their newcomers this season Kyle Anderson and for Yorkshire Brian Dawson. Anderson got off to a flyer with a 14 darts leg and not put off by Dawson's 16 darts equaliser he then took the lead again hitting scores of 140,140,123 and checked out on 96 for a tremendous twelve darts leg.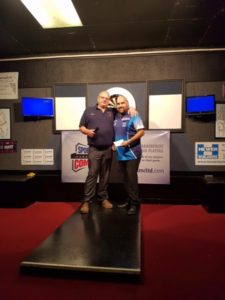 'A' Team Award Winner Kyle Anderson with Neil Pritchard
Anderson hit his third maximum of the game in the fourth leg which he won in 18 darts and rounded off a superb 4-1 win in 19 darts to earn him the man of the match award for a fantastic 31.73 average.
Anderson's win took the final score to six each giving an overall result for the weekend of 19-17 to Yorkshire, a very close encounter which could easily have gone in Warwickshire's favour but despite the defeat there was lots of encouragement for the overall team performance to carry them in good stead for their forthcoming fixtures.
Full Results: Warwickshire v Yorkshire (17-19)🙁Warwickshire names first):Men's 'A':- Prakash Jiwa 4 Garry Thompson 2, Mark Westgarth 0 Glen Durrant 4, Kevin Painter 4 Keith Flint 0, Kevin Dowling 1 Mark McGeeney 4, Nigel Heydon 4 Tony Hull 3, Simon Power 2 Martin Atkins 4, Antony West 3 John Walton 4, Steve Hine 2 Peter Jacques 4, Anthony Allen 3 David Copley 4, Jamie Hughes 4 Chris Gill 2, Tom Aldridge 4 Brian Hallis 0, Kyle Anderson 4 Brian Dawson 1, Men's 'B':- Richard Foster 3 Craig Gwynne 4, Graham Hall 4 Graham Elvidge 2, Carl Green 4 James Barton 1, Charlie Symons 3 Graham Harrison 4, Ian McFarlane 4 Justin Hobson 1, Luke Kennedy 4 Michael Ridge 3, Matt Edgar 4 Jim Gordon 3, Tom Ryan 1 Trevor Burkhill 4, James Hykin 4 Derek Lumley 2, Mark Strong 0 Ady Newsholme 4, Peter Hughes 0 Tony Darlow 4, Ian Shaw 3 Darren Layden 4, Women's 'A':- Caroline Pike 0 Giffy Khaosoi 3, Melanie Jones 3 Ann Chilton 2, Sue Gulliver 3 Beau Greaves 1, Donna Pinch 3 Louise Stockings 1, Natalie Gilbert 3 Rachel Brooks 2, Chloe McKevitt 0 Lorraine Winstanley 3, Women's 'B':- Marian Conway 0 Rachel Bolt-Sheard 3, Wendy Adams 2 Lyn Horne 3, Angela Jones 2 Linda Moorhouse 3, Lisa Deslandes 0 Paula Burgess 3, Nina Bolt 3 Ann Waslin 1, Helen Rigg 2 Marie Groves 3.
———————————
After their away trip against Staffordshire in the Western division of the Northern Youth Darts Organisation  for a second successive fixture Warwickshire's Youth Darts team played away when they travelled to Telford to take on Shropshire, following up their opening 11-4 win with a tremendous 8-7 victory.
With wins from Matthew Cain, Jake Liggins, Jordan Ainsworth and George Ross the under 18's won 4-3 while the ladies won 2-1 thanks to Shona Emslie and Lucy Keyte. The under 21's lost by a close 3-2 result with Tom Mills and Adam Paxton their winners.
Winners of the match awards were Matthew Cain (Under 18's), Lucy Keyte (Ladies) and Adam Paxton (Under 21's).
———————————