West Midlands began life in the premier division of the BDO Inter County Championships with an away tie against Devon and the ladies 'B' side got off to a cracking start when Heather Wright, after going 1-0 down to Cat Callard stormed back to win 3-1 with a 19 darts winner in the fourth leg. Heather not only won her game but also the lady of the match award for her 21.66 average.
After such a fine start it was then pretty much downhill as Devon rattled off three successive wins when Karen Matthews beat Shellbie Simmons 3-2 after Shellbie had gone from one down to 2-1 up, Jodie Hawton won 3-1 against Claire Hobbs and Kelly Gabriel defeated Elizabeth Arnold with a 3-2 scoreline after Arnold had taken 1-0 and 2-1 leads.
The penultimate game saw West Midlands register their second winner in the shape of Shannon Hall who accounted for her opponent Sarah Brown with a 3-1 result.
It appeared that after going 3-1 down West Midlands were going to snatch a draw in the final game as Jacqueline Maiden after losing the first leg to Tracy Ware went 2-1 up but unfortunately finishing doubles eluded her in the last two legs and she finished on the wrong side of the 3-2 scoreline putting the 4-2 result in favour of the hosts.
Robert Smith got the ball rolling for the men's 'B' team, a  fine 4-3 win after trailing 3-1 to Gary Phillips to put West Midlands 1-0 up. Darren Collis erased the visitors lead when he beat Christopher Williams 4-1, Williams having won the opening leg. The home team then took the lead when Neil White won 4-0 against Mark Rollinson but the host's cheers were short lived as Paul Price squared the game at 2-2 with his 4-2 win over Ross Godfrey. Martin Horn gave Devon the lead for a second time in the fifth with a 4-2 win over Danny Coyle but it was all square at three each by the midway point as Sam Guest added his 4-3 win against Andrew Denning to West Midlands tally.
Matthew Dicken looked all set to give the away side a 4-3 advantage when he opened up a 3-0 lead over Phil Goodwin but Goodwin fought back with winning legs of 19,20 and 17 darts to draw level and then in the deciding leg both players had chances to win the game but it was Goodwin who got the vital finishing double for his 4-3 win.
All square once more in the eighth thanks to a 4-1 win by Paul Wells against Jason Pinkerton, Wells beginning his game with a superb 13 darts leg and followed that with another winner in 19 darts, he lost the third in 18 darts but went on to claim his win with further legs of 15 and 21 darts giving him an award winning average of 29.06.
For a fourth time Devon went ahead this time through a 4-2 win from Daniel Belsten over Mark Hampton and then went on to confirm their team win when Mark Shears beat Jamie Rollinson 4-1 and Lee Alderman added his 4-2 win against Neil Pointon taking the score to 7-4.
Michael Baker (West Midlands) fell behind three times against David Matthews but stuck to his task and went on to win his game 4-3 to give a final result of 7-5 to the home team.
Gemma Barrett (West Midlands) gave the ladies 'A' the perfect start when she accounted for her Devon opponent Lisa Hughes with a 3-1 result. Maria O'Brien cancelled out the Barrett's lead when she won 3-0 against Debbie Loon.
Sarah Roberts, winner of numerous 'A' team match awards for the West Midlands began her season with yet another award as she won in three legs against Michelle Andrews with three 21 darts legs giving her a tremendous 23.86 average.
By game number four the visitors had guaranteed themselves of at least a share of the spoils, Sophie Singh's 3-2 win against Hayley Brant moving the score along to 3-1 in their favour.
Devon reduced the deficit when Merryl Dennis beat Kath Jenkins 3-0 to leave the outcome of the game all dependant on the final encounter. Anna Johnson (Devon) had her lead wiped out twice by Lisa Badger before she actually won the tie in the fifth to give a result of 3-3.
First throw proved to be invaluable for the first five players in the men's 'A' game as Nick Fullwell, Glen McGrandle and Dean Mills were winners in games one, three and five at the expense of Paul Milford, David Witt and Mike Pearce, while Glyn Wells and Ben Chamberlain had replied for Devon.
The sequence was broken in the sixth when Jonathan Platt won 4-2 against Mark Vellacott to put West Midlands into a 4-2 lead at the halfway stage.
The lead was extended to 5-2 when Daniel Nicholls won his tie with Phil Stewart 4-1 but momentarily reduced as Mark Shears with a 30.78 average took his second match award of the weekend handing out a rare defeat to Ian Jones in the process.
Scott Baker put West Midlands back on the winning trail when he won 4-1 against Shaun Dring before Liam Kelly put up the match winning strike in style. Kelly lost the first leg to Thom Humphrey in 15 darts but then drew level in 13. He then went on to seal a magnificent 4-1 win with further legs of 15,15 and 17 darts giving him a well deserved match award average of 31.85.
Ash Khayatt came from 2-0 and 3-1 down against Mark Turner before romping home to a 4-1 win with winning legs of 13,15 and 19 darts. The last game of the weekend saw Matthew Dickinson beat Shaun Carroll 4-1 to give a result of 8-4 to West Midlands and an encouraging opening 18-18 draw for the newcomers.
Full Results:Devon v West Midlands (18-18)🙁Devon names first):Men's 'A':- Paul Milford 3 Nick Fullwell 4, Glyn Wells 4 Gavin Baker 3, David Witt 2 Glen McGrandle 4, Ben Chamberlain 4 Mark Craddock 2, Mike Pearce 2 Dean Mills 4, Mark Vellacott 2 Jonathan Platt 4, Phil Stewart 1 Daniel Nicholls 4, Mark Shears 4 Ian Jones 2, Shaun Dring 1 Scott Baker 4, Thom Humphrey 1 Liam Kelly 4, Mark Turner 3 Ash Khayatt 4, Matthew Dickinson 4 Shaun Carroll 1, Men's 'B':- Gary Phillips 3 Robert Smith 4, Darren Collis 4 Christopher Williams 1, Neil White 4 Mark Rollinson 0, Ross Godfrey 2 Paul Price 4, Martin Horn 4 Danny Coyle 2, Andrew Denning 3 Sam Guest 4, Phil Goodwin 4 Matthew Dicken 3, Jason Pinkerton 1 Paul Wells 4, Daniel Belsten 4 Mark Hampton 2, Mark Shears 4 Jamei Rollinson 1, Lee alderman 4 Neil Pointon 2, David Matthews 3 Michael Baker 4, Women's 'A':- Lisa Hughes 1 Gemma Barrett 3, Maria O'Brien 3 Debbie Loon 0, Michelle Andrews 0 Sarah Roberts 3, Hayley Brant 2 Sophie Singh 3, Merryl Dennis 3 Kath Jenkins 0, Anna Johnson 3 Lisa Badger 2, Women's 'B':- Cat Callard 1 Heather Wright 3, Karen Matthews 3 Shellbie Simmons 2, Jodie Hawton 3 Claire Hobbs 1, Kelly Gabriel 3 Elizabeth Arnold 2, Sarah Brown 1 Shannon Hall 3, Tracy Ware 3 Jacqueline Maiden 2.
After their inspiring draw with Devon, West Midlands took on Hampshire in early October, the team that won promotion with them from division one as champions.
The first three games of the ladies 'B' match saw Hampshire twice take the lead, Clare Cheney was first on and won 3-0 against Kelly Dolman and although Shannon Hall cancelled out Cheney's win when she won 3-0 against Maxine Cadwallader the visitors were back in front in the third when Dawn Simmonds won against Claire Hobbs, again the score was 3-0.
Shellbie Simmons lost the opener to Kelly Palmer but went on to win the tie 3-1 before West Midlands went ahead for the first time in game number four when Jacqueline Maiden defeated Sue Thompson 3-1 and took the lady of the match award for her 18.57 average.
Abi Jurd won the last game against Elizabeth Arnold 3-0 to put the final score all level at three each, an improvement on last season's result when they lost 4-2.
The men's 'B' team didn't have the best of starts Richard Platt lost 4-1 to Paul Winter, Jamie Rollinson went down 4-3 to David Bonnett and Paul, Price finished on the wrong side of a 4-0 whitewash to Mick Savvery.
Sam Guest lost his first leg to Michael Street but went on to record West Midlands first win of the game 4-1.
Hampshire went 4-1 up in the fifth when Jamie Kelling added his 4-2 win over Adam Edgar to their count.
By the end of the first half the arrears were reduced as Matthew Dicken beat Steve Jannaway 4-2 and were then reduced even further to 4-3 with a straight 4-0 win from Robert Smith at the expense of Mike Gillet. Smith was in top form kicking off with a 13 darts leg and following up with 18,20 and 19 darts legs to earn him the match award for his 28.63 average.
Michael Baker began well going 3-0 up against Mark Thorne but it was Thorne who got the 4-3 verdict with further 18,18,19 and 18 darts legs.
Christopher Williams handed out a 4-0 whitewash to his opponent Dave Coffin and with a 4-1 win from Paul Wells over Graham Chalk West Midands had drawn level at 5-5.
Aaron Monk gave Hampshire the advantage and a huge opportunity to win the game when he beat Alfie Jacques 4-1 in the penultimate encounter and Andy Newcombe looked all set to take the applause when he opened up 1-0 and 3-1 leads over Neil Poimton, however Pointon was in no mood to lose and with  20, 22 and 20 darts legs he wrapped up a personal 4-3 win and gave the West Midlands men's 'B' side  a well earned 6-6 draw, again an improvement on the same fixture last season when Hampshire won 7-5.
There was something of a shock at the beginning of the ladies 'A' tie as West Midlands star Sarah Roberts lost the opening game 3-1 to Tara Power-Gillet, a very rare defeat for Sarah who last season in the same fixture was the only winner in what was a 5- 1 defeat. Nevertheless the game was levelled in style as Heather Wright in 20,19 and 21 darts beat Nikki Stevens 3-1 and at the end of the day she lifted the match award for her 22.57 average.
Hampshire got their noses in front again in the third when Wendy Reinstadtler won 3-1 against Kath Jenkins and any thoughts of a repeat performance of last season's result were erased in the fourth when Debbie Loon beat Jane Monaghan 3-1 after Monaghan had won the first leg.
Sophie Singh was pegged back twice by Joanne Senior before recording her 3-2 win and then in the final game a draw appeared to be on the cards as Sue Lowther (Hampshire) took the first two legs off Gemma Barrett. Although the pressure was now on Barrett she held her nerve and with wins in the next three legs won her game 3-2 and the match 4-2.
As in the game against Devon Nick Fullwell once again gave the men's 'A' team a winning start as he accounted for James Nicholson in double quick time with a 4-0 result and an award winning average of 29.91 after chalking up winning legs of 16,18,17 and 16 darts. Although Shaun Carroll then lost 4-2 to Gary Stafford Scott Baker with a 4-2 win against Chas Barstow and Liam Kelly with a 4-1 success over Robin Hathaway took the Midlanders lead to 3-1.
Despite the best efforts of Ash Khayatt who had a lead of 2-1 over Sam Rooney and then drew level at 3-3 he eventually lost 4-3. After the first six games it was all level at three each when Steve Musson added his 4-3 win against Jonathan Platt to the Hampshire score.
Trailing 3-0 to Paul Winter, Glen McGrandle pulled back to 3-3 before losing the decider. All square again in the eighth as Gavin Baker beat Luke Getty 4-1. The pressure was relentless from the visitors who once again took the lead this time through Charlie Jackson who won 4-1 against Ian Jones giving Hampshire a 5-4 lead with three to play.
Dean Mills (West Midlands) with a 4-1 success against Steve Phipps restored parity before, for a third time in the game the hosts went ahead as Daniel Nicholls with two ton plus finishes beat Andy Mitchell 4-3 and with another 4-3 win in the final game of the weekend from Mark Craddock whose game with Mike Symes saw him lead 3-0 level at 3-3 and win the final leg in 15 darts with his opponent way back on 228.
So the men's 'A' won 7-5 to give an overall win of 20-16 reversing the result from the same fixture in division one last season and putting West Midlands top of the premier division table with 42 points although they have played one game more than the majority of teams in the division, but it's an excellent start which hopefully will continue.
Full Results:West Midlands v Hampshire (20-16)🙁West Midlands names first):Men's 'A':- Nick Fullwell 4 James Nicholson 0, Shaun Carroll 2 Gary Stanford 4, Scott Baker 4 Chas Barstow 2, Liam Kelly 4 Robin Hathaway 1, Ash Khayatt 3 Sam Rooney 4, Jonathan Platt 3 Steve Musson 4, Glen McGrandle 3 Paul Winter 4, Gavin Baker 4 Luke Getty 1, Ian Jones 1 Charlie Jackson 4, Dean Mills 4 Steve Phipps 1, Daniel Nicholls 4 Andy Mitchell 3, Mark Craddock 4 Mike Symes 3, Men's 'B':- Richard Platt 1 Paul Winter 4, Jamie Rollinson 3 David Bonnett 4, Paul Price 0 Mick Savvery 4, Sam Guest 4 Michael Street 1, Adam Edgar 2 Jamie Kelling 4, Matthew Dicken 4 Steve Jannaway 2, Robert Smith 4 Mike Gillet 0 Michael Baker 3 Mark Thorne 4, Christopher Williams 4 Dave Coffin 0, Paul Wells 4 Graham Chalk 1, Alfie Jacques 1 Arron Monk 4, Neil Pointon 4 Andy Newcombe 3, Women's 'A':- Sarah Roberts 1 Tara Power-Gillet 3, Heather Wright 3 Nikki Stevens 1, Kath Jenkins 1 Wendy Reinstadtler 3, Debbie Loon 3 Jane Monaggan 1, Sophie Singh 3 Joanne Senior 2, Gemma Barrett 3 Sue Lowther 2, Women's 'B':- Kelly Dolman 0 Clare Cheney 3, Shannon Hall 3 Maxine Cadwallader 0, Claire Hobbs 0 Dawn Simmonds 3, Shellbie Simmons 3 Kelly Palmer 1, Jacqueline Maiden 3 Sue Thompson 1, Elizabeth Arnold 0 Abi Jurd 3.
———————————
The Sheldon and District League have completed their summer season fixtures and taking the honours are, in division one Mackadown Social who are champions with 15 points two more than runners up Iron Horse Flights. The division two title has gone to Highwood KB's with Willclare Sports and Social runners up, again the difference between the two teams was two points.
Ridgemere Social are division three champions finishing with 14 points just one more than their nearest rivals Shirley RBL Misfits while division four produce the biggest winning margin in the league with Fox and Goose topping the table with 18 points, three more than runners up Highwood Exiles.
———————————
The South Birmingham League played off two of their cup finals and in the Rose Bowl, group three champions Erdington Members Club surprisingly beat group one champions The Raven 8-1 while in the final of the Edna Meek Memorial Cup The Bell accounted for C's Flights with a 6-3 result.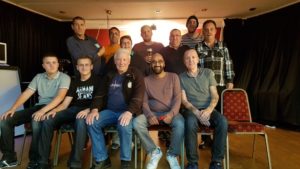 Rose Bowl Winners Erdington Members Club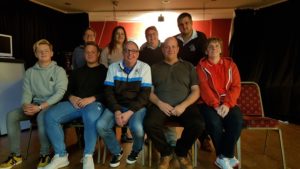 Edna Meek Memorial Cup Winners The Bell
In the league's Mixed and Youth Doubles Knockout Sue Kingdon and Simon Edwards lifted the title with a final 3-1 win over Sue's two sons Mitchell and Peter Kingdon, Mitchell aged 12 and Peter 15.
Mixed and Youth Doubles Winners Sue Kingdon and Simon Edwards with Treasurer Trevor Edwards
The last four games saw Sue and Simon beat Luis Barberan and Diane Hudson 3-0 and by the same margin Mitchell and Peter defeated Courtney Burns and Nick Walker.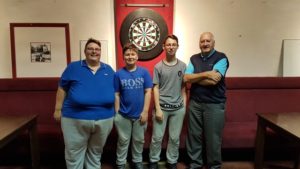 Mixed and Youth Doubles Runners up Mitchell and Peter Kingdon with Organiser Sue Kingdon and Treasurer Trevor Edwards.
———————————
The Small Heath League's League Cup was won with a 6-3 result over Heartlands Club by East Birmingham Allotment Holders Association who added the title to their already won league title.
———————————
The Cradley Tuesday Night League staged their singles knockout at Netherton Sports and Social Club and in the semi finals Joe Sharratt beat Greig Billingham 2-0 and Carl Davies won 2-1 against Jess Archer.
The final saw Sharratt retain his title for a second term when he won 2-0 against Davies.
In the doubles knockout the results from the semi finals onwards were all 2-1. In the last four games Mark Rutter and Shaun Hill beat Carl Penzer and Jeff Batham and from the other side of the draw Lee Banner and Carl Davies took out Jess Archer and John Slim.
The title then went to Rutter and Hill as they defeated Banner and Davies in the final.
———————————
Dudley Ex Serviceman's Club have won the Netherton Thursday Night League title with a total of 42 points, nine more than second placed Riddins Tavern.
The 3 A-Side knockout final  turned out to be an all Dudley Ex Serviceman's Club affair. Wrapping up the title with a 3-1 result was the triumphant trio of Phil Tonks, Darren Brown and Matt Kendall who beat team mates Robert Carr, Rob Powers and Jeff Batham.
———————————
The Stourbridge and District Monday Night League played the finals of their doubles knockout and taking the tile with a final 2-0 win over the local rival pairing of S.Garland and M.Flatman from Ten Arches 'A' were the Ten Arches 'B' representative duo C.Fox and C.Williams.
———————————
The Sheldon Social Dukes In House League have completed all fifteen of their scheduled fixtures and claiming the league's inaugural title was Sean O'Donnell who won 12 of his 15 games.
Phil Ashford went into his final fixture level on points with Paul Sunner but a 2-1 win saw him share the runners up spot with Paul Curry who wound down the season with a 3-0 win over Gary Groves and Sunner finish fourth one point behind Ashford and Curry. Ashford actually won one game more than O'Donnell but being as the points system is based on the number of winning legs Ashford finished with 32 three short of O'Donnell.
———————————
The Sutton and District Summer League played two cup finals in which The Boat lifted the title for the Prestridge Shield with a final win over Drakes Drum and The Boot took the Roy Bird Trophy title with a close 5-4 win over Red Lion in the final.
———————————
The Hilltop Friendly Tuesday Night League played off their Black Country Windscreen Trophy which saw league leaders Dewdrop with wins from P.Blades and W.Griffiths open up a 2-0 lead over second in the table Waggon and Horses, however Waggon and Horses came galloping back to lead 3-2 with wins from H.Hewitt, C.Bowen and C.Williams.
After a hard fought game Tony Kennedy won against John Mason to see Dewdrop draw level at three each but a final deciding win from Chris Dabbs gave Waggon and Horse the 4-3 verdict.
———————————
Great prize money was on offer but it was a very disappointing turnout for the Brandon Open as only 28 players turned out. Despite the poor numbers a good day was had by all who did turn up.
In the semi finals Warwickshire's Mark Carter and Noel Grant lost in turn to Nick Fullwell and Martin Biggs and then in the final West Midlands man Fullwell took the top prize and the title when he defeated Biggs.
Winner Nick Fullwell and Les Ball (Warwickshire Treasurer).
———————————
Due to only a small turnout it was decided to play a "Round Robin" in the Colebatches Club's knockout. The first of the semi finals matched Steve Gillam and Nick Fullwell which saw Gillam win 4-2. The second of the semi's between Mark Craddock and Shane Price went the full seven legs distance with Craddock just getting the close 4-3 verdict.
The final also went to a deciding leg which saw Mark Craddock winning the seventh leg in 18 darts and taking the title with a 4-3 result. As winner Craddock received £150, runner up Steve Gillam had £80 and there was £40 each for Fullwell and Price.
———————————
The Somercotes Snooker Club, Somercotes, Derbyshire was once again home to the ever popular Ripley Elite Darts Singles League and no fewer than 29 players took part in the premier division of the summer league in what was where all previous records were broken.
There was a total of 345 maximums over the season and on two occasions Paul Baker narrowly missed out on a nine darts game as double twelve twice eluded him.
The title this year went to Aden Kirk who lost just three of his 28 games and was a worthy winner amassing 130 points five more than runner up Kyle Anderson who was recently crowned World Series winner.
Third place with 116 points went to Dale Gadsby who finished just one point ahead of Paul Baker in fourth place.
Individual awards went to Aden Kirk most 180's which was 32, Paul Baker recorded the least darts which was ten, the highest finish was a maximum 170 and achieved by Kyle Anderson, Aden Kirk and Pete Burgoyne, Kyle Anderson also had the best average of 104.49.
The division one title went down to the wire with Reece Spurr just pipping newcomer Rich Bloomfield as they squared up to each other in the very last game of the season, Spurr finishing with 126 points and Bloomfield 121.
Craig Freeman was third with 106 points the same number as the highest placed lady Joanne Oldershaw who finished in a very respectable fourth position.
Division one produced 99 scores of 180 the most being hit by Reece Spurr who hit 15. Rich Bloomfield had the least darts of 13 and the highest finish of 160 went to Nathan Parkin. Best average for the season went to James Parkin 89.79.
The league paid out a fantastic amount of £7751 in prize money.
———————————