Congratulations to West Midlands player Mick Baker who for an unbelievable third consecutive season has won the Winmau Centre Thursday Night Champions League together with the top prize of £300 together with yet another year's sponsorship from Winmau.
Yes Mick completed a unique hat trick of wins but this season's win was his closest yet going to the wire and the title resting on a rearranged fixture for both himself and fellow West Midlands man Sam Guest as they went into the title clincher level on both points and average.
Guest's final game against fourth placed Chris Williams saw him win 6-1 while Baker took on Chris Fox who finished the season in tenth place, the result, a much needed 7-0 whitewash to give Baker the title by just one point after a 42 games season. What a fitting climax to what has been a fantastically exciting hard fought campaign.
———————————
Sheldon Heath Social Club have begun a new In-House league which has attracted an encouraging initial sixteen players. After the opening three fixtures only three players Sean O'Donnell, Paul Sunner and Phil Ashford are able to boast an unbeaten record, O'Donnell and Sunner both having won all three games 3-0. O'Donnell had wins against Adam Plows, Gary Groves and Steve Groves, Sunner accounted for Lee Molyneux, Mick Hicks and Simon Banks while Ashford after beating Rob Hicks 3-0 in his opening game he then won 2-1 against both Dave Field and Paul Curry.
Third in the table Chris Cotter is on the same nine points as O'Donnell and Sunner but he has played four games.
———————————
The Shirley Red Lion Premier League played their final fixtures of the league season and finishing top of the table with 88 points was Paul Higgins who had already completed his programme. Tom Bent began the last week in fourth place and although his evening didn't get off to the best of starts when he lost 3-1 to Antony Daly he quickly recovered to win 4-1 against Craig Johnson and complete his fixtures with a 3-1 success against Nick Walker to finish as runner up on 87 points, just one short of Higgins.
With the top four players going into a play off to decide the top four placings Mark Gwalchmai was fifth in the table with two to play, he won 4-0 against Mick Gorst and with a 3-1 win over Craig Johnson took his points tally to 86 and finished in third place. Making up the final four was Andy Thomas who had completed his fixtures the previous week and with 81 points despite dropping from second place to fourth made the final play off by being one point to the good on fifth in the table Lee Harris.
———————————
Landywood 'A' rounded off their season in the West Midlands Men's Super League with a 5-0 home win over Crown 'B' to secure the title their third in four seasons. Landywood finished the campaign with 180 points, four more than runners up and last season's champions Crown 'A' who wound down their fixture card with a 4-1 win over Landywood 'B'.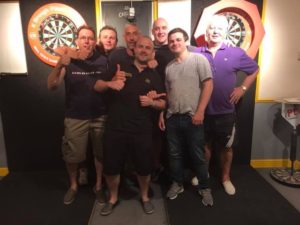 Champions Landywood 'A'
———————————
An 8-0 win over The C's Flights has seen Raven take over the number one spot in group one of the South Birmingham League.
Iron Horse made it two wins in as many games in group two with a 5-3 win at Toby Jug and hold on to pole position with four points. Pavillions are on the same points as Iron Horse but trail by just one leg of average after their 5-3 win against Kingfisher.
A similar situation exists at the top of group three as Mackadown Social top the table after an 8-0 win at Smithswood Social and Erdington Members Club are second, again trailing by only one leg of average after a 7-1 win at Coleshill Social. Third p[laced Crown at Shard End were 7-2 winners against The C's Arrows and like the two teams above them are on for points but trail by a further two legs of average.
———————————
Just one result from round one of the Presidents Cup in the Forest of Arden Summer League which saw second in the league table Journeys End Flights gain a close 5-4 win away to Crown Arrows who are fourth in the table.
———————————
It was unlucky week thirteen for Gulp Tribe in the Small League when they lost 5-4 away to Wagon and Horses. Despite the defeat Gulp Tribe hang on to second place in the table but now trail leaders East Birmingham Allotment Holders Association by four points as the top team won their home game against Cob's Bar 8-1, but E.B.A.H.A have played one game more than Gulp.
Third placed Foaming Tankard were the week's biggest winners as they handed out a 9-0 whitewash to their hosts bottom team Emerald Club.
———————————
It was a good week for bottom team Unleashed Warrior in the Winmau Centre Monday Night League as for the first time in ten games they won. Playing against next to bottom Make Mine A Double, Unleashed Warrior won 27-21. Leaders Just The Tip also won 27-21, a vital win against The Untouchables who are third in the table and now some 21 points off the top. What's The Point beat Utter Nutters 28-20 are second just five points behind the leaders with a game in hand.
———————————
With second placed Bulls Head 'A' (Polesworth) having a bye in the Pip Club League's Main League, leaders Queens Head took full advantage to increase their lead to six points with a convincing 8-1 win at Wigginton Arms who are bottom of the table. Third and fourth placed Winning Post and Birchmoor Club played each other the former winning the tie 5-4 to put them six points to the good on their opponents.
———————————
It was top versus bottom in the Camp Hill League when leaders Cotterills Lane Club entertained Station Wagon and beat them 5-2 to take their unbeaten run to twelve games. Although Cotterills are undefeated they only have a two points lead over their nearest rivals Hay Mills Social Club Lions who won their game at Devil's Club by the same 5-2 margin.
———————————
The Sutton and District Summer League provided a few shock results in week seven as the top two teams in division one, Golden Hind and The Boat both lost their home games 5-4 in turn to Old Oscott Arrows and Bishop Vesey. No such problem for division two leaders Erdington Club who won 8-1 against Erdington Arrows but second placed The Boot were also surprise victims as they lost 5-4 away to Pint Pot Flights who are bottom of the division and previously without a win in five games.
Old Oscott WMC won their game against Rosey Mac's 7-2 to go top of division three as former leaders The Fox had their fixture with The Duke postponed the two top teams are both on 12 points, Fox having played one game less than Old Oscott.
———————————
Dudley Ex Serviceman's Club recorded an 8-1 home win in the Brierley Hill Monday Night League over bottom of the table Limes Club to keep them two points ahead of second placed Bulls Head (Netherton) who won 7-2 at Roebuck. Mount Pleasant continue to slide down the table, now in third place on the same 22 points as Bulls Head after losing 6-3 at The Swan who are tenth in the table and six points behind them. Mount Pleasant were the only losers in the top seven teams.
———————————
Ten Arches 'A' made it eighteen straight wins in the Stourbridge and District Monday Night League when they won 8-1 at Garibaldi. Local rivals Ten Arches 'B' won their home game against Church Tavern 5-4 to put them on 28 points and remain eight behind their 'A' team with two games in hand. The same scenario exists for third placed Gate 'B' whose 6-3 win over Kingswinford Conservative Club leaves them just three legs of average short of Ten Arches 'B', they also have two games in hand on the leaders.
———————————
The Kings Norton League were engaged in their League Cup in which the two top and the bottom two teams played each other. Leaders Hillyfields 'B', who have won all 20 of their league fixtures took on second placed West Heath and won 16-5. At the other end of the league bottom placed Billesley took on the team just above them Coldstream, and won 14-7.
Other teams to win through to the next round were E57, The Coppice, Cotteridge Social, Grant Arms and Bear and Staff.
———————————
The Netherton Thursday Night League played their doubles knockout down to the last sixteen and winning through were J.Batham & R.Powers, P.Tonks & D.Brown (Dudley Ex Serviceman's Club), L.Evitts & C.Raybould (White Horse), N.Cartwright & S.Cartwright, M.Hall & J.Wrench (Delph Bell), T.Johnson & D.Shilvock, J.Green & S.Green (Fairfield), S.Purcell & B.Welch (Riddins Tavern).
———————————
As a result of Dewdrop winning 5-2 at New Talbot and Island Inn losing 4-3 at Wonder, Dewdrop have extended their lead at the top of the Hilltop Friendly Tuesday Night League to four points. Island Inn hold on to second place but The Vine's 5-2 win at Hayes Social has seen them move up into third place and put them within four points of Island Inn.
———————————
The Stourbridge and District Wednesday Night League's new season is up to week two and six of the starting line up of eighteen teams are undefeated. The Bell top the table on average after recording two 7-0 wins in their opening two games against Stourbridge RBL and Station Inn. Reigning champions Ashwood 'A' with a 5-2 win over their 'B' side followed by a 7-0 win at Netherton Cricket Club are in second place.
———————————
Riley's 'C' stay four points to the good at the top of the division one singles league in the Wolverhampton Tuesday Night League after beating The Boat 5-2 and Dog and Partridge remain top of division two with a 4-3 home win over Shed.
In the division one doubles league Riley's 'B' had their lead shortened to six points after surprisingly losing 2-1 at home to Penn Bowling who move off the foot of the table after their win.
Wednesfield Legion stay six points ahead of Roebuck in division two after they won 2-1 at Bird in Hand and Roebuck beat Woodfield Social 3-0.
———————————
The Wednesbury and Darlaston Wednesday Night League played off their Harry Tibbetts and Runners Up cups, in the former The Nutan beat Staffordshire Knot in the final while Horse and Jockey took the Runners Up title with Staffordshire Knot 'B' losing in the final.
———————————