In division one of the BDO Inter County Championships West Midland's final game of the season was a vital home tie against London as both teams pushing for a place in the premier division next season, West Midlands in second place just one point to the good on their opponents.
The weekend could not have got off to a better start for the Midlanders as the ladies 'B' kicked off with a lady of the match performance from Heather Wright who handed out a straight 3-0 defeat to Nikki Patten, Wright rounding off her win with an 18 darts leg to give her a 21.17 average to end the season the way she began it with a match award.
Shannon Hall doubled West Midlands lead with a similar 3-0 win over Lynne Biondini before London staked their claim on the game when Dee Belcher beat Claire Hobbs 3-2 after Hobbs had won the first and drawn level in the fourth and Mandy Solomons levelled the game with her 3-1 success against Shellbie Simmons.
Elizabeth Arnold restored West Midlands lead when she beat Jane Biggs 3-1 and with a further 3-1 win for Jacqueline Maiden against Shaz Deboo Costello in the last game the hosts registered a 4-2 win their sixth of the season, losing just two of the nine games.
The first four games in the men's 'B' match saw all of the results go against the first throw advantage, the home team going one up through Mark Rollinson when he beat namesake Mark Gallagher 3-1, then London drawing level when Matthew Finch won 3-1 against Paul Price. Michael Baker put the hosts ahead for a second time when with a straight 3-0 result he accounted for Paul Killington only to see the lead cancelled out for a second time when Nick Cocks beat Danny Coyle 3-1 after Coyle had won the opening leg.
It was game number five before the sequence was broken, Michael Power coming from 1-0 down and 2-2 to beat Robert Smith 3-2 and give London the lead for the first time in the game.
The away team's lead was short lived as Paul Wells and Neil Pointon in turn won 3-2 against Tony Hamit and Rob Edwards to give the home side a 4-3 advantage, but once again the lead didn't last long as London's Lewis McGurn won 3-0 against Sam Guest to put the running score level at 4-4.
The visitors looked all set to go ahead again in the ninth when Michael Artiss won the first two legs against Matthew Dicken, but Dicken won the third in 19 darts, then with a 100 game shot levelled at two each and took the decider with a 120 outshot for a 3-2 win.
Putting a win beyond London's reach was Dean Mills who lost the first leg when the away team's Spencer Ellis produced a 100 checkout after Mills had left himself on double nine off a 72 outshot. The second leg, with a 110 game shot saw Mills draw level in 18 darts and then take a 2-1 lead with a 16 darts leg including a maximum. To round off his 3-1 win Mills produced his second 16 darts leg to give him a man of the match award winning average of 29.21 his first award of the season.
The penultimate game saw London reduce the deficit to 6-5 when Dean Coughlan won 3-0 against Mark Hampton to put the emphasis on the final game between John Morris (West Midlands) and Matt Winzar to determine whether or not the match would finish all square or West Midlands would win.
John Morris (West Midlands) won the first leg in 16 darts only to see Winzar level in 21 darts, then after a little nervous finishing in the third Morris finally got the necessary double one to go 2-1 up. Once more Winzar levelled this time in 23 darts after Morris had left double nine off 90. In 21 darts and with a 60 game shot John Morris sealed not only his personal 3-2 win but more importantly his team's 7-5 victory to put West Midlands 11-7 up after the first day's play.
 After the superb start to the weekend in the Saturday 'B' games Sunday saw West Midlands come back down to earth as the ladies 'A' suffered their third 5-1 defeat of the season. Debs Watling with a 3-1 result over Kayh Jenkins put London one up and with a similar 3-1 win from Carly Townsend over Lisa Badge the visitors lead was doubled.
London's ladies 'A' were guaranteed at least a share of the spoils as early as the third game when Tammy Mackenzie won 3-2 against Sophie Singh in a game that could have gone either way. It was the same story in the fourth game where Casey Gallagher beat Gemma Barrett 3-2 to ensure a victory for the away team.
A 3-0 win from Steph Stutley against Debbie Loon took the score along to 5-0 before West Midlands registered their one and only win in the final game when Sarah Roberts, winner of four previous lady of the match awards made it five with a 3-1 win over Leanne Topper. Sarah lost the first leg but in 17 darts and an 80 game shot levelled then went 2-1 up in 24 darts and completed her win with a 21 darts leg including a 120 finish to give her a superb 23.47 average.
With six wins from the previous eight games the men's 'A' team have enjoyed a successful season and it was that sort of form that saw them open up a 4-0 lead in double quick time against London. Nick Fullwell led the charge as he won the opener against Graham Rackstraw 4-3 after Rackstraw had gone 2-0 and 3-2 up. Gareth Watts and Dean Mills in turn had 4-2 wins over Steven Ferguson and Dean Coughlan and taking the score to 4-0 was Scott Baker with his 4-1 success against David Wawrzewski.
Danny Faulkner was London's first winner when in game five he beat Jonathan Platt 4-3 in a game that saw Platt go 1-0 up, fight back to 2-2 and 3-3 before losing. Faulkner's team mate Lee Cocks looked as though he would reduce the deficit even further when he opened up leads of 1-0 and 2-1 against Ian Jones, but from 2-1 down West Midlands long serving campaigner fought back to take a 3-2 lead and although Cocks won the sixth it was Jones who got the 4-3 verdict when he wrapped up his win in 18 darts with a 76 game shot.              At 5-1 down was when London came alive Nicky Turner beat Ashe Khayat 4-1, Steve Douglas won by the same margin against Gavin Baker, Tom McGurn was the 4-2 winner against Daniel Nicholls, Conan Whitehead had a 4-0 success against Paul Wells and Tommy Sanwell gave the visitors the lead for the first time in the game in the penultimate encounter when he won 4-1 against Mark Craddock.
So now after completing eight fixtures and having played 323 games of darts it had all come down to the last game of the day, the weekend and the season to decide who would play their fixtures in the premier division next season.
Lining up for the West Midlands was Shaun Carroll and London Chris Stevens. Carroll took the first leg in 19 darts only to see Stevens draw level in 15 darts. Then Carroll stepped up a gear and with scores of 174,46,140 and 121 left himself on 20 after only a dozen darts with Stevens way back on 145. Two darts later and Carroll had his lead restored at 2-1. The home player then went 3-1 up in 17 darts, again Stevens was left stranded on 154 and to round off his 4-1 win Shaun Carroll took the fifth leg in 16 darts, Stevens without a throw for 100.
What better way to earn a 4-1 win, a man of the match award for his superb 31.35 average, a critical 6-6 draw for the men's 'A', an overall 18-18 draw for the weekend and most important of all promotion to the premier division as West Midlands finished the season one valuable point ahead of London to clinch the runners up spot behind Hampshire.
Division One:West Midlands v London (18-18)🙁West Midlands names first):Men's 'A':- Nick Fullwell 4 Graham Rackstraw 3, Gareth Watts 4 Steven Ferguson 2, Dean Mills 4 Dean Coughlan 2, Scott Baker 4 David Wawrzewski 1, Jonathan Platt 3 Danny Faulkner 4, Ian Jones 4 Lee Cocks 3, Ashe Khayatt 1 Nicky Turner 4, Gavin Baker 1 Steve Douglas 4, Daniel Nicholls 2 Tom McGurn 4, Paul Wells 0 Conan Whitehead 4, Mark Craddock 1 Tommy Sanwell 4, Shaun Carroll 4 Chris Stevens 1, Men's 'B':- Mark Rollinson 3 Mark Gallagher 1, Paul Price 1 Matthew Finch 3, Michael Baker 3 Paul Killington 0, Danny Coyle 1 Nick Cocks 3, Robert Smith 2 Michael Power 3, Paul Wells 3 Tony Hamit 2, Neil Pointon 3 Rob Edwards 2, Sam Guest 0 Lewis McGurn 3, Matthew Dicken 3 Michael Artiss 2, Dean Mills 3 Spencer Ellis 1, Mark Hampton 0 Dean Coughlan 3, John Morris 3 Matt Winzar 2, Women's 'A':- Kath Jenkins 1 Debs Watling 3, Lisa Badger 1 Carly Townsend 3, Sophie Singh 2 Tammy Mackenzie 3, Gemma Barrett 2 Casey Gallagher 3, Debbie Loon 0 Steph Stutley 3, Sarah Roberts 3 Leanne Topper 1, Women's 'B':- Heather Wright 3 Nikki Patten 0, Shannon Hall 3 Lynne Biondini 0, Claire Hobbs 2 Dee Belcher 3, Shellbie Simmons 1 Mandy Solomons 3, Elizabeth Arnold 3 Jane Biggs 1, Jacqueline Maiden 3 Shaz Deboo Costello 1.
———————————
On The Local Scene:
With the domestic issues all sorted in the Four Oaks and District League it was all down to cup finals the first of which were the Coronation Shield and the Norman Day Cup. In the former Old Oscott Arrows started well against The Boat taking the first game 2-1 but it was a lead they would lose and never recover as the newly crowned league champions and last year's runner up in the competition dropped just three legs in the following three games, rounding off their win with a 3-0 success in the final game for a 10-5 victory.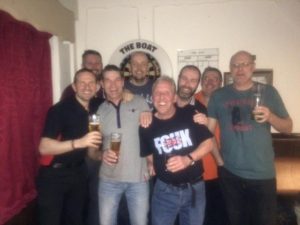 The Boat
Playing Drakes Drum in the Norman Day Cup, Erdington Arrows matched their opponents in scoring but struggled to find the finishing doubles. They lost the first two games 2-1 and would not win another leg until the final game, giving Drakes Drum a 12-3 win.
To round off the season the finals of the Brian Goodman and Ken Rust cups were played off. In the Brian Goodman Cup a depleted Golden Hind outscored their opponents Boldmere St Mikes and after losing the first two games won the next two to level the match. Boldmere St Mikes however would not be denied and won the remaining five games to take the match 7-2 to retain the title and also repeat the 7-2 defeat of Golden Hind two years ago.
In the Ken Rust Cup Red Lion started well against The Boat winning the first game but then losing the next three, Red Lion rallied to level the match at 3-3 but then ran out of steam and the league champions won last three for a 6-3 victory.
J.Prince (The Boat) hit his fourth 180 and the final maximum of the season to bring the grand total for the season to 73.
———————————
The South Birmingham League played off the finals of their Roy Parry and Roy Parry Consolation cups. In the Roy Parry cup the top two division one teams Erdington Members Club and Mackadown Social squared up to each other, the 7-2 result going in favour of Erdington Members Club.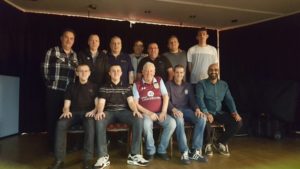 Erdington Members Club
The Raven and The Dog did battle for the Roy Parry Consolation cup title and it was the division one outfit Raven, who got the better of their division two rivals with a convincing 8-1 result.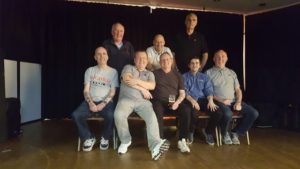 The Raven
———————————
The divisional cup finals in the Forest of Arden Winter League were all about Journeys End. In the division one play off champions Journeys End beat bottom of the table Ivy Leaf 7-2 and in the division two game it was again champions Journeys End Flights who won by the same 7-2 scoreline against divisional runners up Highwood Arms.
Left Journeys End (division one cup winners) and right Journeys End Flights (division two cup winners0
The league also staged the final of their League Pairs Cup and taking the honours with a final 11-4 win over bottom of the first division Ivy Leaf were division two champions Journeys End Flights whose C.Roberts notched a maximum, also finding the three treble twenties was A.Sheen for Ivy Leaf.
———————————
The Silver End Sunday Morning League staged their Mickey Kelly Memorial Knockout and clinching the title with a final 5-0 win over Jamie Rollinson was Mickey's son Liam Kelly.
In the semi finals Kelly won 4-1 against Rob Pierce while Rollinson had a much closer 4-3 verdict over Rob Powers.
Losing quarter finalists were G.Jackson, G.Davies, M.Davies and I.Mathers.
———————————
Both of the semi finals of the Brierley Hill Friday Night League finished with close 2-1 scorelines as Jeff Batham and Carl Penzer beat Matt Hadley and Ben Lewis then Reece Colley and Robert Pierce won against Jim Churchill and Carl Davies.
The final saw Batham and Penzer account for Colley and Pierce with a clear cut straight 3-0 victory.
———————————
The Sheldon Marlborough Cricket Club Singles League had their 501 Knockout on the fixture card and scooping the title with a final win over Alan Wale was Dave Howlett.
Losing semi finalists were Mark Malvin and Paul Brown.
———————————
The Stourbridge and District Wednesday Night League have completed their domestic fixtures and Ashwood have enjoyed a very successful season as the 'A' team won the league title with 56 points and the 'B' side finished as runners up on 50 points just pipping Brickmakers Arms and Miners Welfare to second place on average as they also had 50 points.
Taking the wooden spoon were Hare and Hounds who won just one of their 31 games. Ten Arches 'A' won the Shadow League with 18 points two more than runners up Fox Inn (Lye).
———————————
As the league fixtures drew to an end in the Bilston and District League the 301 league title went to The Nutan with a total of 52 points, Tilted Barrel finishing second on 48 points. The roles were reversed in the 501 league as Tilted Barrel with 54 points finished as champions and The Nutan runners up with 50 points.
With the domestic fixtures all done and dusted the league played off their Main Cup which produced a fantastic final that went down to the wire, not decided until the very last deciding leg when Bilston Conservative Club claimed their win and the title over Allens Sports Bar 'A'.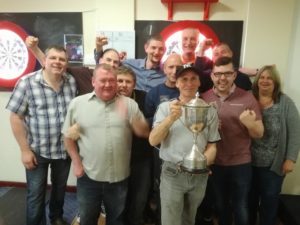 Bilston Conservative Club 'C'
In the semi finals Bilston Conservative Club handed out a 7-0 whitewash to their opponents Darlaston Conservative Club while Allens Sports Bar 'A' had a much closer 4-3 verdict over 501 League champions Tilted Barrel.
———————————
Pensnett Welfare Club laid on a charity darts knockout in aid of the Dementia Appeal for Ward B2 in Russells Hall Hospital.
The guaranteed £500 prize money attracted almost sixty entrants with the title and £200 top prize going to Liam Kelly who won the close final against Andy Hamilton 6-5, Hamilton receiving £100.
The last four play offs saw Kelly win 5-2 against Reece Colley while Hamilton had a 5-1 success over Ashley Hykin, both losing semi finalists collected £50 plus there was £25 for each of the losing quarter finalists C.Willimas, C.Fox, J.Rollinson and M.Rollinson. However the biggest winner was the charity which will benefit to the tune of £1,002.
———————————
Supported by Red Dragon Darts