Amazingly for the third consecutive time Derbyshire man Matt Padgett has won the Winmau Centre First Thursday Knockout at the Wolverhampton Sports Arena. After two previous final wins over Warwickshire's Ashley Hykin, Padgett on this occasion came up against West Midlands man Mick Baker as his final opponent, there may have been a change of opponent but the outcome was exactly the same as Padgett stormed to a 6-3 win.
Former runner up Hykin lost in the quarter finals a close 4-3 verdict in favour of West Midlands man John Mycock
Matt Padgett had a bye in the preliminary round won 4-0 in the last sixteen against Simon Meredith then won 4-2 against Richard Hosey and booked his final spot with a 5-3 success against John Mycock. Mick Baker kicked off with a 4-0 win over Kris Maniola then followed that with a 4-1 win over Kristian Wharton and after a 4-0 success against Danny Key he reached the final with a 5-3 win against Louis Burley.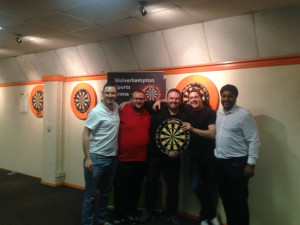 From left to right – losing semi finalists John Mycock, Louis Burley, Runner up Mick Baker, Winner Matt Padgett, Arena Owner Tam Singh