Warwickshire finished 2021 in style in the UKDA National League's Elite Premier Division by making it five wins in as many games when they beat rivals London 20-16 playing at home at Hen Lane Social Club, Coventry.
There were mixed fortunes for the ladies as the 'B' side lost 4-2 but the 'A' won 5-1. With just Marian Conway and Melanie Jones winning for the 'B' it was the former who picked up the match award for her 18.02 average. For the 'A' team Tammy Montgomery was their lady of the match beating Joanne Deamer 3-0 in 17, 22 and 23 darts giving her a superb average of 24.24.
It was a similar story for the men but in reverse as the 'B' side won 8-4 with Carl Green taking the match award with a 26.59 average and the 'A' losing 7-5 with Jamie Hughes their top player with a tremendous 31.31 average.
The win consolidates Warwickshire second place in the divisional table, however they did lose ground on leaders Lancashire as they extended their lead from four to seven points with a 23-13 win at Devon.
Warwickshire will have a delay to their 2022 fixtures as their opener for the New Year should have been an away game against Glamorgan but due to the Welsh COVID-19 restrictions it has been cancelled.
———————————
In the AON Championship Division of the National League it was another dismal trip for the West Midlands as they returned from Oxfordshire on the wrong side of a 29-16 scoreline making it one win, one draw and three defeats in their opening five games.
The ladies 'B' were 5-0 down before they chalked up their one and only stripe as Shelbie Simmons beat Julie Laverack 3-1 to earn herself the match award for her 19.42 average. The ladies 'A finished all square at three each with Gemma Barrett (21.47) the top player.
Both men's teams had a 7-5 result unfortunately for the 'B' team it was a defeat but for the 'A' a win. Taking the respective 'A' and 'B' match awards were Shaun Carroll (29.36) and Richard Platt (29.75).
Fixture number six this coming weekend once again will be no easy task for the Midlanders as they will host Hertfordshire who are placed fourth in the promotional table, some five places above them and are 19 points to the good on them.
———————————
Game five in the Darts for Windows Division Three of the National League saw leaders Black Country drop their first points of the campaign as they were held to an 18-18 draw by fellow county newcomers Salopian. Both ladies games finished with a 4-2 result, Black Country winning the 'B' match and Salopian the 'A'. Lacey Hughes (18.11) was Black Country 'B' player of the match while Chez Allcock (22.43) had the same accolade for the 'A' team as they lost 4-2.
The two men's matches ended at 6-6 with Black Country 'A' and 'B' award winners being Reece Colley (32.85) and Rich Bowen (29.47).
Despite being held to a draw Black Country remain in pole position with a ten points lead over second in the table Northumberland.
No game for the Black Country this coming weekend as they have a bye.
———————————
The Four Oaks and District League have reached the halfway point of their season, a 6-3 win for Boldmere St Mikes at Golden Hind cementing their place at the top of the division one table. Boldmere have completed the first half having won all nine games giving them a lead of four points over second in the division Erdington Arrows who had a close 5-4 home win over fourth in the table Red Lion. Taking over third place in the table from Red Lion is Highcroft Social whose 6-3 win at Oscott Social Club puts them on 12 points, two more than Red Lion.
N.Robins hit this week's only 180 when his team Pint Pot Flights beat Old Oscott Arrows 5-4.
The top two teams in the second division both recorded 8-1 wins, leaders Heartlands winning at St Thomas Arrows while second placed Bishop Vesey won at Sutton Sharks.
Highest scoring, and by far the best game of the week came from Charley's Flights and Bills Arrows. In a local derby they fought out a ding dong battle with Charley's Flights emerging 5-4 victors. The win seeing Charley's Flights replace their opponents in fourth place in the table.
———————————
With all teams having played eleven games the Kings Norton League have completed the first half of their fixture card and league leaders Copper Fox consolidated their pole position with a crucial and maybe title winning 6-1 win playing away against their nearest rivals, second in the table E57. The win has taken Copper's points tally to 20 giving them a two point's buffer on their opponents.
A further two points behind E57 comes three teams all on 16 points, Bournebrook, Rubery Legion and Thurlestone. Bournebrook were also 6-1 winners in their away game against next to bottom of the table Grant Arms, Rubery Legion were involved in a local derby with Rubery Social Club and came out the 5-2 victors and in their home fixture with Toby Jug, Thurlestone were held to a close 4-3 win.
———————————
Just one rearranged fixture played in the Camp Hill League which saw league leaders Aston Inn Nomads win 5-2 playing away against Meadway Social.
———————————
Sedgley and Gornal Tuesday Night League staged the final of their John Walters Knockout Trophy between league leaders Old Bulls Head and third in the league Gornal Labour Club. It was a very close encounter, after the six singles games the score was level at 3-3 but it was Old Bulls Head who went on to seal a 5-4 win to lift the trophy.
———————————
The Christmas / New Year period has seen quite a few knockouts throughout the region. In the Birmingham Weekend of Darts held at the Weoley Castle Working Men's Club, Saturday's Classic knockouts saw Luke Littler beat Rhys Haden 6-3 to take the men's title plus the top prize of £1,000, Hayden received £400. The ladies title and £500 went to Vicky Pruim who beat West Midlands player Jacqueline Maiden 6-3 in the final, Jacqueline getting £230 as runner-up.
Sunday's Open Knockouts produced a 6-4 win in the men's final in favour of Rob Smith who collected £1,200 for his troubles and runner-up Dave Pallett received £500. The ladies Open winner was Paula Jacklin who clinched the title with a final 6-4 verdict over Evonne Taylor. Once again there was £500 for the winner and £230 for the runner-up.
———————————
Hen Lane Social Club was the setting for the Coventry Christmas Open, the final producing a pulsating climax to what was a fantastic day of darts.
The last encounter of the day went the full eleven legs distance with Prakash Jiwa having his lead cancelled out three times by Chris Wickenden, Wickenden then actually taking the lead for the first time in the seventh leg.
Jiwa drew level in the eighth and forged ahead for a fourth time in the ninth only to see his opponent check out in 13 darts in the tenth to force a deciding leg.
With the first throw advantage, a 60 game shot in 17 darts Warwickshire County player Prakash Jiwa wrapped up the top prize and the title with a 6-5 victory.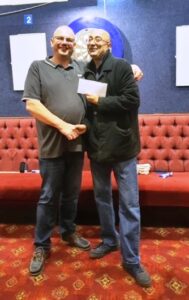 Neil Pritchard and Prakash Jiwa (Winner)
———————————
Gilbert's Bar staged a Christmas Knockout which attracted an encouraging 76 players. The final was fought out between Shane Sheridan from Wednesbury and Worcester man Richard Hosey with Sheridan getting the better of the 6-3 result.
As winner Sheridan received £400 and Hosey, for runner-up collected £200. There was £75 for each of the losing semi-finalists Rob Thompson (Walsall) and Shane Price (West Bromwich), with £20 for the losing quarter-finalists  Scott Hope (Tamworth), Jack Moore (Exeter), Simon Mountford (Droitwich), Jon Blakemore (Walsall). Players going out in the last sixteen also received £10 they were Owen Maiden, Tom Clarke, James Hykin, Ben Johnson, Steve Groucott, Adam Johnson, Chris Hill, Ryan O'Connor.
In the first round losers Plate Knockout Ricky Clarke (Kidderminster) picked up the winners £50 after beating Chris Fox (Gornal) 4-2 in the final, Fox received £25.
———————————
The Ashwood, Stourbridge laid on a Christmas Doubles Knockout with Nick Fullwell and Reece Colley adding to their Christmas coffers a super £300 after beating Ben Johnson and Rob Thompson in the final, as runners-up Johnson and Thompsons picked up £100.
There was £50 for each pair losing in the semi-finals Adam Edgar / Ali Hickinbottom and Rich Bowen / Dan Nicholls.
Following the main event there was a singles knockout afterwards in which Reece Colley (£150) completed the double by defeating Mark Rollinson (£80) in the final. Losing semi-finalists Matthew Moore and Rich Bowen had £40 each while players going out in the last eight Matthew Davies, Connor Pickett, Josh Pickett and Alan Smith received £10.
———————————