The Four Oaks and District Winter League's Individuals Singles, the Derek Masters Trophy sponsored by K & B Installations was staged at the Red Lion Erdington. Forty three players from all divisions fought it out for the title with three third division players Alan Carter, Scott Alexander and J.O'Connor making the last sixteen and all remarkably from the same Boldmere Tap team.
The second division was represented by J.Collins and R.Lowe from divisional champions Red Lion, J.Kavanagh and K.Smith (Walmley CSC Flights) and Adam Linehan (The Digby). Rob Hawker was the sole player to make the last sixteen from League Champions Boldmere St Mikes, with Neil Clarke and Mick Partridge representing league runners-up The Boat.
Alan Carter was the only third division survivor in the quarter finals beating Mick Partridge 2-0 while Scott Alexander and Adam Linehan also lost 2-0 in turn to Nigel Robbins (Pint Pot Flights) and Neil Clarke. Rob Hawker aided by a 160 break took our Martin Bagnal from Pint Pot Flights 2-1.
In the first of the semi-finals Alan Carter lost 2-0 to Rob Hawker while Neil Clarke was taken to a deciding leg by Nigel Robbins before booking his final place.
Rob Hawker with 3-0 result defeated Neil Clarke to emerge the winner of the Derek Masters Trophy. He has played in the league for many years and added his name once again to the trophy he won way back in 2012 and again in 2014. Hawker was also runner up in 2016 and 2017. On finals night he recorded two 160 breaks a 180 and a nine darts game. Alan Carter hit two 180's and Neil Clarke had two 160 breaks.
———————————
There was a full programme in the Brierley Hill Monday Night League apart from just one casualty which was between fourth and fifth in the table Dudley Ex Serviceman's Club 'A' and Mount Pleasant. Leaders High Oak won their home tie with bottom of the table King William 7-2 to hold on to their two points lead over second placed Delph Bell who have replaced Dudley Ex Serviceman's Club 'A' in the number two spot. Delph Bell, like High Oak were also 7-2 home winners in their fixture with Limes Club.
Rose and Crown have moved up two places in the table to third following their quite surprising 9-0 win over Brickmakers Arms who were only two places and two points behind them but now drop to seventh place. With 14 points Rose and Crown are four off the top both Dudley Ex Serviceman's Club 'A' and Mount Pleasant are on the same 14 points with a game in hand.
At the other end of the table Dudley Ex Serviceman's Club 'B' who are only two places off the bottom of the table, doubled their number of points and wins as they chalked up a 5-4 win at home over Dudley Sports 'B' who are three places above them.
———————————
There were big wins for both of the top two teams in week ten of the Rowley Monday Night League as leaders George, with a 160 break for their Marc Perkins beat Whiteheath Tavern 8-1 and second placed Bell, who are two points behind George handed their visiting team Loyal Lodge a 9-0 whitewash with Connor Whitehouse hitting a maximum for the hosts.
Beech Tree, new to the league this season continue to impress as they won 5-4 away to Fairfield who are third in the table, Beech Tree's win taking them to within two points of their opponents and consolidating their number four position.
Fifth and sixth in the table Windmills End and Cradley Sports and Social Club are both on the same 14 points as Beech Tree and in turn they won 5-4 at Three Diamonds and 6-3 at Wonder.
Fairfield's Ian Stokes recorded a 160 break.
———————————
There was a shock result in game number eight in the Cradley Tuesday Night League for leaders Brickmakers Arms as for the first time this season they lost. After seven opening wins Brickmakers suffered a 5-4 defeat away to Plough who are two places off the foot of the table and still nine points behind Brickmakers. Despite the defeat Brickmakers hold on to pole position with 21 points which is six more than their nearest rivals Netherton Sports and Social Club 'A' who have a game in hand after their fixture with Wheatsheaf 'A' was cancelled.
Bottom of the table Wheatsheaf 'B' recorded their first win in eight games, a 5-4 home success over Netherton Sports and Social Club 'B', nevertheless they remain at the bottom of the table but now with the same three points as their opponents and only trail them on average.
———————————
It's only week four in the Wolverhampton Tuesday Night League and only two of the starting line-up of nine teams remain undefeated in both the singles and doubles divisions.
In the singles Dog and Partridge had a 4-3 win over Elay (Yale) but it wasn't enough for them to hold on to pole position as Riley's 'C' beat bottom placed Pendulum 6-1 to draw level on the same eight points as Dog and Partridge but lead them by two legs of average.
With Gilberts Bar having a bye this week they dropped one place in the table to fourth and replacing them in third place is Wednesfield Legion whose 5-2 home win over Riley's 'A' leaves them just two points short of the top two teams.
In the doubles section Dog and Partridge hold on to pole position with a 2-1 win over Elay (Yale) and the only other unbeaten team Wednesfield Legion who have the same eight points are just one leg of average short of the leaders after they won by the same 2-1 margin against Riley's 'A'. Following their defeat to Dog and Partridge Elay (Yale) remain at the foot of the table but are now joined on the same points and average by Penn Bowling who lost 3-0 to Mount Tavern.
———————————
The South Birmingham League has been engaged with various cup finals and in the singles competition it was Gavin Jones who lifted the winner's silverware with a final success over Simon Edwards.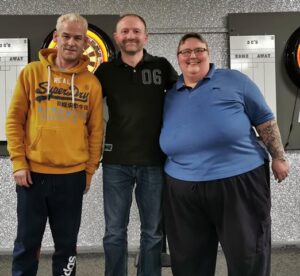 Singles Winner Gavin Jones (Centre) with organisers Dave and Sue Kingdon.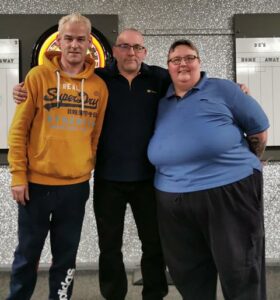 Singles Runner-Up Simon Edwards (Centre) with Dave and Sue Kingdon (Organisers)
The Blind Cup Doubles knockout was won by Dan Stone and Richard Mills with the runners up Luis Barberan and Luke Beale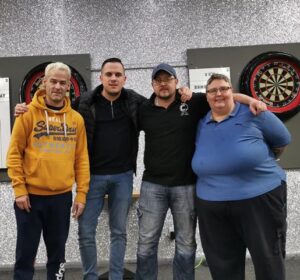 Doubles Winners Dan Stone and Richard Mills (Centre) with Dave and Sue Kingdon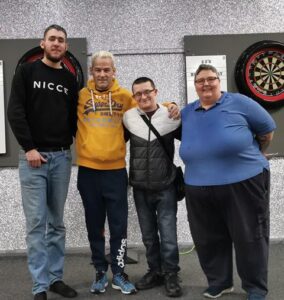 Doubles Runners-Up Luis Barberan (Left) and Luke Beale (Second right) with Dave and Sue Kingdon
while the 3 A-Side title went to Dan White, Kevin White and Connor Marshall.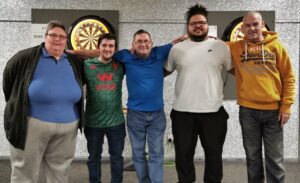 3 A-Side Winners Dan White, Kevin White and Connor Marshall flanked by Sue and Dave-Kingdon
———————————
Game number seven for the West Midlands County Darts Organisation in division one of the BDO Inter County Championships was an away fixture against Sussex, on paper a certain win for the Midlanders as they were riding high in pole position in the promotional table with 139 points, eleven more than their nearest rivals Cheshire and thirteen to the good on third placed London while their hosts were lying at the foot of the table with 90 points, seven short of the team just above them Hertfordshire.
With six wins from their previous seven games and after the Sussex fixture just two more to play West Midlands looked odds on for a quick return to the premier division, however things very rarely go as planned and despite the weekend getting off to a good start as the ladies 'B' chalked up a 4-2 win with regular 'A' team player Sarah Roberts taking the match award for her 22.77 average, her overall fourth such award for the season, the overall result would not be the one they desired or even dreamt of.
With only one defeat in the previous six games the men's 'B' have not had a bad season but this was just not going to be their weekend as they went down 8-4 with Jamie Rollinson their top man with a super 28.63 average.
Sunday's games, as far as results go were a carbon copy of Saturday's as the ladies 'A' recorded a tremendous 5-1 victory with Kat McLean the lady of the match for her 20.59 average but the men's 'A' suffered their biggest defeat since losing away to Yorkshire last season in the premier division as they lost 10-2, of the two winners Shaun Carroll took the match award for his 24.74 average.
The totally unexpected 21-15 defeat has seen West Midlands drop to third place in the table with Cheshire returning to pole position with 155 points, London second on 154 and West Midlands on the same 154. However the final two games of the season will see West Midlands play at home against London and bring the curtain down with an away fixture against divisional leaders Cheshire.
So after a long spell at the top of the table this season the Sussex result could well have put promotion beyond West Midlands reach.
———————————
You are all obviously aware of the current dreadful situation and due to all pubs, clubs and darts leagues being closed down this unfortunately will be my last darts column until things get back to our natural way of life and normal service is resumed.
Once your league, competitions or exhibitions gets back underway please let me have all the information so we can get the darts column back to the usual weekly routine as quickly as possible.
Please all take whatever precautions you can and stay safe throughout this horrendous time.
———————————