Warwickshire v Lancashire
The Warwickshire versus Lancashire clash in the Premier Division of the BDO Inter County Championships always produces top class darts from both sides but this the latest of the meetings between the two teams went to a much higher level with some world class performances as the weekend produced no fewer than FIFTY THREE maximums and THIRTEEN winning legs below fifteen darts, an amazing top quality and entertaining performance by both teams.
Saturday's ladies 'B' began with Debbie Baxter (Lancashire) going 2-0 up against Nina Bolt but the Warwickshire lady fought back to win 3-2 winning her last two legs in 18 and 19 darts. Tracey Cunningham's 3-0 win over an unlucky Kat Spanswick who struggled on her finishing doubles, levelled the game and then Tracey's team mate Dawn Shaw won the opening leg against Melanie Jones and after Melanie had gone 2-1 up, for a second time the Lancashire player drew level but it was Melanie Jones who won the last leg to put the home side 2-1 up.
A share of the points was assured in the fourth game when Tammy Montgomery accounted for Marie Fitton with a straight 3-0 result and with winning legs of 24,21 and 19 Tammy took the lady of the match award for her 23.48 average.
The winning game was chalked up in the fifth when Denise Keyte beat Sharon Seed 3-1 and with young Rosie O'Connor recording her very first win for the county when she beat Sue Corry 3-2 the final score of 5-1 went to Warwickshire.
Matty Washbrooke gave Warwickshire a winning start to the men's 'B' game when he won 4-3 against Terry Hey before the two Reynolds played each other, on for Warwickshire was Karl and for Lancashire Steve. Karl won the first leg but then trailed 3-1 as his opponent had 19,17 and 18 darts legs. Karl won the fifth but it was all over in the sixth when Steve Reynolds confirmed his win with another 18 darts leg.
Mark Strong restored Warwickshire's lead as he went two up with a 103 finish in the first but then went 3-2 down, however legs of 18 and 21 darts gave him the final 4-3 result. James Hykin was another home player to begin his game with a big finish as he checked out on 113 for a 15 darts leg and with a further 16 darts leg went two up against Jason Longmate. Longmate pulled one back in the third only to see Hykin restore his two games buffer with a 19 darts leg and despite a reply from the Lancashire man in the fifth Hykin sealed his 4-2 win in 16 darts.
Game number five saw the away side register their second winner as Ben Fairley won 4-2 against Ashley Hykin and by the midway point of the game the score was all square as Christopher O'Connor added his 4-2 win over Ashley Hurrell to the visitors tally.
Jack Wareing looked all set to re-establish Warwickshire's lead when he opened up a 2-0 lead over Sam Cromwell in 16 and 18 darts and although Cromwell won the third in 19 Wareing went within an ace of victory when he won the fourth with a similar 19 darts leg. Unfortunately it was not to be as O'Connor with two 15 darts legs clinched a 4-3 win to give his team the lead for the first time in the game.
Lancashire went further ahead in the eighth as Tony Baker came from one down against Wayne Mynard to win 4-1, they then went 6-3 up when Steve Kirkby beat Dave Hill 4-0 and extended that advantage to an unbeatable 7-3 with a 4-2 win from Tony Clarke over Tom Martin after Martin had won the first and then levelled in the fourth with a 116 game shot.
Gareth Braham (Warwickshire) began well against Nathan Care storming into a 3-0 lead in 19,16 and 19 darts only to see Care take the next three in 15,18 and 17 darts to force a deciding leg which went to Braham in 17 darts.
The last game of the day went to the home side's Carl Green who in 17,19,17 and 19 darts beat Tom Cromwell 4-2 to put the final score at 7-5 to Lancashire but leave them trailing 10-8 overall on the day.
Donna Pinch was the home team's first winner in the ladies 'A' match as she accounted for Amy Eden with a 3-1 result and taking the score to 2-0 was Natalie Gilbert (22.43) who with a maximum in her second leg won 3-0 against Dawn Shaw.
The away team got their first stripe on the board in the third when Jo Clements won 3-0 against Caroline Pike but a lady of the match performance from Angela Jones took the score along nicely to 3-1 in Warwickshire's favour. Angela won her first leg in 24 darts and with two more winning legs, both in 21 darts, she took the team's match award for her 22.77 average.
Despite leading from the first game the result was still not going to be resolved until the very last game as in the penultimate encounter Lancashire's Anne-Marie Millership won 3-0 against Wendy Adams to keep them in with a chance of a draw, however with a 3-1 win for team captain Sue Gulliver (22.56) over Ally Smith the final score was taken to 4-2 to Warwickshire.
The first game of the men's 'A' match saw Lancashire's Carl Sneyd come from 1-0 down to Dave Atkins to win 4-1 before Warwickshire's men 'A' team turned on the display of the season, possibly their best EVER!!.
At number two Steve Giddings lost the opener to Dave Rawstron but with three maximums went on to win 4-2 in 20,13,18 and 16 darts with a 28.68 average. Charlie Symons (27.09) was another 4-2 winner in his tie with Michael Harrison, Symons having 17,16,20 and 18 darts winning legs and then taking the score to 3-1 was Ian Shaw (26.29) who fought back from 2-0 and 3-1 down to Ben Fairley, Shaw checking out in 22 and three 17 darts legs.
On at number five and making it 4-1 to Warwickshire was Jamie Hughes who was another player to register three maximums as he defeated Mick Oversby with a 4-2 scoreline, Jamie winning in 16,15,19 and 12 darts to give him a tremendous 32.11 average. Going into the break was England player Nigel Heydon who like Giddings and Hughes before him also hit three 180's, he won 4-1 against James Caton in 15,16,14 and ELEVEN darts to earn him the Warwickshire 'men's 'A' team match award for an outstanding 35.31 average.
The second half of the game began where the first had left off as Tom Aldridge won 4-3 against Michael Sexton, Aldridge checking out on 136 in his fourth leg and winding up with a 27.00 average.
The match winning game was put up as early as the eighth game as Noel Grant (28.44) added his 4-1 win over Lee Shewan to the hosts account. Although the match was now won there was no let up by the home team as Simon Fairbrother (29.54) came from one down against Steve Maish to go on and win 4-2 with winning legs of 13,16,18 and 20 darts.
Dean Stewart (25.88) was pegged back to level terms three times by Tony Clarke but after leading with legs of 19,12 and 19 darts wrapped up his win with an 18 darts leg. Andrew Johnson appeared to be on the way to registering Lancashire's second win when he went 1-0 and 3-1 up against Robert Hawker (27.41) but Hawker stuck to the task and after his 18 darts win in the second leg went on to win the final three legs in 15,18 and 17 darts.
The final score was taken to an unbelievable 11-1 (against Lancashire!!!) when Antony Allen (29.49) in 17,18,18 and 18 darts won 4-2 against Allan Fitzpatrick.
I have been writing for Warwickshire County Darts Organisation in excess of 25 years and in all that time this latest 11-1 win for the men's 'A' and the overall 25-11 win against a team with the quality of Lancashire is nothing short of incredible, an absolutely amazing performance from all players who took part in that's for both teams as it takes two teams to produce a show-piece such as this was.
The win saw Warwickshire move up one place in the table to third replacing Glamorgan who are now fourth and one point behind them with second placed Lancashire just one point ahead of them.
Full Results:Warwickshire v Lancashire (21-15):Warwickshire names first):Men's 'A':- Dave Atkins 1 Carl Sneyd 4, Steve Giddings 4 Dave Rawstron 2, Charlie Symons 4 Michael Harrison 2, Ian Shaw 4 Ben Fairley 3, Jamie Hughes 4 Mick Oversby 2, Nigel Heydon 4 James Caton 1, Tom Aldridge 4 Michael Sexton 3, Noel Grant 4 Lee Shewan 1, Simon Fairbrother 4 Steve Maish 2, Dean Stewart 4 Tony Clarke 3, Robert Hawker 4 Andrew Johnson 3, Antony Allen 4 Allan Fitzpatrick 2, Men's 'B':- Matty Washbrooke 4 Terry Hey 3, Karl Reynolds 2 Steve Reynolds 4, Mark Strong 4 Jason Longmate 3, James Hykin 4 Thomas Hitchen 2, Ashley Hykin 2 Ben Fairley 4, Ashley Hurrell 2 Christopher O'Connor 4, Jack Wareing 3 Sam Cromwell 4, Wayne Mynard 1 Tony Baker 4, Dave Hill 0 Steve Kirkby 4, Tom Martin 2 Tony Clarke 4, Gareth Braham 4 Nathan Care 3, Carl Green 4 Tom Cromwell 2, Women's 'A':- Donna Pinch 3 Amy Eden 1, Natalie Gilbert 3 Dawn Shaw 0, Caroline Pike 0 Jo Clements 3, Angela Jones 3 Audrey Underwood 0 Wendy Adams 0 Anne-Marie Millership 3, Sue Gulliver 3 Ally Smith 1, Women's 'B':- Nina Bolt 3 Debbie Baxter 2, Kat Spanswick 0 Tracey Cunningham 3, Melanie Jones 3 Dawn Shaw 2, Tammy Montgomery 3 Marie Fitton 0, Denise Keyte 3 Sharon Seed 1, Rosie O'Connor 3 Sue Corry 2.
———————————
Essex v Warwickshire
With three wins in a row in what is the toughest division in the world, the premier division of the BDO Inter County Championships, Warwickshire made it four when they played away against Essex, four straight wins being Warwickshire's best since they recorded five successive wins in the 2013 – 2014 season.
The ladies weekend didn't get off to too bad a start although it was the hosts who won the first game when Dawn Kennedy came from one down to Rosie O'Connor to win 3-1. Then the opposite happened as the home team's Carol Pinfold won the first leg against Tammy Montgomery and Tammy then not only won the next three legs but also her team's match award for her 22.25 average after she checked out in 20,17 and 28 darts.
Warwickshire went ahead in the third when Marian Conway beat Steph Hewson 3-1 but from there on in it all went in the hosts favour as Kerry Rudd won 3-0 against Denise Keyte, Ann Farmer beat Helen Rigg 3-2 after Rigg had gone 1-0 and 2-1 up and giving Essex the 4-2 result was Tracey Newman with her 3-2 win over Melanie Jones, Melanie going one up and drawing level in the fourth before losing the decider.
The men's 'B' had only won once in their previous five games and were keen to get another wining stripe on the board but as in the ladies 'B' game it was the home team that drew first blood as Michael Pinnington came from one down to Tom Martin to win 4-1. Wayne Mynard kick started a run of five consecutive wins for Warwickshire as he after trailing 1-0 and 2-1 to Danny McIntyre went on to win 4-2. Matty Washbrooke lost the first two legs to Simon Monk and despite being taken to a decider ran out the 4-3 winner with a final 17 darts leg to give the away team the lead for the first time.
James Hykin began with a 121 game shot against Lennie Holmes and then went on to seal a 4-2 win. Gareth Braham took the score along nicely to 4-1 with a super straight legs win over Tony Osborne in 18,20,15 and 17 darts to earn the team match award for his 28.63 average, and with a further 4-2 win for Mark Strong after he trailed 2-0 to Allan Mathieson, Warwickshire had a rather comfortable 5-1 lead at the halfway point.
As the second half got underway Michael Hancocks pulled one back for Essex when he won 4-2 against Ashley Hurrell, Hurrell winning the first and fourth legs and with 4-1 wins for Bradley Halls and John Costigan over respective opponents Robert Comben and Carl Green the home side were back in the game at just 5-4 down.
Jack Wareing stopped the Essex charge going 2-0 up against Adam Howard and although Howard clawed his way back to 2-2 it was Wareing who got the 4-2 verdict clinching his win with a 117 game shot.
The all-important seventh and winning stripe was chalked up by Karl Reynolds in the penultimate encounter against Alan Collins. Reynolds romped to a straight 4-0 win in 24,20,11 and 23 darts, his eleven darts leg seeing him hit 97,140 and 180 before an 84 game shot in two darts and with a similar 4-0 win for Mark Carter who kicked off his game against Shaun Fox with a tremendous 154 outshot in 18 darts and followed up with 22,20 and 17 darts legs took the final score to 8-4 in Warwickshire's favour.
A lady if the match win for Natalie Gilbert got the ladies 'A' match off to a fine start, Natalie winning 3-0 against Wendy Collins in 25,19 and 25 darts giving her a 21.76 average. The visitors lead was doubled in the second game when Donna Pinch came for 1-0 down to Karen Breen to beat her 3-1.
Game number three saw a rare defeat for Warwickshire ladies captain Sue Gulliver, Sue after going 1-0 and 2-1 up against Pauline Donat looked to be well on her way to victory but it was the home player that won the next two legs to win 3-2.
The score was levelled at 2-2 in the fourth when Donna Gleed added her 3-0 win over Caroline Pike to the Essex account, however a draw was assured for Warwickshire when Angela Jones won 3-2 against Lynn Kelly after Kelly had twice cancelled out her lead.
The result finished all square as Stacey Ellis (Essex) won the final game against Nina Bolt 3-0.
With four wins and a draw in their five games Warwickshire's men's 'A' team have been in very good form and undefeated so far this season but that looked as though it would all change when Essex opened up a 3-0 lead when Paul Marsh beat Tom Aldridge 4-3 after Aldridge had gone 2-0 and 3-1 up, Andrew Kateley won 4-1 against Dave Atkins and Richie Howson won 4-3 against Dave Honey after Honey had had leads of 2-1 and 3-2.
Man of the match Steve Hine stopped the rot but it was his opponent Ben Adams who won the first leg in 13 darts and although Hine cancelled it out with an 18 darts leg it was Adams who went 2-1 up in 18 darts with a 146 game shot. Hine kept his cool drawing level for a second time with a 13 darts leg and then for the first time in the game took the lead in 15 darts. A 17 darts leg in the sixth was the one that gave Steve Hine his 4-2 victory plus the match award for his superb 31.94 average.
Reducing the arrears even further was Jamie Atkins who added his 4-1 win over Steve Johnson to Warwickshire's tally and by the midway point of the match it was all square at three each when Antony Allen, after going 2-0 and 3-1 down to Phillip Brewster had a 122 finish in the fifth in 15 darts and with another 15 darts leg plus a further 17 darts leg won the tie 4-3.
The first game of the second half saw Warwickshire continue their winning run and take the lead for the first time when Ian Shaw beat Jamie Peetoom 4-3. Now with the score at 4-3 to Warwickshire the away team didn't have to wait long before they were home and dry as Noel Grant beat Steve Haggerty 4-1, Nigel Heydon won 4-2 against Phil Halls and Steve Giddings added a 4-3 win over Joe Russell to take the score to a winning 7-3.
The last two games of the weekend both went to Essex as Darren Peetoom won 4-2 against Kevin Dowling and Craig Vickers beat Ian McFarlane 4-1to give a final score of 7-5 to Warwickshire.
The overall 20-16 win for Warwickshire consolidates their third position in the table extending their lead over fourth placed Glamorgan from one to ten points and only trailing second in the division Lancashire by three points.
Full Results:Essex v Warwickshire (16-20):Essex names first):Men's 'A':- Paul Marsh 4 Tom Aldridge 3, Andrew Kateley 4 Dave Atkins 1, Richie Howson 4 Dave Honey 3, Ben Adams 2 Steve Hine 4, Steve Johnson 1 Jamie Atkins 4, Phillip Brewster 3 Antony Allen 4, Jamie Peetoom 3 Ian Shaw 4, Steve Haggerty 1 Noel Grant 4, Phil Halls 2 Nigel Heydon 4, Joe Russell 3 Steve Giddings 4, Darren Peetoom 4 Kevin Dowling 2, Craig Vickers 4 Ian McFarlane 1, Men's 'B':- Michael Pinnington 4 Tom Martin 1, Danny McIntyre 2 Wayne Mynard 4, Simon Monk 3 Matty Washbrooke 4, Lennie Holmes 2 James Hykin 4, Tony Osborne 0 Gareth Braham 4, Allan Mathieson 2 Mark Strong 4, Michael Hancocks 4 Ashley Hurrell 2, Bradley Halls 4 Rob Comben 1, John Costigan 4 Carl Green 1, Adam Howard 2 Jack Wareing 4, Alan Collins 0 Karl Reynolds 4, Shaun Fox 0 Mark Carter 4, Women's 'A':- Wendy Collins 0 Natalie Gilbert 3, Karen Breen 1 Donna Pinch 3, Pauline Donat 3 Sue Gulliver 2, Donna Gleed 3 Caroline Pike 0, Lynn Kelly 2 Angela Jones 3, Stacey Ellis 3 Nina Bolt 0, Women's 'B':- Dawn Kennedy 3 Rosie O'Connor 1, Carol Pinfold 1 Tammy Montgomery 3, Steph Hewson 1 Marian Conway 3, Kerry Rudd 3 Denise Keyte 0, Ann Farmer 3 Helen Rigg 2, Tracey Newman 3 Melanie Jones 2.
———————————
Congratulations to Warwickshire County players Nigel Heydon, Kevin Dowling and Sue Gulliver who have all retained their places and have once again been chosen to represent England in the British Internationals on the 3rd to the 5th April at the Golden Palm Resort, Skegness.
Former West Midlands player Paul Hogan also retains his place in the team while another previous West Midlands player Nick Fullwell gets his first call-up. Hogan now plays for Berkshire while Fullwell represents Lincolnshire.
Tickets for the event can be obtained from www.englanddarts.co.uk
Nigel Heydon Neil Pritchard (Warwickshire Chairman) and Kevin Dowling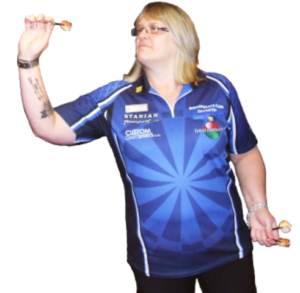 Sue Gulliver
———————————