Warwickshire County Darts Organisation's latest fixture in the premier division of the BDO Inter County Championships was an away game against Essex which saw them return with a tremendous 20-16 victory to make it four consecutive wins.
The ladies 'B' side suffered a 4-2 defeat on Saturday with Tammy Montgomery their lady of the match as she recorded a 3-1 win over Carol Pinfold giving her a superb 22.25 average, the team's other winner was Marian Conway.
The men's 'B' side fought back from 3-0 down to register a tremendous 8-4 victory with their top player being Gareth Braham who won 4-0 against Tony Osborne in 18,20,15 and 17 darts to give him a top average of 28.63.
There was a better outcome for Sunday's ladies as they finished all square at three each with opener Natalie Gilbert their lady of the match as she won 3-0 against Wendy Collins with a 21.78 average.
Rounding off the overall win with a 7-5 result were the men's 'A' team whose Steve Hine was in top form as he accounted for Ben Adams with a 4-2 result with winning legs of 18,13,15 and 17 darts to give a fantastic 31.94 average.
The win sees Warwickshire hold on to third place in the table just three points behind second placed Lancashire and ten ahead of fourth in the table Glamorgan.
———————————
After the defeat away to Hertfordshire, West Midlands only loss in the first five games, a home tie against Oxfordshire saw them return not only to winning ways but also to the top of the division one table in the BDO Inter County Championships.
Both the men's 'A' and 'B' sides recorded 8-4 wins with Glen McGrandle the 'A' team's top player winning in straight legs against Simon Tricker in 16,22,10 and 21 darts, the ten darts leg seeing him score 140,180 and 145 before checking out on double eighteen to give him a super 29.04 average. Taking the 'B' award with a 27.74 average was Alfie Jacques who had a 4-1 success over Adam Bowman in 15,17,17 and 16 darts.
It was not a bad weekend for the ladies as the 'B' side finished all square at 3-3 with Shellbie Simmons the lady of the match with a 20.59 average and in the ladies 'A' team's 4-2 win it was Shannon Hall with a 15.66 average who took the match award.
With Cheshire losing 22-14 away to Dorset West Midlands returned to pole position with 139 points eleven more than Cheshire who have dropped to second place.
———————————
The Four Oaks and District Winter League were involved in cup semi-finals first the Brian Goodman Cup in which Bishop Vesey fought back from 3-0 down to level the match with Golden Hind only to see Golden Hind go on to win 5-4. Golden Hind, currently second in the division one table will take on Boldmere St Mikes the divisional leaders in the final after they won 7-2 against division two leaders Red Lion.
In the last four games of the Ken Rust Cup Oscott Sports trailed 4-2 against Oscott Social Club but took the final three games 2-1 to take their place in the final where they will play Walmley CSC Arrows who had a comfortable 8-1 over local rivals Walmley CSC Flights.
———————————
The Small Heath League played off the final of their League Cup in which the league's top two teams East Birmingham Allotment Holders Association and Heartlands Club squared up to each other. After the first six games the score stood level at three each before league leaders E.B.A.H.A. took control to run out 6-3 winners.
———————————
Congratulations and commiserations to Dudley based and West Midlands county player Scott Baker who in his PDC Players Championship 2 game against Danny Noppert recorded his second-ever perfect nine darts game. The commiseration was for the fact that he actually lost the game by the odd leg 6-5.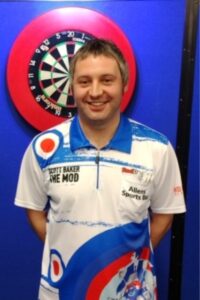 Scott Baker
———————————
The Shirley and District Monday Night League have got their eleventh season underway and this season have split the league into two divisions.
After the opening round of fixtures three teams, Red Lion, Tippetts Bar and Wharf share the number one spot in division one after in turn they won 7-2 against Cider House, Legion Flights and The Lodge.
No doubt about who leads division two as Howell's Angel handed out a 9-0 whitewash to their hosts Sharmans Cross to secure pole position with Saracens Swords and Wythall Legion just behind them in joint second after they both won 8-1 against respective opponents Shirley Spartac and Saracens Slingers.
———————————
Avenue C.Fox and Bournebrook extended their leads at the top of the Kings Norton League as third and fourth placed Rubery RBL and Cock Inn both lost. Avenue C.Fox had a 7-0 home win over Kings Norton Ex Serviceman's to give them 42 points and a six point's lead over second placed Bournebrook. Third in the table Rubery RBL were surprise losers at Weoley Hill who are four places and some twelve points behind them while Cock Inn who are fourth lost 5-2 playing away to Thurlestone who are sixth in the table and on 20 points again twelve points fewer than their opponents.
———————————
The Camp Hill Marston's League had the semi-finals of their League and Consolation Cups on the fixture card and in the former there were wins for Roost Rebels and Emerald Club who in turn took out Nomads and New Inn. The final of the Consolation Cup will be fought out between Tyseley WMC and Wagon who had respective wins over Sheldon Marlborough Flights and Sheldon Marlborough Star.
———————————
The Stourbridge and District Monday Night League played off the first round of their League Cup and winning their way into the quarter finals were Stourbridge RBL, Brickmakers Arms, Britannia, Ten Arches, Gate Hangs Well, Bird (Wordsley), Swan and British Oak.
———————————
The Netherton Thursday Night League played off the preliminary round of their Andy Bastable Trophy in which league newcomers Long Hop Taphouse handed out a 9-0 whitewash to their hosts Netherton Conservative Club and another new team to the league Old Hill Cricket Club had a close 5-4 verdict over Brickmakers Arms. Reigning league champions Dudley Ex Serviceman's Club won 6-3 at Spring Meadow Social Club.
———————————
Week four of the new season in the Brierley Hill Monday Night League saw Lamp Tavern record their first win of the campaign, a 5-4 home success over Dudley Sports 'A'. High Oak continue in pole position adding a 6-3 win over Roebuck to their account to keep them ahead on average of Rose and Crown and Mount Pleasant who are the only other teams in the league to have won all four games. Rose and Crown won 5-4 at Wombourne Pool Bar and Mount Pleasant had a 6-3 win away to bottom of the table King William. Reigning champions Dudley Ex Serviceman's Club 'A' are fourth two points behind the leading trio after their 6-3 win at Crestwood.
———————————
Former leaders of the Rowley Monday Night League Beech Tree suffered another setback in week five as they took on the team who were just above them George. The result was a 6-3 win for George which included a maximum for their Marc Perkins keeping George in second place with a perfect ten points but sees Beech Tree drop three places to sixth. Bell top the table on average following their 9-0 home win over Three Diamonds with Windmills End in third place after their 6-3 win over Ex Serviceman's Club, Windmills two points short of the two teams above them.
———————————
Dewdrop 'A' and Tipton Sports after the opening five games in the Hilltop Friendly Tuesday Night League are level on points and average at the top of the table. In the latest round of fixtures Dewdrop 'A' won 7-0 at Ivy Bush and Tipton Sports won 5-2 away to fifth in the table Island Inn. With both of the top two teams on an unbeaten ten points third place Vine's 6-1 win at Horseley Tavern leaves them trailing by just two points.
———————————
With the Dunky's Boys versus Raven Arrows a late result in the premier division of the Sheldon and District Winter League Highwood Gerry's Boys 6-3 win at Mackadown Social keeps them top of the division with 20 points from 12 games, Dunky's are second on 18 points from two fewer results. Third placed Langley Arrows had a 5-4 home win over Sheldon Marlborough Arrows to put them on the same 18 points as Dunky's but they have played two games more than them.
In division one leaders Hornet had a 5-4 win away to third in the table Maggies and have a huge eight points lead over second in the table Hobs Meadow who were 5-4 winners at Willclare Sports and Social to stay two points ahead of Maggies who have a game in hand.
A 6-3 win at The Raven keeps Meadway Sports and Social top of division two, two points to the good on their nearest rivals Holy Souls who after their 7-2 win over Langley Flights have played one game more than Meadway.
———————————
The Silver End Sunday Morning League produced a top of the table clash between leaders Woodside 'A' and second placed Glasscutters 'B' with the result deciding who would be crowned league champions. The game finished all square at 4-4 giving Woodside 'A' a total of 71 points with Glasscutters 'B' finishing as runners-up with 69 points.
Kings Head 'B' took the wooden spoon having lost all 30 of their fixtures.
———————————
Leaders of the Cradley Tuesday Night League Brickmakers Arms had a resounding 8-1 win plus maximums from Jeff Batham and Carl Penzer against next to bottom of the table Netherton Sports and Social Club 'B' to keep them three points ahead of second in the league Netherton Sports and Social Club 'A' who handed out a 9-0 whitewash to their visitors Wheatsheaf 'B' with Keith Morris notching a 180 for the winners. Another player to hit the three treble twenties was Plough's Ali Galib as his team went down 6-3 at Dudley Labour Club.
———————————
Week eleven of the Brierley Hill Friday Night League saw British Oak lose their outright number one spot as they lost their home tie with Brickmakers Arms 'B' 5-2, their victors now sharing the top position with them level on points and average.
The top two teams have a four points lead over third and fourth placed Brickmakers Arms 'A' and Pensnett Welfare Club who in turn won against Glasscutters (6-1) and Delph Bell (5-2).
———————————
Ashwood 'B' and Swan 'A' are locked together on the same 30 points in the Stourbridge and District Wednesday Night League with Ashwood having the superior average to top the table. The latest round of fixtures saw Ashwood 'B' win 6-1 against Bell while Swan 'A' were 5-2 winners at Gate Hangs Well.
After the leading duo comes a quartet of teams Bird (Wordsley), Brickmakers Arms, Ten Arches 'B' and Wilson Hall all on 26 points four short of the top two.
———————————
There were wins for the top three teams in the Sedgley and Gornal Tuesday Night League Old Bulls Head remaining top of the table with 32 points following their 8-1 home win over New Inn but they are only top on average from Lamp Tavern whose similar 8-1 win over Meadow Lark gives them the same 32 points.
Netherton Cricket Club are third and despite their 5-4 win at Pensnett Liberal Club are some four points short of the top two teams.
———————————