Congratulations to Warwickshire County players Nigel Heydon, Kevin Dowling and Sue Gulliver who have all retained their places and have once again been chosen to represent England in the British Internationals on the 3rd to the 5th April at the Golden Palm Resort, Skegness.
Nigel Heydon, Neil Pritchard and Kevin Dowling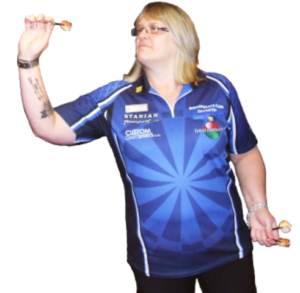 Sue Gulliver
Former West Midlands player Paul Hogan also retains his place in the team while another previous West Midlands player Nick Fullwell gets his first call-up. Hogan now plays for Berkshire while Fullwell represents Lincolnshire.
Tickets for the event can be obtained from www.anglanddarts.co.uk
———————————
With the majority of teams in the Four Oaks and District Winter League now having just four more games to play Boldmere St Mikes with a 7-2 home win over Old Oscott Arrows held on to their four point lead at the top of the first division with C.Millward snr and C.Millward jnr both recording eight dart games for them. The Boat who were previously placed second had their fixture with Walmley CSC Arrows postponed and as a result drop to third behind Golden Hind whose 7-2 over Erdington Arrows takes them two points ahead of Boat who now have a game in hand.
In the second division Drakes Drum overcame a 4-3 deficit to rally and defeat second placed Walmley CSC Flights 5-4 leaving Walmley now six points adrift of leaders Red Lion who beat Rosey's Chaps 7-2. Similar to Walmley third placed Oscott Sports are also six points off the top after adding their 5-4 win over St Thomas Arrows.
Oscott Social Club stay top of the third division following a comfortable 8-1 win against The Towers and remain two points to the good on second placed Rosey Mac's Leopard who have two games in hand.
R.McLaughlin (Rosey's Chaps) hit his second 180 of the season, with R.Hawker (Boldmere St Mikes) and N.Robbins (Pint Pot Flights) both hitting their first.
———————————
As at week ten in the Shirley Legion Double Top League Thomas Bent with a 4-0 win over Brian Lawton followed by a 3-1 success against Ben Quadri consolidated his place at the top of the table with 58 points. Second placed Craig Clarke gained six points from his games as he beat both Dave Fisher and Sam Hicks 3-1 to leave him nine points short of Bent with just one game in hand.
Third and fourth places go to Gary Cleverley and John Smyth who are both on 46 points just three behind Clarke and only one ahead of three players all on 45 points Emmet Leonard, Steve Sidwell and Dave Heighway, Emmet having three games in hand on Thomas Bent and Sidwell two.
———————————
The Sheldon and District Winter League staged the semi-finals of their League Cups, the premier division encounters producing a top of the table clash between leaders Highwood Gerry's Boys and second placed Dunky's Boys. The outcome was a somewhat convincing 7-2 win for Gerry's Boys and joining them in the final will be Langley Arrows who won 5-4 against Sheldon Marlborough Arrows.
Division one leaders Hornet made the final with a 5-4 win over Maggies and by the same margin Yardley Ex Colts defeated Hobs Meadow.
Making it wins for all three divisional leaders was Meadway Sports and Social in division two as they accounted for Small Heath Gardeners with a 6-3 result, their final opponents will be Sheldon Marlborough Ridge who won 5-1 against Inn on the Green.
———————————
Week 22 in the Kings Norton League saw wins for the top four teams as leaders Avenue C.Fox won 5-2 at Weoley Hill to hang on to their four points plus a game in hand on second placed Bournebrook who won 4-3 away to Dingle and although they have played one game more than third and fourth placed Rubery RBL and Cock Inn they have a four points advantage over both of them. Rubery won their home tie with Thurlestone 5-2 while Cock had a convincing 6-1 result against Kings Heath.
———————————
Wins for the top three teams in week 25 of the Stourbridge and District League, Brickmakers Arms 7-2 win at Swan maintaining not only their unbeaten run in 25 games but also their massive 12 points lead over second and third placed Britannia and Gate Hangs Well. Britannia, like Brickmakers were also 7-2 winners in their home tie with Kingswinford Conservative Club and making it a trio of 7-2 wins for the leading trio was Gate Hangs Well playing at Rose and Crown.
———————————
Wombourne Pool Bar lost ground in the Brierley Hill Monday Night League title race when in week three they lost 7-2 at Limes Club and sees them drop four places to seventh while their victors moved up from sixth to fourth.
High Oak, with a 6-3 win at Dudley Sports 'A' continue to remain at the top of the table but now share the number one spot with Rose and Crown after their 8-1 win over Crestwood puts the two teams level on points and average. Third placed Mount Pleasant are the only other team in the league to have won all three fixtures their latest success being a close 5-4 home win over Swan.
It was a good week for Dudley Sports 'B' whose 6-3 win at Roebuck was their first win of the campaign.
———————————
The Netherton Thursday Night League have kicked off their new campaign with the preliminary round of their League Cup, three games which saw Netherton Conservative Club win 7-2 at White Horse while Old Hill Cricket Club were 5-2 winners at Townsend Social Club, joining them in the next round will be reigning league champions Dudley Ex Serviceman's Club after their 5-4 home win over Brickmakers Arms.
———————————
Tipton Sports and Dewdrop 'A' both extended their winning runs in the Hilltop Friendly Tuesday Night League with 5-2 wins over respective opponents Hayes Social and Rising Sun, Tipton Sports holding on to pole position with a slender two legs of average lead over Dewdrop 'A'.
Third in the league The Vine were the league's biggest winners chalking up a 6-1 win over Albion to keep them just two points behind the leading duo as are fourth placed Island Inn who won 5-2 at Court House.
———————————
Week four of the new season in the Rowley Monday Night League saw newcomers Beech Tree have their bubble burst as for the first time in those four games they lost. Playing at home and with a 160 break from K.Wright, Beech Tree lost 7-2 to Windmills End and drop to third in the table while their victors move up one place to fourth on the same six points as eech Tree but trailing by one leg of average.
Reigning champions and runners-up The Bell and George take over in a joint pole position from Beech Tree, Bell's 8-1 win at Fairfield George's 9-0 success over Spring Meadow putting the two team's level on points and average.
There were first wins for Wonder and Three Diamonds who in turn won 5-4 against Loyal Lodge and Tividale FC.
———————————
With leaders of the Stourbridge and District Wednesday Night League Ashwood 'B' having a bye in week 17 it gave their nearest rivals the opportunity to reduce the arrears and second placed Swan 'A' did just that as they drew level on 28 points from the same 16 games as Ashwood 'B' when they won 6-1 at home against Wilson Hall. Third placed Ten Arches 'B' are two points behind the top two teams after also winning 6-1 in their game at Church Tavern 'B'.
———————————
Game number sixteen had no effect on the top six places in the Sedgley and Gornal Tuesday Night League whatsoever as leaders Old Bulls Head extended their average lead over second placed Lamp Tavern with a 9-0 win at Meadow Lark and Lamp won 7-2 at Hilly House.
With the top two teams both on 30 points third and fourth placed Netherton Cricket Club and New Inn are both four points behind them after Netherton Cricket Club lost 4-3 at home to New Inn.
Making up the top six are Gornal Labour Club, who won 8-1 against White Lion and Gornal British Legion who won 7-2 at five Ways.
———————————
The South Birmingham League have been engaged in their Roy Parry Cup in which there were wins for C's Flights, C's Top Guns C's Hot Shots and Banbury Arrows who in turn defeated Centurion (5-4), Coleshill Social (7-2), Smithswood Social (7-2) and C's Bullets (5-0 which was a walkover as C's Bullets didn't turn up).
———————————
Brickmakers Arms, with a three points lead at the top of the Cradley Tuesday Night League increased their average advantage when they won 9-0 at Wheatsheaf 'B' but only just as their nearest rivals Wheatsheaf 'A' won 8-1 at Netherton Sports and Social Club 'B'.
Netherton Sports and Social Club 'A' are on the same nine points as Wheatsheaf 'A' after their 5-4 win at Dudley Labour Club but Bulls Head lost second place and dropped to fourth after a 5-4 defeat at Plough, the two teams now level on six points.
———————————
For the second successive week Nomads have suffered defeats in the Camp Hill Marston's League, last week they lost 4-3 at home to Emerald Club who have taken over the number one spot from Nomads and this week they had a huge 6-1 defeat at the hands of the Sheldon Marlborough Flights team. Despite the two losses Nomads are still second in the table and only two points behind Emerald Club who this week won 6-1 at Marlborough Star. Third in the table Tyseley WMC's 4-3 win at Roost Rebels puts them level on 24 points with Nomads.
———————————
With no result in for the Railway Tavern versus Griffin fixture in the West Midlands Men's Super League Railway have dropped one place to third behind Yeltz Bar 'A' whose 5-0 home win over Horse and Jockey 'A' puts them on 112 points and within ten of leaders Allen's Sports Bar 'A' who beat their 'C' team 4-1. Railway are four points behind Yeltz with a result still to go on their account.
ECC Sports and Social Club's recent decent run of form has seen them climb up the table and a further 3-2 win away to Staffordshire Knot has seen them move to within one point of the top half of the table as Allen's Sports Bar 'B' who are placed eighth are on 64 points and ECC have 6-3.
———————————
Leaders of the Brierley Hill Friday Night League British Oak had a test of their right to the number one position when in week ten they played away against third in the league Miners (Wollescote). The result was a 4-3 win for British Oak to keep them two points ahead of second in the table Brickmakers Arms 'B' who beat their 'A' side 6-1.
At the other end of the table the two bottom teams Delph Bell 'A' and Dudley Sports played each other with the latter winning 4-3 to leave Delph Bell 'A' still at the foot of the table now two points behind their opponents.
———————————
The Pip Club League played off the final stages of their Open Cup and in the semi-finals it was success all the way for Belgrave as Belgrave Sports and Social Club and Belgrave Club in turn defeated Globe (Wilnecote) and Queens Head '180'.
In the all Belgrave final it was league leaders Belgrave Sports and Social Club who lifted the winners silverware with Belgrave Club runners-up.
———————————
The Ashwood Premier League have completed their inaugural season and finishing as champion with 302 points was Nick Fullwell who had a final lead of 34 points over runner-up Connor Pickett with third placed Chris Williams a further 13 points adrift on 255.
———————————