Weoley Castle WMC was kept busy over the weekend last week when they played hosts to no fewer than four competitions, two on Saturday and two on Sunday.
Saturday's main competition semi-finals saw Jermaine Wattimena record a straight 6-0 win over Ronny Huybrechts while Warwickshire's Steve Hine made his exit losing 6-4 to Rhys Haden. The final went the full thirteen legs distance with Rhys Haden beating Jermaine Wattimena 7-6 to pick up the winners top prize of £1,000 with Wattimena collecting £400 as runner-up.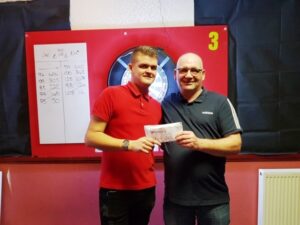 Rhys Haden (Classic Winner) and Stephen Spag Pasetti (Organiser)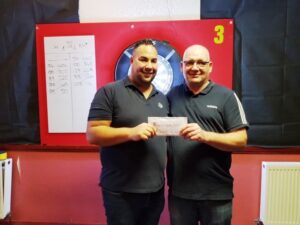 Jermaine Wattimena (Classic Runner-Up) and Stephen Spag Pasetti (Organiser)
Losing semi-finalists Ronny Huybrechts and Steve Hine each received £180 and there was £60 for players reaching the quarter-finals Kim Huybrechts, Dave Pallett, Diogo Portela and Colin Osborne, Suzanne Smith received £50 for being the last lady in the competition.
The ladies top prize of £300 went to Yvonne Taylor who beat West Midlands player Jacqueline Maiden with a close 5-4 result in the final, Jacqueline taking home £160. Losing semi-finalists Suzanne Smith and Josie Paterson received £80 each and there was £45 for players going out in the quarter finals and £25 for players reaching the last sixteen.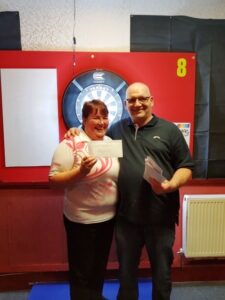 Ladies Saturday Open Jacqueline Maiden (Runner-Up) and Stephen Spag Pasetti (Organiser)
£1,200 was on offer for the winner of Sunday's main event and collecting that was former West Midlands man Nick Fullwell who had a final 5-4 win over Brian Dawson who received £500. There was £250 for Scott Hope and Warwickshire's Nigel Heydon who lost out in the last four and £75 for each of the losing quarter finalists. Warwickshire's Natalie Gilbert was the lady to go the furthest in the knockout and collected £50.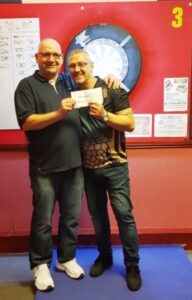 Stephen Spag Pasetti (Organiser) and Nick Fullwell (Open Winner)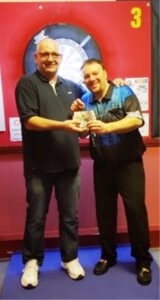 Stephen Spag Pasetti (Organiser) and Brian Dawson (Open Runner-Up)

It was déjà vu for Yvonne Taylor on Sunday as with the same 5-4 result by which she defeated Jacqueline Maiden the previous day she lifted the winners £300 once again by beating Chris Savvery who collected £160. Again there was £80 for losing semi-finalists, £45 for quarter finalists and £25 for reaching the last sixteen.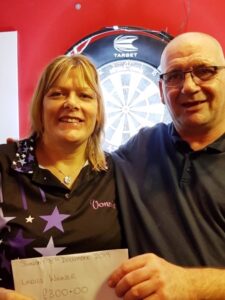 Ladies Saturday and Sunday Winner Yvonne Taylor and Stephen Spag Pasetti (Organiser)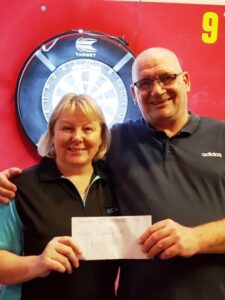 Ladies Sunday Open (Runner-Up) Chris Savvery and Stephen Spag Pasetti (Organiser)
———————————
The Shirley Legion Double Top League was back in action and taking over in joint top position was Craig Clark and Emmet Leonard who top the table with 23 points and are level on average after eight games. Former leader Wayne Clark didn't play and as a result dropped to twelfth position on 16 points with two games in hand. John Smyth moved up from tenth to third and with 21 points is only two short of the leading duo and just one further point behind is Gary Cleverley and Dave Heighway.
Antony Daly and Mick Bown both recorded two maximums, Daly also chalked up a 14 darts game while Bown had two 15 darts games.
———————————
Just one rearranged Premier Division fixture played in the Sheldon and District Winter League which saw Dunky's Boys with a 180 from John Sidwell win 5-4 at Sheldon Marlborough Arrows to go four points clear of second placed Highwood Gerry's Boys who have two games in hand.
———————————
Results from week 18 in the Small Heath League had very little effect on the table with only Emerald Club and Cob's Bar swapping places as Emerald won 7-2 at Sheldon Marlborough Flights and Cob's lost 9-0 at home to leaders Heartlands Club leaving them two points behind Emerald who are on 12 points. Heartlands remain top on average from East Birmingham Allotment Holders Association whose 8-1 win over Wagon and Horse keeps them on the same 32 points as Heartlands with a game in hand.
———————————
In Division One of the Four Oaks and District Winter League Bishop Vesey recorded a somewhat surprising 6-3 win over Erdington Arrows to move off the foot of the table and be replaced by Walmley CSC Arrows who lost 7-2 away to divisional leaders Bodmere St Mikes who take an unbeaten record into the second half of the season plus a lead of two points over second placed Boat who also won by 7-2 at Old Oscott Arrows.
In division two Red Lion maintained their unbeaten record with a 7-2 win against The Digby to hold on to their two points lead over their nearest rivals Walmley CSC Flights who had a similar 7-2 win over St Thomas Arrows.
Division Three's Rosey Mac's Leopard and Oscott Social Club were both undefeated but with them playing each other on the Leopards board something had to give. It was the Social Club who finished on the wrong side of the 5-4 result to see their hosts replace them at the top of the table with a two point's advantage.
M.O'Driscoll (Pint Pot Flights), S.Harvey (The Boat), S.Spink (Rosey Mac's), S.Johnson (Oscott Sports), J.O'Connor (Boldmere Tap) and L.Vickers (Red Lion) all hit their first 180's of the season.
———————————
No change in the top three places in the Camp Hill Marston's League as leaders White Swan Nomads won 6-1 at Sedgemere Devil's Club to extend their average lead to two legs over Emerald Club who were 5-3 winners at Wagon and Horses. Third placed Tyseley WMC took their points to 16, two short of the top two with a 5-2 win at New Inn who drop one place to fifth with Roost Rebels replacing them in fourth place after their 4-3 win at Marlborough Star.
———————————
The Stourbridge and District Monday Night League played their Doubles Knockout down to the last eight qualifiers and lining up in the quarter finals will be C.Penzer & J.Batham, A.Turley & S.Hall (Brickmakers Arms), R.Riaz & A.Nicholls (British Oak), M.Dangerfield & P.Poulton (Stourbridge RBL), W.Incher & John Jackson (Britannia), A.Moreton & C.Moreton (Ten Arches), D.Williams & C.Williams (Swan), K.Sprague & C.Slater (Gate Hangs Well).
———————————
The title for the Masters Knockout in the Rowley Monday Night League went to Connor Whitehouse who represented league champions The Bell. Whitehouse's final win was against Dayle Locke from Tividale FC.
———————————
The final of the Andy Bastable Trophy was the order of the day for the Netherton Thursday Night League and the winners were league champions Dudley Ex Serviceman's Club who after the tie went to the very last game won 5-4 against Riddins Tavern who finished the season in third place.
———————————
The Brierley Hill Monday Night League will be holding their AGM at Dudley Sports, DY5 3QT on Sunday 5th January at 11.00am, anyone interested in entering a team for the forthcoming season should attend this meeting.
———————————
Fixtures may be running out in the Shirley and District Monday Night League but the battle for the title is still on as current leaders Highwood added a 6-3 win over Saracens Jesters to their account to put them on 52 points from 28 games and second placed Dunky's Boys with a maximum from John Sidwell won 8-1 against HSDT to leave them just two points short of Highwood with a game in hand plus a superior average.
Third in the table The Lion won their home game against Saracens Misfits 6-3 but are two points behind Dunky's and have played one game more than them.
———————————
Woodside 'A' top the Silver End Sunday Morning League and despite having a bye in game 26 held on to their number one spot with 61 points from 25 games and a lead of two points plus a game in hand on second placed Glasscutters 'B' whose latest fixture saw them win 5-3 at High Acres. Dudley Ex Serviceman's Club also had a bye and they dropped one place to fourth with Brickmakers Arms 'B' overtaking them with their 8-1 win at The Bell giving them a one point lead over the Ex Serviceman's but from one game more.
———————————
Swan 'A' lost their second place and dropped to third in the Stourbridge and District Wednesday Night League when in week 12 they lost 4-3 at home to Ten Arches 'A', Ten Arches moving up one place to seventh. No problem for leaders Ashwood 'B' as they handed their hosts King Arthur a 7-0 whitewash to keep them in pole position on average from newly placed second Ten Arches 'B' who had a 5-2 home win over Swan 'B'. Early season league leaders Wilson Hall suffered a 7-0 defeat to Bird (Wordsley) to see the drop one place to sixth and their opponents move up one place to replace them in the number five spot.
———————————
After completing game 13 in the Sedgley and Gornal Tuesday Night League there were no changes in the top six places, leaders Old Bulls Head hung on to their average lead over second placed Lamp Tavern with a 6-3 home win against Gornal British Legion while Lamp had a similar result at Jolly Crispin.
White Lion's 5-4 win at Pensnett Liberal Club saw them leap up the table from eleventh to seventh position while Red Cow who were next to bottom of the table added an 8-1 success over Hilly House to move up five places to eighth.
———————————
Delph Bell 'A' chalked up their first win in six in the Brierley Hill Friday Night League when they won 5-2 against Gornal British Legion who are three places above them, nevertheless they still remain at the foot of the table but now level on two points with Glasscutters and Dudley Sports.
League leaders British Oak had a close 4-3 win at Netherton Cricket Club, the Cricket Club dropping two places to sixth while British Oak open up a four points lead as second placed Brickmakers Arms 'A' lost 4-3 at home to Pensnett Welfare Club who are now third and on the same eight points as their opponents.
———————————
The top four places remain unchanged in the Combined Division of the Pip Club League as leaders Belgrave Sports and Social Club won 8-1 at Old Liberal House to stay two points ahead of second and third placed Birchmoor Club and Dolphin Wanderers, Birchmoor winning 7-2 at Aldergate Club and the Wanderers beating fourth in the table Sports Bar '180' 8-1, Sports Bar '180' now six points off the top.
———————————
Woodside Inn reduced the arrears to three points on leaders Allen's Sports Bar 'A' in the West Midlands Men's Super League when they won 5-0 against Horse and Jockey 'A' and Allen's 'A' had a 4-1 win over Staffordshire Knot. Third in the table Yeltz Bar 'A' are a further three points adrift after they added a close 3-2 win at Cabin to their tally.
With their 'A' team losing 4-1 Horse and Jockey 'B' had a home tie against ECC Sports and Social Club and although fared a little better they too lost as their ECC visitors won the tie 3-2, L.Griffiths levelled for ECC after L.Wildman had put the home team one up, then M.Hampson restored parity once again after J.Gennard had won the third game. With it all on the final game M.Baker handed his opponent D.Owen a 4-0 defeat to give ECC the victory.
———————————
Riley's 'C' completed their season in the Wolverhampton Tuesday Night League with 5-2 and 2-1 wins over Pendulum to win both the Singles Division and Doubles Divisions. Railway finished their programme with 5-2 and 3-0 wins over Yale Club to secure the runners-up spot in both divisions finishing four points short of Riley's in both as surprisingly Riley's had 52 points in both and Railway 48 in both..
———————————
There will now be a break of two weeks over the Christmas and New Year in which there will be no darts column but please continue to send any results or information as normal as they will all be used in the first column of 2020 on Wednesday 8th January
I would like to take this opportunity to thank all contributors and readers of this column for their continued support over the past year and wish everyone a Very Merry Christmas and a Happy, Healthy and Prosperous New Year may 2020 bring you all you wish for.
———————————