For many weeks Thomas Bent has been sitting comfortably at the top of the Shirley Legion Double Top League and a firm favourite to win the title, however in week seventeen he dropped points when he began the night with a 2-2 draw with John Smyth and rounded off the evening with a 3-1 win against Sam Hicks. Meanwhile Lee Harris, who was in second place in the table added straight 4-0 wins over Mark Gwalchmai and Steve Heeks to take his points tally to 99 from 34 games, one more point than Bent who slipped into second place behind Harris.
Prior to his holiday break Mark Gwalchmai had two games in hand on both Bent and Harris and was in a position to take over in pole position but Mark must still have been plagued by jetlag as he suffered 4-0 defeats to Harris and Sam Hicks and was held to a 2-2 draw by both Derek Harper and Dave Heighway to leave him still third in the table but seven points off the top and six behind Bent. Gwalchmai is now joined on the same 92 points by Antony Daly, who also has a game in hand and Craig Clarke.
Player of the week was Jordan Ottley who in his 3-1 win over Craig Clarke recorded nine and ten darts legs plus a 109 finish. Mick Bown hit the only maximum of the week.
———————————
There are no fewer than four teams all on ten points at the top of the Kings Norton League but of the four only two of them Bournbrook and Grant Arms have played all seven games. Avenue C.Fox have played five games but have the better average and top the table with Bournbrook second after their 4-3 win at Weoley Hill. Sitting in third place is Rubery RBL who won their sixth game of the season a home tie with Harborne C.Fox also with a close 4-3 result. Grant Arms are fourth they finished on the wrong side of a 4-3 scoreline away to Kings Norton Ex Serviceman's Club.
———————————
The only change in the league table for the Small Heath League in week seven was at the bottom end of the table as Sheldon Marlborough Flights despite losing 7-2 away to current league leaders Heartlands Club moved off the foot of the table to be replaced by Emerald Club who were handed a 9-0 whitewash at East Birmingham Allotment Holders Association who are placed second in the table, the only team with a 100% win record having a game in hand on Heartlands and both of the top two teams locked on 12 points.
———————————
The Heartlands Club Double Top Wednesday Night League are up to week seven and with William Naylor not playing this week he has dropped to third place and replaced in pole position by Steve McCormack. Steve this week added 3-0 wins over Matthew Cain, who was third and now seventh and Callum McCormack to give him 23 points from nine games. Naylor who has not dropped a single leg so far can achieve a possible nine points from his three games in hand on McCormack and could return to the top with a four points lead
John Burdett moves up six places in the table to take over in the number two spot after he won 3-0 against Tony Pedley, Gerry McCormack and Callum McCormack to leave him four points adrift of Steve McCormack at the top of the table.
Finding the three treble twenties this week were Clive Austin and John Burdett, Tony O'Kereke recorded a 160 break.
———————————
With the Sutton and District Summer League winding down their campaign the Jubilee 5 A-Side Cup finals were on their fixture card this week. In the semi-finals, both of which finished with a 3-1 result, there were wins for Golden Hind 'B' and Magic Mike's (Boldmere St Mike's) who in turn defeated Red Lion 'B' and Golden Hind Wizards.
The final saw Magic Mike's team clinch the title when they handed out a straight 3-0 defeat to Golden Hind 'B'.
———————————
The Netherton Thursday Night League played off the finals of their Singles Knockout, three of the four quarter final games finished with clear-cut 2-0 results as Joe Sharratt (RiddinsTavern), Bob Carr (Dudley Ex Serviceman's Club) and Amar Ghaley (Riddins Tavern) in turn accounted for Ian Golding (Bulls Head), Darren Brown (Dudley Ex Serviceman's Club) and Scott Fellows (Bulls Head). The last of the games saw Brian Neale (Riddins Tavern) beat Phil Tonks (Dudley Ex Serviceman's Club) 2-1.
With three of the last four representing Riddins Tavern it looked a fair bet the title would go to Riddins but obviously two of them would have to play each other in the semi-finals and the two were Joe Sharratt and Brian Neale with Sharratt running out the narrow 2-1 winner.
As the only none Riddins Tavern player Bob Carr took out the third Riddins player Amar Ghaley in two straight legs.
The final was extended to the best of five legs and against what appeared in the semis that the title would go to a Riddins Tavern player it was Dudley Ex Serviceman's Club representative Bob Carr with a 3-1 result that defeated Joe Sharratt despite Sharratt going 1-0 up in 15 darts as Carr reversed the advantage in 18 and 17 darts before he went on to clinch the title in the fourth leg.
League secretary Ron Nicholson described the finals as the best he had witnessed in all the time he had been running the league. He went on to say both Bob Carr and Joe Sharratt were excellent throughout the night
———————————
The Brierley Hill Friday Night League took a break from league fixtures to run the finals of their Doubles Knockout. In the last eight play-off's there were 2-0 wins for J.Churchill & C.Davies, J.Batham & C.Penzer and R.Colley & R.Powers who in turn defeated M.Flatman & J.Barrowman, A.Turley & S.Blewitt and S.Skidmore & J.Glazzard, while B.Weatherall & A.Bedford beat G.Jackson & A.Smith 2-1.
In the semi-finals Batham and Penzer repeated their 2-0 success against Weatherall and Bedford to book their place in the final where they faced Colley and Powers who although taken to a deciding leg by Churchill and Davies won 2-1.
With the final extended to the best of five legs it was Colley and Powers who won 3-1 against Batham and Penzer to take the title.
———————————
It was game number six for teams in the West Midlands Men's Super League and leaders Woodsdie Inn consolidated their pole position with an emphatic 5-0 win over The Bell who were placed fourth but now drop to sixth. Yeltz Bar 'A' were unable to hold on to both their unbeaten run and second place in the table as they lost their home tie with seventh in the table Allen's Sports Bar 'C' 3-2 and as a result drop to third on 32 points one point short of reigning champions Allen's Sports Bar 'A' whose 5-0 win over ECC Sports and Social Club sees them move up to second place with 33 points five behind Woodside.
———————————
The semi-finals of their Sidesteps UK Cup were the order of the day for the Hilltop Friendly Tuesday Night League in which league leaders The Vine had a resounding 7-0 win over Dewdrop 'A' who are third in the league. Fourth in the league table Waggon and Horses beat their opponents Island Inn 5-2 and will now meet The Vine in the final.
———————————
The Cradley Tuesday Night League played their 3 A-Side Knockout down to the last eight teams and winning through to play in the next round were Brickmakers Arms 'B', Netherton Sports and Social Club 'C', Dudley Labour Club, Brickmakers Arms 'A/A', Brickmakers Arms 'A/B' 7, Gate Hangs Well 'B', Netherton Sports and Social Club 'A/A' and Gate Hangs Well 'A'.
Biggest winners of the round were Brickmakers Arms 'B' and Dudley Labour Club who in turn handed out 9-0 defeats to Malt Shovel and Netherton Sports and Social Club 'B'.
———————————
Hurst Hill extended their unbeaten run in the Tettenhall Wednesday Night League taking it to nineteen straight wins with a 5-2 success in their home tie with Brewood British Legion and giving them a total of 38 points. Second in the table Cleveland Arms have played one game more than Hurst Hill their 4-3 home win against fifth in the table Moreton leaving them two points short of the leaders.
Third in the league Whitmore Reans WMC had a 5-2 success against Dog and Partridge and although they are six points off the top and four adrift of Cleveland they have one game in hand on Hurst Hill and two on Cleveland.
It was a good week for ECC Sports and Social Club as their fourth placed 'A' team won 5-2 away to Swan, Compton and the 'B' side had a 4-3 home win over Royal, Albrighton to complete a great double.
———————————
A date for the diary is Saturday 5th October when the West Midlands County Darts Organisation's home venue of Gilberts Bar, 54 Field Street, Willenhall, West Midlands, WV13 2NY will be staging a knockout with the winner receiving £500 (based on 64 entries) for an entry fee of £8 which includes entry into a first round losers Plate Knockout.
Doors will open on the day at 11.00am on the day with registration 11.30 to 1.00pm. For any further details call 01902-603939.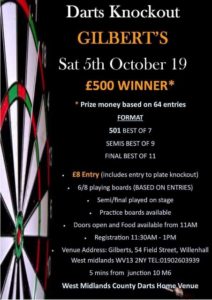 ———————————
It was cup quarter finals week in the Wolverhampton Tuesday Night League, first the Railway Shield in which second in the singles division Railway beat Mount Tavern who are eighth. There was a rare win for bottom of the singles Pendulum who with just two wins from seventeen games beat next to bottom Yale Club. Penn Bowling and Village Inn had a bye into the next round.
In the Knockout Cup there was a shock for Riley's 'A' who in the singles league are top with eighteen wins in eighteen games and they are also top of the doubles with seventeen wins from eighteen games. Nevertheless league form went out of the window as they were taken out of the cup by Gilberts Bar who are sixth in the singles and eighth in the doubles. Wednesfield Legion defeated lowly Riley's 'A' and Bull beat Jones Road. Dog and Partridge had a bye into the last four.
———————————