What a fantastic month for West Midlands Youth Academy player 16 years old Connor Pickett from Wordsley in Dudley had as he followed up his win in the Northern Youth Darts Organisation Singles over the weekend of the 13th and 14th July with a tremendous 4-3 final victory over BDO World Youth champion Leighton Bennett to secure the BDO World Youth Festival of Darts Under 18's title at the Five Lakes Resort, Colchester Road, Tolleshunt Knights, Maldon, Essex CM9 8HX.
In the semi-finals Connor had a close 4-3 result over Nathan Potter with Bennett booking his final place with a 3-1 win over Jamie Tilley.
The final saw both players record two maximums but a 51 game shot was the most important statistic as it was that checkout the gave Connor Pickett the title, surely a player to watch out for in the future.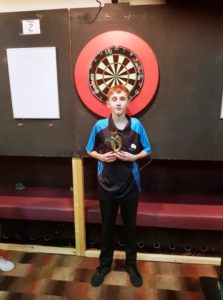 Connor Pickett
———————————
The Stourbridge and District Wednesday Night League title went down to the wire and was not confirmed until the final fixtures of the season were played. Taking the league title was The Swan who finished their campaign with 72 points, losing just two of their 38 games. Although Swan had such a good record it was a battle to the bitter end as their two nearest rivals Ashwood 'B' and Ashwood 'A' each with 70 points ended the season just two short of the champions, Ashwood 'B' taking the runners-up spot as they were ten legs of average better off than their local 'A' team rivals who ended the season third in the table.
At the time of going to print the league still has a few cup finals to play-off but the various honours already sorted are, Singles Winner Sam Aitkens (Ten Arches 'A'), Singles Runner-Up Jamie Barrowman (Ashwood 'A'), Doubles Winners J,Barrowman & M.Flatman (Ashwood 'A'), Double's Runners-Up R.Pierce & J.Wrench (Ashwood 'B'), Ladies Singles Winner A.Roberts (Wilson Hall), Ladies Singles Runner-Up P.Field (Brickmakers Arms 'B'), Under 21 Winner J.Pickett (Glasscutters), Uner 21 Runner-Up C.Pickett (Glasscutters), Highest Break R.Pierce (Ashwood 'B'), Highest Finish M.Davies (Gate Hangs Well) & A.Galeb (Wilson Hall), Least Darts Singles L.Wheeler (Gate Hangs Well), Least Darts Doubles G.Moreton & G.Marsson (Swan), M.Bayliss & J.Ward (Ashwood 'B'), Most League Wins M.Rutter (Wilson Hall).
——————————–
The Pip Club League have played off the finals of their Divisional Cups and winning the division one title with a final success over Belgrave Club were league leaders Bombay Bob's Boys after they took out second in the division Belgrave Sports and Social Club in the semi-finals. Belgrave Club beat Glascote Club in their last four game.
The semis in division two saw Pip Club beat Dolphin and Wigginton Arms take out Kettlebrook Club. The title went to Pip Club when they defeated Wigginton in the final.
———————————
With all of the domestic league fixtures completed and White Swan Nomads acclaimed champions with 28 points, two more than runners-up Sheldon Marlborough Flights the Camp Hill Summer League  have been running down their season with various finals the first of which saw Pete Yardley (New Inn) beat Joe Fox (Emerald Club) to take the Consolation Singles title. White Swan Nomads made it a fantastic double adding the League Cup to their already won league championship when they won 4-3 against Emerald Club and with a similar close 4-3 result Tyseley WMC accounted for Station Wagon to win the Consolation Cup final.
———————————
The South Birmingham League are another league to have completed their season and winning the league's division one Mini League were C's Top Guns while the division two title went to C's Hot Shots.
———————————
Last season in the West Midlands Men's Super League champions Allen's Sports Bar 'A' lost just one of their 34 games but after only their third fixture of the new campaign they lost 3-2 to Yeltz Bar 'A' and at the same time their number one spot as they dropped to fifth in the table. At that time Bridgtown Social became the league's new leaders, their 4-1 win over Gilberts Bar giving them 19 points and a slender one point advantage over second placed Woodside Inn who were 3-2 winners at ECC Sports and Social Club after ECC had taken the lead with an opening win from A.Teasdale over L.Slater, anchor-man M.Hampson was ECC's only other winner as he accounted for M.Moore with a straight 4-0 win.
Since then Bridgtown have lost pole position and after the opening five games leading the field are Woodside Inn who with 31 points have won all five of their fixtures. Second in the league Yeltz Bar 'A' have also won all five games and are just one point behind Woodside, while with three wins from their five games Bridgtown Social have dropped from pole position to sixth in the table on 22 points, some nine off the top of the table.
———————————
After such a bright start to their campaign in the Hilltop Friendly Tuesday Night League with fifteen straight wins last season's runners-up in the league Tipton Sports suffered a somewhat surprisingly 4-3 defeat in their sixteenth fixture away to middle of the table Dewdrop 'B' and then followed that with a 5-2 home loss to The Vine who replaced them in pole position.
The position at the time of going to print is that The Vine remain in pole position with 34 points from eighteen games with Tipton Sports some two points behind them in second place eight points to the good on the chasing trio Dewdrop 'A', Waggon and Horses and Merry-Go-Round.
———————————
With just two more games to play Golden Hind are just a whisker away from winning the division one title in the Sutton and District Summer League after beating The Boat, who were second 8-1. The defeat sees Boat drop to third behind Boldmere St Mike's level on 14 points but trailing on average after they won 6-3 at Pint Pot Flights, both Boldmere and Boat are four points behind the leaders.
Unbelievably with two to play in division two just one point separates the top three teams. An 8-1 win for Walmley Darts Club over Red Lion see them topping the table with 15 points closely followed by Bishop Vesey and Old Oscott Arrows who are locked together level on average with the same 14 points.
Division three is all done and dusted with Castle Vale Residents winning the division but by the narrowest of margin as runners-up Digby Chuckers finished on the same 18 points losing out by just three fewer legs of average.
———————————
Congratulations to Reece Colley (The Bell), Ian Hebberts (The Cabin), Daryl Thorpe and Justin Evans (Gilberts Bar) who from the West Midlands play-offs have qualified for the regional finals of the One80 L-Style World Masters which will be staged at Gainsborough on Sunday 25th August, with the qualifiers hoping to reach the grand finals at the Circus Tavern in Purfleet in October.
———————————
I end this month's column on a sad note as I report the sudden death of a former darts team mate of mine Adrian (Ade) Arnold. Ade was on holiday at the Isle of Wight with his wife Val when he suffered a fatal Cardiac Arrest just two days before his 54 birthday. He was a former West Midlands County and Super League player and played in many of the local leagues and knockouts.
Deepest sympathies go to Ade's wife Val and all of his family at this very sad time, he will be sorely missed by all who knew him especially all of his many darts team mates.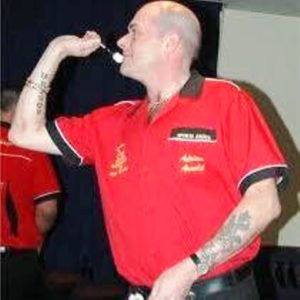 Adrian Arnold
———————————