Congratulations to Tipton based and Warwickshire County player Jamie Hughes who in the inaugural Czech Open in Prague defeated the number eighteen world ranked player Stephen Bunting 8-3 to lift the title and the top prize of £25,000.
Having only won his PDC Tour Card for the first time in January, Hughes not only won his first senior PDC title but at the same time also secured a Betfred World Matchplay debut.
Hughes booked his final place with a 7-3 win over Simon Whitlock while Bunting had a slightly closer 7-4 win over Keegan Brown. The final saw Bunting take the early lead going 3-1 up before Hughes reeled off the next seven legs without rely to storm to an incredible 8-3 victory.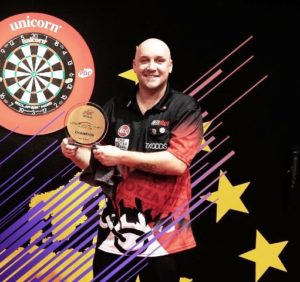 Jamie Hughes
———————————
Week ten in the Shirley Legion Double Top League saw Thomas Bent hold on to pole position taking his points tally to 61 from 20 games, however his night didn't get off to the best of starts as he lost his opener against his nearest rival, second in the table Lee Harris 3-1, Harris recording a 152 break in an eight darts game. Bent recovered slightly to draw 2-2 with Steve Heeks but finished on a high when he won 4-0 against Lee Holtham.
Lee Harris continued his fine form into his second game which he won 4-0 against Dave Heighway and then rounded off his night with a 2-2 draw with Chris Thomas jnr to leave him four points short of Bent and one ahead of third placed Craig Clarke who moved up three places in the table with earlier 4-0 wins over Adam Stuart and Derek Harper.
In his 3-1 win over Ravi Saggo Jordan Ottley produced the second highest finish of the season, a 151 game shot while Lee Harris had the fastest leg of the night eight darts in his win over Thomas Bent.
———————————
After winning 3-0 against Richard Mills who is fourth in the C's Club Double Top Wednesday Night League leader Bob Nixon then dropped only his fourth leg in some 66 played when he won 2-1 against Chris Cooke who is twelfth in the table and despite having two games in hand is 23 points short of his opponent.
Second in the league Mick Noonan has played 23 games one more than Nixon after a 2-1 win against Dan Cooper and 3-0 success over Neil McCrave to leave him seven points adrift of Nixon.
With 3-0 wins over Wayne Yates and Louise Beale Terry Webster has moved up the table to third place with on 52 points, three fewer than Mick Noonan.
———————————
The South Birmingham League staged the semi-finals of their Divisional Mini League competitions the division one games saw league champions C's Top Guns win 22-5 against The Gate while Coleshill Social were awarded a walkover against Banbury Arrows
The division two semis saw C's Hot Shots beat C's Flights 17-10 and being as the other two semi-finalists Toby Jug and The Dog forfeited their game the final will be a repeat of the semis with Hot Shots once again squaring up to Flights.
———————————
Dunky's Boys with a 7-2 win at Red Lion not only took their unbeaten run to eleven games but also opened up a two points lead at the top of the Shirley and District Monday Night League as second in the table The Lodge lost their home game against third placed Highwood 5-4 to put both teams on 20 points from 12 games, one more than Dunky's have played.
A 5-4 home defeat by The Lions has seen The Wharf drop down another place to sixth with The Bears replacing them in fifth position after their 8-1 win at Saracens Jesters.
———————————
With the end of season in the Camp Hill League getting ever closer leaders and odds-on favourites for the title White Swan Nomads added a 5-2 win over North Star to their account to take their lead to four points over second in the table Sheldon Marlborough Flights who surprisingly lost 5-2 away to Emerald Club. Third in the league Roost Rebels now join Sheldon on the same 24 points after they won 4-3 against fourth in the table Tyseley WMC.
———————————
A second successive 8-1 win in as many games was not enough for East Birmingham Allotment Holders Association to hold on to joint top position in the Small Heath League. Playing away against Emerald Club E.B.A.H.A. fell on leg of average short of Heartlands Club who moved into an outright leadership of the league with their 9-0 win at Sheldon Marlborough Flights.
C.Wayatt was in top form for E.B.A.H.A. with an 160 break,3×00,108 and a nine darts game but hitting the only maximum of the week was Cob's Bar player D.Shakespear in his team's 5-4 reversal against Wagon and Horses.
———————————
As the Brierley Hill Monday Night League moved into the second half of its season the local derby between Dudley Ex Serviceman's Club 'B' and league leaders 'A' saw the 'A' team get the 8-1 result to put them top of the table but by just one leg of average over Roebuch who won 7-2 against Brickmakers Arms.
Third in the league Rose and Crown won 6-3 against Fox and Grapes to put them on 30 points, two short of the two teams above them but two ahead of former league leaders High Oak now in fourth place.
———————————
One point is the difference between the top two teams in the Silver End Sunday Morning League as leaders Dudley Ex Serviceman's Club won 5-3 at Dudley Sports to give them 29 points and Woodside 'A', who won by the same margin at Three Crowns take over the number two spot from Glasscutters 'B' who drop to third after finishing all square at four each with Brickmakers Arms 'A', Glasscutters 'B' on 27 points.
Glasscutters 'A' are sixth in the table on 20 points they suffered their first defeat in eleven when they lost 5-3 at Brickmakers Arms 'B'. Dudley Ex Serviceman's Club and Glasscutters 'B' are now the only two teams without a loss.
———————————
The Brierley Hill Friday Night League played the first leg of round two in their League Cup and taking a big 6-1 lead into the second leg against Brickmakers Arms 'B' is Dudley Sports. Netherton Cricket Club 'A' are not far behind with their 5-2 success over Ashwood while Delph Bell and Brickmakers Arms 'A' have a close 4-3 advantage in turn over Miners (Wollescote) and High Oak.
———————————
The Netherton Thursday Night League had the second leg of their League Cup semi-finals on the fixture card and winning through to the final were Bulls Head and Townsend Social Club. Bulls Head won 10-5 on average over Dudley Ex Serviceman's Club while Townsend had to thank R.Lenton who won a deciding game against J.Sharratt (Riddins Tavern) to put them through.
In the league's Shadow Cup semi-finals White Horse had an 11-7 average win over Netherton Conservative Club and Fairfield beat Saracens Head 14-4.
———————————
Tividale FC were the only losers in the top five teams in the Rowley Monday Night League when they lost 8-1 away to second in the table George. The win keeps George within two points of leaders Bell whose 9-0 win at Hare and Hounds gives them a total of 38 points. Tividale FC drop to sixth after their defeat and are replaced in fifth position by Fairfield who 8-1 against Loyal Lodge.
Third in the table Cradley Sports and Social are a further two points adrift of George on 34 points following their 6-3 home win over Three Diamonds.
———————————
Week nine in division one of the Sutton and District Summer League brought together the division's top two teams leaders Golden Hind and second placed Boldmere St Mike's. The result was a close 5-4 win for the visiting team Golden Hind to give them a four point's lead at the top of the table. Third placed Boat, like St Mike's, are also four points off the top but with a game in hand after they won 7-2 against Erdington Arrows.
Division two leaders Old Oscott Arrows had a bye this week and a shock 5-4 defeat for Bishop Vesey by Oscott Sports sees them lose their second place to Walmley Darts Club whose 5-4 win over Drakes Drum leaves them one point behind Old Oscott Arrows. The win for Oscott Sports sees them move off the foot of the table and be replaced by Drakes Drum.
Castle Vale Residents continue to lead division three and continue to be the only team in the league with a 100% win record. The Residents latest win was a 7-2 success away to bottom of the division Sutton Sports.
———————————
With the majority of teams in the Stourbridge and District Wednesday Night League having just three more games to play the title could go to any one of the top three teams. Currently top of the table with 66 points is Swan whose most recent fixture saw them hand out a 7-0 whitewash to King Arthur. Swan have an average lead over second in the table Ashwood 'A' plus a game in hand after Ashwood 'A' also handed out a 7-0 defeat to their opponents Holly Bush 'A'. Third in the league is Ashwood 'B' they have a game in hand on their 'A' side plus a superior average, their 6-1 win at Bell 'B' keeping them in the hunt for the title with 64 points.
———————————
There were rare wins for the two bottom teams in the Hilltop Friendly Tuesday Night League as Cottage Spring who are at the foot of the table won their home tie with sixth placed Miners Arms 6-1 and next to bottom Wonder won 5-2 at home to Merry-Go-Round who are fifth and have twelve points more than their hosts.
At the other end of the table Tipton Sports continue to lead the field after winning 4-3 against Ivy Bush, the win taking the leaders points to 30, two more than their nearest rivals The Vine who won 7-0 at New Talbot.
———————————
With the fixture between Brickmakers Arms 'B' and second in the Cradley Tuesday Night League Netherton Sports and Social 'A' cancelled third placed Bulls Head reduced the arrears on the Netherton Sports and Social 'A' to six points with a 7-2 win over Riddins Tavern, however Bulls Head have played two more games than the Sports and Social 'A' side.
Top of the table Brickmakers Arms 'A' continued their challenge for the title with a 6-3 win over Roost to keep them three points to the good on Netherton Sports and Social 'A' who have a game in hand but trail on average.
———————————
Bombay Bob's Boys moved another step closer to the Main Division title in the Pip Club League when they won 7-2 at Old Liberal House to give them 44 points from 22 games. Second placed Belgrave Sports and Social who have played 23 games and are on 41 points had a bye this week they are just one point ahead of third placed Birchmoor Club after they won 8-1 against Progressive Club.
———————————
There were big wins for the top two teams in the Henley and District Summer League in week four as leaders Studley Conservative Club followed up last week's 9-0 win over Dorridge with an 8-1 success against Wythall Legion and second placed Studley Cricket Club who had an 8-1 win over Wythall RBL last week won 9-0 this week against Beausale to keep within two points of the Conservative Club.
———————————
Although the new Ashwood Premier Singles League has got underway there is still time to enter as the league have extended the cut-off date by another three weeks. Anyone interested in entering the Stourbridge based league in its inaugural season or requiring any further information should contact Chris Williams on 07940-398197 or by e-mail chriswilliamsbm@hotmail.com
———————————
With the Wolverhampton Tuesday Night League at the halfway point of its season leaders of the singles division Riley's 'C' added a 7-0 win over Pendulum to their account to take their number of points to 28 and keep intact their two points lead over second placed Railway who won 6-1 against Yale Club.
In the doubles section a similar situation exists with Riley's 'C', after winning 3-0 against Pendulum are two points ahead of Railway in second place who won by the same 3-0 margin against Yale Club.
———————————