The South Birmingham League has been very busy with their various knockout finals, no fewer than six of them. First the Roy Parry Cup in which division one champions C's Top Guns beat divisional runners-up Coleshill Social 5-4.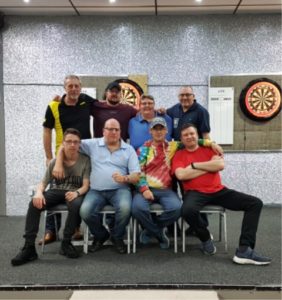 Roy Parry Cup Winners C's Top Guns
The Roy Parry Consolation Cup title went to division two champions C's Hot Shots with a 7-2 result over The Dog.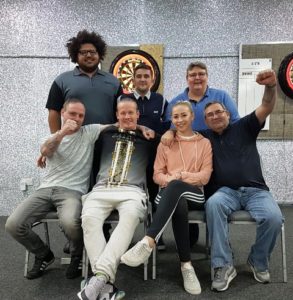 Roy Parry Consolation Cup Winners C's Hot Shots
The final of the Jimmy Walker Cup produced an all division one clash between Banbury Arrows and The Gate with the former getting the close 5-4 verdict.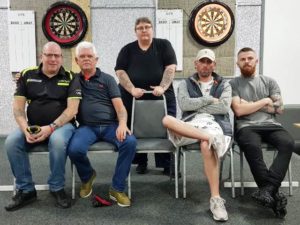 Jimmy Walker Cup Winners Banbury Arrows.
Once again it was the C's Top Guns who won the Knockout Cup, and yet again it was Coleshill Social who finished in second place losing 7-2.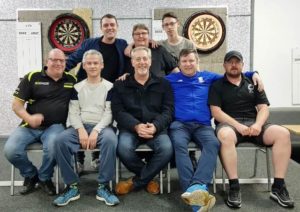 Knockout Cup Winners C's Top Guns.
The Divisional Cup finals saw C's Top Guns make it the league title plus three cup wins when they beat, yes, Coleshill Social once again, this time 6-3.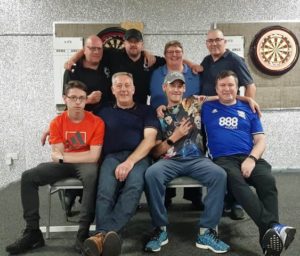 Division One Cup Winners C's Top Guns.
The division two final was won by C's Hot Shots who had a convincing 8-1 result over The Dog.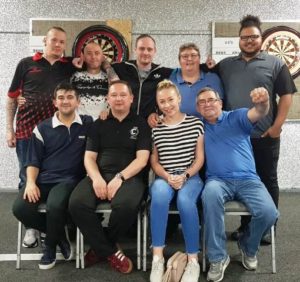 Division Two Cup Winners C's Hot Shots.
———————————
With straight 4-0 wins over Derek Harper and Lee Lattimer, Thomas Bent has returned to the top of the Shirley Legion Double Top League with a total of 54 points from 17 games. Due to work commitments plus a forthcoming three weeks break Wayne Clarke played five games in week nine adding a 3-1 win over Dave Fisher, 2-2 draws with Colin Geens and Mark Henderson and a 4-0 win against Steve Heeks to take him up to 22 games played and within one point of Bent with 53 points as he moved up three places in the table to second. Formerly Mark Gwalchmai was in the number two spot but he was unable to chalk up a win in the two games he played this week as he began with a 2-2 draw with Kyle Bevan and then lost 3-1 to Mick Bown to put him on 48 points from 18 games and drop to fifth in the table.
Jordan Ottley recovered from a 3-1 defeat to Tony Daly to inflict a similar loss on Jaime Whitton to hold on to third place with 49 points from 18 games. On the same 48 points as Gwalchmai is Lee Harris, 4-0 wins over Dave Barrows, Jack Barrows and Lee Holtham seeing him leap up the table from thirteenth to fourth place after playing 17 games.
Individual achievements this week included Jaime Whitton who had a sensational maximum 170 break despite losing 3-1 to Jordan Ottley and with scores of 180 were Sam Hicks and Ken Hopton. Nine darts was the best game of the night recorded by Thomas Bent and John Smyth.
———————————
The Camp Hill League played off one of the semi-finals of their League Cup in which there was a close 4-3 win for Wandering Nomads over New Inn.
There was just one rearranged league fixture played which saw second in the league Sheldon Marlborough Flights beat Sedgemere Devil's Club 6-1 to put them within two points of leaders White Swan Nomads.
———————————
Reigning champion and current leader of the C's Club Double Top League Bob Nixon made it a 18 perfect wins in week ten when he added straight 3-0 wins over Ryan Beale and Chris Meigh to his tally to take him to 51 points and give him a lead of six with a game in hand on second in the table Mick Noonan who had closer 2-1 wins against Dan Stone and Gary Groves. Simon Edwards lost his second place to Noonan as he only played one fixture in which he won 2-1 against Lee Walker to leave him one point behind Noonan with two games in hand.
The only other player in the league besides Bob Nixon not to have lost is Luis Barberan who played five games beating Neil McCrave, Connor Marshall, Richard Meigh, Louise Beale and Mitchell Mann all 3-0 to see him race up the table from a 25th position to fourteenth. Barberan has now played ten games and has eight in hand on leader Nixon, eight games that could net him 24 points which could take him two points ahead of Nixon.
Another player to make a leap up the table from 23 to17 is Mitchell Mann who also played five games in which he won 3-0 against Richard Meigh, 2-1 against Louise Beale, 3-0 against Steve Groves, then lost 3-0 to Barberan but finished the night with a 3-0 win over Luke Beale.
———————————
Week eleven in the Shirley and District Monday Night League saw no change in the top seven placings as leaders Dunky's Boys won 7-2 at The Lions to keep them just ahead of The Lodge in second place after their 6-3 success at Legion Flights. Highwood in third place are two points behind the leading duo after they won 7-2 against Saracens Misfits.
After wins for the top three there was little joy for the chasing four teams as fourth placed Red Lion's fixture against Plume of Feathers was a late result, fifth in the table Wharf lost 5-4 at Legion Royals, sixth placed Bears had a bye and seventh in the table Legion Flights lost to Lodge.
———————————
The Small Heath League have got their new season underway and sharing the top spot after the opening fixtures are last season's winners and runners-up East Birmingham Allotment Holders Association and Heartlands Club who in turn had 8-1 wins over Cob's Bar and Emerald Club. The only other winners were Sheldon Marlborough Flights who last season finished bottom of the table they won 5-4 against Wagon and Horses.
———————————
The Netherton Thursday Night League played the first leg of the semi-finals of their League Cup and Shadow Cup. There is everything to play for in the second leg of the League Cup as both games finished with close 5-4 results, Townsend Social Club and Bulls Head taking the slender lead into the second leg against respective opponents Riddins Tavern and Dudley Ex Serviceman's Club.
The results for the Shadow Cup look as though they may be a forgone conclusion as Fairfield and White Horse in turn handed out 8-1 defeats to Saracens Head and Netherton Conservative Club.
———————————
The Silver End Sunday Morning League played the second leg of round two in their Team Knockout and winning through to the last four were Glasscutters 'A', Dudley Sports, High Acres and High Oak.
Winners from the second leg of round one in the Shadow Cup were Kings Head 'A', Bell, New Talbot and Dudley Ex Serviceman's Club.
———————————
With wins for the top five teams in the Rowley Monday Night League there is little change at the top of the table. Top team Bell still have a two point's lead over George following their 5-4 win over Cottage and George's 9-0 success away to Spring Meadow. Third in the table Cradley Sports and Social remain four points off the top after they won 7-2 at Ivy Bush and hang on to their four points advantage over fourth placed Ex Serviceman's 'A' who won 6-3 away to Three Diamonds. Making up the top five is Tividale FC who were 8-1 winners over Wonder but are ten points short of Bell.
———————————
The Hilltop Friendly Tuesday Night League had the semi-finals of their Rickuss Cup on the fixture card in which league leaders Tipton Sports had a conclusive 5-2 win over Sportsman, meeting them in the final will be second in the table The Vine who had a narrow 4-3 success over third placed Dewdrop 'A'.
———————————
As early as week four in the Harborne and District League and only two of the starting line-up of thirteen teams are able to boast a 100% win record. Weoley Castle Pub not only lost for the first time when they went down 7-2 at home to Longbridge Social Club but also lost pole position and dropped to third place two points behind their second placed victors. Taking over at the top of the table is Copper Fox whose convincing 9-0 win over Weoley Castle WMC puts them just ahead of Longbridge on average as they are the two remaining unbeaten teams. As a result of their defeat Weoley Castle WMC drop to the foot of the table replacing Avenue Social who chalked up their first win in four a 6-3 result at Smethwick Cricket Club.
———————————
A 7-2 win for Dudley Ex Serviceman's Club 'A' over Brickmakers Arms in the Brierley Hill Monday Night League was not enough for them to remain outright leaders as Roebuck had an 8-1 win over Portway to put them level on both points and average to share the number one spot.
One time leaders High Oak dropped one place to fourth after they suffered a further setback to their title aspirations losing 6-3 away to Mount Pleasant who moved up the table three places to seventh and are still eight points behind their opponents. Rose and Crown move up to third in the table, two points to the good on High Oak following their 6-3 home win over Swan.
———————————
Golden Hind consolidated their number one spot in division one of the Sutton and District Summer League by handing out a 9-0 whitewash to their visitor's bottom of the division Pint Pot Flights. Hind have a two points lead over second in the division Boldmere St Mike's who had a 6-3 win at Boldmere Tap.
In division two leaders Old Oscott Arrows surprisingly lost for the first time in seven games when they returned from Red Lion on the wrong side of a 5-4 result. Nevertheless Arrows remain in pole position but have had their lead halved to two points after their nearest rivals Bishop Vesey won 6-3 at Drakes Drum.
Division three leaders Castle Vale Residents are now the only team in the league with an unbeaten record, their latest fixture seeing them win 5-4 against Rosey's Chaps. Digby Chuckers in second place kept within two points of the Residents with a 6-3 win over St Thomas Arrows.
———————————
Leaders of the Cradley Tuesday Night League Brickmakers Arms 'A' had an emphatic 8-1 win over third in the table Wheatsheaf but still only head the table on average as second in the league Netherton Sports and Social 'A' won 7-2 against the Plough.
There was a rare win for bottom of the table Gate Hangs Well as they won 6-3 against Riddins Tavern, this being only their third win in twelve games.
———————————
The Stourbridge and District Wednesday Night League played off their Singles Knockout and taking the title with a final 3-1 win over Jamie Barrowman was Sam Aitkens. Both semi-finals finished with close 2-1 results Aitkens taking out Gav Moreton and Barrowman beating Matt Hadley.
———————————
The Pip Club League played the finals of their divisional Belgrave Cup knockouts and winning the division one title were divisional leaders Bombay Bob's Boys with Belgrave Club runners-up. The division two knockout was won by Globe, Wilnecote after beating Progressive Club in the final.
In the Belgrave Shadow Cup Birchmoor Club beat Old Liberal House to win the division one trophy while Wigginton Arms took the division two crown with a final win over Dolphin.
———————————
Netherton Cricket Club 'A' placed fourth in the Brierley Hill Friday Night League were the only losers in the top four in week thirteen as they went down 4-3 away to league leaders Brickmakers Arms 'A' who are two points to the good on second placed High Oak after they won 7-0 at home against Brickmakers Arms 'B'. Third placed Ashwood are on the same 22 points as High Oak after they won 6-1 against Gornal British Legion.
———————————
Studley Conservative Club made it three wins in as many games in the Henley and District Summer League when they won 9-0 against Dorridge. Second placed Studley Cricket Club were not far behind with their 8-1 success against Wythall RBL but remain two points adrift of the leaders.
———————————
The three top teams in the Tettenhall Wednesday Night League all won 6-1 in week 15, leaders Hurst Hill won away to Pilot to hold on to a four points lead over second placed Cleveland Arms who beat Brewood British Legion, they in turn have a two points advantage over third in the table Whitmore Reans WMC who won away to Royal, Albrighton leaving them with a game in hand on the two teams above them.
Fourth in the table ECC 'A' had a bye and are now four points behind Whitmore.
———————————
The Wolverhampton Tuesday Night League played their Doubles Knockout down to the last sixteen pairs and qualifying for the next round were Simon Pritchard & Andy Jervis, Phil Mayo & Matt Smart, Paul Bromley & Jon Blakemore (Riley's 'C'), Ivor Newell & Calum Bray (Yale Club), Mark Daniel & Owen Maiden, Adam Teasdale & Alex Simmons (Railway), John Aston & Andy Padmore (Riley's 'A'), Jason Parkes & Sean Davey, Dan Miller & Andy Maddams, Dave Sharp & Danny Hall (Jones Road), Steve Hillman & Sid Bourne (Wednesfield Legion), Neil Baugh & Paul Boddison, Jon Summers & Andy Summers (Bull), Lee Betts & Vince Cooper (Royal), Wayne Reed & Martin Dewsbury (Mount Tavern), Chris Hill & Jon Williams (Gilberts Bar).
———————————