On Whitsun Monday the C's Club, Chelmsley Wood laid on a singles knockout which attracted many top county players from around the area and throughout the day included many top scores with no one recording more than the eventual winner Nick Fullwell who hit no fewer than five maximums plus a terrific 156 checkout.
Both of the semi-finals finished with a 4-2 result with Fullwell beating Adam Smith-Neale and from the other half of the draw Charlie Symons winning against Warwickshire county team mate Antony Allen to set up a West Midlands versus Warwickshire final.
With the final extended from the best of seven to the best of nine legs it was West Midlands man Nick Fullwell who got the 5-3 result plus the winners £100 with Symons collecting £40.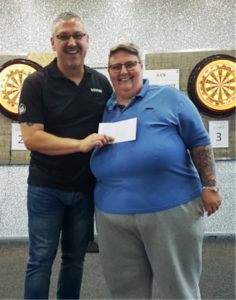 Winner Nick Fullwell with Sue Kingdon (Organiser).
  Runner-Up Charlie Symons with Sue Kingdon (Organiser).
Other individual achievements saw Adam Smith-Neale hit 4×180, Antony Allen 3×180 and there was two each for Robert Comben and Graham Hall, Logan Crooks and Junior Joyce both hit one maximum. Charlie Symons hit a 180 and 177.
———————————
There were no less than seven ton plus finishes in week five of the Shirley Legion Double Top League with Dave Heighway setting a new benchmark with a 156 outshot in his 3-1 win over Derek Harper.
On the league front Thomas Bent with a 2-2 draw with Wayne Clarke and 3-1 wins over Gary Cleverley and Ken Hopton continues to reign in the number one spot with 37 points from 12 games giving him a lead of eight points over Antony Daly who with a 3-1 win over Dave Barrows, 4-0 success against Kevin Graver and a 2-2 draw with Wayne Clarke has shot up the table from thirteenth to second with 29 points one more than Lee Harris, Mark Gwalchmai and Craig Clarke. Harris moved up from fifth in the table to third, Gwalchmai seventh to fourth and Clarke who has played one game more than the three players directly above him dropped from third to fifth.
Dave Heighway not only had the best finish of the week but also the best leg of darts has he checked out in nine.
———————————
Bob Nixon reigning champion of the C's Club Double Top Wednesday Night League has, in week seven once again taken over the leadership of the league with 34 points from 12 games the latest of which saw him win 3-0 against Mick Noonan and Duane Green. Second in the table Simon Edwards has the same 34 points as Nixon but has won eleven and lost one compared to Nixon's perfect twelve wins. Edwards added to his tally with a 3-0 win over Steve Beale and Melissa Beale.
Third in the table Richard Mills is just one point behind the leading duo but he has played two games more than them, he could be overtaken by fourth placed Mick Noonan who with a deficit of just one point has a game in hand which could net him three more points.
Late entry to the league Luis Barberan is currently lying in nineteenth position with 14 points from five games he is the only other player in the league besides Bob Nixon to have won all of his games.
———————————
The Small Heath League played off the final of their League Cup which brought together the league's top two teams champions East Birmingham Allotment Holders Association and runners-up Heartlands Club.
The final score in what was a very scoring affair was 6-3 to E.B.A.H.A. to complete a fantastic double for the season.
———————————
Little change at the top of the Shirley and District Monday Night League as all of the top five teams chalked up wins in week seven. The Wharf remain in pole position with just an average lead over The Bears, Highwood, Lodge and Dunky's Boys after they won 9-0 at Sharmans Cross. Bears and Highwood share second place level on points and average after in turn they won 7-2 against Legion Royals and Legion Flights while fourth in the league Lodge won 6-3 at Blue Bell. Like Wharf fifth in the table Dunky's Boys won 9-0 in their tie at Saracens Jesters and after six games remain the only team in the league with a 100% win record as the four teams above them have all played seven games and lost one.
———————————
The bottom two teams in the Camp Hill League have swapped places after Station Wagon who were bottom of the table beat next to bottom North Star 5-2. At the other end of the table leaders White Swan Nomads were also 5-2 winners against Emerald Club and they remain two points to the good on second in the table Tyseley WMC after they were the week's biggest winners with a 6-1 result over New Inn.
Third and fourth placed Sheldon Marlborough Flights and Roost Rebels are both four points off the top with a game in hand, they both had 5-2 wins over respective opponents Wagon and Horses and Sedgemere Devil's Club.
———————————
The Netherton Thursday Night League used four venues to play their doubles knockout down to the last eight pairs and winning their way through to the quarter finals were S.Purcell & B.Welch, A.Ghaley & B.Neale (Riddins Tavern), R.Turner & C.Hickman, A.Tonks & P.Tonks, R.Carr & D.Brown (Dudley Ex Serviceman's Club), K.Wright & A.Dingley (Bulls Head), J.Wood & D.Haywood, D.Hambridge & L.Wallace (Netherton Conervative Club).
———————————
It was a top versus bottom week in the Brierley Hill Friday Night League with leaders Brickmakers Arms 'A' hosting bottom team Gornal British Legion. With 14 points the difference between the two teams prior to the encounter the 7-0 result in favour of the leaders was not too unexpected.
The second and third teams High Oak and Ashwood competed and with home advantage the very close 4-3 result went to Ashwood to put them on the same 18 points as their opponents and leave them both two off the top of the table.
In the local derby between Netherton Cricket Club 'B' and their fourth placed 'A' team the outcome was a convincing 6-1 to the 'A' side leaving them four short of the leaders Brickmakers.
———————————
The Hilltop Friendly Tuesday Night League were engaged in their Russell's Skip's Cup which produced two 6-1 and two 4-3 results. Chalking up the 6-1 results were league leaders Tipton Sports and Island Inn who had respective wins over Miners Arms and Horseley Tavern. Dewdrop 'A' and Dewdrop 'B' both had 4-3 wins beating in turn The Vine and Hayes Social.
———————————
Wheatsheaf were the only losers in the top four teams in the Cradley Tuesday Night League as they went down 5-4 at home to second in the table Netherton Sports and Social 'A'. The win keeps the Sports and Social 'A' team within one win, three points of leaders Brickmakers Arms 'A' who had a 7-2 win away to Dudley Labour Club. Third in the league Bulls Head were also 7-2 winners in their fixture at Malt Shovel but they are nine points off the top of the table and have played one game more than the two teams above them.
On the individual scene Carl Davies (Netherton Sports and Social Club 'A') recorded a great 156 finish and Joe Sharratt (Riddins Tavern) hit a maximum in his team's 6-3 win at Brickmakers Arms 'B'.
———————————
The Pip Club League played off their division one singles knockout and taking the crown with a final victory over Ian Turner (Belgrave Sports and Social Club) was Sam Whittaker representing Bombay Bob's Boys.
Losing semi-finalists were Daz Jones (Belgrave Sports and Social Club), Tez Stubbs (Belgrave Club).
———————————
A 5-4 win at The Boat has seen Golden Hind replace their hosts at the top of the division one table in the Sutton and District Summer League to give them a two point's advantage and at the same time take their unbeaten record to four games. As a result of their defeat Boat have dropped to third in the table behind Boldmere St Mikes who moved up two places to second after being awarded a 9-0 result against none showers Pint Pot Flights.
There was just one result from division two in which Old Oscott Arrows beat The Boot 5-4.
In division three Digby Chuckers not only lost for the first time in five games when they finished on the wrong side of the 6-3 scoreline against Castle Vale Residents but also lost pole position to their victors who remain undefeated with a two points lead.
———————————
The Wolverhampton Tuesday Night League have played their singles knockout down to the last 32 players who will battle it out for the title on 17th December at Riley's, Wolverhampton. Lining up on the night will be Michele Pritchard, Sophie Fawcett, Scott Lewis, Tom Potter (Rileys 'A'), Andy Jervis, Simon Pritchard, Jon Blakemore, Phil Mayo, Paul Bromley, Jimmy Handley (Rileys 'C'), Karl Hughes, Adam Teasdale, Luke Griffiths, Mark Daniel (Railway), Bal Singh, Ben Forrest, Roger Ward, Ryan Ward (Red Lion), Alan Marsh (Village), Wayne Horton, Russ Smith (Dog & Partridge), Richard Fletcher, Alex Bryant, Tom Fletcher (Mount Tavern), Dave Foley, Lee Smart, Sid Bourne (Wednesfield Legion), Dan Miller, Jason Parkes (Jones Rd), Jon Summers (Bull), Steve Jones (Wednesfield Conservative Club), Joe Green (Yale Club).
———————————