What a season Warwickshire's Nigel Heydon has had in the Premier Division of the BDO Inter County Championships, playing nine and winning nine in what is the toughest league in the world. Not only did Nigel win all of his games he also finished top of the men's 'A' average table.
In addition to his achievement Nigel Heydon capped off a fantastic week by being named in the Five Man England team for the Six Nations event in Holland on the 21-23rd June, the other four players being Scott Mitchell, Daniel Day, Paul Milford and Martin Atkins.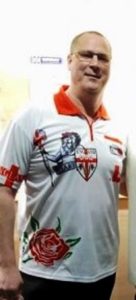 Nigel Heydon
———————————
Warwickshire brought the curtain down on their season in the Premier Division of the BDO Inter County Championships with a home tie against Northamptonshire. It was a game that the home side were expected to win but ended with a 19-17 win for the visitors..
Saturday's 'B' games both finished with a draw, in the ladies 3-3 result Nina Bolt took the match award for her 19.78 average and with the men's 6-6 scoreline Karl Reynolds was man of the match with a 26.18 average.
Sunday began with a 4-2 defeat for the ladies, Sue Gulliver making it four consecutive award wins and six for the season when she won 3-1 against Jacky White with a 21.80 average. The men's 'A' like the 'B' had a 6-6 draw with the man of the moment Nigel Heydon their top player with a superb 31.31 average in his 4-0 success against Martin Biggs.
Warwickshire finished the season emulating last season's placing of fifth in the table with 173 points three fewer than last season.
———————————
West Midlands reign in the top flight of darts has come to an end after two seasons, their final fixture away to Glamorgan saw them earn an 18-18 draw but it was not enough to survive in the Premier Division as their 139 points was ten short of the team just above them Northamptonshire and so together with Cheshire will play in division one next season.
Both of the men's teams had creditable 7-5 wins with Nick Fullwell (33.33) and Shane Price (26.59) taking the respective 'A' and 'B' man of the match awards.
There were mixed results for the ladies as the 'A' team finished all square at 3-3 with Sarah Roberts (25.47) making it five match award for the season and the 'B' team finishing on the wrong side of a 5-1 result with Shellbie Simmons their sole winner, Shellbie taking the team's award for her 17.65 average.
———————————
The Shirley Legion Double Top League (formerly Shirley Premier League) have got season thirteen underway with a tremendous 38 players battling it out for the title.
On the first night of the season five players, Jack Barrows, Thomas Bent, Kyle Bevan, Mark Gwalchmai and Adam Stuart amassed a total of seven points from a possible eight to share the top spot.
Colin Geens was in fine form beginning his campaign with a 160 break and an eight darts leg in his 3-1 win over Jordan Ottley.
———————————
As early as the second week in the C's Double Top Wednesday Night League and only eight of the starting line-up of 32 players have a 100% win record. Of those eight players Mick Noonan is the only one to have played his four games and has won them all 3-0 to top the table with 12 points. Last season's runner-up Simon Edwards is once again in the number two spot having played and won three games all 3-0.
Mitchell Mann, Wayne Yates and Gordon Clinton have won the three games they have played and there are two wins from two for Dan Stone, Steve Groves and reigning champion Bob Nixon.
———————————
With one more game to play East Birmingham Allotment Holders Association have won the Small Heath League title, an 8-1 win at Wagon and Horses took their points tally to 44 from 23 games giving them a two point's advantage over second placed Heartlands Club whose 6-3 win away to Sheldon Marlborough Flights was their final game of the season.
With eight points, a lead of four and just one more game to play the Shadow League title has gone to Emerald Club.
———————————
Just three fixtures were played in the Camp Hill League this week and all three of them finished with a 6-1 scoreline. League leaders Sheldon Marlborough Flights accounted for bottom of the table North Star while second in the table White Swan Nomads won at Wagon and Horses to put them on the same 16 points as the leaders but from having played one game more.
Third in the table Tyseley WMC kept within two points of the two teams above them with their win at Sedgemere Devil's Club.
———————————
Only the one result from division one of the South Birmingham League which saw league leaders C's Top Guns win 5-4 against their nearest rivals Coleshill Social and open up a two points lead with two games in hand.
In the second division, top team The Dog beat third in the table Toby Jug 6-3, both Toby Jug and C's Hot Shots are four points adrift of The Dog but both have two games in hand.
An 18-9 win over local rivals C's Arrows has seen C's Hot Shots take over pole position in the division two Mini League, they have a huge fourteen points lead on second placed C's Flights.
———————————
The Bears and Dunky's Boys took their undefeated run in the Shirley and District Monday Night League to five games when Bears won 7-2 at home to Legion Flights, who drop from fourth to seventh in the table and Dunky's won 6-3 away to The Lodge, who drop two places to fourth, Bears head the table with a slightly better average than Dunky's.
The Wharf move up into third place after they handed their hosts The Bluebell a 9-0 whitewash to keep them within two points of the leading duo.
———————————
With an 8-1 win at The Swan, Brickmakers Arms require just one more win to see them complete the 42 games season in the Stourbridge and District Monday Night League undefeated which would be a superb achievement. With a perfect score of 82 points Brickmakers have already won the title but the runners-up spot is still up for grabs and will go to the wire as Ten Arches 'A' and Ten Arches 'B' are locked together on 74 points with one to play, the 'A' side well ahead on average but still need to win to secure second place.
———————————
 A bye for Dudley Ex Serviceman's Club in the Silver End Sunday Morning League has seen them lose pole position as Woodside 'A's 5-3 home win over Kings Head 'A' has taken them into the number one position with 24 points from nine games, the Ex Serviceman's Club drop to second place, two points short of the leaders with a game in hand.
A 7-1 win for third in the table Dudley Sports over The Bell gives them the same 22 points as the Ex Serviceman's Club but from one game more.
———————————
Game eleven in the Netherton Thursday Night League saw leaders Dudley Ex Serviceman's Club lose for the first time this season. Playing at home against second in the table Riddins Tavern the Serviceman's Club went down 5-4 but despite the defeat hang on to pole position with 30 points, three more than their victors.
Third in the league Bulls Head had a 6-3 win away to Netherton Conservative Club leaving them three wins off the top with two games in hand.
———————————
With one game to go to the halfway stage in the Rowley Monday Night League The Bell have played 14 and won 14 after adding a 7-2 home win over Tividale FC to their account. The win keeps Bell four points to the good on second in the league George who won 6-3 against Ivy Bush, third placed Cradley Sports and Social trail George on average only following their 7-2 success away to Spring Meadow.
———————————
The Stourbridge and District Wednesday Night League played off the quarter finals of their League and Shadow Cups. Making their way to the last four in the League Cup were Wombourne Cricket Club, Ashwood 'B, Gate Hangs Well and Glasscutters while Brickmakers Arms 'A', Bell 'B', Netherton Cricket Club and Ashwood 'A' made the semi-finals of the Shadow Cup.
———————————
As the midway point of the Cradley Tuesday Night League is just one game away leaders Brickmakers Arms 'A' had a narrow 5-4 victory away to bottom of the table Gate Hangs Well while second placed Netherton Sports and Social 'A' kept within one win of the top team with their more convincing 8-1 win over Dudley Labour Club.
———————————
The Hilltop Friendly Tuesday Night League staged round two of their Sidesteps Cup in which The Vine and Dewdrop 'A' had 5-2 wins over respective opponents Dewdrop 'B' and Hayes Social. Island Inn had a closer 4-3 success against Court House while the biggest winners of the round were Waggon and Horses who won 6-1 at Sportsman.
———————————
The Sheldon and District Winter League played off the finals of their Divisional Cups and winners of the division one cup were Dunky's Boys who had a decisive 8-1 result against Mackadown Social.
The division two title went to Holy Souls who had a close 5-4 verdict over Sheldon Marlborough Ridgebacks.
———————————
The Brierley Hill Monday Night League played off round one of their League Cup in which Swan won 6-3 against Delph Bell and Rose and Crown beat Dudley Ex Serviceman's Club 'B' 5-4.
———————————
Golden Hind continue to impress in the early stages of the Sutton and District Summer League adding an 8-1 win at Oscott Social to their tally to keep them top of the division one table with an unbeaten six points from their opening three games. Second placed The Boat are the only other team in the division with a 100% win record but have only played two games, the latest of which saw them win 7-2 against Boldmere Tap.
In division two four of the seven teams Bishop Vesey, Walmley Darts Club, Boot Inn and Old Oscott Arrows have won all of their games so far, Bishop Vesey top the division having played three games while the other three teams have only played two.
Just one leg of average separates the top two teams in division three Digby Chuckers topping the table with Castle Vale Residents second after both teams won 6-3 in turn against St Thomas Arrows and Rosey's Chaps.
———————————
Bombay Bob's Boys march on in the Pip Club League, their 9-0 thrashing of the Gate (Amington) keeping them one point ahead, with a game in hand on second in the Main League table Belgrave Sports and Social Club who were not far behind with their 8-1 win over Sports Bar '180'.
In the Seeded Division One table Bombay are top with 20 points with Belgrave Sports and Social second on 17, both teams having played 10 games. Globe (Wilnecote) top Division Two their 16 points two more than second placed Pip Club.
———————————
The Brierley Hill Friday Night League were engaged in round one of their League Cup in which Dudley Sports had an emphatic 6-1 win over Gornal British Legion and in the local derby Netherton Cricket Club 'A' won 4-3 against their 'B' side.
———————————
A 6-1 win over bottom of the table Pilot keeps Cleveland Arms top of the Tettenhall Wednesday Night League, but only on average from Hurst Hill who have played one game fewer than Cleveland and are the only team in the league to have won all of their games the latest one being a 5-2 victory over fourth in the league ECC 'A'.
———————————
Champions of the West Midlands Men's Super League Allen's Sports Bar 'A' had a 5-0 win over King Arthur to make it 32 wins from 33 games with just one more to play. With 203 points Allen's 'A' team have a massive 25  points lead over Yeltz Bar in second place, Yeltz winning 3-2 against third in the table Woodside Inn which effectively gives them the runners-up place with their opponents going to finish third.
———————————
Nothing but average separates the top two teams in the Singles Division of the Wolverhampton Tuesday Night League, after leaders Riley's 'C' had a bye and Railway caught up with them on 16 points with their 4-3 win over Gilberts Bar.
Three teams are on 14 points at the top of the Doubles Division Bull, Railway and Riley's 'C' with the latter two having two games in hand on the Bull.
———————————