West Midlands last home fixture of the season in the Premier Division of the BDO Inter County Championship was never going to be an easy task as they had to take on second in the table Lancashire, but to have any chance of maintaining the Premier status a win was crucially what they required.
In their previous seven games the ladies 'B' had not done too badly at all with three wins, three draws and just the one defeat to Hampshire, however against Lancashire they didn't produce the form they had shown in those earlier games. Anne-Marie Millership was the visitors first winner, a 3-2 success against Kath Jenkins after Jenkins had twice taken the lead. Audrey Underwood and Debbie Baxter took the away side's lead to 3-0 with 3-0 wins in turn over Shellbie Simmons and Heather Wright before Sue Corry came from one down against Stella Sims to win 3-1 and put the score beyond West Midlands reach as Lancashire were then 4-0 up.
The penultimate game produced not only the hosts lady of the match but also their sole winner as Sophie Singh, after leading 1-0 trailed 2-1 and then won 3-2 against Sharon Seed with a 19.48 average.
The final game saw Marie Fitton take Lancashire's win to 5-1 with her 3-1 win over Shannon Hall after Shannon had gone 1-0 up with a superb 114 game shot.
With checkouts of 103 and 122 Allan Fitzpatrick gave the visiting men's 'B' side the early lead when he won 4-3 against Matthew Dicken. The lead only lasted until the next game as Gareth Johnston cancelled it out with his similar 4-3 win over Michael Sexton.
From one each Lancashire then strung together a run of three wins Martin Barratt the first of the three with his 4-0 success over Gareth Watts, and then with 4-3 wins Barry Kerfoot and James Caton in turn defeated Jonathan Platt and Paul Wells. Going into the first half break Alfie Jacques temporarily reduced the arrears with his 4-1 win against Dave Adshead only to see Michael Harrison kick off the second half with a 4-3 win over Neil Pointon after Pointon had twice taken the lead.
Moving the score along to 5-3 was Mick Baker, Mick reducing the deficit with his 4-1 success over Sam Cromwell, before Steve Maish assured the visitors of at the worst a share of the points when he beat Avtar Singh 4-1.
Trevor Brennon kept West Midlands hopes alive of a draw as he fought back from 1-0 down to Terry Hey to go on and win 4-2. Then with a man of the match showing from Stephen Jones (West Midlands) who won 4-1 against Gary Davey in 20,15,16 and 21 darts, including a 130 finish in the third the home team were just one more win away from securing a draw. Stephen Jones won the team's award for his 27.32 average.
The final game of the day was contested by Shane Price (West Midlands) and Christopher O'Connor. Price won the opening leg in 17 darts only to see O'Connor go 2-1 up with two 20 darts legs. Price levelled in 20 and then went 3-2 up with a fantastic eleven darts leg hitting 180,100,180 and finishing on 41, however he was then unable to capitalise on his lead and O'Connor won the last two legs in 21 and 13 darts to win 4-3 and give his team mates a 7-5 victory.
Unlike the 'B' side the ladies 'A' have not had a single win this season having recorded two draws and five defeats. Their game began with Lancashire taking the early 2-0 lead with wins from Sue Cuson's over Kat McLean (3-0) and Ally Smith's 3-2 win against Sarah Roberts, Sarah having gone ahead twice before losing.
After winning the first leg against Tracey Cunningham, Jacqueline Maiden then trailed 2-1 but stayed calm and went on to win 3-2 to halve Lancashire's lead. Amy Eden moved the away side into an unassailable position when she won 3-1 against Gemma Barrett but an award winning performance from Cheryl Alcock kept chances of a draw alive, Cheryl beating Maria Ronson 3-1 with a fine 22.21 average.
With the outcome now resting on the final game West Midlands Lisa Badger opened leads of 1-0 and 2-1 against Jo Clements but was unable to seal the win as Clements took the last two legs in 22 and 17 darts for her personal 3-2 win and her team's 4-2 victory.
John Morris (West Midlands) took Mick Oversby to a deciding leg in the first of the men's 'A' game but then lost the decider. Carl Sneyd and Andrew Johnson in turn won 3-2 against Matthew Coleman and Adam Edgar to open up a 3-0 lead for the away side.
Stalwart Ian Jones returned to the sort of form he has become renowned for, he reduced the visitors lead when he beat Kev Garcia 4-1 in 17,18,16 and 18 darts giving him a man of the match average of 29.63.
The win from Jones proved to be a minor interruption to the Lancashire charge as they went into the end of the first half leading 5-1 with further wins from Dave Evans over Scott Baker (4-3) and Dave Airey against Stephen Jones (4-0).
Nick Fullwell looked to be on the way to chalking up the home team's second win when he went 2-0 up against Wez Newton. He lost the next three legs but levelled in the sixth only to see Newton check out in 18 darts in the decider.
The very next game number eight did see West Midlands get their second winner as Shaun Carroll accounted for Ian Lever in a straight legs 4-0 victory.
Game number nine put the score beyond West Midlands reach as Martin Atkins beat Gavin Baker 4-3 to give his team a 7-2 lead. With a similar 4-3 scoreline Robert Rickwood beat Mark Craddock and taking the score to 9-2 was Simon Preston with his 4-0 win over Glen McGrandle.
The final score was 9-3 to Lancashire, Owen Maiden winning the last game of the weekend against Lee Shewan 4-0.
The overall result saw West Midlands suffer their biggest defeat of the campaign 25-11 with all four teams losing. The last time all four teams lost was in January 2017 when they went down 27-9 away to Dorset when they were in Division One.
The defeat leaves West Midlands in the relegation zone, next to bottom of the table on 120 points, seven ahead of bottom team Cheshire and a similar seven points behind the team above them Northamptonshire. Neighbours Warwickshire could hand West Midlands a lifeline if they could chalk up a big win in their last game which is a home tie with Northamptonshire, but to avoid relegation it means West Midlands would require a huge result from their final game which is a tough away fixture against fourth in the table Glamorgan.
———————————
The C's Club Double Top Wednesday Night League went down to the wire with the league's top two players squaring up to each other in the final game of the season in a title decider. Going into the last game Bob Nixon was leading the field with 84 points from 31 games with second placed Simon Edwards on 82 points from 30 games. Edwards won his opening game against Richard Mills 3-0 to put him top of the table by one point but in the final game he played Bob Nixon and with a straight 3-0 result Nixon wrapped up the title with 87 points to the 85 of Edwards.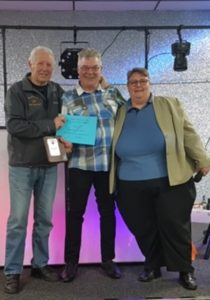 Winner Bob Nixon (Centre) with Brian Johnson and Sue Kingdon
Edwards had won all of is opening 31 games, his defeat by Nixon was his only loss of the season Nixon had lost two of his 32 fixtures.
Special mention and respect for three of the Beale family Louise, Melissa and Luke who made up the bottom three places in the table but nevertheless completed all of their 32 games, Steve Beale finished some six places higher. Leagues can only continue to exist with people like the Beale's playing in them
With the domestic fixtures all done and dusted the league has staged a couple of knockouts the first of which was a Random Trebles Knockout. League champion Bob Nixon was drawn out to play alongside Jamie Carter and Ryan Beale, they booked their final place with a 2-0 win over Dan White, Wayne Cooper and Lee Walker in the semi-finals. From the other side of the draw league runner up Simon Edwards played alongside Charlie Kingdon and Melissa Beale and won their last four game against Richard Mills, Connor Marshall and Richard Leigh 2-1.
The final saw Edwards, Kingdon and Beale beat Nixon, Carter and Beale with a straight 2-0 scoreline.
The second event was a Doubles Knockout which attracted 14 pairs. In the semis Dan White and Jamie Carter had a convincing 3-0 win over Sean Healy and Ryan Beale while Louise Beale and Wayne Cooper were taken to a deciding leg before booking their place in the final.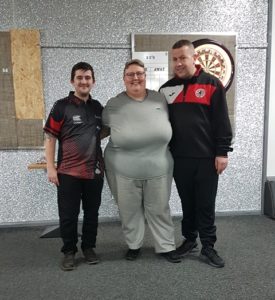 Winners Dan White and Jamie Carter with Sue Kingdon (Organiser).
The final saw White and Carter repeat their 3-0 semi-final result as they accounted for Beale and Cooper.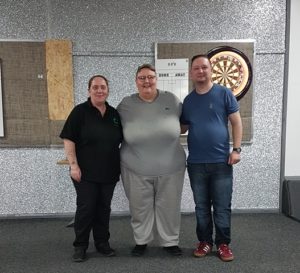 Runners Up Louise Beale and Wayne Cooper with Sue Kingdon (Organiser).
———————————
The South Birmingham League played off a couple of knockouts and in the doubles Luis Barberan and Dan Stone from a starting line-up of 26 pairs took the honours with a final 2-0 win over Simon Edwards and Jason Jennings.
Barberan and Stone had a close 2-1 win in the semis when they took out Darren Wilson and Wayne Yates while Edwards and Jennings had a 2-0 success over Nicky Harris and Steve Sweetman.
The second of the league's knockouts was a Ladies Singles event with the title going to league secretary Sue Kingdon after a 2-1 win over Emily Jones in the final.
In the last four games Emily Jones with a similar 2-1 scoreline took out Sue's daughter Charlie Kingdon while Sue beat Louise Beale 2-0.
———————————
Thomas Bent is the new Shirley Premier League champion, a 4-0 win over Chris Thomas jnr followed by a 2-2 draw with Mark Gwalchmai saw Bent take his final total points to 90, eight more than second and third placed John Smyth and Phil Thomas. Smyth who was playing his first season in the league had already completed his fixtures before the final night's play, Thomas clinched third place with a 4-0 win over Tony Daly in his last game of the season.
Phil Thomas recorded the most 180's for the season which was eight while the best leg of darts was thirteen going to Mark Henderson and Phil Thomas while Mark Gwalchmai achieved the feat twice. Thomas completed a very successful season not only finishing third in the league, hitting the most 180's and sharing the best leg of the campaign but also having the highest finish of 160.
The league staged a knockout after all the league games had been played and taking the top prize of £33 was league champion Thomas Bent who had a final 3-2 win over league runner up John Smyth who collected £11.
Presentation night for the Shirley Premier League saw a play off between Lee Holtham and Derek Harper the players finishing in the bottom two positions of the league with the winner getting his entry money of £20 back. The game went the full three legs distance with Lee Holtham getting the 2-1 verdict.
Following the presentation there was a random doubles played which involved twelve pairs and making up the final were Mark Gwalchmai and Mick Bown plus Chris Thomas snr and John Smyth. In reaching the final Chris Thomas snr knocked out three of his sons!
Gwalchmai and Bown were first off the mark in the final and went on to clinch the top prize of £44 with a 3-0 result. Thomas and Smyth received £16.
As from next season the Shirley Premier League will be taking on a new name and will be known as the Shirley Legion Double Top League. Until the new thirteenth season gets underway a series of weekly knockouts are being staged and in the latest singles event the eventual winner was John Smyth.
The final was a very close affair going to a deciding leg which was won by John Smyth to give him a 4-3 victory over Andy Hoy.
In the second of the Singles Knockouts Jack Barrows, the youngest of the Barrows darting family won the event.
In the first round Jack handed out a 3-0 defeat to his dad Dave and then made his way through to the final where he took on Sean Talbot. With both players in top form throughout the final lived up to expectations and went to a deciding leg. Sean had a chance at a double but it was Jack who sealed his win on double ten to become the league's youngest ever knockout winner, a terrific achievement at the age of 14.
———————————
With the league all sorted members of the Shirley and District Monday Night League took part in a doubles knockout and taking the top prize were The Highwood's Andy Foulkes and Jason Jennings who defeated Baz Williams and Tom McCabe from the Blue Bell in the final.
Highwood were league champions and on the individual scene John Smyth (The Wharf) hit the most 180's which was two while the highest finish of 130 went to Tommy Roberts (Legion Flights). Shay Darby (The Highwood) with a 160 had the highest break.
———————————
The Boat are champions of division one of the Four Oaks and District Winter League following a final 6-3 win over Pint Pot Flights. Boldmere St Mikes also ended their campaign with a 6-3 win beating The Boot to take the runners-up spot finishing two points short of Boat.
The Fox had already won the division two title and suffered a 6-3 defeat in their final game against Erdington Arrows, the win seeing Arrows finish as runners-up as they replaced St Thomas's Social Club in the number two spot, defeat for Arrows would have given the Social Club second place.
In the third division Rosey Mac's were pushed all the way by Oscott Sports for the title but a 6-3 victory against Lad in the Lane saw them take the divisional title with 22 points, two more than Oscott Social.
It has been many years since any player has completed a game in six darts in the Four Oaks and District Winter League but in the preliminary round of the Brian Goodman Cup that is exactly what Boldmere St Mikes B.Linnecor did as he broke with 152 and then checked out on 149, a terrific achievement. Linnecor's feat helped his team to a 5-4 win over last season's losing finalists Golden Hind
———————————
The Small Heath League played their Doubles Knockout with league leaders East Birmingham Allotment Holders Association supplying three of the last four pairs. In the all E.B.A.H.A. clash Lorna Wyatt and Paul Webster lost by the odd leg 2-1 to  Colin Wyatt and Nigel Davis while with the same scoreline Matt Cooper and Neil Parsonage beat the Sheldon Marlborough Arrows pairing of Mick Tilley and John Phipps.
As in the semis the final was another three legs affair with Matt Cooper and Neil Parsonage just getting the 2-1 edge on their team mates Colin Wyatt and Nigel Davis.
———————————
The Pip Club League played off the finals of their John Young Challenge Cups for division one and two. In the division one final unbeaten league leaders Bombay Bob's Boys lost out to second in the division Belgrave Sports and Social Club, Adam Wood hitting a maximum for Bombay Daz Jones doing likewise for Belgrave.
The division two title went to Globe (Wilnecote) with Pip Club the runners-up. Again there was a maximum for both teams supplied by Mark Faulkner (Globe) and Ash Luckman (Pip).
———————————
The Black Country Premier League staged a Challenge Cup which proved to be very successful. The semi-finals saw Allen's Bar win 4-0 against Southporthodox while Copperfox lost by the odd leg 3-2 to 3 Blokes & A Cabbage.
In the final the Allen's Bar team of Jamie Hughes, Adam Edgar, Dan Nicholls and Scott Baker came out on top again beating 3 Blokes & A Cabbage representative team of Andy Vellender, Chris Fox, Sam Aitkens and Rob Pierce, repeating the 4-0 margin that they won by in the semis.
Mart Greenwood and Winners Jamie Hughes, Adam Edgar, Iain Mathers, Dan Nicholls, Scott Baker with Richard Duncan.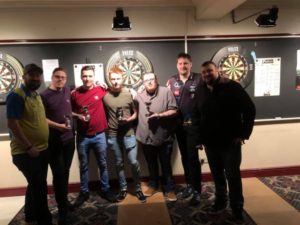 Mart Greenwood and Runners Up Andy Vellender, Chris Fox, Sam Aitkens, Rob Pierce again with Richard Duncan plus Iain Mathers.
———————————