West Midlands v Cheshire
With just one win and four defeats in their first five fixtures in the Premier Division of the BDO Inter County Championships West Midlands were desperate for a win in their sixth game as they were playing bottom of the table Cheshire at home, a game that could well decide whether or not they retain their Premier status as their final three fixtures of the season are all against teams above them with two of them away fixtures.
The ladies 'B' have enjoyed a reasonable season so far with two wins, two draws and only the one defeat away to Hampshire. The first four games against Cheshire all went with the first throw advantage as Heidi Williams gave the visitors the early lead when she beat Gemma Barrett 3-0, a lead that was cancelled out with a lady of the match performance from Shellbie Simmons who after losing the first leg to Lyn Marsden then went 2-1 up. Marsden levelled in the fourth but it was Simmons who won the decider on double twenty to give her a 15.42 award winning average.
Sarah Goodwin gave the away team the lead for a second time when she won 3-2 against Sophie Singh after Singh had come from two down to level terms but lost the final leg. Squaring the match for a second time was Heather Wright, Heather beat Kerry Mundy 3-1 before the sequence was broken in the fifth game when West Midlands took the lead for the first time with Stella Sims beating Lianne Lauder 3-1 to put the onus on the last two players to decide the result, a West Midlands win or a draw.
Last on for West Midlands was Kath Jenkins and for Cheshire Bev Martin. Either player could have won the opener but it was Bev Martin who found her finishing double first to go one up. Despite Kath Jenkins hitting three successive tons in the second leg once again the leg could have gone either way but on this occasion it was the West Midlands player who won it.
For a third leg it was finishing doubles that dominated and for a second time it was Bev Martin who won it and took the lead. Then with a win in the fourth the Cheshire player won the tie 3-1 to put the final score at 3-3.
With the two previous games undefeated the men's 'B' were hoping to make it three in a row and also take their number of wins to three but although Shane Price gave them an idyllic start as he came from behind three times against Andy Rose and then went on to win the final leg in 17 darts to give him a 4-3 win and a superb man of the match award winning average of 30.25.
West Midlands lead was short lived as Cheshire romped to a 4-1 lead when Danny Ayres beat Mark Watkiss-Allen 4-1, Paul Goodwin won 4-3 against Trevor Brennon, Patrick Lynskey added his 4-1 win over Jonathan Platt and rounding off the quartet of wins was Shaun Wilkinson who beat Avtar Singh 4-0.
The deficit was reduced by the halfway stage as Gareth Johnston won 4-0 against Ross Gilder only to see Robert Paine win by the same 4-0 margin against Stephen Jones to put Cheshire 5-2 up.
For a fourth successive game the score was 4-0 this time going to Mathew Tedstone (West Midlands) when he accounted for Gareth Owen but a 4-1 win for Paul Blythe over Paul Wells assured the away team of at least a share of the spoils.
Matthew Dicken (West Midlands) was involved in real battle of a game with Chris Gibson as he went 1-0 up and then 2-1 down. With wins in the fourth and fifth Dicken took the lead again but with the last two legs going to Gibson Dicken lost 4-3 and Cheshire had got their win as they were now 7-3 up.
The last two games of the day saw the home side record their best run of the game as they won two in a row thanks to 4-2 wins from Owen Maiden and Alfie Jacques who in turn defeated Karl Windisch and Mark Tirrell to give a final score of 7-5 to Cheshire.
After the opening five games of the season the ladies 'A' were still seeking their first win as they had drawn one and lost four.
After a promising start when Cheryl Alcock won 3-1 against Andrea Hunt, the home team then lost three in a row brushing aside any hopes they may have had of a win. Jane Robson won 3-0 against Debbie Loon, Adele Probin in a very close game beat Jacqueline Maiden 3-2 and Mandy Smith made it 3-1 to the visitors with her 3-0 win against Lisa Badger.
New recruit this season Kat McLean stopped the rout as she came from 1-0 and 2-1 down to Emma Pearce to go on and win 3-2. With the result now hinging on the final game West Midlands star Sarah Roberts stepped up to the oche, Sarah made it three lady of the match awards in the last four games when she beat Jane Stubbs 3-0 in 25,14 and 22 darts giving her a great 24.64 average and giving her team mates a share of the points in a final 3-3 draw.
Like their 'B' team the men's 'A' had also only chalked up just two wins in their first five games and number three looked a distant hope after the opening four games which all went to Cheshire.
Putting the away side four up were Shaun Walshe, Paul Phillips, Carl Dennel and Mal Barrow who in turn defeated Ian Jones (4-1), Kevin Harris (4-2), Mark Craddock (4-1) and Gareth Watts (4-2).
Glen McGrandle was West Midlands hero as he stopped the rot with his 4-3 win over Peter Boughey. McGrandle stormed to a 3-0 lead and despite being pegged back to 3-3 won the decider in 17 darts. Matthew Coleman added to West Midlands tally as he came from 2-0 and 3-1 down to Steve Lomas to go on and win, like McGrandle 4-3.
The second half began with an award winning display from Nick Fullwell. With winning legs of 16,22,13 and 17 darts Fullwell beat David Bird with a straight 4-0 result and took the award for his 29.47 average.
John Morris restored parity in the eighth game as he beat Jeff Fisher 4-2 only to see Cheshire forge ahead once more in the ninth when Tony Richardson won 4-2 against Kevin Bambridge after Bambridge had opened up a 2-0 lead.
Keeping the hosts in the game was Daniel Nicholls whose 4-1 success against Joe Rowland levelled the score once more which was now standing at 5-5 with just two to play. Just two to play and unfortunately for the home side both of the games went to their opponents as Andy Cope won 4-3 against Gavin Baker after Baker had come from one down to lead 3-1 before losing, and Mick Haynes won the final game of the weekend against Adam Edgar with another close 4-3 result as Edgar had taken leads of 1-0 and 3-2.
The overall score was a 20-16 win for Cheshire which still leaves them rooted to the foot of the table on 95 points and sees West Midlands drop one place to next to bottom on the same 95 points as Cheshire and three behind the team directly above them Essex.
Now in the relegation zone West Midlands must pull something out of the fire if they are to survive in the top league of darts but it won't be easy as in their remaining three fixtures they play away to fifth placed Lincolnshire, at home against top of the table Lancashire and then finish their season away to third in the table Glamorgan.
———————————
Lincolnshire v West Midlands
Five defeats and just one win in six fixtures in the Premier Division of the BDO Inter County Championships has seen West Midlands drop into the relegation zone and an away fixture against Lincolnshire was not the ideal game to get them back on a winning track.
The ladies 'B' had only suffered one defeat in their opening six games having won two and drawn three, but they didn't begin well as in the opening three games Lincolnshire took the lead twice as Julie Lambie beat Kath Jenkins 3-1 in the first and then despite Sophie Singh levelling the game with a 3-2 win over Heather Draper who had gone 2-1 up, a 3-0 win from Lee Bingham over Stella Sims gave the hosts a 2-1 lead.
The game was levelled for a second time when West Midlands Shannon Hall twice came from behind against Layla Bontoft to win 3-2 and in the process take the team match award for her 19.96 average.
The sequence of winning against the darts was broken in the fifth when Shellbie Simmons chalked up a 3-2 win over Heather Lodge and although Heather Wright (West Midlands) fell behind twice to Bobbi Hughes in the last game she kept her nerve and went on to also win 3-2 and give her team a 4-2 victory.
The men's 'B' team had an encouraging start as Matthew Dicken began the day with a man of the match showing against Mick Connerton. Dicken raced into a 3-0 lead and although Connerton reduced that advantage to 3-2 Dicken won the sixth for a 4-2 win and a 25.51 average which earned him the award.
Taking the score along to 2-0 was Stephen Jones with a second 4-2 result in his tie with Rick Afford.
It turned out that the wins in the first two games for West Midlands were to be half of their total in the game as Lincolnshire strung together eight consecutive wins. Thomas Lovely began the winning run with his 4-0 success over Paul Dicken, then came three 4-3 wins for Jonathon Bywater, Craig Hill and Adam Smith-Neale who in turn defeated Gareth Johnston, Alfie Jacques and Kevin Bambrick. Two further 4-2 wins supplied by Micky Taylor and Richard Hubbard over their respective opponents Alex Simmons and Trevor Brennon took the hosts lead to 6-2 and taking the game beyond the West Midlands reach to 7-2 was Richard Selby who won 4-0 against Kirk Harrison.
Neil Ward completed Lincolnshire's number of winners with a 4-3 success against Paul Wells as Avtar Singh and Mark Watkiss-Allen won 4-2 in turn against Dan Warrington and Lee Williams to give a final score of 8-4 to the home team.
The ladies 'A' team went 2-0 down without winning a single leg as Shelley Bontoft-Gash and Laura Tye both won 3-0 in turn against Gemma Barrett and Jacqueline Maiden. Sarah Roberts (West Midlands) made it three successive match awards and four for the season when she beat Paula Jacklin 3-0 with a 22.10 average but with Dawn Armstrong beating Cheryl Alcock 3-2 and Trina Gulliver MBE winning 3-1 against Kat McLean, Lincolnshire ladies 'A' had won the tie as they were now 4-1 up.
The final game went to West Midlands as Lisa Badger won 3-2 against Tammy Montgomery after Montgomery had won the first two legs. The final score 4-2 to Lincolnshire.
Both Shaun Carroll and Shane Price lost by the odd leg in the opening two games in the men's 'A' match with the 4-3 wins going to Ross Twell and Neil Ward. The hosts 2-0 lead was not to last long as Adam Edgar won 4-3 against Gary Blades and Owen Maiden beat Callum Wilson 4-2.
Despite finishes of 115 and 100 Gavin Baker finished on the wrong side of a 4-3 result against Leighton Bennett but by the midway point the game was restored to parity as Nick Fullwell (West Midlands) won 4-1 against Paul Brown.
Shane Lowe restored Lincolnshire's lead in the first game of the second half as he won 4-0 against John Morris, only to see the tie levelled once again in the eighth when West Midlands Scott Baker beat Lloyd Pennell 4-2.
With the score at four each finishing doubles then proved to be the downfall for the visitors as Keith Leadenham, Anthony Hill, Jock Watt and Simon Stainton in turn all won 4-3 against Ian Jones, Glen McGrandle, Matthew Dicken and Mark Craddock to give Lincolnshire's men's 'A' team the same 8-4 result as their 'B' side to take the overall score for the weekend to 22-14 in favour of the home side.
The defeat has left West Midlands still in a next to bottom of the table position with just ten points more than bottom team Cheshire, however the gap between them and safety has been increased to four points as the team directly above them Northamptonshire are on 113 points.
———————————
The Ripley Elite Darts Singles League have staged for the very first time their FA of Darts Singles Knockout which proved to be very success with 57 of the area's finest darts players assembling in the newly refurbished Somercotes Snooker Club, 69 Leabrooks Road, Somercotes, Derbyshire, DE55 4HB to do battle for the honour of being the very first winner of the competition.
The format was the best of eleven legs with a re-draw after every round and despite the extended games the organisation and efforts of organisers Nick Kirk and Daz Brown ensured the highly competitive tournament was wrapped up in just under six hours.
Matlock man and current Derbyshire county men's team captain Lee Stanley prevailed beating some top quality players en-route to the final. In the last four games Stanley beat Paul Baker 6-3 while from the other side of the draw REDSL chairman Daz Brown took Pete Burgoyne to a deciding leg before bowing out.
Lee Stanley kept his superb form going throughout the final and eventually ran out the 6-4 champion to clinch the top prize of £400 with Burgoyne collecting £200 as runner up.
Losing semi-finalists Daz Brown and Paul Baker each received £100 and there was £25 for players going out in the quarter finals Aaron Bennett, Nigel Daniels, Jack Kerr and James Parkin.
The free to enter first round losers competition was won by Keith Lodge who beat Sean Lambert 3-1 in a great final to pick up the first prize of £50 with Lambert collecting £25. There was £10 for each of the losing semi-finalists Sam Revill and Dale Robinson.
Full Results:Last 64:- Nick Morton 6 Ben Lawrence 2, Ian Allcock 6 Neil Beresford 3, Tony Jacklin had a  walkover, Jack Kerr 6 Dale Robinson 5, Wayne Howe had a walkover, Dave Allcock 6 Kev Rimmington 1, Steve Arkwright had a walkover, Pete Burgoyne 6 Lee Arkwright 1, James Parkin 6 Mick Chapman 2, Steve Soar 6 Colin Rich 1, Paul Holman 6 Luke Pilgrim 5, Lee Stanley 6 Phil Drinkall 1, Aaron Bennett had a walkover, Scott Parkin had a walkover, Daz Breedon 6 Shane Robinson 0, Charlie Marshall 6 Sean Lambert 2, Nigel Daniels had a walkover, James Thompson 6 Jim Beardmore 1, Stuart Barrowcliffe 6 Sam Revill 3, Jordan Beresford 6 Damian Donoghue 3, Connor Hodgkinson 6 Curtis Thorpe 2, Paul Baker 6 Gaz Jowett 0, Wes Smith 6 Danny Cooke 0, Dean Allsopp had a walkover, Ash Spencer 6 Trev Tye 1, Paul Coward 6 Stuart Biggs 2, Ash Wood 6 Dan Ford 5, Daz Sinfield 6 James Hewitt 2, Aden Kirk 6 Ty Ward 1, Nicky Bell 6 Keith Lodge 5, Daz Brown 6 Daz Webster 5, Dave Fritchley 6 Michelle Adkin 0, Last 32:- Steve Soar 6 Aden Kirk 4, Daz Brown 6 Steve Arkwright 1, Paul Baker 6 Dean Allsopp 3, Jack Kerr 6 Nick Morton 4, Aaron Bennett 6 Paul Holman 2, Ash Wood 6 Ash Spencer 3, Ian Allcock 6 Jordan Beresford 3, Lee Stanley 6 Connor Hodgkinson 3, Dave Allcock 6 Wayne Howe 1, Daz Sinfield 6 Daz Breedon 5, Nicky Bell 6 Charlie Marshall 5, James Parkin 6 Wes Smith 3, Tony Jacklin 6 Paul Coward 5, James Thompson 6 Stuart Barrowcliffe 5, Pete Burgoyne 6 Scott Parkin 2, Nigel Daniels 6 Dave Fritchley 3, Last 16:- Nigel Daniels 6 Steve Soar 4, Paul Baker 6 James Thompson 5, Lee Stanley 6 Nicky Bell 2, James Parkin 6 Ash Wood 3, Pete Burgoyne 6 Daz Sinfield 2, Aaron Bennett 6  Tony Jacklin 4, Jack Kerr 6 Dave Allcock 3, Daz Brown 6 Ian Allcock 1, Quarter Finals:- Daz Brown 6 Aaron Bennett 1, Pete Burgoyne 6 Nigel Daniels 3, Lee Stanley 6 Jack Kerr 5, Paul Baker 6 James Parkin 3, Semi-Finals:- Pete Burgoyne 6 Daz Brown 5, Lee Stanley 6 Paul Baker 3, Final:- Lee Stanley 6 Pete Burgoyne 4, First Round Losers Competition:Semi-Finals:- Keith Lodge 2 Sam Revill 0, Sean Lambert 2 Dale Robinson 2.
———————————
The final week's fixtures in the Shirley and District Monday Night League produced no surprise results and no changes to the final league table. Champions The Highwood ended their campaign with a convincing 8-1 win over Sharmans Cross giving them a total point's for the season of 52 six more than runners up Red Lion who were 6-3 winners at Saracens Jesters.
The Wharf took third place with the same 56 points as Red Lion but with a lesser average after they completed their programme with a 7-2 win away to Legion Royals.
Shirley Spartac won the wooden spoon finishing at the foot of the table as they rounded off the season with a 9-0 defeat by Legion Flights, next to bottom Saracens Jesters had the same 8 points as Spartac but had a far superior average..
Most 180's for the season went to Andy Foulkes who hit a fantastic 15, the highest finish of 160 was achieved by both Dave Hesketh and Terry Constable.
———————————
The South Birmingham League staged their singles knockout which attracted an encouraging 49 entries and claiming the title with a final 2-0 result over Charlie Kingdon was Luis Barberan. In the last four games both Barberan and Kingdon won 2-0 against respective opponents Dan Stone and Wayne Cooper.
Dave Kingdon (Vice Chairman) Luis Barberan (Winner) and Sue Kingdon (Organiser).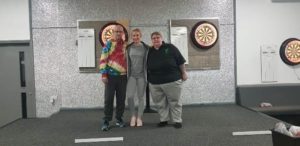 Dave Kingdon (Vice Chairman) Charlie Kingdon (Runner up) and Sue Kingdon (Organiser).
———————————
The Camp Hill League held their presentation night at the Wagon and Horses, Adderley Street which saw the hosts Ashley Pearson received a trophy for winning the Consolation Singles Knockout.
White Swan Nomads were not only league champions but also won the League Cup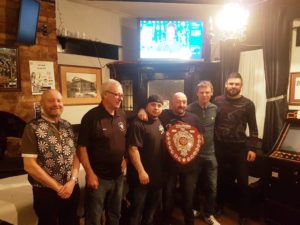 .
White Swan Nomads League and Cup winners
Best game of the season was a perfect six darts leg recorded by Dan Lee (White Swan Nomads) who also had a maximum break of 170 plus a few 180's during the course of the season.
———————————
The Small Heath League have been involved in two of their knockouts, first the Singles Knockout in which a East Birmingham Allotment Holders Association's Neil Parsonage added yet another title to his huge list when he won the final 2-0 against Jim Frost from Heartlands Club. Parsonage had won his last four game against fellow team mate N.Davis 2-0 and Frost who also won 2-0 accounted for E.B.A.H.A. player Tom White
The John Young Plate Knockout title went to Martin Cooper (E.B.A.H.A.) who with a 2-0 result beat Steve McCarthy from Sheldon Marlborough Flights. Cooper won 2-0 against J.Fisher (Emerald Club) in the last four and McCarthy beat G.Daly (Wagon and Horse) 2-1.
———————————