ECC Sports and Social Club, Wolverhampton by Alan Towe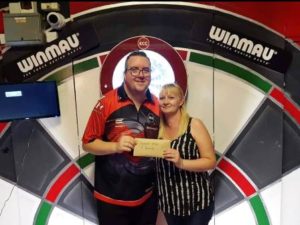 Winner Stephen Bunting with Tracey Edgecombe
The ECC Sports and Social Club, Wolverhampton is fast becoming a major venue for darts throughout the area, the latest "Free" to enter knockout attracted international, county, super league and local league players in what was a superb day of darts.
The eventual finalists were former BDO world champion Stephen Bunting and world ranked Jim Williams, Bunting made his way through to the final from group two with wins over Paul Dicken, Mathew Moore and Richard Hosey. In the last sixteen he won 4-2 against Dave Pallett. He then defeated Chris Dale 5-3 in the quarter finals and with a 6-3 success against James Richardson booked his place in the final.
Jim Williams was winner of group four and began his title chase by taking out Gary Dennant and Matt Dennant. To reach the last four he then won 4-1 against Dave Evans, had a 5-3 win against Ashley Passmore and accounted for Adam Smith-Neale with a close 6-5 verdict to book a final showdown with Bunting.
The final was the best of eleven legs with 2014 BDO world champion and currently ranked PDC No 20 Stephen Bunting taking the top prize of £700 after a 7-4 win against the BDO world No 3, Welshman Jim Williams who received £300 as runner up. There was £100 for each of the losing semi-finalists James Richardson and Adam Smith-Neale plus £50 for Ben Davies, Chris Dale, Scott Baker and Ashley Passmore who all lost in the quarter finals.
Full Results:Group One:Preliminary Round:- Arron Colley lost to Conor Whitehouse, Matt Padgett beat Chris Hill, Pat Pace beat Martin Rowley, Steve Gillam beat Tracey Dawkins, Jonathan Platt beat Arron Richardson, Luke Woodhouse beat Malcolm Caddick, Paul Bon Jovi lost to Craig Venmon, Alf Turley beat Luke Moreton, Keilan Morton lost to Paul Price, Rob Powers lost to James Richardson, Mick Noakes lost to Dean Saunders, Matt Tedstone lost to Bryan Perry, Wayne Fox lost to Glen McGrandle, Last 64:- Jamie Hughes beat Kevin Harris, Ben Davies 4 Conor Whitehouse 1, Matt Padgett beat Pat Pace, Steve Gillam lost to Jonathan Platt, Luke Woodhouse 4 Craig Venmon 3, Alf Turley lost to Paul Price, James Richardson beat Dean Saunders, Bryan Perry 0 Glen McGrandle 4, Last 32:- Jamie Hughes lost to Ben Davies, Matt Padgett 3 Jonathan Platt 4, Luke Woodhouse 4 Paul Price 0, James Richardson beat Glen McGrandle, Group Two:Preliminary Round:- Simon Meredith beat Paddy Thomas, Andy Bennett lost to Josh Pickett, Chris Dale beat Kevin Breeze, Kevin Bambrick lost to Loz Slater, Shaun Breeze lost to Paul Brown, Harvey Tebble beat Pommy Singh, Richard Hosey beat Reece Cook-Lucas, Scott Towers lost to Tony Richardson, Stephen Bunting beat Paul Dicken, Mathew Moore beat Mark Lloyd, Gaz Cullinan lost to Josh Richardson, John Simms beat Mathias Dietrich, Dave Pallett beat Trevor Collier, Gareth Walsh lost to Greg Parkes, Last 64:- Ian Jones lost to Neil Steventon, Simon Meredith lost to Josh Pickett, Chris Dale beat Loz Slater, Paul Brown beat Harvey Tebble, Richard Hosey beat Tony Richardson, Stephen Bunting beat Mathew Moore, Josh Richardson beat Greg Parkes, Last 32:- Neil Steventon 3 Josh Pickett 4, Chris Dale 4 Paul Brown 2, Richard Hosey lost to Stephen Bunting, Josh Richardson 0 Dave Pallett 4, Group Three:Preliminary Round:- Scott Baker beat Craig Airey, Carl Dennel lost to Shane Price, Martin Cadman lost to Ian Stanton, Ryan Palmer beat Jordan Ward, Adrian Johnson lost to Steve Hickman, Joshua Micklewright lost to Adam Smith-Neale, Rob Trumper lost to Dan Nicholls, Ryan Locker lost to Les Marson, Les Evans lost to Dave Honey, Adam Edgar beat Stuart Quarry, Wayne Willis beat Alex Howells, Jess Archer lost to Connor Pickett, Ian McFarlane beat Trevor Smith, Last 64:- Trevor Brennan lost to John Mansell, Ste Homer lost to Scott Baker, Shane Price lost to Ian Stanton, Ryan Palmer beat Steve Hickman, Adam Smith-Neale beat Dan Nicholls, Les Marson lost to Dave Honey, Adam Edgar beat Wayne Willis, Connor Pickett lost to Ian McFarlane, Last 32:- John Mansell 1 Scott Baker 4, Ian Stanton 1 Ryan Palmer 4, Adam Smith-Neale 4 Dave Honey 1, Adam Edgar 2 Ian McFarlane 4, Group Four:Preliminary Round:- Matt Dennant beat Robert Harris, Ryan O'Connor lost to Ben Hollywood, Mark Hylton beat Matt Frost, Wayne Jones 3 Dave Evans 4, Malcolm Cope lost to Martin Price, John Brindley beat Lance Hackett, Paul Hogan beat Rob Smith, John Mycock 1 Mark Craddock 4, Liam Dawkins lost to Paul Clift, Ashley Passmore beat Alan Carter, Nathan Cope lost to Carl Penzer, Lol Frazer lost to Owen Maiden, Sean Johnson beat Reece Colley, Anthony Dent lost Tom Stockton, Last 64:- Jim Williams beat Gary Dennant, Matt Dennant 4 Ben Hollywood 0, Mark Hylton lost to Dave Evans, Martin Price 2 John Brindley 4, Paul Hogan beat Mark Craddock, Paul Clift lost to Ashley Passmore, Carl Penzer lost to Owen Maiden, Sean Johnson 4 Tom Stockton 1, Last 32:- Jim Williams 4 Matt Dennant 2, Dave Evans 4 John Brindley 0, Paul Hogan 1 Ashley Passmore 4, Owen Maiden 1 Sean Johnson 4, Last Sixteen:- Ben Davies 4 Jonathan Platt 2, Luke Woodhouse 2 James Richardson 4, Josh Pickett 3 Chris Dale 4, Stephen Bunting 4 Dave Pallett 2, Scott Baker 4 Ryan Palmer 1, Adam Smith-Neale 4 Ian McFarlane 0, Jim Williams 4 Dave Evans 1, Ashley Passmore 4 Sean Johnson 0, Quarter Finals:- Ben Davies 3 James Richardson 5, Chris Dale 3 Stephen Bunting 5, Scott Baker 4 Adam Smith-Neale 5, Jim Williams 5 Ashley Passmore 3, Semi-Finals:- James Richardson 3 Stephen Bunting 6, Adam Smith-Neale 5 Jim Williams 6, Final:- Stephen Bunting 7 Jim Williams 4.
———————————