Neil Parsonage added another two 3-0 wins against Lee Walker and Louise Beale to his tally in the C's Club Double Top League to give him a total of  62 points from 22 games. Parsonage pulled out all the stop s hitting two maximums against Louise to open up a seven point's advantage at the top of the table with second placed Jake Webster on 55 points after he beat both Ben Liggins and Ryan Beale 3-0, Webster hitting a 180 in each of his games, he has however played two more games than Parsonage.
Mark Birch consolidated his number three spot by winning 3-0 against Ryan Beale and Steve Beale to leave him four points behind Jake Webster with a game in hand.
———————————
Week ten of the Shirley Premier League saw leader Steve Sidwell begin the night with a 3-1 win over Jack Nason in which he recorded a 110 games shot. He then went one better with a 4-0 success against Mark Henderson and produced a 119 outshot. Sidwell's two wins have seen him open up an eight points lead at the top of the table over his nearest rival Phil Thomas who after beating Mick Bown 3-1 slumped to a straight 4-0 defeat to Dave Heighway
Although third placed Mark Henderson won 4-0 against Jack Nason his 4-0 defeat to Sidwell was costly and saw him lose ground in the title race as he is now ten points adrift of his victor.
Highest finish and the £5 prize for it went to Mark Gwalchmai who registered a 130 game shot in his 3-1 win over Leigh Clutterbuck. The best leg of darts on the night was a 15 darts affair from Lee Harris in his 3-1 win against Steve Harper.
———————————
The Forest of Arden Summer League singles knockout attracted a very encouraging 40 entries and working his way through the various rounds to go on and lift the title was Bob Nixon.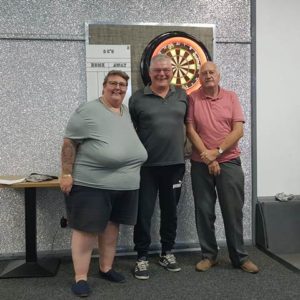 Sue Kingdon (Organiser), Bob Nixon (Winner) and Trevor Edwards (Treasurer).
Nixon began his challenge with a 2-0 win over Jake Webster and followed that with a similar straight legs win over John Sidwell. He then booked his final place with yet another 2-0 win including a tremendous THREE 180's against John MacDonald.
From the other half of the draw Pete Yardley emerged as Nixon's final opponent after he had a 2-1 win over Andy Hutchings (180), a 2-0 win against Sid Moran and a last four win of 2-0 over Dave Tomlinson.
The final saw Nixon drop his first leg of the night but it was insignificant as he beat Pete Yardley 2-1 hitting yet another TWO maximums.
———————————
Due to the fact that Red Lion had a bye in week four of the Shirley and District Monday Night League they have lost pole position and dropped to fourth on six points, two fewer than the top two teams The Wharf and Cider House. Wharf with a 180 from Sam Hicks moved up from fourth to take over the number one spot after their 8-1 home win over Plume of Feathers. Cider House held on to their second place with a 6-3 success over Legionnaires and only trail Wharf on average as both teams have won their four games.
Sharmans Sharks move up two places to third following their 7-2 win at The Bears and are just one leg of average to the good on Red Lion after both teams have played three games.
———————————
The Camp Hill League played their singles knockout down to the last eight players and contesting the quarter finals will be Simon Edwards (Journeys End Lions), Paul Osborne, Nathan Prentice, Mark Coles (Tysley WMC), Steve McCarthy, Dave Howlett (Sheldon Marlborough Flights), Fred Naylor, John West (White Swan Nomads).
———————————
The Sutton and District Summer League had semi-finals on the agenda and surprisingly in the Prestridge Shield league leaders The Boat were only able to field eight players against second in the division one table Golden Hind. One man short proved to be the fine difference between the two teams as despite trailing 3-0 Boat came back to lose by the narrowest of margins 5-4. Meeting Golden Hind in the final will be Bishop Vesey who had a more comfortable 7-2 win over The Boot.
In the Roy Bird last four games division two leaders Boldmere Tap had a convincing 7-2 result against their first division opponents The Fox and also making the final were Old Oscott Arrows who accounted for Erdington Arrows with a 6-3 scoreline.
———————————
There were big wins for all of the top four teams in the Harborne and District League with leaders Avenue Social 'B' the biggest as they handed their visitors Weoley Castle WMC a 9-0 whitewash. Second in the table and level with an unbeaten six points with the leaders is Copper Fox who won their home tie with Cock Inn 'B' 8-1 while third placed Weoley Castle Pub won 7-2 against Quinton RBL to leave them two points off the top. Fourth in the table HV Flights had an 8-1 win at Avenue Social 'A' making it a perfect four points from their two games.
Stag and Three Horseshoes and Bartley Green FC are also on four points, both teams having played three games.
———————————
The Brierley Hill Monday Night League produced what will surely be one of the biggest shock results of the season as leaders Bulls Head (Netherton) lost by a massive 8-1 away to second in the table Dudley Ex Serviceman's Club 'A' to have their lead reduced to four points. Dudley Sports 'A' are currently third in the table their 8-1 home win over Lamp Tavern putting them on the same 34 as the Ex Serviceman's 'A'.
Fourth and fifth placed Delph Bell and Mount Pleasant had 6-3 wins over respective opponents Brickmakers Arms and sixth in the table Roebuck.
———————————
The Brierley Hill Friday Night League played the second leg of the first round of their League Cup in which Netherton Cricket Club 'B' had an overall 10-4 win over Dudley Sports and Miners (Wollescote) beat Delph Bell 12-2.
———————————
The Pip Club League, apart from one outstanding combined fixture between Dolphin Wanderers and Pip Club have completed their league programme and winning not only the combined section but also the seeded one section were Queens Head who finished two points to the good on The Office in both sections.
The seeded two section was won by Old Liberal House who with 20 points were four ahead of Red Lion and Pip Club.
———————————
There was no change at the top of the Stourbridge and District Monday Night League as all of the top seven teams won in week twelve, Brickmakers Arms holding on to pole position with their 8-1 win at Fox Inn (Lye) and at the same time keep intact their 100% win record and a two points lead over Ten Arches 'A' and Ten Arches 'B'. Both of the Ten Arches teams won 7-2, the 'A' beating Glasscutters and the 'B' winning at Crestwood.
———————————
There were 7-2 wins for the top two teams Dudley Ex Serviceman's Club and Riddins Tavern in the Netherton Thursday Night League, Ex Serviceman's beating Fairfield and Riddins accounting for Delph Bell. Both of the top two teams are on 39 points but Ex Serviceman's are top on average and they also have a game in hand on Riddins.
At the other end of the table the bottom two teams played each other the close 5-4 result going to White Horse in the final game of the evening to leave their opponents Netherton Conservative Club at the foot of the table on nine points but with a game in hand on their victors who are just above them.
———————————
Twenty fixtures have been played in the Rowley Monday Night League and just two legs of average are the difference between the top two teams. The George won 8-1 away to Tividale FC to keep them top of the table while second placed Bell won by the same margin at Cradley Liberal Club who are third in the table and now two points adrift of the top duo who are both on 38 points.
On the individual scene there was an 8 darts leg for Matthew Tedstone (George), Ian Vincent (Lodgers) and Trevor Brennan (Bell) both broke with 160 and there was a 180 for Eddie Price (Bell) and Tommy Johnson (Ex Serviceman's 'A').
———————————
Woes continue for reigning champions of the Silver End Sunday Morning Woodside as in their latest fixture they suffered their fourth defeat of the campaign as they went down 5-3 at home to Dudley Ex Serviceman's Club. The outcome is that the two teams swap places in the table, the Serviceman's Club move up into third place on 41 points and Woodside drop to fourth on 40 points.
Brickmakers Arms 'A' extended their lead at the top to four points with a 7-1 win at Portway and as a result of second placed Netherton Cricket Club being held to a 4-4 draw away to Brickmakers Arms 'B'.
———————————
Studley Cricket Club are finding the defence of their Henley and District League title rather challenging as in week eight they suffered their first defeat in seven when they lost 5-4 at home to their nearest rivals Studley Conservative Club who have taken over as new league leaders with an unbeaten 14 points.
Wythall RBL lost their home tie with Wootton Bears 6-3 and also their third place in the table to their opponents as they now have 8 points, two fewer than Bears.
It was a good week for Village Inn, a 5-4 home win over Dorridge seeing them move off the foot of the table and be replaced by Beausale who lost 8-1 at home to Railway.
———————————
Allens Sports Bar 'A' continue to lead the field in the West Midlands Men's Super League, their latest fixture seeing them drop their first game in three fixtures as they beat their 'C' team 4-1 to put them on 20 points, one more than Brickmakers Arms who take over the number two spot from Yeltz Bar after winning 4-1 against King Arthur and Yeltz Bar having a close 3-2 success against Cabin to leave them on 18 points one less than Brickmakers.
———————————
The Sedgley and Gornal Tuesday Night League will be holding their AGM on Sunday 12th August at 11.00am at the Jolly Crispin, Upper Gornal. The proposed start to the new season is Tuesday 18th September anyone interested in entering a team in the league should attend this meeting.
———————————
The four bottom teams in the Stourbridge and District Wednesday Night League all lost 7-0 in their latest fixtures, Brickmakers Arms 'B', Hollybush 'B', Hollybush 'A' and Hare and Hounds in turn losing to Netherton Cricket Club, Ten Arches 'B', Glasscutters and Fox Inn (Lye).
At the top of the table leaders Brickmakers Arms 'A' and second placed Swan had 5-2 wins over High Acres and Wilson Hall. The Ashwood 'B' versus Ashwood 'A' match went to the very last leg before the 4-3 result went to the 'A' side to keep them joint third with Netherton Cricket Club and uphold their winning record.
———————————
In the division one singles section of the Wolverhampton Tuesday Night League Riley's 'C' are the only team from the four sections with a 100% win record, their latest fixture, a home tie with Bull saw them win 5-2 to put them eight points clear of second placed Gilberts Bar who had a close 4-3 success away to third in the table Sunbeam who are now two points behind them.
———————————
Hurst Hill increased their average lead over second in the table ECC 'A' with a 6-1 win over Pilot while ECC 'A' had a 4-3 success at the Bull who are fourth and six points behind their opponents. Both of the top two teams are on 28 points, two more than Whitmore Reans WMC who are third, they won 5-2 at Moreton.
———————————