The C's Club, Chelmsley Wood was the setting for a charity event in aid of the Queen Elizabeth Hospital Skin Cancer Unit on behalf of the late Dave Duncan and taking on all-comers was professional darts player Andy "Pie Man" Smith. The evening raised a tremendous amount of £355 with the Journeys End Flights darts team donating their £290 prize money for winning the Forest of Arden Winter League.
The C's Club will be hosting a knockout on Monday 27th August and subject to 48 entries the club will donate £250 to take the prize pot up to £500, all for a £5 entry fee.
For any further information ring either 0121-770-2789 or 07954-651479.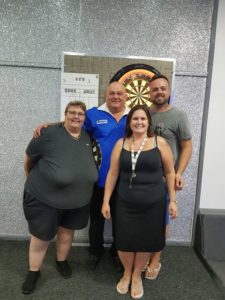 Sue Kingdon, Andy 'Pie Man' Smith, Lucy Matthews and Joseph Cann (Lucy and Joe are Managers of The C's Club )
———————————
With 3-0 wins over Steve Beale, Luke Beale and Duane Green, Neil Parsonage has taken his unbeaten run in the C's Double Top League to 20 games and has amassed a total of 56 points. Neil's current nearest rival is Jake Webster whose 2-1 and 3-0 wins over respective opponents Wayne Cooper and Charlie Kingdon has seen him move up into second place on 49 points but he has played 22 games, two more than Parsonage.
Former leader Luis Barberan is in sixth place some 14 points off the top, however he has only played 16 games and his outstanding fixtures could net him 12 points which would put him within two points of Neil Parsonage.
———————————
Steve Sidwell has opened a four point gap at the top of the Shirley Premier League after a perfect night in which he won 4-0 in all three of his games beating Karl Wilson, Steve Heeks and Mikey Harris. With 62 points from 18 games Sidwell's nearest threat comes from former leader Phil Thomas who kept up his challenge with 4-0 wins over Steve Harper and Paul Harper to put him on 58 points just four behind Sidwell.
In third place is Mark Henderson now on 55 points from 18 games after 3-1 wins against Jordan Ottley and Gary Cleverley, the trio of Sidwell, Thomas and Henderson now pulling clear of the rest of pack after establishing a five points gap from third to fourth.
Highest finish of the night came from Thomas Bent, a 122 checkout to earn him the week's £5.
———————————
It was cup finals week in the South Birmingham League with Adam Cooksey winning the Captains Cup after beating Chris Cooke 2-0 in the final.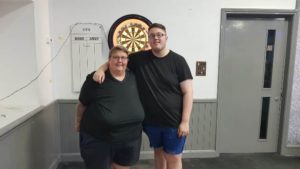 Captains Cup Winner Adam Cooksey with Sue Kingdon (Organiser).
The Secretary's Cup title went to Jake Webster who was taken to a deciding leg by Chris Millward before securing a close 2-1 verdict.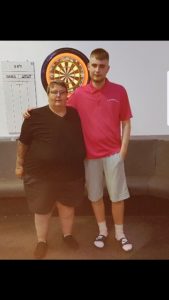 Secretarys Cup Winner Jake Webster with Sue Kingdon (Organiser).
The final of the Captains and Secretary's Doubles Knockout also went to the wire with Chris Cooke and Gavin Jones just getting the 2-1 result over Nigel Groves and Phil Jones.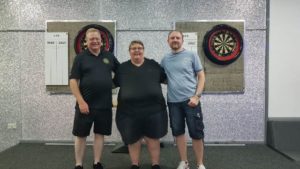 Captains and Secretarys Doubles Winners Chris Cooke and Gavin Jones with Sue Kingdon (Organiser).
———————————
A maximum 170 break from Dan Lee helped White Swan Nomads to a 4-3 win over Station Wagon in the Camp Hill League and keep them top of the table with 12 points from seven games. Second in the table Sheldon Marlborough Flights beat next to bottom of the table North Star 5-2 leaving them two points behind Nomads with a game in hand as are third placed Journeys End Lions who won 4-3 at Wagon and Horses.
———————————
Leaders of division one in the Sutton and District Summer League The Boat took their undefeated run to twelve games when they won 5-4 away to Red Lion, a somewhat close result as Red Lion are bottom of the division without a win in their twelve games. Second placed Golden Hind won their home tie with The Fox 6-3 to give them 22 points from 13 games.
Boldmere Tap strengthened their position at the top of division two when they handed their hosts Lad in the Lane a 9-0 whitewash to give them a four points buffer over Pint Pot Flights and Boot Inn although Pint Pot after their 9-0 win at Sutton Sports still have a game in hand on the leaders.
———————————
After the opening three games in the Shirley and District Monday Night League four teams Red Lion, Cider House, The Bears and The Wharf all remain unbeaten. A 7-2 win at Saracens Misfits keeps Red Lion top of the table on average while the other three teams are all level on both points and average after Cider House beat Saracens Jesters 5-2, The Bears won 9-0 against Shirley Spartac and the Wharf won 5-4 at Legionnaires.
Gary Cleverley (Legion Flights), Steve Mellis (Legionnaires) and Matt McCalliion (Cider House) all hit a maximum.
———————————
Both of the top two teams in Group 'A' of the Forest of Arden Summer League Journeys End Flights and New Inns won 8-1 in week 7, Journeys beating Greville Arrows and New Inns winning against Highwood Exiles to stay within two points of leaders Journeys End Flights.
While both games in Group 'A' finished 8-1 the two played in Group 'B' had 7-2 results. Top team Dunky's Boys won at home against The Crown and second in the table C's Shamrocks beat C's to remain six points adrift of Dunky's with a game in hand.
———————————
Brickmakers Arms have opened up a two points lead at the top of the Stourbridge and District Monday Night League after handing out a first defeat to second in the table Ten Arches 'A', Brickmakers 5-4 win takes their unbeaten run to eleven games. Ten Arches 'A' were the only losers in the top seven teams but hold on to second place on average from their 'B' side who won their home tie with Kingswinford Conservative Club 'B' 9-0.
At the other end of the table Old Cat (Wordsley) moved off the foot of the table winning their first game of the season, a 7-2 success at Hare and Hounds 'A', while a 5-4 defeat for Garibaldi at Gate Hangs Well sees them drop to the foot of the table.
———————————
Mount Pleasant were the only losers in the top four teams in the Brierley Hill Monday Night League as they went down 5-4 at home to third placed Dudley Sports 'A' and as a result drop one place to fifth being replaced by Delph Bell whose 8-1 win over Portway takes them to fourth place,.
There were 8-1 win for the top two teams, leaders Bulls Head (Netherton) beating Fox and Grapes and staying within six points of them are Dudley Ex Serviceman's Club 'A' who won away to Limes Club.
———————————
Woodside, reigning champions in the Silver End Sunday Morning League appear to be out of this season's race for the title after losing 5-3 to leaders Brickmakers Arms 'A' who have a huge ten point's advantage over them in third place. Second in the table Netherton Cricket Club kept within two points of the top team with a 6-2 home win over Pensnett Welfare Club.
———————————
The Netherton Thursday Night League staged their Singles Knockout finals and once again for a second consecutive season the title went to Dudley Ex Serviceman's Club man Phil Tonks. In the quarter finals Tonks squared up to his brother Antony and won 2-0, then with a 2-1 success against Rich Lenton (Townsend Social Club) in the semis he booked his final spot against Carl Hadlington from the White Horse.
The final saw Phil Tonks win 3-1 to conclude what was an excellent night of darts.
———————————
The first leg of the preliminary round of the League Cup was the order of the day for the Brierley Hill Friday Night League and saw Miners (Wollescote) take a very healthy 7-0 lead over Delph Bell into the second leg while Netherton Cricket Club 'B won 5-2 against Dudley Sports.
———————————
Twenty five games played and only average separates the top three teams in the Hilltop Friendly Tuesday Night League. Tipton Sports 5-2 home win over Merry-Go-Round 'A' keeping them ahead of Dewdrop 'A' in second place after they won 4-3 against Sportsman, and making up the top trio is Wagon and Horse, who like the two teams above them are also on 42 points after their 4-3 win over Wonder.
———————————
Week 27 in the Pip Club League produced no fewer than nine maximums with eight of them going to league champions Queens Head players Daz Jones (2), Sam Whittaker (2), Mick Chater, Paul Storton, Mark Tomlinson jnr and Mark Tomlinson snr, the other coming from Ian Turner (The Office). However the highlight of the evening was the 170 maximum game shot by Mark Tomlinson snr.
———————————
Brickmakers Arms had a comfortable 7-2 win over next to bottom of the Cradley Tuesday Night League table Netherton Cricket Club 'B' to keep them in pole position with a lead of six points over second placed Netherton Cricket Club 'A' who had a bye this week and now have a game in hand on Brickmakers. Third placed Wheatsheaf won 5-4 at Hawne Lane Tavern to give them the same 22 points as the Cricket Club 'A' team after playing one game more than them.
———————————
After the opening three games of the new Stourbridge and District Wednesday Night League six of the starting 21 teams are unbeaten with Brickmakers Arms 'A' and Swan sharing the joint top position and Ashwood 'A', Ashwood 'B', Netherton Cricket Club and Bell 'A' all on the same six points and trailing only on average. Biggest win of the week 7-0 went to seventh placed Ten Arches 'A' who beat Brickmakers Arms 'B'.
———————————
A 5-0 win at Colbatch's maintains pole position for Allens Sports Bar 'A' in the West Midlands Men's Super League and after the first two fixtures they have a slender one point lead over both Yeltz Bar and Brickmakers Arms who in turn won 5-0 at Old Queens Head and The Victoria.
———————————
The biggest climber in division one of the Yeltz Bar Tuesday Night 501 Singles League was Neil Smith who with a 5-0 win over Mark Bayliss leapt from twelfth to fourth in the table. In division two leader Jason Lowe made it five perfect 5-0 wins when he beat Richard Reed 5-0, this being Reed's first defeat in five.
———————————
Avenue Social 'B' have had a great start to the new Harborne and District League after winning their opening fixture 7-2 they added a 9-0 success over Bartley Green FC to head the table on average from Copper Fox whose latest win was 7-2 away to Weoley Castle Pub.
———————————
Congratulations to Richard Hosey on winning the latest Woodside Inn Brierley Hill Knockout. Hosey won his semi-final game against Steve Gillam 5-3 to set up a final against Matt Tedstone who had taken out Paul Homer with a 5-0 scoreline in the last four. The final saw Hosey win the top prize of £100 with a 6-4 result, Tedstone collected £60 and there was £25 for each of the losing semi-finalists.
The next knockout will take place on Sunday 19th August at 3.00pm.
———————————
An AGM is set for Sunday 5th August at 11.00am at the league's sponsors the Old Star, 69 Norwood Road, Brockmoor, Brierley Hill, DY5 3XD to form a new Tuesday Night Darts League for teams within a 10 miles radius of Brierley Hill and it is hoped the league will get underway in September. Entry fee is £120.00 which includes league fees, singles, doubles and cup games.
Anyone requiring any further information should contact either Shaun Breeze on 07827461845 or Martin Rowley on 07421304962.
———————————
The Bull have dropped from second to fourth in the division one singles section of the Wolverhampton Tuesday night League after surprisingly losing 4-3 away to Dog and Partridge 'A' who are just two places off the bottom of the table. A 4-3 win for Sunbeam sees them move up one place to third on 20 points the same as second placed Gilberts Bar.
———————————