The Winmau Centre Monday League has seen Above Average live up to their name as they completed the eighteen games season losing just one of their fixtures to give them the title with a total of 656 points which was 22 more than runners up Misfits who had won fourteen, lost three and drawn one.
The Untouchables won the title way back in the 2015 season and in the last three out of four seasons have been runners up, however this season they finished third with 621 points some 35 short of the champions.
A thought for Three Men And A Lady who completed all eighteen fixtures without a single win or draw to end the campaign with 127 points.
———————————
It was cup week in the South Birmingham Winter League the final of the Roy Parry Cup bringing together two division one teams Raven and Banbury Arrows with Arrows getting the 7-2 verdict.
The final of the Roy Parry Consolation Cup also finished with a 7-2 scoreline with division two outfit Chelmsley Conservative Club losing out to their division one opponents Coleshill Social
There was also the semi-finals of the Division Two Mini League played in which division two champions Iron Horse beat Toby Jug 27-0 and C's Arrows accounted for Kingfisher with a very close 14-13 result.
———————————
Twenty nine of the registered thirty five players turned out for week six of the Shirley Premier League and powering his way to the top of the table was Steve Sidwell who took over the number one spot as a result of former leader Phil Thomas not playing this week and his 4-0 wins over Mark Cater, Steve Harper and Pete Silver putting him on 43 points from 12 games. Despite his big defeat to Sidwell, Pete Silver moved up the table from fourth to second as he bounced back with a 4-0 win over Ryan Brogan and followed that with a 3-1 success against Chris Thomas snr giving him 35 points and leaving him eight short of Sidwell.
Mark Henderson holds on to third place and is on the same 35 points as Silver after he added a 2-2 draw with Mikey Harris and a 3-1 win over Dave Heighway to his tally, Silver only ahead of Henderson in the table as he has won more games than his rival.
Although John O'Sullivan lost 3-1 to Dave Heighway a late 120 game shot from him saw him take the week's £5 for the highest finish. With a similar 3-1 win over Gary Cleverley Tom Bent recorded a 14 darts leg, the season's best so far.
———————————
Just one late result from the Forest of Arden Summer League which was between Group 'A's' bottom two teams and local rivals Highwood Arms and Highwood Exiles with Arms getting the somewhat convincing 7-2 result to give them their first points from the opening five games of the season.
———————————
Finally after many attempts to arrange their final fixture away to Clwyd the Warwickshire Youth team made the journey to Wales and with a slightly depleted team they completed an unbeaten eight games season with an 8-7 victory.
The Under 18's 4-3 win made it a perfect eight wins for the season thanks to wins from Ben Liggins, Mackenzie Nixon, Courtney Hine and Will Rattigan with Courtney Hine taking the match award.
With wins from Lucy Keyte (lady of the match) and Skye Pickard the Ladies won 2-1 and rounding off the overall win were the Under 21's who suffered a narrow 3-2 defeat, Jake Liggins their top player, Joe Pitchford-Morris their other winner.
———————————
Former leader Luis Barberan didn't play in week nine of the C's Club Double Top League and after losing pole position to Neil Parsonage last week dropped further down the table from second to third as Jake Webster took over the second spot with 2-1 wins over Chris Millward and Richard Mills, Webster registering a 153 checkout against Millward who now has 44 points but has played 20 games. Leader Neil Parsonage added a 3-0 win against Keith Geary to his account to take his points to 47 from 17 games, three more than Webster with three games in hand and five ahead of Barberan who has only played sixteen games.
Five maximums were recorded this week supplied by James Buttle (2), Steve Whatmore, Jake Liggins and Glen James.
———————————
Sheldon Marlborough Flights leaders of the Camp Hill League had a 5-2 win over third in the table Tyseley WMC to make it four consecutive wins and although Journeys End Lions beat Emerald Club 4-3 they still lost their second place to White Swan Nomads as they won 6-1 against Sedgemere Devil's Club to put them on the same eight points as Journeys but with a better average, Sheldon are also on eight points but with a game in hand on the other two teams.
In his game against Nigel Rickets (Sedgemere Devil's Club) Dan Lee (White Swan Nomads) produced a perfect game of 301 as he broke with 160 and checked out on 141 for a fantastic leg in six darts.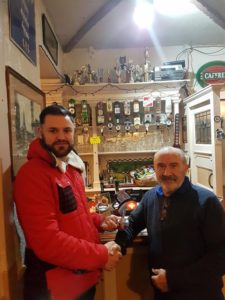 Dan Lee (White Swan Nomads) with League Chairman Derek RIvitt
———————————
With the World Cup taking its toll on some of our local darts leagues the Sutton and District Summer League played just two games, one in each division. The division one fixture saw third in the table Golden Hind win 5-2 against fourth placed Bishop Vesey to open a massive eight point's gap between the two teams. In division two there was a local derby between fourth in the table Old Oscott Arrows and the team just above them Old Oscott WMC with the close 5-4 result going in favour of the WMC to put them two points ahead of their opponents with a game in hand.
———————————
The current situation in the Winmau Centre Thursday Night Champions League is that Adam Quinton leads the way on 127 points from his 26 games. Second in the table Jordan Ward is twelve points off the top with two games in hand and third placed Chris Manoila, who like Quinton has also played 26 games is on 109 points.
Sam Aitkens makes up the top four with 106 points from a total of 25 fixtures and is in a position to overtake third in the table Manoila should he get a 4-3 win or better result in his game in hand.
Four times winner Mick Baker despite his lowly position and 96 points has played an unbeaten seventeen  or games with nine in hand on leader Quinton nine games that could net him a possible 63 points which would take his tally to 159 and give him a massive 32 points lead over the rest of the field.
———————————
An 8-1 home win over bottom of the table King William has seen leaders of the Brierley Hill Monday Night League Bulls Head (Netherton) increase their advantage to four points as the chasing two teams both lost. Second in the league Dudley Ex Serviceman's 'A' were surprise 6-3 losers as they went down to their 'B' team who are some eleven places and 18 points behind them. Roebuck who were third lost 5-4 at home to tenth placed Brickmakers Arms and drop to fifth with Dudley Sports 'A' replacing them in the number three position with a 6-3 win over their 'B' side. A 6-3 win for Mount Pleasant over Portway has seen them move into fourth place on the same 26 points as Roebuck but with a superior average.
———————————
With both teams only able to field eight players East Birmingham Allotment Holders Association completed their season in the Small Heath League by handing out an 8-0 whitewash to Wagon and Horses to make it an undefeated 24 games season. Heartlands finished as runners up, they were ten points adrift of the champions.
EBAHA made it a fantastic double for the season when in the final of the League Cup they beat Heartlands Club 6-3.
———————————
There were wins for the top two teams in week sixteen of the Silver End Sunday Morning League as leaders Brickmakers Arms 'A' won 7-1 against New Talbot and second placed Netherton Cricket Club 'A', who are on the same 41 points as Brickmakers, beat Bell 6-2.
Reigning champions Woodside are not enjoying the kind of results they achieved last season in which they played 26, won 23, drew 2 and lost just 1, while this season they have played 16, won 10, drawn 4 and lost 2, their latest fixture seeing them finish all square at four each with Glasscutters who are in the bottom half of -the- table leaving them seven points off the top of the table.
———————————
Leaders of the Netherton Thursday Night League Dudley Ex Serviceman's Club have been joined by Riddins Tavern on 30 points at the top of the table after the Ex Serviceman's Club suffered a 5-4 home defeat at the hands of the Townsend Social Club team who are third in the table on 27 points. Riddins had a somewhat comfortable 7-2 win away to Netherton Conservative Club who are currently bottom of the table, Riddins trail Ex Serviceman's on average. Even though the leaders had something of a setback they do have in their favour a game in hand on the teams chasing them.
Delph Bell moved up one lace from next to bottom after only their third win in thirteen when they beat Bulls Head 7-2.
———————————
A 6-1 win away to bottom of the table Glasscutters not only preserves pole position for Brickmakers Arms 'A' in the Brierley Hill Friday Night League but also their unbeaten run which is now up to five games. Second place is shared by Miners (Wollescote) and Old Star who in turn won 4-3 against Ashwood and Delph Bell to leave them two points behind the leaders.
Glasscutters dropped into the bottom spot outright after their defeat and next to bottom Dudley Sports lost 5-2 to Netherton Cricket Club 'A', prior to the fixture both teams were level on points and average and shared the bottom place.
———————————
On Friday 27th July the C's Club, 281 Bosworth Drive, Chelmsley Wood, B37 5DP will be presenting a Dave Duncan Charity Night in aid of the skin cancer unit at the Queen Elizabeth Hospital.
Why not drop in and try for a chance to play Andy (The Pieman) Smith will be displaying his talents on the night.
Tickets are on sale at £4.00 each or for further information ring 07954-651479 or 07703-812332.
———————————
The Henley and District League are up to week four of their new season and the only two unbeaten teams in the league are Studley Cricket Club and Studley Conservative Club. The Cricket Club had a bye this week but the Conservative Club won their home tie with Wythall Legion 6-3 leaving them just short on average on the Cricket Club.
Wootton Bears in third place had a convincing 8-1 win at Beausale to keep them within two points of the leading duo.
———————————
The Stourbridge and District Summer League got their new season underway and three of the starting line-up of 21 teams won 7-0, they were Ashwood 'B', Brickmakers Arms 'A' and the Swan who beat respective opponents Hollybush 'B', Hollybush 'A' and Brickmakers Arms 'B', not a very good start for Hollybush!!
———————————
With just three more fixtures to play in the Combined section of the Pip Club League the top two teams Queens Head and The Office are still battling it out for the title as there is only two points difference between the two teams. Queens Head are top with 48 points their latest fixture seeing them win 9-0 at Globe (Wilnecote) while The Office were not far behind with their 7-2 success at Old Liberal House, should Queens lose and Office win the positions would reverse as Office have the better average, so it does look as though the outcome will go to the wire.
———————————