The C's Club Double Top League is up to week eight and taking over from Luis Barberan in pole position is Neil Parsonage. Although Barberan has held the number one spot for most of the season so far he had always played more games than Parsonage but in the current week he didn't play and with 3-0 wins over Gary Shergold and Wayne Cooper, Parsonage took his points tally to 44 two more than Barberan who drops to second place, both players are now level on 16 games.
With 42 points Barberan has a two point's advantage over Jake Webster who after beating Tom White, Luke Beale and James Buttle 3-0 has leapt up the table from ninth to third but has now played 18 games.
Chris Millward was another player to make big strides up the table going from eighth to fourth when he followed up his week seven 3-0 wins over Tom White and Courtney Burns with a 2-1 win over Ryan Beale giving him a total of 36 points and he has only played fifteen games.
———————————
This coming Sunday (8th July) Warwickshire will be holding the AGM for both their Men's and Ladies Super Leagues at the Bishopsgate Club, Foleshill Road, Coventry, CV1 4JJ with an 11.00am start.
Warwickshire County Darts Organisation will be holding their AGM on Sunday 19th August again at the Bishopsgate Club and once more beginning at 11.00am.
———————————
Divisional Cup semi-finals were the order of the day for the South Birmingham League, first the division one cup which saw champions Erdington Members Club beat Banbury Arrows 6-3 and by the same scoreline Crown at Shard End defeated Coleshill Social.
Division two champions Iron Horse beat their opponents Toby Jug 6-3 and they will now meet C's Arrows in the final after they took out The Dog a with a close 5-4 verdict.
———————————
Journeys End continued their unbeaten start in group one of the Forest of Arden Summer League season with an emphatic 8-1 win against their nearest rivals second in the table New Inns to give them a two points lead at the top of the table.
Third placed Highwood KB had a narrow 5-4 win away to Greville Arrows to put them on six points two more than their fourth placed opponents.
With Crown having a bye in division two Dunky's Boys took the opportunity to replace them at the top of the table as they handed out a 9-0 whitewash to their visiting team bottom of the table C's. Dunky's with an undefeated four games now have a two points lead over Crown who in turn are two to the good on third placed C's Shamrocks who won their home tie with Chelmsley Town 5-4.
———————————-
The Camp Hill League staged their presentation night and collecting the silverware for not only the league title but also the League Cup were Journeys End Lions.
The current season see's Journeys End Lions once again in a title chasing position as after the opening four games they are second to Sheldon Marlborough Flights who top the table with the same six points as Journeys but with a superior average plus a game in hand, Sheldon Marlborough are the only team in the league not to have lost so far.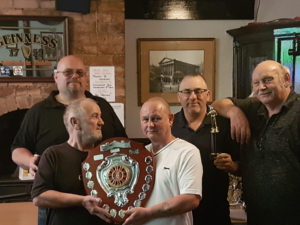 Camp Hill League and Cup Winners Journey End Lions Rear Mark Standley (league secretary), Simon Edwards, Tom Humphries, Front Richard Hogan, Ray Cridge.
———————————
The Stourbridge and District Monday League played off the preliminary round of their League Cup in which league leaders Brickmakers Arms were the only team in the top three to play, however they progressed comfortably into the next round with an 8-1 win over Kingswinford Conservative Club 'B'. Fourth placed Britannia also won through to the next round with a 6-3 success against Garibaldi. The two Bird teams were drawn against each other with Bird (Stourbridge) getting the 6-3 result over Bird (Wordsley).
Other teams to win through to the first round were Stourbridge RBL, Ashwood and Bridge (Kingswinford).
———————————
The Silver End Sunday Morning League played the second leg of the quarter finals of their Main and Shadow Cups, in the former Glasscutters versus Dudley Ex Serviceman's Club and Netherton Cricket Club versus Brickmakers Arms 'A' both finished with an overall result of 8-8 and had to play a deciding 3 a-side knockout to decide who went into the last four. The outcome of the two games was that Glasscutters and Brickmakers Arms 'A' were the winners. In the other two games Woodside beat Bell 9-7 and Railway won 10-6 against Old Star.
Just one of the four games finished at 8-8 in the Shadow Cup with Brickmakers Arms 'B' beating Kings Head in the play-off. Joining Brickmakers in the semis will be Pensnett Welfare Club, Dudley Sports and Portway who in turn won against High Acres (14-2), New Talbot (10-6) and Three Crowns (10-6).
———————————
Second in the Brierley Hill Monday Night League table Dudley Ex Serviceman's Club 'A' were the only team to lose in the top seven as they went down 5-4 away to sixth placed Delph Bell. Despite the defeat the Ex Serviceman's Club hold on to second place but are now two points behind leaders Bulls Head (Netherton) who won their home game against Dudley Sports 'B' 6-3. The Ex Serviceman's Club 'A' still have a four points buffer over third and fourth placed Roebuck and Dudley Sports 'A' who had respective 5-4 wins over Portway and Brickmakers Arms.
At the other end of the table the two bottom teams played each other and Limes Club who were bottom of the table moved up over their opponents King William after beating them 8-1, this being Limes first win in 17 games.
———————————
Cup quarter finals were on the fixture card for the Sutton and District Summer League and in the Prestridge Shield division one leaders The Boat had a close 5-4 win over Erdington Club who are just two points behind them in the table. The Boot from division two had a good 5-4 win over their division one opponents Drakes Drum while Bishop Vesey lost 8-1 to their division one rivals Oscott Social and the other division one team Golden Hind beat Pint Pot Flights from the second division 5-4.
In the Roy Bird Trophy last eight games there were no real shocks as division two leaders Boldmere Tap won 7-2 against Lad in the Lane also from the second division, the all division one clash between Red Lion and The Fox saw the latter win 6-3, the all division two encounter between St Thomas Arrows and Old Oscott Arrows was another 6-3 result going to Old Oscott Arrows and Erdington Arrows (division one) won against Rosey Mac's (division two) again 6-3.
———————————
Tipton Sports leaders in the Hilltop Friendly Tuesday Night League suffered a shock 4-3 defeat away to eighth in the table Hayes Social who are some 20 points short of their opponents. Nevertheless Tipton Sports stay in pole position and hold on to their two points lead as second placed Dewdrop 'A' lost 4-3 at third in the table Waggon and Horses to put both teams on 36 points.
It was good news for Dewdrop's 'B' side as they, despite residing at the foot of the table beat New Talbot who are eight places above them 5-2, this being Dewdrop's fourth win in 22 games.
———————————
The top two teams in the Brierley Hill Friday Night League Bulls Head (Netherton) and Netherton Cricket Club 'A' squared up to each other on Bulls Head board with the 6-3 result going in favour of the hosts who are now the only team to have won all four games and have a two points lead over Miners (Wollescote), Ashwood and Old Star who in turn had wins over Delph Bell 4-3, Glasscutters 5-2 and Netherton Cricket Club 'B' 4-3, Netherton Cricket Club 'A' drop to fifth on four points.
———————————
Finals night of the Sedgley and Gornal Tuesday League saw the league champions Parkes Hall and runners up Old Bulls Head play each other in the final of the Team Knockout with Old Bulls Head running out the 6-3 winners.
The singles semi-finals both finished with straight 2-0 results as Pete Whittaker (Five Ways) lost out to Gornal Labour Club player Danny Fear and Lee Walker (Gornal Labour Club) lost to Tom Bissell (Old Bulls Head). The final was increased to the best of five in which Tom Bissell won 3-1 after Danny Fear had had several chances to win more than the one leg he won.
The doubles semi-finals saw Gornal Labour Club's Geoff Lewis and Rob Walker lose 2-0 to the Old Bulls Head pairing of Tom Bissell and Carl Sparrow. The second semi went to the wire with Ricki Riaz and Geoff Goodyear (Parkes Hall) beating Britannia duo Matt Price and Anthony Harris 2-1 to set up what was a very close final in spite of the 3-0 result as it was all down to the better finishing of Bissell and Sparrow that saw them pick up the winners silverware making it a terrific singles and doubles title for Tom Bissell.
———————————
A clear cut 7-0 win over Victoria keeps Riley's 'C' top of the division one singles section of the Wolverhampton Tuesday Night League. Due to them having a bye Bull dropped one place to third with Sunbeam replacing them in the number two spot following their 5-2 win against Railway.
In division two of the singles leaders Wednesfield Legion beat second placed Royal, Albrighton 4-3 to go ten points clear of the rest of the field.
In the doubles section Gilberts Bar held on to their four points lead plus their game in hand with a 2-1 win over Wednesfield Conservative Club while a 2-1 defeat for Penn Bowling by Woodfield Social saw them lose pole position in division two to be replaced by Royal Albrighton whose 2-1 win at Wednesfield Legion puts them level on 18 points with Penn but with a better average.
———————————
Although ECC 'A' had a 4-3 win over their local rivals ECC 'B' it was not enough to keep them top of the Tettenhall Wednesday Night League table as Hurst Hill had a huge 7-0 win over Emerald to put them level on 22 points with the former leaders but with a slightly better average.
Bull dropped from third to fourth after losing 5-2 at Swan Compton and taking over from them in third place is Whitmore Reans WMC who won 4-3 against Royal, Albrighton, Whitmore and Bull are both two points adrift of the leading duo.
———————————
The preliminary round of the Stourbridge and District Wednesday Night League's League Cup produced wins for Bell 'A', Netherton Cricket Club, Ashwood 'A' and Wombourne Cricket Club.
———————————