With just five outstanding games to be played in the tenth season of the Shirley Premier League Paul Higgins currently holds pole position with 71 points one more than second placed Tom Bent with both players having completed their fixtures.
Seven outstanding games were played in week fourteen in which third in the table Phil Thomas was held to a 2-2 draw by Mark Henderson to put him on 67 points to leave Phil requiring a 4-0 win in his last game against Dave Fisher to give him the title. Although Thomas would be level on 71 points and average with Paul Higgins he would take the title by virtue of the fact that he would have won two more games than Higgins.
Mark Gwalchmai also has one more game to play against Brian Lawton and although he is in ninth place with 62 points a 4-0 win in his last game would see him finish fifth.
Being as there were only a handful of games played on the night the league staged an impromptu singles knockout which attracted 17 players. The semi-finals saw the league's current leader Paul Higgins make his exit as he lost 3-2 to Andy Thomas while second placed Tom Bent chalked up a straight 3-0 win over third placed Phil Thomas.
The final saw sixth in the table Andy Thomas claim the first prize with a 3-1 victory over Tom Bent.
———————————
The results for week 25 in the Erdington Red Lion Double Top League made no difference whatsoever to the league table but it was a week to forget for leader Will Naylor as he lost both of his games against Matthew Cain and Lewis Bayliss 2-1. Dean Bayliss who is second in the table also had a bad start to the night as he lost 2-1 in his game against Alex Downes, however he recovered to win by the same margin against Clive Austin to slightly reduce the arrears on Naylor to eleven points and keep him seven ahead of third placed John Frost who was another player to have a mixed night of results as after he won 3-0 against Clive Austin he then lost 2-1 to Steve Cain.
———————————
With Heartlands Club having a bye in week 21 of the Small Heath League leaders East Birmingham Allotment Holders Association took advantage and extended their lead at the top of the table to eight points with a 5-4 win at Wagon and Horses and at the same time take their unbeaten run to 18 games..
The bottom two teams in the league Emerald Club and Sheldon Marlborough Arrows played each other, Arrows winning 7-2 to go four points clear of bottom team Emerald Club.
The league are organizing a charity "Race Night" at the Emerald Club in memory of the late John Young beginning at 8.00pm with all proceeds going to Bowel Cancer, Head Injuries Club and the Dog Trust.
———————————
With only five more games to play in the Shirley and District Monday Night League the title is still wide open. Top of the table Highwood handed out a 9-0 whitewash to their hosts bottom of the table Shirley Spartac to give them 46 points plus one more leg of average advantage over Dunky's Boys whose 8-1 win away to Saracens Misfits leaves them two legs short of Highwood with the same number of points. Third in the table Red Lion were also 9-0 winners at home to Legion Royals to keep them in the hunt although they are four points off the top two teams.
Despite two maximums from Simon Wheeler his team Cider House lost their home tie with Solihull Sports Club 5-4 however they remain in fourth place but four points adrift of Red Lion.
———————————
Golden Hind have slipped from pole position to third in division one of the Sutton and District Summer League after losing their home tie against Erdington Club who have replaced in the top spot. Erdington however have to share the top of the table position with The Boat whose third fixture of the new season saw them win 6-3 at home against Bishop Vesey, the top two teams are the only teams with a 100% win record.
In division two Pint Pot Flights are the only team out of the nine in the division to have won all three of the opening fixtures the most recent being a 6-3 home win against Old Oscott WMC to put them two points to the good on Old Oscott Arrows, The Boot, Rosey Mac's and Boldmere Tap.
———————————
Little change at the top of the Brierley Hill Monday Night League in week 12 as all of the top seven teams won. Dudley Ex Serviceman's Club 'A' made it twelve wins in as many games with a 6-3 success at home over Brickmakers Arms while second placed Bulls Head (Netherton) handed out a crushing 9-0 defeat to their visitors Lamp Tavern to keep them within two points of the leaders with a slightly better average.
Portway were the only losers in the top eight going down 5-4 away to fifth in the table Bull and Bladder.
———————————
A 6-3 win at Kingswinford Conservative Club 'B' has seen Hop House after the opening two weeks go joint top of the Stourbridge and District Monday Night League with The Swan and Ten Arches 'A'. Swan won 5-4 at Hare and Hounds 'B' while Ten Arches 'A' beat their hosts Church Tavern 6-3 to put all of the top three teams level on points and average.
Reigning champions Ten Arches 'B' quickly got over their opening 5-4 defeat at Brickmakers Arms as they won their home tie with Glasscutters 7-2 to leave them tenth in the table but only two points off the top.
———————————
Rubery RBL continued their winning ways in the Kings Norton League making it sixteen wins in seventeen games when they won 6-1 away to Kings Norton Ex Serviceman's Club to maintain a two point's lead plus they have a game in hand on second in the table Avenue Social who also won 6-1 at E57, E.Simpson and V.Gould notching a maximum for Avenue.
Both K.McManus (Cock Inn) and N.Harris (Man on the Moon) also found the three treble twenties unfortunately both of their teams lost 6-1 to respective opponents West Heath and Bournbrook.
———————————
The Netherton Thursday Night League played the second leg of the semi-finals of their Andy Bastable Trophy and winning through to the final with aggregate wins of 10-8 were Fairfield and Bulls Head who in turn accounted for current league leaders Dudley Ex Serviceman's Club and Delph Bell.
In the second leg of the Andy Bastable Shadow Cup last four games Riddins Tavern beat The Crown 5-4 to go through to through with an overall 10-8 win and joining them in the final will be Townsend Social Club whose 5-4 win at White Horse gave them an combined win of 12-6.
———————————
Leaders of the Silver End Sunday Morning League Netherton Cricket Club  may added an emphatic 8-0 win over Railway to their account but it didn't improve either their points lead or average as their nearest rivals and reigning champions Woodside beat their hosts The Bell by the same 8-0 margin to keep with one point of the leaders.
Third in the table Pensnett Welfare Club and Netherton Cricket Club are the only two teams in the fifteen strong league not to have lost and in their latest fixture they beat New Talbot 6-2 leaving them just two points off the top.
———————————
This week's results in the Sedgley and Gornal Tuesday Night League did not affect the table positions one iota, there were wins for the top three teams as leaders Parkes Hall beat Britannia 7-2 to stay two points ahead of Old Bulls Head who won 6-3 at Netherton Cricket Club. Third in the table Gornal Labour Club won their game against fourth placed Ashwood to give them a two point's lead over their opponents and keep them within six points of Parkes Hall.
———————————
It's as you were in the Hilltop Friendly Tuesday Night League with all of the top six teams winning. Tipton Sports remain in pole position after their 6-1 win at Merry-Go-Round 'A' with Waggon and Horses keeping within two points of them after their close 4-3 win away to Wonder.
Third in the table Island Inn were 5-2 winners against Hayes Social who were the only losers in the top seven teams.
———————————
Dolphin Wanderers, fourth in the Main Section of the Pip Club League suffered a somewhat surprising 5-4 home defeat at the hands of a Progressive Club team who are seven places below them and have 14 points fewer. No such problem for the three teams above the Wanderers as leaders Queens Head, with three maximums from Sam Whittaker won 8-1 at Kettlebrook Club with Martin Coles notching a 180 for the home team. The Office are two points behind Queens Head with a game in hand, they won 7-2 against Red Lion and a further two points adrift on 32 points is Birchmoor Club who had a 6-3 win at Wigginton Arms.
Paul Thompson Old Liberal House) hit a 180 in his team's 6-3 win over Belgrave Club.
———————————
In the division one singles league of the Wolverhampton Tuesday Night League leaders Riley's 'C' had a crucial 5-2 win over Sunbeam who are third in the table now six points adrift of their opponents. With an unbeaten 12 points Riley's 'C' have four more points than second placed Bull who after their 6-1 win over Gilberts Bar still have a game in hand.
Wednesfield Legion top division two their 5-2 win at Village Inn taking their undefeated run to six games and giving them a two points lead over their nearest rivals Dog and Partridge 'B' who won 5-2 at Duke of York.
Despite having a bye Victoria top the division one doubles league with a perfect ten points from the first five games, Wednesfield Conservative Club lost the opportunity to go joint top when they went down 2-1 at Dog and Partridge 'A'.
Village Inn and Penn Bowling are both on 10 points at the top of the division two doubles league, Village beating Wednesfield Legion 2-1 and by the same margin Penn defeated County.
———————————
A 5-2 win by Whitmore Reans WMC over Hurst Hill in the Tettenhall Wednesday Night League was an important win as Whitmore top the table on 12 points and their opponents who are third are now two points behind them. ECC 'A' are second in the table and trail Whitmore on average only as they won 5-2 at Brewood British Legion.
Fourth placed Bull won 4-3 at Emerald and should they win their game in hand would go level on 12 points with the leading duo.
———————————
A 3-2 defeat by Rhys Langford has seen Simon Mountford lose pole position and drop to third in League One of the Yeltz Bar Tuesday Night Singles League. Matt Moore's 5-0 win against Jordan Shakespeare has taken him into the top spot with 45 points a lead of two over second placed Duane Hart who had a close 3-2 success against Doug Richmond.
Rob Smith continues to lead the field in League Two, his three 180's and 5-0 result putting him on 45 points and giving him a four points buffer over second placed James Hykin who won 3-2 against Neil Steventon.
Two players Loz Slater and Richard Hill are level on average and 46 points at the top of League Three, Slater wining 4-1 against Jason Tromans and Hill with two maximums beating Stuart Stanton by the same 4-1 margin.
———————————
The Forest of Arden Winter League played off their Andy Howell Blind Pairs Knockout, a memorial competition for Andy who played for Journeys End for many years.
In the semi-finals there was a 3-1 win for Simon Edwards and Mo Bown over Pete Kingdon and Darren Wilson while Luis Barberan and Steve Whatmore beat Courtney Burns and Sue Hawkins 3-0.
The final result was 3-1 with the title going to Barberan and Whatmore with Edwards and Burns runners up.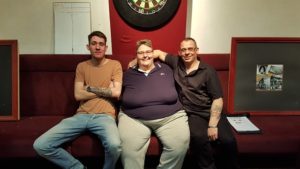 Andy Howell Blind Pairs Knockout Winners Luis Barberan, Sue Kingdon (organiser) and Steve Whatmore.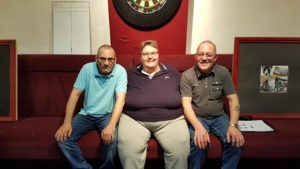 Andy Howell Blind Pairs Knockout Runners Up Simon Edwards, Sue Kingdon (organiser) and Mo Bown.
———————————
The division one title in the South Birmingham League gets closer and closer for Erdington Members Club as they took their unbeaten run to twelve games with a convincing 8-1 win over The Punchbowl to keep intact their eight points lead over both Banbury Arrows and Crown at Shard End, Banbury winning 5-4 against The Gate and Crown, who have two games in hand on the teams above them winning 7-2 against Mackadown Social.
Iron Horse top division two their 7-2 win over Crown Jewels taking their points tally to 20, five more than second placed C's Arrows whose game with Chelmsley Conservative Club finished all square at 2-2 as both teams could only field eight players.
———————————
The top two teams in the Rowley Monday Night League consolidated their positions in a big way as leaders George handed out a 9-0 whitewash to their visiting team Hare and Hounds and second placed Bell kept with two points of George winning by the same 9-0 margin at Roost.
———————————