Congratulations to two Warwickshire county players Nigel Heydon and Kevin Dowling who after impressive county performances have been selected to play for England in the BDO British Internationals at Penydarren Social Club, Merthyr Tydfil Wales on the weekend of the 6th -8th April. Best wishes go to both players.
———————————
The South Birmingham League played off their Singles Knockout and taking the title with a final 2-0 win over Simon Edwards was Nigel Groves.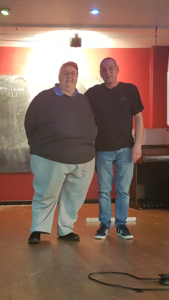 Singles Winner Nigel Groves with Organiser Sue Kingdon.
In the last eight Groves won 2-1 against T.Whitehouse while Edwards with a 180 beat Mark Birch 2-0. The semi final saw Groves have a convincing 2-0 win over Jim Frost while Edwards was taken to a deciding leg by Glen James.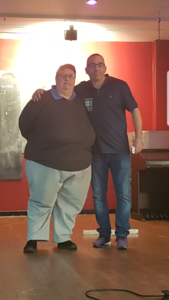 Singles Runner Up Simon Edwards with Organiser Sue Kingdon.
———————————
Andy Thomas held on to pole position in the Shirley Premier League with a 3-1 win against Chris Devlin followed by a similar win over Mick Bown in which he recorded a 160 break, two 120 breaks and a nine darts leg to give him 33 points from twelve games.
Chris Thomas made a giant leap of nine places to take over second spot in the table with wins against Ken Hopton (2-1), Mark Henderson (3-1) and Mark Cater (4-0) to put him on 31 points just two short of leader Andy Thomas but with a game in hand.
Dave Heighway stays third on 30 points from eleven games after a 3-1 win over Jordan Ottley and a 2-2 draw with fourth placed Tom Bent.
———————————
As the Kings Norton League moves into the second half of its season there is still very little to separate the top two teams Avenue Social and West Heath. In their latest fixtures Avenue won 4-3 away to Cotteridge to keep them in the number one spot with 22 points and a better average than West Heath whose 5-2 win against Bournbrook keeps them level on points with Avenue.
A 4-3 win by Rubery RBL has seen them replace Bournbrook in third place both teams have 18 points but Rubery in addition to having the better average also have three games in hand on their rivals.
———————————
An impressive 8-1 home win over bottom of the table Emerald Club has taken East Birmingham Allotment Holders Association's unbeaten run in the Small Heath League to twelve games and gives them an eight point's lead over second placed Heartlands Club who have two games in hand.
———————————
Will Naylor current leader of the Erdington Red Lion Double Top League began week 15 with a 3-0 win over Micky Wilde but then for only the second time in 28 games lost as fifth in the table Jim Frost beat him 2-1. Despite the loss Naylor holds on to the top spot with 71 points and has a lead of nine over second placed Dean Bayliss who like Naylor won his opening game against Richard O'Grady 3-0 but then also lost, a 3-0 defeat at the hands of Lewis Bayliss who in third place is now only three points behind Dean.
———————————
In the Forest of Arden Winter League Journeys End Flights played a home tie against Highwood Exiles and handed their visitors a 9-0 whitewash to extend their lead at the top of the table to four points over local rivals Journeys End who without a fixture now have a game in hand.
Third in the table Greville Arrows won 6-3 away to Highwood Arms but remain six points behind Journeys End from the same fifteen games.
———————————
Mick Baker may have another two fixtures to play in the Winmau Centre Thursday Night Champions League but amazingly for a fourth consecutive season he has won the league title, the top prize money and the twelve months sponsorship deal with Winmau.
Baker has 136 points from 24 games whereas his nearest rival Tony Randell is on 129 points and has completed all 26 fixtures but will finish his first campaign in the league as runner up.
The centre will be getting their new season underway shortly anyone interested in joining the league and looking for a top pay together with the lucrative Winmau sponsorship deal should contact the centre on 01902-420827 to register their entry.
———————————
There were 7-2 wins for the top two teams in the Shirley and District Monday Night League as leaders Highwood won at Saracens Jesters and second in the table Dunky's Boys won at Legionnaires to keep the deficit at just two points on the top side. Third placed Red Lion went one better with an 8-1 success at Plume of Feathers to put them on the same 28 points as Dunky's and now trail by just one leg of average on their rivals. Drawbridge Bears in fourth place also won 8-1 at Shirley Spartac to put them on 26 points.
———————————
With one remaining fixture Ten Arches 'B' with a 5-4 home win over Quarry Bank Conservative Club have won the Stourbridge and District Monday Night League title, with 76 points they are two ahead of their local rivals Ten Arches 'A' whose 8-1 win at Hare and Hounds 'B' gives them 74 points but they cannot catch their 'B' side on average.
The penultimate week's fixtures saw Gate 'A' and Gate 'B' in turn beat Crestwood and Britannia both winning 9-0 and another coincidence was the Hare and Hounds results as both the 'A' and 'B' lost 8-1 in turn to Garibaldi and Ten Arches 'A'.
———————————
Royal Sutton Flights leaders of division one in the Four Oaks and District League had a bye in week 11, second placed The Boat beat third in the table Golden Hind 6-3 to join Royal Sutton on the same 18 points but from one game more, Golden Hind are now six points behind the leading duo.
Red Lion leaders of division two lost 6-3 away to fifth placed Erdington Arrows, they remain in pole position but a 6-3 win by Pint Pot Flights against Old Oscott WMC has put them on the same 14 points as Red Lion.
Its close at the top of division three with leaders The Oscott Social having a bye second placed Boldmere Tap's 7-2 win at Rosey Mac's has put them level on the same 16 points and only trail by one leg of average. Bottom of the division Lad in the Lane had a narrow 5-4 win at St Thomas's Arrows and doubled their points tally for the season.
J.Averill (Lad in the Lane), J.West (Erdington Arrows), W.Naylor (Golden Hind) and M.Bagnall (Pint Pot Flights) all hit a 180 this week.
———————————
Studley Cricket Club made it ten unbeaten games in the Henley and District League when they won 6-3 against bottom team Beausale with Dave Tabberner notching a maximum for the winners. Studley Conservative Club lose their second place after going down 6-3 at Dorridge and now share third place with their victors, level on points and average. Taking over in the number two position is Wharf Swifts whose 5-4 home win over Wythalll Legion puts them on 16 points four off the top.
———————————
The Untouchables have returned to the top of the Winmau Centre Monday Night League after winning 36-12 against Full Monty who drop from the number one spot to third behind Misfits whose 40-8 win against Here For The Beer gives them 98 points seven fewer than Untouchables, Full Monty have 85 points.
———————————
Mount Pleasant were the only losers in the top five teams in the Brierley Hill Monday Night League as they lost 6-3 at second in the table Dudley Sports 'A' who now share the second place with Dudley Ex Serviceman's Club 'A' who won their home game against Limes Club 7-2 to put them level on points and average with Sports 'A'.
Bulls Head (Netherton) continue to lead the field on average after adding their 7-2 win at Fox and Grapes and together with Bulls Head, Dudley Ex Serviceman's 'A', Dudley Sports 'A' and Delph Bell are all on an undefeated six points from their opening three games.
———————————
In the Brierley Hill Friday Night League the top three teams all won 6-1 and the following three teams all lost by the same margin. Leaders Brickmakers Arms 'A' won at Fox Inn 'B' (Lye) who drop from fifth to sixth, second placed Netherton Cricket Club 'A' beat Pensnett Welfare Club 'B' who go down one place to seventh and third in the table Pensnett Welfare Club 'A' won at Miners (Wollescote) who despite the defeat hold on to fourth place.
———————————
The big question in the Camp Hill League is will anyone beat Journeys End Lions who made it twelve wins in as many games when they won their home game with Tyseley WMC 5-2 to keep intact their six points lead over second in the table Nomads who had a close 4-3 win at Devil's Club.
The league offer their congratulations to Dan Lee (Nomads) on qualifying for the UK Open at Minehead
———————————
The Netherton Thursday Night League played the first round of their League Cup which saw Bulls Head register the biggest win of the round 6-3 against The Crown. There were 5-4 wins for White Horse and Townsend Club who beat in turn Riddins Tavern and Fairfield. League leaders Dudley Ex Serviceman's Club had a bye.
———————————
Week five of the Silver End Sunday Morning League produced four draws in the seven games played and also one shock result that of the defeat of leaders Woodside, a 5-3 home loss at the hands of the Brickmakers Arms 'A' team who are fourth in the table two points behind the leaders with a game in hand. On the same ten points as Brickmakers Arms 'A' are third placed Dudley Ex Serviceman's Club and fifth and sixth placed Brickmakers Arms 'B' and Railway. Netherton Cricket Club are in second place their 4-4 draw with Pensnett Welfare Club leaving them one point behind the leaders.
———————————
A 5-2 home defeat for Island Inn against Merry-Go-Round 'A' in the Hilltop Friendly Tuesday Night League has seen the losers go from top to third in the table. Tipton Sports and Wagon and Horses are now the only two teams with a 100% win record and share the number one position level on points and average after Tipton Sports won 4-3 at Dewdrop 'B' and Wagon and Horses won 6-1 at Merry-Go-Round 'B' to put them two points ahead of the rest of the field.
———————————
Hare and Hounds were the only losers in the top eight teams in the Rowley Monday Night League as they went down by a massive 9-0 away to joint league leaders Cradley Liberal Club. The George are the other joint leaders their latest win also being 9-0 at home to Loyal Lodge.
In addition to the top two three other teams remain unbeaten and they are Ex Serviceman's 'A', Ex Serviceman's 'B' and Ivy Bush who in turn won against Whiteheath Tavern (6-3), Bulls Head (5-4) and Windmills End (7-2).
———————————
From a starting line up of eleven teams and as early as week two only three are unbeaten in the Cradley Tuesday Night League. Brickmakers Arms and Gate Hangs Well share the top spot both teams winning their latest fixture 5-4 in turn against Roost and Chop House to give them a two points lead over third placed Hawne Lane Tavern who after a bye this week have only played one game.
———————————
Jordan Ward and Matt Moore share the top place in division one of the Yeltz Bar Tuesday Night Singles League, Ward winning his latest game against Alister Duncan 5-0 and Moore in top form against Richard Duncan also winning 5-0 in 21,18,14 and 14 darts.
After adding a 4-1 win over Rob Gregory James Hykin has a three points lead at the top of division two with Matt Tedstone in second place winning 5-0 against Adam Hill and hitting a maximum in the process.
Trevor Collier had a 4-1 win against John Simpson to give him a slender one point lead at the top of division three over Ash Portman who won 5-0 in his fixture with John Griffiths.
———————————