After a run of two defeats in the Premier Division of the BDO Inter County Championships Warwickshire began the new year  with a fantastic home win over high riding Lancashire who are placed second in the table.
Both the ladies 'A' and 'B' teams were in superb form beating their counterparts 5-1 with Sue Gulliver (22.18) and Wendy Adams (20.29) taking the respective match awards.
The men's 'B'; side after winning the opening game through Simon Power then found themselves trailing 4-1. Wins from man of the match Carl Green (29.47) and Ian Shaw reduced the arrears to 4-3 before the away team opened up a 6-3 lead. The last three games went to Warwickshire's James Hykin, Karl Reynolds and Adam Paxton to earn a well deserved 6-6 draw.
Steve Hine (29.31) took the 'A' team's match award, helping them on their way to an 8-4 victory, their third win in five games and taking the overall win for the hosts to 24-12 lifting them up two places in the table to fourth.
———————————
West Midlands had a home tie in the Premier Division of the BDO Inter County Championships a tough encounter against reigning champions and currently table toppers Yorkshire.
There were crushing 5-1 defeats for both ladies teams, Lisa Badger (20.67) the sole 'A' team winner and for the 'B' it was Shellbie Simmons (15.99).
The men's 'B' looked odds on to win their game as they opened up leads of 1-0, 3-1, 4-2 and 6-3 but with defeats in the last three games had to content themselves with a 6-6 draw, Richard Platt (27.68) taking the match award. The 'A' team suffered their heaviest defeat of the campaign so far, a massive 10-2 reversal that sees them drop from fourth to seventh in the overall table. Supplying the two wins for the 'A' team were opener Paul Wells and man of the match Scott Baker who had a magnificent average of 32.32 with winning legs of 18,15,18 and 11 darts in his 4-0 win over John Walton.
———————————
In the semi finals of the Four Oaks and District League's Brian Goodman Cup division one leaders Royal Sutton Flights and second in the table The Boat met for the third time this season. Royal Sutton Flights took the first game but it was The Boat who won the next three games and go on to win 6-3. Old Oscott WMC led 2-0 against Golden Hind, however Hind rallied to take the next four games and despite Old Oscott WMC taking the game to a decider it was Golden Hind who ran out the 5-4 winners.
In the last four play off of the Ken Rust Cup Drakes Drum opened up a 3-1 lead over Boldmere Tap, Boldmere took the next three games to lead 4-3 and although Drakes Drum managed to win the eighth it was Boldmere Tap who got the 5-4 verdict, they will now play Plough and Arrows in the final who despite trailing twice to Bishop Vesey fought back to seal a 5-4 win.
———————————
There was a shock for South Birmingham League division one leaders Erdington Members Club when in the league's Roy Parry Cup they lost 5-4 against second in the league table Crown at Shard End. Joining Crown in the next round will be Banbury Arrows and The Raven who in turn won 6-3 and 7-2 against The Dog and Punchbowl.
In the preliminary round of the Roy Parry Consolation Cup, The Gate were awarded a 9-0 win over Mackadown Social who failed to turn up.
Just one rearranged league fixture played which saw Kingfisher win 6-3 against Chelmsley Conservative Club.
———————————
Journeys End Flights, leaders of the Forest of Arden Winter League suffered their first defeat in fifteen games when they went down 5-4 away to Greville Arrows who are fourth in the table and some ten points short of their opponents. Despite the defeat Journeys End Flights hang on to pole position with 28 points but have had their lead reduced to just two points as their local rivals Journeys End, who are second in the league, won 9-0 against Highwood Arms..
———————————
The Winmau Centre Monday Night League have begun their new season and the early leaders are last season's runners up The Untouchables who kicked off the new campaign with a resounding 45-3 win over Three Men And A Lady. Reigning champions Misfits opened up with a 34-14 success against Keep It In The Family to take second place in the table with 34 points eleven short of the leaders.
———————————
With the majority of players having one more fixture to play to the halfway point of the Erdington Red Lion Double Top League Will Naylor with 3-0 and 2-1 wins over respective opponents Jim Frost and John Frost then suffered his first loss in 25 games, a 2-1 defeat at the hands of Lewis Bayliss, nevertheless with 64 points, eight more than second placed Dean Bayliss he holds on to the top spot. Dean Bayliss had 3-0 wins over Richard O'Grady and Alex Downes to keep him five points to the good on third in the table Lewis Bayliss.
———————————
Dave Heighway continues to hold on to pole position in the Shirley Premier League after registering 4-0 and 3-1 wins against Craig Johnson and Nick Walker respectively. Moving up into second place is Chris Thomas who after a 2-2 draw with Tom Bent beat Chris Devlin 3-1 and followed that with a 4-0 win over Tony Daly including a super seven darts leg to put him on 21 points from eight games, one point short of Heighway but he has played one game more than him.
Dropping one place to third is Ken Hopton whose night began well with a 3-1 win over Mark Cater but ended with a 2-2 draw with Trevor Carter. Also dropping one place is Mark Gwalchmai who had a 152 break and a 9 darts leg in his 3-1 win over Steve Sidwell and then finished all square at 2-2 with Mark Henderson.
With two players recording the highest break of 160 once again the £5 prize was added on to the £5 for the highest finish which went to Mark Cater who checked out on 114 in his 3-1 defeat by Mick Bown.
———————————
With just one more week's fixtures to the midway point of the Shirley and District Monday Night League leaders Highwood with a 7-2 win over Legionaires take their points tally to 26 and hold on to their two point's advantage over both Dunky's Boys and Red Lion. Dunky's won their home tie with next to bottom of the table Plume of Feathers 7-2 while Red Lion handed out a 9-0 whitewash to their visitors Shilrey Spartac who are bottom of the table.
Despite their defeat Legionaires had one highlight, that of the two maximums recorded by their Trevor Carter. Other players to find the three treble twenties were Lee Dalton (Blue Bell), Sean Talbot (Saracens Misfits), Luke Coles (Saracens Jesters) and Kevin Timms (Shirley Golf Club).
———————————
East Birmingham Allotment Holders Association march on in the Small Heath League taking their unbeaten run to ten games with a 5-4 win over third in the table Sheldon Marlborough Flights. Second in the table Heartlands Club, who are six points off the top with a game in hand had a 5-4 win at Sheldon Marlborough Arrows to stay two points ahead of Marlborough Flights.
———————————
After completing eleven games Journeys End Lions are undefeated in the Camp Hill League their latest success being a 5-2 win at Devil's Club. Journeys have a six point's advantage over second and third placed Holy Souls and Crown Jewels who in turn won 6-1 and 4-3 against respective opponents Wagon and Horses and Cotterills Lane Club.
———————————
Avenue Social had a special guest appearance in week eleven of the Kings Norton League when PDC player Corey Cadby turned out for them against the Dingle. The result was an emphatic 7-0 win for league leaders Avenue to keep them two points ahead of their nearest rivals West Heath who had a 6-3 home win over Cotteridge. Third placed Bournbrook lost ground and are now two points adrift of West Heath after they somewhat surprisingly lost 4-3 away to Weoley Hill.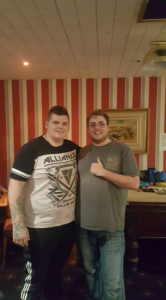 Corey Cadby (PDC Player) and Martin Ferriday (Dingle Captain).
———————————
With the majority of teams having three more games to play in the Stourbridge and District Monday Night League the battle for the title continues between local rivals Ten Arches 'A' and Ten Arches 'B' as both teams are locked together on 72 points.
The latest round of fixtures saw Ten Arches 'B', who head the table on average win 8-1 at Britannia while the 'A' side went one better with a 9-0 success at home against Old Cat (Wordsley). With only six more points on offer the two Ten Arches teams will finish as winners and runners up as they are eight points to the good on third in the table Gate 'B' but it is anyone's guess as to what order that will be although the 'B' team must be odds on favourites as they have a massive average lead.
———————————
The Brierley Hill Monday Night League got their new season underway and three teams Bulls Head (Netherton), Mount Pleasant and The Swan are the early pacesetters as in turn they handed out 8-1 defeats to King William, Portway and Limes Club. Not far behind the top trio come Blue Brick, Delph Bell, Dudley Ex Serviceman's Club, Dudley Sports 'A' and Pensnett Liberal Club who all won 7-2.
———————————
The Brierley Hill Friday Night League played the second leg of the first round of their League Cup and winning through to the next round were Brickmakers Arms 'B', Brickmakers Arms 'A', Netherton Cricket Club 'A' and Netherton Cricket Club 'B'.
———————————
In the Pip Club League's division one Challenge Cup semi finals there were wins for the Main Division's top two teams The Office and Queens Head who in turn took out Sports Bar '180 and Birchmoor Club. In the last four play off in division two Old Liberal House beat Progressive Club and despite a 180 from Dolphin's Rich Gale his team lost out to Red Lion.
———————————
Dewdrop 'A' have been ousted from their number one spot in the Hilltop Friendly Tuesday Night League after going down 4-3 at Horseley Tavern. Replacing Dewdrop in pole position is Island Inn who had a convincing 6-1 home win over Wonder to put them ahead of three teams who share second place Ivy Bush Tipton Sports and Waggon and Horses who all have the same nine points as Island Inn but trail by just two legs of average.
———————————
There were 7-2 wins for three teams Cradley Liberal Club, George and Whiteheath Tavern in the opening fixtures of the Rowley Monday Night League beating respective opponents Cottage, Roost and Loyal Lodge to share the top spot.
The leading trio are closely followed by Ex Serviceman's 'A' and Hare and Hounds who had 6-3 wins over Bell and Windmills End.
———————————
Week one of the Netherton Thursday Night League's new season produced a bit of a surprise, not so much the result more so the margin of 8-1 by which White Horse beat Bulls Head. Reigning champions Dudley Ex Serviceman's Club went 4-0 down at home against the Bell but fought back to seal a very close 5-4 win.
———————————
Woodside, reigning champions of the Silver End Sunday Morning League are enjoying a good start to the new season having played three and won three the latest of which was against Kings Head who they handed an 8-0 whitewash to keep them just ahead on average of second in the table Dudley Ex Serviceman's Club who won their home game against New Talbot 7-1.
Netherton Cricket Club make up the top three and like the two teams above them have won all three, the most recent seeing them win 6-2 at Three Crowns.
———————————
After completing the opening thirteen games in the Sedgley and Gornal Tuesday Night League only two points separate the top four teams. Leaders Old Bulls Head won 7-2 in a vital away game against third in the table Ashwood to put them on 22 points the same number that Parkes Hall have after their 9-0 away win over White Lion. Ashwood are now two points behind on 20 as are fourth placed Coseley Tavern who won their home tie with Gornal Labour Club 6-3.
———————————
The biggest win in the opening fixtures of the Cradley Tuesday Night League was 7-2 provided by Hawne Lane Tavern at the expense of Chop House, hot on the heels of the early leaders are Brickmakers Arms, Gate Hangs Well and Riddins Tavern who all in turn won 6-1 against Wheatsheaf, Netherton Cricket Club 'B' and Netherton Cricket Club 'A'.
———————————
Such is the popularity of the Yeltz Bar Tuesday Night Singles League that from a starting line up of 16 players last season the numbers for the new season have trebled to an amazing 48 players in three divisions.
Early leaders in those divisions are division one Simon Mountford and Iain Mathers, division two Neil Smith, James Hykin and Lee Eaves and in division three Loz Slater and Trevor Collier.
———————————
The Wolverhampton Tuesday Night League will be holding their AGM with a view to reforming their league on Tuesday 6th February at the Emerald Club, Cross Street North, Wolverhampton at 8.00pm. All teams old and new are cordially invited but should note that anyone interested in entering a team for the forthcoming season should attend the meeting and take along a list of player's names plus £50 towards their leagues fees.
———————————