The top two teams in division one of the Four Oaks and District League  Royal Sutton Flights and The Boat both chalked up 8-1 wins in week eight M.Wild and A.Kimberley helping Royal Sutton to their win against St Thomas's Social Club maintaining their two points lead over The Boat who defeated Old Oscott Arrows. Golden Hind are a further two points adrift following their 6-3 home win over Drakes Drum.
There were wins for the top two teams in division two Red Lion with a 6-3 result at Plough and Arrows holding on to pole position on average from Pint Pot Flights who accounted for their visitors Bishop Vesey with a 7-2 scoreline, the top two teams are both on ten points.
In the third division after seven games The Oscott Social remains undefeated winning 7-2 at St Thomas's Arrows with second placed Boldmere Tap beating Brookvale Social 7-2 to keep within two points of the leaders.
For the second consecutive season Golden Hind and Royal Sutton Flights both progressed to the semi-finals of the Brian Goodman Cup Royal Sutton had the easier passage with an 8-1 win against The Fox while Golden Hind beat Old Oscott Arrows 6-3 after taking a 5-1 lead from the opening six games. The Boat had a 7-2 win at Pint Pot Flights and Old Oscott WMC made their way to the semis with a 6-3 win over Old Oscott Arrows.
In the Ken Rust Cup, Boldmere Tap defeated Brookvale Social 7-2 and Bishop Vesey got to the semi-finals with a 6-3 win at The Lad in The Lane. In the all Arrows tie Plough and Arrows beat Erdington Arrows 9-0.
———————————
Will Naylor didn't play in week ten of the Erdington Red Lion Double Top League and although Dean Bayliss recorded 3-0 wins over Clive Austin and Matthew Cain he remains in second place behind Naylor. Naylor leads the table with 45 points from 17 games while Bayliss has 43 points and has played 19 games. Third in the table is another Bayliss, this time Lewis whose 2-1 win over Stuart Larvin and 3-0 success against Alex Downes leaves him on 40 points from 19 games.
———————————
East Birmingham Allotment Holders Association took their unbeaten run in the Small Heath League to eight games when they beat Wagon and Horses 7-2 to keep their four points lead on second in the table Heartlands Club who went one better with an 8-1 win at Emerald Club. Despite the four points disadvantage Heartlands do have a game in hand on the leaders as do third placed Sheldon Marlborough Flights who are a further two points adrift after a 5-4 win at Cob's Bar.
———————————
With a 5-2 win over Emerald Club and a similar result against Crown Jewels in a rearranged fixture Journeys End Lions took their winning run to eight games and at the midway point of the season opened up a six points lead at the top of the Camp Hill League. Journeys nearest rivals Holy Souls had a close 4-3 home win over fourth placed Cotterills Lane Club who are on the same ten points as Holy Souls, third placed Tyseley WMC and fifth in the table Crown Jewels.
———————————
There were wins for the top six teams in the Stourbridge and District Monday Night League with big wins for the top five as three of them handed out 9-0 whitewashes. Leaders Ten Arches 'B' won 8-1 against Crestwood, while the second, third and fourth teams Ten Arches 'A', Gate 'B' and Brickmakers Arms in turn won 9-0 against Garibaldi, Old Cat, Wordsley and The Swan. The Bridge Kingswinford in fifth place beat Fox Inn, Lye 7-2 and Gate 'A' who are sixth had a close 5-4 verdict at Church Tavern.
The top two teams, Ten Arches 'B' and Ten Arches 'A' are both on 66 points with a lead of eight over third placed Gate 'B'.
———————————
The Brierley Hill Friday Night League fixtures brought together the league's top two teams with leaders Brickmakers Arms 'A' hosting second placed Netherton Cricket Club 'A'. The outcome was a convincing 6-1 win for Brickmakers Arms 'A' to give them a six points lead with just five games to play.
There was a rare win for Britannia only their sixth in seventeen games as they won 5-2 against Pensnett Welfare Club 'B', they move up one place from next to bottom over Delph Bell who lost 6-1 at Netherton Cricket Club 'B' to leave them two points behind Britannia.
———————————
Coventry Bishopsgate, runners up in last season's Warwickshire Men's Super League after eight games have an eleven points lead and a game in hand at the top of this season's table over second placed Rugby who finished the last campaign in a mid-table position.
Stratford Yard of Ale are in third place on 46 points, five short of Rugby but with a game in hand.
———————————
The Brierley Hill Monday Night League staged the finals of their Pete Dabnor Memorial Cup and in the semi finals Roebuck beat Mount Pleasant 5-4 and Dudley Ex Serviceman's Club won 8-1 against New Talbot. Dudley Ex Serviceman's Club emulated their last four result in the final winning 8-1 against Roebuck to make it a league and cup double.
———————————
There were 6-3 wins for the top two teams in division one of the Pip Club League, Queens Head holding on to top place with their win over Dolphin Wanderers while second in the table The Office, who are two points behind Queens Head but with a game in hand beat Birchmoor Club who are placed fourth on six points, four off the top but just one adrift of third in the table Belgrave Club.
In division two Red Lion are leading the way on eight points, their latest success being a 9-0 win at bottom of the table Mercian. Red Lion's nearest threat comes from Old Liberal House who are on the same eight points following their 8-1 win over Kettlebrook Club
———————————
Club Dudley were the only losers in week ten of the Sedgley and Gornal Tuesday Night League as they went down 6-3 away to table toppers Parkes Hall who held on to their two points advantage over both second and third placed Old Bulls Head and Ashwood who in turn won 8-1 against White Lion and 6-3 against Hilly House.
The league also played off the final of their Team Knockout at the Jolly Crispin in which the two current top teams in the league Parkes Hall and Old Bulls Head did battle against each other. The result was a clear cut 8-1 win for Old Bulls Head who are still in line for making it a double with the league title still within their grasp.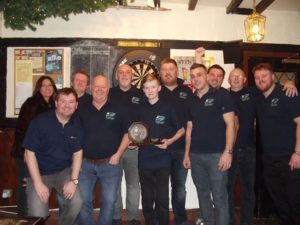 Winners Old Bulls Head
———————————
The Shirley and District Monday Night League played off what was their eighth annual singles knockout at their new league headquarters Shirley Legion which attracted no fewer than 46 players.
The quarter finals saw Paul Higgins impressive run come to an end when he lost 2-0 to an in form Bob Nixon. Also winning 2-0 were John Sidwell and Dan Rycroft who in turn took out Phil Thomas and Trevor Carter. Making up the last four was Wayne Clarke who beat fellow Solihull Sports Club player Brian Lawton 2-1.
The format in the semis changed to the best of five legs with Bob Nixon beating Wayne Clarke 3-1 and John Sidwell winning 3-0 against Dan Rycroft to set up an all Dunky's Boys final.
Playing the best of seven legs Nixon won the opening three, Sidwell staged a fight back and won the next two but a win in the sixth for Nixon gave him the 4-2 result, title and the winners £70. As runner up Sidwell collected £22 and there was £10 for losing semi finalists Clarke and Rycroft.
———————————
With leagues closing down for the Christmas / New Year period there were many knockouts played throughout the area and here are reports for a few of those.
A total of 49 players turned up at the Ashwood Inn, Wordsley for the Stourbridge and District Knockout and taking the top prize of £100 was Jamie Barrowman who clinched the title with a final 4-1 victory over David Edwards. Barrowman was in top form in the final recording a perfect six darts leg with a 152 break and 149 finish.
In the last four games Barrowman beat Ash Marson 3-1 while Edwards was taken to a deciding leg by Gavin Moreton.
As runner up Edwards received £50 and there was £25 for the last four losers Marson and Moreton. Losing quarter finalists M.Bayliss, M.Davis, K.Sprague and S.Skidmore each collected £12.50.
———————————
In the Coventry Christmas Open Doubles Knockout an encouraging 32 pairs did battle for the title.  There were some very difficult pairings throughout but it was Mike McFall and Phil Locke who took the honours with a fine 4-2 win over Mark Strong and Wayne Bowes in the final. Both duo's had tough semi final ties with Strong and Bowes defeating Dave Honey and Richard Hosey while McFall and Locke took out Adam Smith-Neale and Anthony Allen.
A total of £480 was paid out with the winners receiving £200, runners up £100, semi finalists £50 and £20 for the losing quarter finalists.
A total of 72 players entered the singles knockout with some outstanding games along the way. In the quarter finals Mark Strong lost out to Dave Pallet by four legs to two, Mike McFall edged out Tom Baughan by the odd leg of seven, Ted Evetts won 4-1 against Mark Craddock and with the same scoreline Ian Jones defeated Jamie Robinson.
Pallett wasted no time in his last four game against McFall as he booked his final place with a 4-0 result Jones not far behind with a 4-1 win over Evetts. And 4-1 was the result of the final as Pallett defeated Jones to pick up the winners £300 prize money. Jones received £150 as runner up and there was £70 for the losing semi finalists plus £30 for each of the players making the last eight.
———————————
The Black Country Premier Darts League Christmas Knockout way surpassed expectations as no fewer than 95 players turned out to do battle for the top prize of £210.
The final was an all West Midlands affair with county team mates Dan Nicholls and Ian Jones squaring up to each other. The result was a 4-1 win for Nicholls with runner up Jones receiving £100. Losing semi finalists Lewis Law and Reece Colley took home £50 each while there was £15 for Rob Smith, Michael Smith, Grant Jackson and Carl Snelus who all made their exit in the quarter finals plus £5 for all players losing out in the last sixteen.
The event also raised a terrific amount of £85 which will go to the Air Ambulance.
———————————
A total of 71 players entered the Allens Sports Bar Christmas Knockout with some top class battles throughout the event but at the end of the day the £200 first prize went to West Midlands man Nick Fullwell who won the final against Reece Colley 5-4.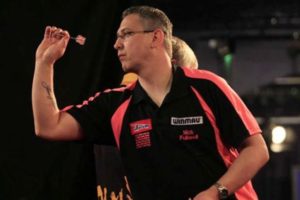 Winner Nick Fullwell
Fullwell had booked his final place with a somewhat comfortable 5-0 win in the semis against Neil Smith while Colley won his tie with Richard Foster 5-1.
As losing finalist Colley received £120, there was £50 for losing semi finalists Smith and Foster plus £25 for Alfie Jacques, Rob Smith, Jamie Hughes and Owen Maiden who all lost in the quarter finals.
———————————