What a year 2017 has been for the West Midlands Darts Organisation, winning promotion from Division One to the Premier Division of the BDO Inter County Championships and then establishing themselves in the Premier to end the year in a very respectable fourth position in the table.
To round off the year West Midlands had an away fixture against Cambridgeshire and it got off to a fantastic start thanks to the ladies 'B' side. On first for the ladies was Shellbie Simmons who made short work of her opponent Hannah Rampley when she won in three straight legs. At number two and doubling the away teams lead was Jacqueline Maiden who also won in just three legs against Casey Hill but in the process made it three consecutive lady of the match awards when she chalked up a superb 22.10 average.
Making it 3-0 with a third 3-0 result was Shannon Hall who accounted for Liz Humphries. Then as early as the fourth game the match was won by the West Midlands as Kath Jenkins added her 3-1 win over Fiona Coker to the tally.
The score looked as though it would be increased to 5-0 when Kim Fellows won the opening two legs against Wendy Ickin but unfortunately finishing doubles proved to be elusive in the following three legs and Ickin won the tie 3-2.
Debbie Melton appeared as though she would add to Cambridgeshire's account when she twice took the lead against Grace Angell but it was the West Midlands player who won the last two legs for a 3-2 win and a 5-1 success for the team, their first win of the season.
The men's 'B' side were unable to emulate the start that the ladies had as Matthew Dicken lost 4-2 to Iain Styles after he had twice taken the lead and Christopher Williams after coming from 3-1 down to 3-3 against Andrew Hircock lost 4-3.
Paul Wells was made to fight all the way by Matthew Wing for a 4-3 win as Wing won the first leg then Wells took a 3-1 lead only to be pegged back to 3-3 before clinching his win in the final leg. Alfie Jacques was another West Midlands man to be taken the full seven legs distance in another see-saw game which saw Jacques go 2-0 up then his opponent Aaron Baker take a 3-2 lead. However it was Jacques who won the last two legs for another close 4-3 win for the away side to level the game at two each.
Terry Redhead restored Cambridgeshire's lead when he came from one down to Sam Guest to win 4-1. Paul Price (West Midlands) won the first two legs against namesake Paul Wade only to see Wade win the next three legs and although Price won the sixth Wade wrapped up his win in the final leg to give the hosts a 4-2 lead at the break.
The second half got underway with Robert Smith clinching his second successive man of the match award for the Midlanders. Smith beat Martyn Moore in four straight legs with legs of 21,15,20 and 15 darts for a 28.23 average. Then squaring the game at 4-4 was Adam Edgar who after losing the opening two legs to Paul Wenn went on to win 4-3.
For the first time in the match the West Midlands took the lead in the tenth game when Shane Price beat Gary Robertson 4-1 and with a further 4-3 win for Neil Pointon against Brian Reed West Midlands men's 'B' were in with a chance of recording their second win of the campaign. Alas a win was not to be and they had to be content with a second consecutive draw as home player Connor Arberry with the 4-1 defeat of Richard Platt made it six each.
Sarah Roberts who won five of last season's match awards made it two in four from the current season when she opened the ladies 'A' account with a 3-2 win over Sandra Greatbatch, Sarah coming from one down and then 2-2 to win the game with a 21.55 average. Gemma Barrett made it 2-0 to the West Midlands when she added a straight 3-0 win over Karen Stanhope to the Midlanders tally but from there on in it was all Cambridgeshire. Nadine Bentley after going 1-0 and 2-1 down to Heather Wright went on to win 3-2, Barbara Greatbatch won 3-0 against Sophie Singh, Jane Judges had a 3-1 win over Lisa Badger and Diane Nash gave the home team a 4-2 win with her 3-2 success over Shannon Hall in the final game.
The men's 'A' team had a tremendous start as Nick Fullwell won 4-1 against Tony Holland, Jonathan Platt beat Barry-John Paget 4-3 after losing the first two legs, Ash Khayat had a 4-2 win over Matt David and taking the score along to 4-0 was Liam Kelly who after losing the first leg to Eddie Martin stepped up a gear to take the following four legs in 18,15,16 and 19 darts giving him a top average of 29.92 and his second match award in four games.
Ian Withers was the home team's first winner when in the fifth game he defeated Dean Mills 4-0 and with the 4-1 defeat of Michael Baker by Chris Sands-Pearce West Midlands advantage was reduced to 4-2 by the midway point of the match.
On first for the West Midlands in the second half was Dan Nicholls who took the score along to 5-2 with a 4-1 win over Ashley Coleman. Gavin Baker lost the first three legs to Stuart Ward and although he pulled back to 3-3 lost the decider and Ward took the 4-3 win
Game number nine was another seven games affair with Glen McGrandle (West Midlands) going 2-0 up only to see John Imrie win the next two to draw level. McGrandle went ahead again in the fifth but for a second time Imrie wiped out his lead to put the score at 3-3. Both players recorded three three figure scores in the decider but it was the Midlands man who found double eight to claim the 4-3 win and ensure at the worst a draw for his team.
Paul Wade kept Cambridgeshire in the hunt when he won 4-1 against Mark Craddock and when Dennis Harbour beat Ian Jones 4-3 in the penultimate encounter the result was then all dependant on the final game of the weekend.
First blood went to Brett Claydon when he won the opening leg against Scott Baker, however Baker fought back to open a 3-1 lead and despite losing the fifth leg he wrapped up a 4-2 win with a superb 101 game shot to give the West Midlands men's 'A' team a 7-5 victory.
The overall result for the weekend was a 20-16 win for West Midlands which consolidated their fourth position in the table giving them a total of 82 points only one short of third placed Glamorgan's 83.
Full Results: Cambridgeshire v West Midlands (16-20)🙁Cambridgeshire names first):Men's 'A':- Tony Holland 1 Nick Fullwell 4, Barry–John Paget 3 Jonathan Platt 4, Matt David 2 Ash Khayat 4, Eddie Martin 1 Liam Kelly 4, Ian Withers 4 Dean Mills 0, Chris Sands-Pearce 4 Michael Baker 1, Ashley Coleman 1 Daniel Nicholls 4, Stuart Ward 4 Gavin Baker 3, John Imrie 3 Glen McGrandle 4, Paul Wade 4 Mark Craddock 1, Dennis Harbour 4 Ian Jones 3, Brett Claydon 2 Scott Baker 4, Men's 'B':- Ian Styles 4 Matthew Dicken 2, Andrew Hircock 4 Christopher Williams 3, Matthew Wing 3 Paul Wells 4, Aaron Baker 3 Alfie Jacques 4, Terry Redhead 4 Sam Guest 1, Paul Wade 4 Paul Price 3, Martyn Moore 0 Robert Smith 4, Paul Wenn 3 Adam Edgar 4, Carl Dockerill 4 Gareth Watts 1, Gary Robertson 1 Shane Price 4, Brian Reed 3 Neil Ponton 4, Connor Arberry 4 Richard Platt 1, Women's 'A':- Sandra Greatbatch 2 Sarah Roberts 3, Karen Stanhope 0 Gemma Barrett 3, Nadine Bentley 3 Heather Wright 2, Barbara Greatbatch 3 Sophie Singh 0, Jane Judges 3 Lisa Badger 1, Diane Nash 3 Shannon Hall 2, Women's 'B':- Hannah Rampley 0 Shellbie Simmons 3, Casey Hill 0 Jacqueline Maiden 3, Liz Humphries 0 Shannon Hall 3, Fiona Coker 1 Kath Jenkins 3, Wendy Ickin 3 Kim Fellows 2, Debbie Melton 2 Grace Angell 3.
———————————
On the local darts scene the Shirley Red Lion Premier League played a knockout comprising of four groups with two players going through to the finals from each group.
In the last eight Mark Gwalchmai took out Lee Harris, Paul Higgins beat Steve Heeks, Chris Thomas lost to Sean Talbot and Mikey Harris defeated Mark Henderson.
The semi-finals saw Paul Higgins edge out Mikey Harris while Mark Gwalchmai produced the performance of the night against Sean Talbot hitting a 171 score on the way to a 12 darts leg.
Higgins won the first leg of the final only to see Gwalchmai with a maximum take the second. From a 78 outshot Gwalchmai had one dart at double twenty to clinch the title but after he missed Higgins stepped up to check out on double twelve for a very close 2-1 win.
The league also staged three knockouts on their presentation night, the first being the '£50 Shoot Out' for the league's top four players, unfortunately due to ill health runner up Steve Sidwell was unable to attend so in stepped fifth placed Lee Harris. The semi-finals saw a high quality standard with league champion Tom Bent edging out Lee Harris whilst Mark Henderson started his semi-final with a 180 only to see Mark Gwalchmai hit back with finishes of 116 and 100 and then take the fifth leg and book his place in the final.
The high quality darts continued in the final Mark Gwalchmai winning the first two legs Tom Bent replying by winning the next two. Gwalchmai looked all set to collect the £50 top prize until Bent produced a sensational 153 checkout.
The 'Win your £20 entry fee back' play off between the league's bottom four players was a hard fought affair too, in the semi-finals Nick Walker and Karl Wilson won 3-0 in turn against Tim Lowe and Noreen Harris.  The final was a very close affair Nick Walker taking the honours with a 3-2 result.
Thirteen players did battle in the Singles Knockout with the eight players taking part in the two previous knockouts excluded. The semi-finals both went to a deciding leg with Tony Daly beating Sean Talbot and Dave Heighway taking out Andy Thomas, the final result going to Tony Daly.
———————————
The Forest of Arden Winter League's Doubles Knockout attracted an inspiring seventeen pairs and wrapping up the title with a final 2-1 win over Jason Jennings and Luis Barberan were John Sidwell and Bob Nixon.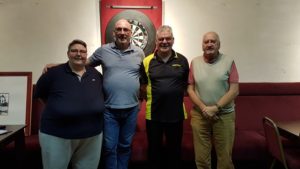 Sue Kingdon (Organiser), John Sidwell and Bob Nixon (Winners) plus Trevor Edwards (Treasurer).
In the last four games Sidwell and Nixon won 2-1 against Jake Webster and Ricky Lawrence while Jennings and Barberan had a straight 2-0 win against Pete Yardley and Jimmy Norris.
———————————
In the Netherton Thursday Night League's Andy Bastable Trophy Hill and Cakemore who finished the season bottom of the table pulled off a fantastic 5-3 win over league champions Dudley Ex Serviceman's Club while the League Shadow Cup was won by Delph Bell who beat Townsend Club 5-4.
Winding down the season the league staged various finals which saw Townsend Club reversed the previous week's 5-4 defeat to Delph Bell in the final of the League Shadow Cup by beating the same opponents by the same margin in the Andy Bastable Shadow Cup final. The game went to the very last leg with Townsend taking their chance on the doubles to deny The Bell a second cup final win.
The Captain's Cup was won by Simon Purcell (Riddins Tavern) who clinched the title with a final 2-1 win over Colin Hickman from Dudley Ex Serviceman's Club.
Both semi- finals were won 2-0, Purcell beating Matt Hall (Delph Bell) and Hickman winning against John Green (Fairfield).
———————————
The Brierley Hill Monday Night League played the finals of their League Cup in which the semi-finals produced two shock results, both games finished with close 5-4 scorelines as league champions Dudley Ex Serviceman's Club were taken out by Delph Bell who narrowly lost the league title to their opponents and in the other game Mount Pleasant who finished the season in fourth place lost to Roebuck who ended their campaign eleventh in the table.
The final saw Delph Bell turn up the pressure and romp to an 8-1 victory.
In the Singles Knockout taking the title with a final straight 3-0 win over H.Wakefield (Brickmakers Arms) was R.Powers representing Dudley Ex Serviceman's Club.
The last four games saw Powers beat L.Davies (Lamp Tavern) 2-0 while Wakefield was taken to a deciding leg by J.Glazzard (Roebuck).
———————————
Champions of the Hilltop Friendly Tuesday Night League Dewdrop completed their season with a 4-3 win at Island Inn which cost the losers the runners up spot as they dropped behind Wagon and Horses on average after Wagon won 6-1 away to wooden spoon winners Hayes Social.
The final of their Doubles Knockout saw Graham Parker and M.Bowen beat reigning champions Tony Kennedy and John Wright to take the title.
In the semi-finals L.Sherwood despite losing 2-1 registered a 170 maximum checkout in his winning leg.
———————————
A 5-4 home defeat for The Bell by Fairfield in the Rowley Monday Night League was immaterial as the hosts had already won the title with 56 points. Ex Serviceman's 'A' took the runners up spot, their final game of the season seeing them bow out with a bang as they handed out a 9-0 whitewash to their hosts Loyal Lodge who take the wooden spoon with just two wins in their 30 games.
———————————
ECC 'A', champions of the Tettenhall Wednesday Night League rounded off their season with a 6-1 home win over Swan Compton to finish eight points ahead of runners up Whitmore Reans WMC who had a final 4-3 win against The Bull.
Taking the wooden spoon was Dog and Partridge who finished with 14 points from their 33 games, three fewer than the team above them Jones Road.
———————————
The winners of the Cradley Tuesday Night League 5 A-Side Knockout were Shaun Hill, Bryan Pearsall, Carl Newton, Mark Rutter and Michael Roberts while the 3 A-Side title went to Jeff Batham, Alf Turley and Carl Penzer.
———————————
After just one week off the top of the division one doubles section of the Wolverhampton Tuesday Night League Riley's 'B' with a 2-1 win over Wednesfield Conservative Club in the final fixture of the season replaced their 'C' team at the top of the table to take the title. The division two doubles title went to Wednesfield Legion.
In the singles sections Riley's 'C' won division one and the division two title went to Dog and Partridge.
———————————