Unfortunately the adverse weather conditions played a big part in our local darts league fixtures last week with many games having to be called off and the snow in some instances being the biggest winner, however for those that did play the reports are as follows.
———————————
Division one of the Four Oaks and District League produced a dramatic top of the table tussle between leaders Royal Sutton Flights and second placed The Boat. The Boat took the early 3-1 lead but Flights rallied to level the match at three all. Boat won the next game to move to within an ace of victory only to lose the final two games and give Royal Sutton Flights the 5-4 result and at the same time inflict a first defeat in six on The Boat. The win has opened up a two points lead for Royal Sutton while Boat in second place have a two points advantage over their nearest rivals Golden Hind who won their home tie with fourth placed Old Oscott Arrows 6-3.
At the other end of the division one table The Boot chalked up their first win in six, a 5-4 victory over the team just above them Drakes Drum, however despite the win Boot remain rooted at the foot of the table.
Division two leaders Red Lion had a bye in week seven, second in the table Bishop Vesey won 6-3 at Old Oscott WMC and third placed Pint Pot Flights returned from Plough and Arrows with a narrow 5-4 win to put all of the top three teams on eight points
Oscott Social beat Brookvale Social 6-3 to top the third with a perfect score of twelve points from their six games. Oscott have a two points lead over second in the table Boldmere Tap who won their home tie against Sutton Sports and Social convincingly with an 8-1 scoreline.
M.Corfield (Erdington Arrows) and R.Lloyd (Rosey Mac's) both hit a 180 this week while S.Pritchett (Golden Hind) and W.Mynard (The Boat) notched their second maximum of the season. S.Paling (Royal Sutton Flights) scored 177.
Full Results:Match 7:Division One:- Golden Hind 6 (S.Pritchett 120b,180,100, S.Shorthouse 100, K.Lumby 107b,102,100,140, G.Kimberley 100b,100,139,140, W.Naylor 136b,100, D.Pickering 100b,140) Old Oscott Arrows 3 (D.Page 4×100, M.Compton 100, B.Hoare 121,114, E.Atkins 100,2×140, A.Lea 120,150,100,125), Royal Sutton Flights 5 (C.Perry 100b,120b,140, R.Hawker 140,3×100, M.Wild 120b,135,140, S.Paling 177,2×140,135, J.Liggins 100,133) The Boat 4 (N.Clarke 100b,139,125,2×100, W.Mynard 180, K.Deeley 2x108b,2×100, K.Reynolds 137, M.Archer 111b, M.Partridge 4×100), Drakes Drum 4 (K.Brown 100, J.Cox 100, A.Day 2×100,135, S.Spink 105b, J.Clarke 142b,108b, A.Lilley 2×100,125) The Boot 5 (J.Kavanagh 100, R.Kavanagh 101, T.Tyrie 115b,100,8 darts game, P.Locke 2×100,129, P.Opieler 100, G.Gaughan 101,125,100), Division Two:- Old Oscott WMC 3 (D.Parsons 2×140,100, J.Rogers 145, D.Munge 100, A.Cole 125,102, R.Bennett 2×100, J.Tolley 119) Bishop Vesey 6 (M.Hall 100,125, N.Smallwood 105b,120b,140,100, D.Sammons 100, M.Norton 105,2×100, N.Sammons 108b,100,101, C.Sammons 100, S.Holmes 120b,100), Plough and Arrows 4 (N.Robbins 2×100, G.Baxter 121, T.Evans 100, P.Smith 101b,105b,3×100, P.Robbins 100, I.Taylor 112b,100, J.O'Connor 100, R.Davies 100b,138) Pint Pot Flights 5 (M.Healey 109b,125, M.Bruin 137, R.Mercer 135,100,140, J.Moon 121, A.Clarke 120,100,140, M.Bagnall 120b), The Fox 6 (J.Cronin 100, M.Horacek 125, A.Sargeant 100, R.Stanton 120b,100,102,129f, S.Hughes 100, S.Wilson 121, M.Naylor 115b,2×100,125,115) Erdington Arrows 3 (J.West 105b,100, M.Corfield 180,125,131,140, M.Kenny 140,2×100, R.Bazeley 100), Division Three:- Boldmere Tap 8 (J.Hunter 2×100,114,125, P.Bromley 100, A.Gough 2×100) Sutton Sports and Social Club 1 (G.Hinett 100, C.Batt 100,125), Brookvale Social 3 (J.Yates 2×100, R.Kelly 100, S.Lysaght 120b,100,137, A.Swadling 100, D.Burden 100) The Oscott Social 6 (P.Willis 140,100, D.Shannon 120b,100, P.Graham 137,100,140,112f, G.Bushell 160b,2×100, D.Haskins 100), Lad In The Lane 4 (A.Linehan 100,140, J.Averill 100, M.Clarke 100b,119, L.Cooksey 110b,100) Rosey Mac's 5 (S.Wright 105, L.Shorthouse 125, F.Harris 100, R.Lloyd 180, E.Groves 100b,121, D.Jarvis snr 100), St Thomas's Social Club, Red Lion and St Thomas's Arrows all had byes.
———————————
There were 2-1 and 3-0 wins for both of the top two players in the Erdington Red Lion Double Top League in week nine. Leader Will Naylor kept his title hopes on track when he opened up with a 2-1 win over Micky Wilde and followed that with a 3-0 success against Clive Austin to give him a total of 45 points from his 17 games. Second in the table Dean Bayliss also began the night with a 2-1 win in his fixture with Lee Austin and then added a 3-0 win over one time leader Jim Frost to leave him eight points behind Naylor.
Hot on the heels of Bayliss is Matthew Cain and Lewis Bayliss who are both just two points behind him, Cain beat John Frost 2-1 and then won 3-0 against Micky Wilde while Lewis Bayliss had 3-0 wins over both Richard O'Grady and Clive Austin.
Fifth placed Jim Frost is on 34 points only one fewer than the two players above him, he beat Steve Cain 2-1 before falling to Dean Bayliss.
Full Results:Week 9:- Will Naylor 2 Micky Wilde 1, Dean Bayliss 2 Lee Austin 1, Ryan Barritt 2 Micky Wilde 1, Matthew Cain 2 John Frost 1, Lewis Bayliss 3 Richard O'Grady 0, Clive Austin 0 Will Naylor 3, John Frost 2 Ryan Barritt 1, Micky Wilde 0 Matthew Cain 3, Jim Frost 2 Steve Cain 1, Lewis Bayliss 3 Clive Austin 0, Richard O'Grady 0 Lee Austin 3, Micky Wilde 2 Steve Cain 1, Jim Frost 0 Dean Bayliss 3.
———————————
It was top versus bottom in week eight of the Small Heath League when leaders East Birmingham Allotment Holders Association travelled to take on Sheldon Marlborough Arrows. With a maximum from Terry Constable the result was an emphatic 8-1 win for E.B.A.H.A. to take their unbeaten run to seven games and put them two points ahead of Heartlands Club whose game with Cob's Bar was cancelled.
The other game played also finished with an 8-1 scoreline as Wagon and Horses accounted for Emerald Club.
Full Results:Week 8:- Sheldon Marlborough Arrows 1 (K.Gold 100, D.Howlett 100, R.Turner 127) East Birmingham Allotment Holders Association 8 (Matt Cooper 100, C.Wyatt 105b,2×100, T.Constable 100,180, N.Davis 2×100,121, L.Robinson 100,121), Wagon and Horses 8 (M.Tilley 3×100, J.Phipps 104, B.Bailey 100, D.Rivitt 100) Emerald Club 1 (R.Fisher 100).
———————————
There was only one result from the Camp Hill League which saw Wagon and Horses move up two places in the table to sixth after beating Emerald Club 4-3.
Full Results:- Wagon and Horses 4 Emerald Club 3.
———————————
The Brierley Hill Monday Night League staged the quarter finals of their Pete Dabnor Memorial Trophy in which Mount Pleasant and Dudley Ex Serviceman's Club were the top scorers as in turn they won 6-1 against Brickmakers Arms and Delph Bell. Not far behind were Roebuck and New Talbot who with closer 5-4 results defeated respective opponents Dudley Sports and Pensnett Liberal Club.
Full Results:Pete Dabnor Memorial Trophy:Quarter Finals:- Mount Pleasant 6 Brickmakers Arms 3, Dudley Sports 'B' 4 Roebuck 5, New Talbot 5 Pensnett Liberal Club 4, Dudley Ex Serviceman's Club 6 Delph Bell 3.
———————————
Don't miss out on some extra Christmas spending money tomorrow night (Thursday 21st December) the Winmau Darts Centre in the Wolverhampton Indoor Community Sports Arena, Racecourse Road, Wolverhampton, WV6 0QU will be staging a pre-Christmas knockout with a guaranteed £100 first prize for just a £5 entry fee, plus all monies paid in will be paid out in prize money, there is a 7-45 deadline for registrations with an 8.00pm start.
———————————
It was cup week in the Pip Club League, first the Open Cup in which there were a couple of surprise results as division two teams Old Liberal House and Pip Club in turn beat division one opponents Globe (Wilnecote) and Kettlebrook Club. Division one leaders The Office took out Dolphin Wanderers and second in the table Queens Head won against third placed Birchmoor Club.
The league have introduced a new competition into their itinerary in memory of one of the league's former players and officials the John Young Cup which in the opening round saw wins for Belgrave Club, Sports Bar '180' and Wigginton Arms against respective opponents Mercian, Dolphin and Red Lion, Progressive Club had a bye.
Full Results:Open Cup:- Globe (Wilnecote, Steve Pulley 108b) lost to Old Liberal House, Queens Head Beat Birchmoor Club (Mark Young 120b), Dolphin Wanderers (Simon Caswell 180) lost to The Office, Pip Club (Ash Luckman 126f) beat Kettlebrook Club, John Young Cup:- Belgrave Club beat Mercian, Sports Bar '180' beat Dolphin, Wigginton Arms (Cliff O'Connor 116b,180, John Prette 120b, ) beat Red Lion, Progressive Club had a bye.
———————————
Week seventeen in the Brierley Hill Friday Night League certainly had more than its fair share of shock results as third in the table Pensnett Welfare Club 'A' lost 4-3 away to seventh in the table and local rivals Pensnett Welfare Club 'B', fifth placed Fox Inn 'B' (Lye) won 6-1 against Miners (Wollescote) who are fourth and sixth placed Brickmakers Arms 'B' lost 5-2 at home to Netherton Cricket Club 'B' who are ninth in the table. In addition to all that Britannia who are next to bottom of the table won 4-3 away to Dudley Sports who are some three places above them.
There were 6-1 wins for the top two teams, leaders Brickmakers Arms 'A' winning at Delph Bell and second placed Netherton Cricket Club 'A' beating Fox Inn 'A' (Lye) to retain the two points difference between the two teams.
Full Results:Week 17:- Pensnett Welfare Club 'B' 4 Pensnett Welfare Club 'A' 3, Dudley Sports 3 Britannia 4, Netherton Cricket Club 'A' 6 Fox Inn 'A' (Lye) 1, Delph Bell 1 Brickmakers Arms 'A' 6, Brickmakers Arms 'B' 2 Netherton Cricket Club 'B' 5, Fox Inn 'B' (Lye) 6 Miners (Wollescote) 1.
———————————
The Sedgley and Gornal Tuesday Night League played off the semi finals of their Team Knockout and making their way to the final were Parkes Hall who beat Britannia 5-4 and Old Bulls Head who had a convincing 8-1 win over Five Ways.
Full Results:Team Knockout:Semi Finals:- Parkes Hall 5 Britannia 4, Old Bulls Head 8 Five Ways 1.
———————————
The Red Lion, Erdington staged their Christmas Knockout with players chasing a top prize of £250. The first of the semi finals brought together West Midlands County players Dan Nicholls and Nick Fullwell with Nicholls getting the 6-3 verdict. The second of the last four play offs saw another West Midlands player Ian Jones make his way to the final with a win over Warwickshire's Dave Honey.
In the all West Midlands final it was Dan Nicholls who clinched the title and top prize with a 7-5 result, Ian Jones collecting £100 as runner up.
There was £40 for losing semi finalists Fullwell and Honey while the losing quarter finalists Mike McFall, Charlie Symons, B.Hughes and Karl Reynolds each received £10.
Full Results:Preliminary Round:- Karl Reynolds beat Brendan Lysaght, Mike McFall beat Matthew Gallett, K.Deeley beat M.Partridge, Matt Padgett beatt Matthew Cain, Richard Hosey beat Kevin Bambrick, Ian Jones beat Will Naylor, Adam Gallett beat Trevor Collier, Nick Fullwell beat C.Wood, Round One:- Mike McFall beat P.Locke, Karl Reynolds beat R.Brush, Nick Fullwell beatt K.Bedder, Ian Jones beat Matt Padgett, B.Hughes beat Steve Gillam, Dan Nicholls beat Adam Gallett, Dave Honey beat K.Deeley, Charlie Symons beat Richard Hosey, Quarter Finals:- Dan Nicholls 5 Mike McFall 3, Nick Fullwell beat Charlie Symons, Ian Jones beat B.Hughes, Dave Honey beat Karl Reynolds, Semi Finals:- Dan Nicholls 6 Nick Fullwell 3, Ian Jones beat Dave Honey, Final:- Dan Nicholls 7 Ian Jones 5.
———————————
The Royal, Albrighton presented another of their increasingly popular knockouts which saw Pat Pace (Gnosall) pick up the winners top prize of £200 when he defeated Mark Smith (Bromsgrove) 6-1 in the final. Pace had made his way to the final with a 5-2 win in the semis against Dan Petty while Smith was taken to a deciding leg by Sam Hamilton (Telford) before winning 5-4.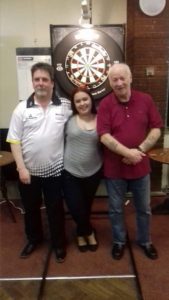 Mark Smith (Runner Up), Sophie Fawcett and Pat Pace (Winner)
As runner up Mark Smith collected £100 while Petty and Hamilton each received £35.
In the first round losers Plate Knockout Simon Mountford (Droitwich), with a 3-2 result beat Gaz Watts (Great Wyrley) to pick up the winners £35 prize money, Watts had £15 for his efforts.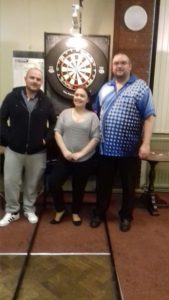 Gaz Watts (Runner Up), Sophie Fawcett and Simon Mountford (Winner)
Full Results:Losing Quarter Finalists:- Andy Hamilton, Scott Towers, Sam Guest, Nathan Morris, Semi Finals:- Pat Pace (Gnosall) 5 Dan Petty (Telford) 2, Mark Smith (Bromsgrove) 5 Sam Hamilton (Telford) 4, Final:- Pat pace 6 Mark Smith 1, Plate Knockout:Final:- Simon Mountford (Droitwich) 3 Gaz Watts (Great Wyrley) 2.
———————————
There will now be a break of two weeks over the Christmas and New Year in which there will be no darts column but please continue to send any results or information as normal as they will all be used in the first column of 2018 on Wednesday 10th January.
——————————–
I would like to thank all contributors and readers of this column for their continued support over the past year and wish everyone a Very Merry Christmas and a Happy and Healthy New Year and hope all of your wishes and dreams for the New Year come true.
———————————