In the first round of the Four Oaks and District League's Coronation Shield Red Lion and St Thomas's Social Club both opened up 3-0 leads from which they never looked back as Red Lion returned from Boldmere Tap with an 11-4 win and St Thomas's Social Club won 12-3 at Old Oscott WMC.
Despite some great darts from A.Lea who hit a maximum and six scores of a ton or more Old Oscott Arrows were unable to stop league leaders The Boat from winning 11-4, their only consolation was a 2-1 win in the final game.
In the Norman Day Cup Golden Hind from division one, with a maximum from S.Pritchett were far too strong for the third division's Lad In The Lane as they ran out 13-2 winners. Pint Pot Flights opened up an 8-1 lead in their game at St Thomas's Arrows and although the last two games went to St Thomas's Arrows the final score was 10-5 to Pint Pot Arrows.
———————————
The South Birmingham League had just one fixture for the preliminary round of the division one Divisional Cup which matched The Raven against the divisional leaders Erdington Members Club. As expected the 6-3 result went in favour of Erdington Members Club.
In the division two cup there was a straight four games play off which produced no major shocks as divisional leaders Iron Horse beat C's Flights 6-3, second in the table C's Arrows won by the same 6-3 margin against Chelmsley Conservative Club, third in the table The Dog won their home tie with The Kingfisher 7-2 and there was a similar 7-2 win for Toby Jug over Crown Jewels.
———————————
The Doubles Knockout was the order of the day for the Forest of Arden Winter League which attracted an encouraging seventeen pairs but wrapping up the title with a final 2-1 win over Jason Jennings and Luis Barberan were John Sidwell and Bob Nixon.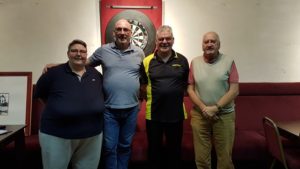 Sue Kingdon (Organiser), John Sidwell and Bob Nixon (Winners), Trevor Edwards (Treasurer).
In the last four games Sidwell and Nixon won 2-1 against Jake Webster and Ricky Lawrence while Jennings and Barberan had a straight 2-0 win against Pete Yardley and Jimmy Norris.
———————————
East Birmingham Allotment Holders Association took their unbeaten run in the Small Heath League to five games when they beat Cob's Bar 6-3 at the same time maintaining their two points lead over second in the table Heartlands Club who were 7-2 winners at Wagon and Horses.
In the local derby between Sheldon Marlborough Arrows and Sheldon Marlborough Flights it was Flights who got the 6-3 verdict to keep them in third place, two points behind Heartlands with a game in hand and leaving Arrows rooted to the bottom of the table without a win in four games.
———————————
In week six of the Erdington Red Lion Double Top League Will Naylor chalked up a vital win when he beat Dean Bayliss 3-0, that together with a similar result against Alex Downes giving Naylor a five point's advantage at the top of the table. Dean Bayliss recovered from his defeat to win 3-0 against Stuart Larvin, however his loss to Naylor cost him his number two spot and drops one place to third on 24 points six short of Naylor.
With 3-0 wins over Micky Wilde and Ryan Barritt, Jim Frost has taken over second place with a total of 25 points.
Clive Austin lost 3-0 to both Alex Downes and John Frost and drops four places to eighth on 18 points.
———————————
The Henley and District League's week six fixtures brought together the league's top two teams, leaders Studley Cricket Club and second placed Studley Conservative Club. The outcome was a 6-3 win for the home side Studley Cricket Club to keep intact their two points lead and 100% win record while the Conservative Club dropped two places to fourth behind second in the table Dorridge who won 8-1 at home against Wythall Legion and third in the table Wharf Swifts who had 5-4 home win over Wootton Bears.
The week produced no fewer than six maximums recorded by Chris Devlin (Wythall Legion), Paul Fackrell, Adrian Whadcoat (Studley Conservative Club), Adam Sutheran (Beausale), Steve Veitch (Wharf Swifts) and Robin Ridding (Wootton Bears).
———————————
Misfits hold on to pole position in the Winmau Centre Monday Night League after adding their latest 27-21 win over The Untouchables, who as a result drop one place in the table to third with 389 points some 52 short of the leaders.
Just The Tip take over second place their 37-11 win against Keep It In The Family putting them on 400 points, however they are still a huge 41 points off the top.
———————————
Dunky's Boys stay top of the Shirley and District Monday Night League after a 7-2 away victory over Red Lion but are only top on average as second placed Highwood won 5-4 at Drawbridge Bears and third placed Cider House beat their visitors Saracens Jesters 6-3 with Cider House man Matt McCallion the player of the night hitting a 180 and checking out on 156 in his singles game and then hit two further 180's in his doubles game. With the top three teams all on 16 points fourth and fifth placed Red Lion and Drawbridge Bears are both just two points behind them.
Plume of Feathers celebrated their first victory of the season with a 5-4 win over Shirley Golf Club to put them on the same 2 points as Shirley Golf Club and Shirley Spartac but they remain at the foot of the table with an inferior average
———————————
A 5-2 win at Wagon and Horses preserved Journeys End Lions 100% win record in the Camp Hill League and also kept intact their two points lead with a game in hand on second placed Cotterills Lane Club who won by the same 5-2 result at Devil's Club.
Biggest win of the week went to Holy Souls who handed out a 7-0 whitewash to Crown Jewels to cement their third place in the table just two points behind Cotterills with a game in hand plus a superior average.
———————————
The Warwickshire youth squad played their first home game of the season when they took on Clwyd in what was a first class encounter with the young Bears winning 9-6.
All three sections were won by the odd game, the Under 18's with wins from J.Ainsworth, B.Liggins, M.Cain and J.Liggins won 4-3 while the young ladies won 2-1 thanks to S.Emslie and C.Hine. The Under 21's had wins by C.Symmonds, J.Joyce and T.Mills to give them a 3-2 victory.
———————————
The Brierley Hill Monday Night League staged the finals of their League Cup in which the semi-finals produced two shock results. Both games finished with close 5-4 scorelines as league champions Dudley Ex Serviceman's Club were taken out by Delph Bell who narrowly lost the title to their opponents and in the other game Mount Pleasant who finished the season in fourth place lost to Roebuck who ended their campaign in eleventh position.
The final saw Delph Bell turn up the pressure and romp to an 8-1 victory.
———————————
The battle for the title in the Stourbridge and District Monday Night League continues between the two Ten Arches teams as the 'A' side hang on to their top of the table position with a somewhat close 5-4 win over Brickmakers Arms who drop one place to fifth, while the 'B' team with an emphatic 8-1 result accounted for Old Cat (Wordsley) to keep within two points of their local rivals.
Third placed Gate 'B' won their home game against Quarry Bank Conservative Club 6-3 but are eight points adrift of the leaders.
———————————
With the majority of teams having played seven games in the Main Division of the Pip Club League the three top teams are all level on 12 points. The Office with a 9-0 win over bottom team Mercian lead the way on average while  just one leg of average separates second and third placed Queens Head and Birchmoor Club.
In the Seeded One group Queens Head lead the way with 6 points from four games but second placed The Office are just two points behind with two games in hand. The Seeded Two group has Old Liberal House top of the pile with an unbeaten 6 points, second placed Progressive Club have a game in hand and are just two points adrift.
———————————
Brickmakers Arms 'A' kept their title hopes on track in the Brierley Hill Friday Night League when in week 14 they won 6-1 playing away against third in the table Pensnett Welfare Club 'A' to keep them two points ahead of second in the table Netherton Cricket Club 'A' who won by the same 6-1 scoreline at Miners (Wollescote) who are fourth in the table.
With some eight more fixtures to play it is looking more and more certain that the title will go to one of the top two teams as there is now a six point's gap between second and third place.
———————————
The Sedgley and Gornal Tuesday Night League have begun their Team Trophy League which has seen the league's sixteen teams split into four groups. With 6-3 wins Five Ways and Hilly House share the top spot in group one, a similar situation in group two where Club Dudley and Parkes Hall are top after both won 5-4.
Ashwood, in group three had an impressive 8-1 win over Jolly Crispin to put them top of the table while in group four it's White Lion who lead the way after a 7-2 win over Fellows Club.
———————————
A 5-4 home defeat for The Bell by Fairfield in the Rowley Monday Night League was immaterial as the hosts had already won the title with 56 points. Ex Serviceman's 'A' took the runners up spot, their final game of the season seeing them bow out with a bang as they handed out a 9-0 whitewash to their hosts Loyal Lodge who take the wooden spoon with just two wins in their 30 games.
———————————
After the opening four games in the Tamworth League The Office top the table with 34 points after their latest 5-2 win away to Belgrave Club. Second in the table Wigginton Arms 'B' won their home tie with Old Liberal House 7-0 to put them on 26 points from only three games while their 'A' team are third on the same 26 points but from four games.
———————————
It's as you were at the top of three of the four divisions of the Wolverhampton Tuesday Night League the only change coming in the division one doubles league where former leaders Riley's 'B' had a bye and as a result lost pole position to their local rivals Riley's 'C' who won 2-1 at The Bull to give them 42 points the same number as their 'B' side but with a better average, however the 'B' team now have a game in hand.
———————————
It was top half versus bottom half in the Wednesbury and Darlaston Wednesday Night League with all of the top half teams winning, leaders The Nutan won 5-4 at Horse and Jockey, second placed Black Horse beat Staffordshire Knot 'B' 8-1, third in the table Staffordshire Knot 'A' had a 6-3 win at Churhills 'A' and English Oak won their home tie with Churchills 'B' 5-4.
———————————