What a fantastic start to July for West Midlands man Scott Baker as first he and his team mate Dan Nicholls travelled to the Magna Centre, Rotherham to take part in the finals of the Gold Cup Pairs and actually went on to win the title, the first West Midlands representatives ever to win the competition.
In the best of seven legs semi finals both games went the full distance with Baker and Nicholls beating Josh Lewis and Mark Johncock while Cameron Menzies and Jim McEwan defeated Simon Stainton and Kev Tomlinson.
Still playing the best of seven legs in the final Scott Baker notched a couple of maximums while Dan Nicholls played his part with a 132 checkout and then in the fifth leg rounded off a super 4-1 win with a 119 game shot to proclaim he and Baker as champions with Menzies and McEwan runners up.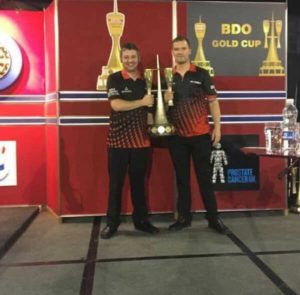 Winners Scott Baker and Dan Nicholls
Just one week later and following his historical win Scott Baker travelled to the Gateway Resort, Millenium Coast, Bynea, Llanelli SA14 9SN to participate in the 2017 Gateway Welsh Masters.
From a starting line up of 128 players Scott made his way through to the quarter finals with wins over Welshmen Steve Smith (4-2), Mitch Butler (4-2), and Mikey Rees (4-1) before beating English representative Scott Mitchell 4-2 in the group final.
In the last eight Baker squared up to Netherlands man Richard Veenstra who despite taking him to a deciding leg lost out 4-3. The semi finals produced an all "Black Country" affair when West Midlands Scott Baker faced former West Midlands player and currently playing for Warwickshire Jamie Hughes and to reach the final Baker recorded his biggest win of the tournament when he handed out a somewhat surprising 5-0 whitewash to Hughes.
From the other half of the draw Welshman Dean Reynolds emerged as Scott Baker's final hurdle. Reynoldshad made his progress with wins against Richard Langlois (4-2), Dan Cole (4-3), Mark Leyton (4-3) and in the group final Kevin Thomas (4-2), he then won 4-3 against James Hurrell in the last eight and booked his final place with a straight 5-0 success against Brian Dawson in the semis.
The final was extended to the best of eleven legs and went the full eleven legs distance with Scott Baker taking the final leg for a close 6-5 win, the title and the top prize of £3,000 with Reynolds receiving £1,200. Each of the losing semi finalists had £500, there was £200 for joint fifth, £100 for joint ninth and £50 for joint seventeenth.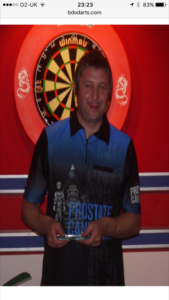 Scott Baker
———————————
Landywood 'A' handed out a 5-0 whitewash to Crown 'B' in their final game of the season in the West Midlands Men's Super League to give them a total 180 points, rounding off a superb season in which they secured the title, their third such win in four seasons.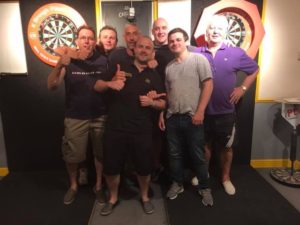 Champions Landywood 'A'
The champion's total of 180 points was four more than runners up and last season's champions Crown 'A' who ended their campaign with a 4-1 win over Landywood 'B'.
The Pheasant finished in third place with 174 points just two points less than Crown 'A' before a drop to 143 points for joint fourth teams Chillington and Ten Arches who finished level on points and average.
———————————
Landywood 'A' were also successful in the form of Shaun Carroll who from a field of 29 players in the West Midland's County qualifier for the World Professional Tournament at Gilberts Bar, Willenhall beat Dave Redding from Crown 'B' 4-1 in the final with a 30.12 average.
Both finalists came through a tough field, with Carroll's run to the final seeing him account for Chris Hickman (Allens Sports Bar 'B'), Rob Smith (Crown 'A'), Owen Maiden (Chillington) and Dean Mills (Duke of York) while Redding booked his final spot after wins over Luke Jones (Olde Queens Head), Mick Baker (Chillington), Wayne Willis (Allens Sports Bar 'A') and Chris Hill (Staffordshire Knot).
Gilberts Bar, Willenhall was the setting for the West Midlands play off of the Winmau World Masters and from a starting line-up of 39 players the four players going through to the regional qualifiers finals at Cambridge on the 27th August are Dan Haden (Crown), Dean Mills (Duke of York), Jamie Rollinson (Ten Arches) and Steve Gillam (Landywood), all four of them hoping to secure a place in the grand finals at Bridlington in September.
———————————
The Shirley Red Lion Premier League have completed their fixture card and finishing top of the table with 88 points was Paul Higgins who had already completed his programme before the last week of the season. Tom Bent began the final week in fourth place and although his evening didn't get off to the best of starts when he lost 3-1 to Antony Daly he quickly recovered to win 4-1 against Craig Johnson and complete his fixtures with a 3-1 success against Nick Walker to finish as runner up on 87 points, just one short of Higgins.
With the top four players going into a play off to decide the top four placings Mark Gwalchmai was fifth in the table with two to play, he won 4-0 against Mick Gorst and with a 3-1 win over Craig Johnson took his points tally to 86 and finished in third place. Making up the final four was Andy Thomas who had completed his fixtures the previous week and with 81 points despite dropping from second place to fourth made the final play off by being one point to the good on fifth in the table Lee Harris.
———————————
The inaugural Langley Hall Sports and Social Club's knockout attracted some first class Midlands darts players including the likes of Nigel Heydon, Jamie Caven, Ted Evetts, Ian Jones, Liam Kelly, Mike Mcfall, Nick Fullwell, Ian McFarland plus many more top players, all chasing the top prize of £500.
In the last eight Ian McFarlane and Mike McFall had close 4-3 win in turn against Jamie Caven and Liam Kelly, Ted Evetts won 4-2 against Nick Fullwell while Nigel Heydon had the biggest win of the round, 4-1 against David Pallett.
The semi finals saw both eventual finalists chalk up convincing wins, Heydon 5-0 against Ian McFarlane and McFall 5-1 against Ted Evetts.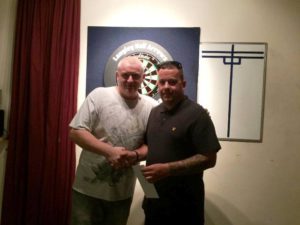 Semi Finalist Ian McFarlane and Jamie Carter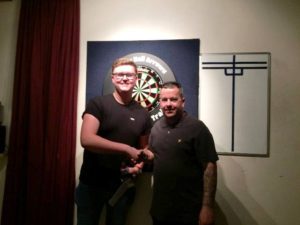 Losing Semi Finalist and Ted Evetts
The best of eleven games final saw Nigel Heydon beat Mike McFall 6-3 to clinch the top £500 prize with McFall receiving £200. Both losing semi finalists Ian McFarlane and Ted Evetts received £75.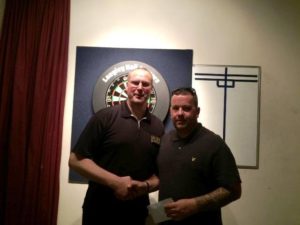 Winner Nigel Heydon with Organiser Jamie Carter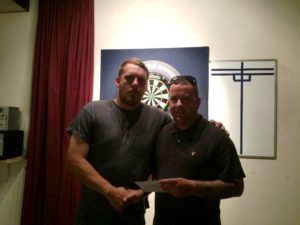 Runner Up Mike McFall with Jamie Carter
———————————
Darts players from the Red Lion, Shirley recently staged a charity 24 hours Dart-a-Thon in aid of Lupus UK, the very first such event put on at the Red Lion. The occasion proved to be hugely successful with the final amount raised being a little over £3,000 which all of the players and organizers are extremely proud of.
Due to the enormous success of the Dart-a-Thon plans are already being put in place for a second similar event with all concerned hopeful they will beat the previous amount raised.
———————————
The Camp Hill League played off their doubles knockout and clinching the title with a final win over team mates Neil Parsonage and Matthew Cooper (Cotterills Lane Club) were Colin Wyatt and Nigel Davis.
Losing semi finalists were Chris Stokes and Shay Darby (Holy Gulp) and Tom Humphries (Hay Mills Social Club Lions) and Bill Carter (Holy Gulp).
———————————
The Bilston and District League staged their Legends of the Oche competition which was restricted to signed league players only but paid out some big cash prizes. The best of three legs final went to the wire with Warwickshire county player Jamie Hughes just getting the 2-1 verdict over Tikey Gelder to give him the title plus the £200 top prize and Gelder £100.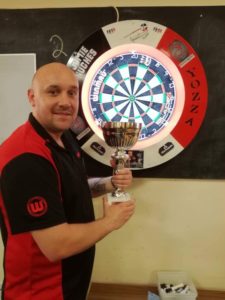 Champion Jamie Hughes
In the last four games Hughes beat Alfie Jacques while Gelder took out Cav Timmins each of the losing players picking up £50.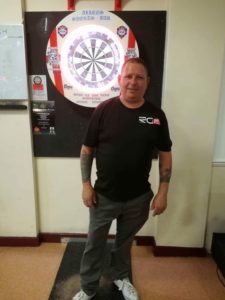 Runner Up Tikey Gelder
———————————
The division one play off for the Belgrave Cup in the Pip Club League saw Queens Head lift the title with a final win over Winning Post while the division two title went to Globe (Wilnecote) with Royal Oak runners up.
The division one Shadow Cup was won by Belgrave Club after beating Sports Bar '180' and in the division two final Old Liberal won against Progressive Club.
Winner of the division one singles knockout was Queens Head representative Adam Smith-Neale who in the final accounted for his team mate Sam Whittaker. Losing semi finalists were Daz Jones and Phil Daulman (Bulls Head 'A', Polesworth).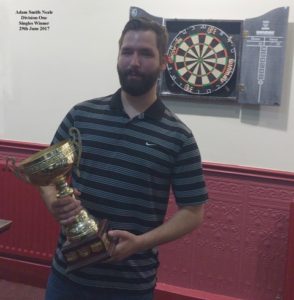 Adam Smith-Neale
The division two singles knockout final brought together Grant Harris (Wigginton Arms) and the Pip Club's own Mark Hollyoake with the title going to Hollyoake.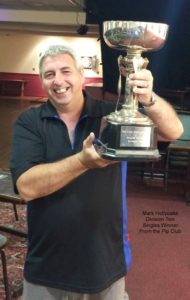 Mark Hollyoake
Losing out in the semi finals were Duncan Campbell (Progressive Club) and Paul Richards (Royal Oak).
———————————
The Wednesbury and Darlaston Wednesday Night League played off their Harry Tibbetts and Runners Up cups, in the former The Nutan beat Staffordshire Knot in the final while Horse and Jockey took the Runners Up title with Staffordshire Knot 'B' losing in the final.
———————————