The Red Lion, Shirley Birmingham routinely hosts two nights of darts every week. On Monday nights the representative team compete in the Shirley and District Darts League whilst on Thursday nights the venue hosts the Shirley Red Lion Premier Darts League, a league for individuals rather than teams, organised by Mark Gwalchmai who is a member of both leagues. Landlord Joe Baker has been incredibly supportive, making the room available and producing a quality four board set up that has also hosted various singles and doubles tournaments.
What was the challenge?
Three teams of six players attempted to score as many points as they could over a twenty four hour period, taking just five to fifteen minute breaks in each hour, so, this was both a physical and mental challenge as well as a darting one. The challenge was successfully completed by all eighteen players.
What was it for?
The event was put on to raise awareness and funds for the charity Lupus UK because two members of the Red Lion darts team are married to Lupus sufferers.
Who made it happen?
The driving force behind this event was Paul Higgins and he was well supported by his Red Lion darts colleagues, Joe Baker (landlord of the Red Lion) plus all the other players that took up the challenge at Paul's invitation
What happened?
This was the first charity darts event to be put on by the Red Lion and due to the enormous success of the night already plans are being made for a second event! The"Dart-a-Thon" took place between 6.00pm on Friday 26th May until 6.00pm the following day. Hopes were that the event would raise somewhere in the region of £1,000 but the indications are that the amount will top £3,000, thanks to the generosity and work of the eighteen players and everyone else who helped swell the funds.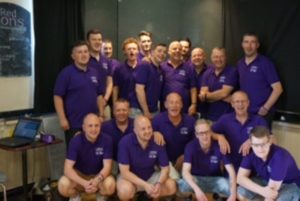 Red Lion Charity Fund Raisers
Final statistics were
TEAM
TOTAL

SCORE

DARTS

THROWN

AVERAGE

PER DART

AVERAGE

PER 3 DARTS

Red Lion

Young Guns

Misfits

422,202

398,970

364,203

20,919

20,826

18,492

20.18

19.16

19.70

60.55

57.47

59.09
INDIVIDUAL
TEAM
TOTAL

SCORE

DARTS

THROWN

AVERAGE

PER DART

AVERAGE

PER 3 DARTS

Tom Bent

Vince Lloyd

Paul Higgins

Red Lion

Misfits  Misfits

84,934

69,410

69,265

3,486

3,084

3,084

24.36

22.51

22.46

73.09

67.52

67.38
Vince Lloyd (The Misfits) and Mick Bown (Red Lion) hit the most maximums, a total of seven each.
———————————
On the local league front a final 7-1 home win over Pavillions gave Crown at Olton the premier division title in the Sheldon and District Winter League as the win took their points tally to 32 four more than runners up Mackadown Social who ended their programme with a 6-2 home win over The Pirates.
The division one title was close with Iron Horse Flights and Crown-Forget-Me-Not both finishing with 26 points, Iron Horse winning their last game and the division on average when they won 6-2 at Holy Souls while Crown won 5-3 at home against George 'V'.
The final game in division two produced a title decider between Shirley RBL Misfits and Lyndon Old Boys. Prior to the fixture there was just one point between the two teams, Shirley on 26 and Lyndon 25. The result was a hard fought 4-4 draw to give Shirley RBL Misfits the title.
Shadow league winners were Pavillions (premier), Sheldon Dukes (division one) and Small Heath Amateur Gardeners (division two).
———————————
The Crown at Olton staged a charity night in which a Sue Kingdon Select took on an Andy Hutchings Select in a bid to raise funds for a charity of Dave Duncan's choice, Dave himself very seriously ill.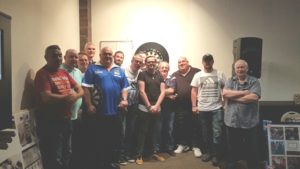 Sue Kingdon Select
The outcome of the night was a 10-4 win for Andy Hutchings team, the one doubles game between Duane Green and Richard Hills against Terry Blakemore and Dave Heighway finished 1-0 to Green and Mills but at the end of the evening the only result that mattered was that of the terrific amount of £1,000 which was raised from the event.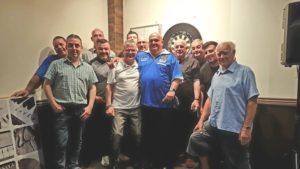 Andy Hutchings Select
———————————
The knockouts at the Royal, Albrighton are becoming more and more popular with entries increasing with each and every one. The latest knockout saw Dan Astbury wrap up the title and the top prize of £190 when he defeated Pat Pace in the final, this being Pat's second consecutive time as runner up in the competition and for his troubles collected £90.
In the semi finals Astbury beat Simon Mountford while Pace accounted for Jake Auburn, both of the losers receiving £30.
The Plate knockout was won by Kevin Bambrick who defeated Will Roberts in the final, Bambrick getting £27 and Roberts £14.
———————————
With the division two title in the South Birmingham League already sorted and The Gate crowned as champions, division one provided a dramatic climax to end the season as the title all depended on an outstanding rearranged fixture between respectively placed second and third Mackadown Social and Crown at Shard End.
Prior to the fixture Mackadown were second two points behind leaders Erdington Members Club but with a slightly better average and were two points to the good on Crown at Shard End, the result was a convincing 8-1 win for Mackadown to put them on the same 24 points as Erdington but with a four legs of average advantage which gave them the title.
Despite the heavy defeat Crown at Shard End finished in third place, four points adrift of the top two but six to the good on fourth placed Coleshill Social.
With the domestic fixtures all completed the league were then engaged in their various cup knockouts, first the Knockout Cup in which the Crown at Shard End took the title when they beat Coleshill Social 6-3, while the Jimmy Walker Cup went to Erdington Members Club after winning 7-2 against their final opponents Banbury Flights.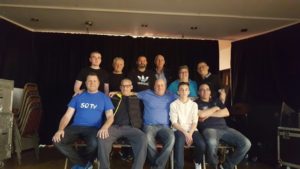 League Knockout Cup Winners Crown at Shard End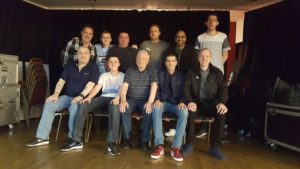 Jimmy Walker Cup Winners Erdington Members Club
The Secretaries Cup saw Neil Parsonage add yet another title to his never ending list when he beat John Whitehoyse in a close 2-1 encounter. Both semi final games finished 2-0 Parsonage beating Dan Cooper while Whitehouse took out Richard Liggins.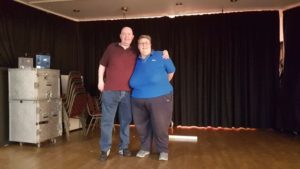 Secretaries Cup Winner Neil Parsonage with organiser Sue Kingdon
The Captains Cup title went to Simon Edwards who with another close 2-1 verdict defeated Nigel Groves in the final. Edwards won his last four game against Scott Hipkiss 2-0, Groves had a closer 2-1 result against Dave Mortiboys.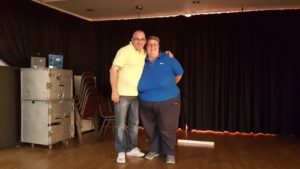 Captains Cup Winner Simon Edwards with organiser Sue Kingdon
Emily Jones took the crown in the Ladies Singles Knockout, a 2-1 scoreline against Cindy Ray in the semis followed by a similar result in the final against Diane Hudson, Hudson beat Maggie Groves 2-0 in the semi finals.
———————————
The Bilston and District League played off the finals of their Challenge Cup and in the last four play offs 44 Club beat Allens Sports Bar 'B' with a close 4-3 scoreline while Lanesfield RBL had a convincing 7-0 success against Bilston Conservative Club 'A'.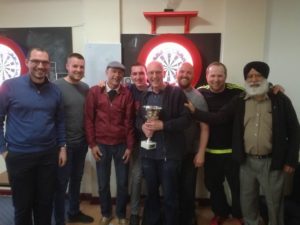 Challenge Cup Winners Lanesfield RBL
After a great night of darts the final produced another spectacular game which went the full distance before Lanesfield RBL retained their title with a deciding win from A.Fellows over M.Bellingham (44 Club).
Still running down their season the doubles knockout was next on the agenda and the final saw Lee Cox and Mark Hampton (Tilted Barrel) record a straight 2-0 win over R.Arnold and A.Jacques (Allens Sports Bar 'A') to lift the title. In the semi finals Cox and Hampton beat C.Glover and R.Father, Arnold and Jacques won against P.Arnold and T.Gelder.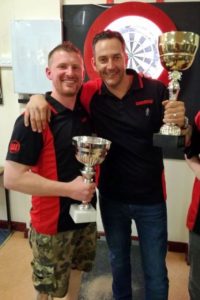 Doubles Champions Mark Hampton and Lee Cox (Tilted Barrel).
———————————
The Brierley Hill Friday Night League played off their singles finals and taking the title with a final 3-1 win over Dean Marshall (Pensnett Welfare Club 'B') was Netherton Cricket Club 'A' representative Stuart Skidmore.
Both of the semi finals went to a deciding leg with Skidmore beating Rick Riaz (Britannia) and Marshall taking out Carl Penzer (Brickmakers Arms).
The League Cup was played off at Dudley Sports which produced an exciting and entertaining tie between league winners Brickmakers Arms and Netherton Cricket Club 'A' who finished the season in third place four points behind their opponents.
The outcome of the final was a very close 4-3 result going to Netherton Cricket Club 'A' denying their final opponents of the league and cup double.
———————————
The Small Heath League staged their Jim Haveron 3 A-Side Knockout and lifting the title with a final 7-2 win over the Gulp Tribe's trio of N.Parsonage, D.Heighway and M.Cooper was the East Birmingham Allotment Holders Association 'B' team comprising of C.Wyatt, J.Webster and T.White.
In the semi finals E.B.A.H.A. 'B' took out Foaming Tankard with an 8-1 scoreline while Gulp accounted for Wagon and Horses 'A' with a 7-2 result.
———————————
The Wednesbury and Darlaston Wednesday Night League played off their George Mitchell Cup and taking the title with a final win over Black Horse was the Staffordshire Knot team.
The Disabled Cup was won by Churchills 'A' with Horse and Jockey runners up.
———————————
With a third of the season already gone in the Ripley Elite Darts Singles League there's still all to play for in both divisions. In the premier division Pete Burgoyne has been top all season but week ten saw him lose for the first time this season when he went down 4-1 to Aden Kirk who is currently placed third, eight points short of Burgoyne with a game in hand. Burgoyne was quick to recover from the defeat and at the time of going to print the league is up to week twelve and he has won eleven of those fixtures giving him a seven points lead over his nearest rival Daz Brown who has played one game fewer than Burgoyne but has won all eleven and is the only remaining player in the premier division with a 100% win record.
The premier division is of such quality this season that every single player in the 29 man field has hit at least one maximum and all of them are averaging over 21 with Kyle Anderson recording the highest average so far that of 28.16, Aden Kirk has the best single leg average of 33.63. Anderson and Aden Kirk have both hit eleven 180's while the highest finish of 170 goes to Kirk and Burgoyne. The fastest leg up to this point of the season is eleven darts recorded by both Dale Gadsby and Jim Beardmore.
Three players remain unbeaten in division one, Scott McCabe, Reece Spurr and Rich Bloomfield. McCabe tops the table with 56 points from 11 games with Joanne Oldershaw in second place just two points short of McCabe from the same number of games and Reece Spurr who has played ten games third on 53 points
Rich Bloomfield is in seventh place on 44 points however he has only played nine games and would climb up into the top three with wins in those outstanding fixtures.
With the top six up for promotion to the premier division at the end of the season McCabe, Spurr and Bloomfield together with Joanne Oldershaw, Kev Wragg, Nathan Parkin and James Parkin are all in with a shout but at this early stage so are a few more.
 Six is the most 180's hit by a division one player that player being Reece Spurr. Joanne Oldershaw currently holds the best finish of 149 and the least darts of 14 goes to Mike Robinson and Scott McCabe. The best individual leg average of 29.83 was recorded by James Parkin.
———————————