Winmau Darts Centre at Wolverhampton Sports Arena by Alan Towe
The Winmau Centre in the Wolverhampton Sports Arena staged another of their increasingly popular first Thursday in the month knockouts and the number of entrants keeps growing with every event.
The final of this latest one was a repeat performance of the previous one involving Warwickshire county player Ashley Hykin and PDC Derbyshire man Matt Padgett and the outcome was more or less the same as before with Padgett on this occasion winning 6-4 as opposed to last time when he won by a closer 6-5.
Dharam (Tam) Jagpal (Arena owner), Matt Padgett (Winner), Ian Flack (Winmau)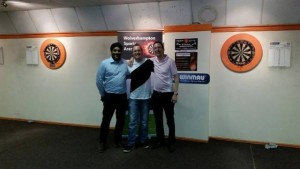 Dharam (Tam) Jagpal (Arena owner), Ashley Hykin (Runners up), Ian Flack (Winmau)
So who is going to stop Padgett making it three in a row, why not give it a try there is a guaranteed £100 for the winner and the entry is just £5 per player.
———————————
The centre was one of 20 UK venues to stage a regional final for the prestigious Worthington Champion of Champions Competition organised by Red Dragon. The West Midlands regional qualifier was played off over Saturday and Sunday and in the Saturday final Jamie Barrowman won 2-0 against Christi Maniola.
Sunday's final was fought out between Sam Guest and Kristian Wharton, the former winning through 2-0 to set up a play off between Guest and Saturday's winner Jamie Barrowman.
The final went the full three legs distance and could easily have gone either way but with Barrowman missing finishing doubles it was Sam Guest who got the 2-1 verdict and will now go through to represent the West Midlands in the grand finals at St David's Hall, Cardiff on August 30th with the chance to walk away with an amazing top prize of £5,000.
———————————
The Winmau Darts Centre in the Wolverhampton Sports Arena has been crowned Britain's leading regional venue after launching all-week low-cost competitions with every penny from fees being ploughed back in prizes and the centre at Racecourse Road, Dunstall, Wolverhampton, WV6 0QU will be home to another amazing competition on the 22nd August the Winmau BDO Wolverhampton Open. Now in its third year the Wolverhampton Open is truly a well established event and could well carry ranking points next year.
The competition carries a fantastic prize fund of £3,000 of which the eventual winner will not only receive £1,000 but will also be entered into the Winmau World Masters and 2016 Lakeside Play-offs.
In addition to the winners prize there will be £500 for the runner up, £250 for the joint third, £125 for the joint fifth and £50 for the joint ninth together with £100 for the highest checkout, all this for just a £10 entry fee.
Please send all cheques / POs made payable to the British Darts Organisation) along with full name, address and e-mail address to: The Competition Secretary, British Darts Organisation, Unit 4, Glan-y-Llyn Industrial Estate, Taff's Well, Cardiff, CF15 7JD.
For any further information telephone 01902-420827 or contact the Wolverhampton Sports Arena at info@wolverhamptonsportsarena.co.uk or alternatively visit www.wolverhamptonsportsarena.co.uk
Don't miss out on this fabulous opportunity to win top prize money and gain entry into the Winmau World Masters.
———————————
At the time of going to print Kevin Harris has added another three wins to his tally in the Winmau Centre Thursday Night Champions League at the Wolverhampton Sports Arena beating Robert Pierce 5-2, Rob Harris 4-3 and Adam Hill 6-1 to give him a total of 135 points from 24 games. Second placed Mick O'Neill has played two games fewer than Harris and has amassed 118 points, his latest fixtures seeing him win 4-3 against Rob Harris and then recording a convincing 7-0 win over Joshua Parkes. From the same number of games as O'Neill Kenny West has 111 points, in his two games he won 6-1 against Matt Barnfather and then had a 5-2 win in his game with Dean Marshall.
———————————
After a couple of weeks break The Untouchables are back on the scene in the Winmau Centre Monday Night Champions League and back with a bang as they handed out a massive 39-9 defeat to Yam Yams.
Leaders Bully Boys had a 27-21 win over middle of the table Three Men And A Lady to increase their points tally to 735 but former leaders The Untouchables are closing in on them fast their big win reducing the arrears to just three points and a win in their game in hand would see them return to the top of the table.
With only a handful of fixtures remaining it should be a very interesting run in to the end of the season.
———————————-